5 Ways to Make Money Christmas Shopping
I hate going Christmas shopping. Heck, I hate shopping altogether, but I've accepted that it's a part of life. It's just something about fighting the masses to find something of value that gets to me. However, I like to find ways to turn things on their head so I can find value. With that in mind, I like to find ways to make money Christmas shopping.
That's right – making money Christmas shopping. Some of these ways might require a little more time than others, but if you do it right you can potentially come out of the Christmas season ahead as opposed to regretting the amount you spent.
Before I cover some of the ways to make money Christmas shopping I will mention that the wisest way to handle expenses like this is to plan for them.
We budget for our Christmas expenses throughout the year in a high yield savings account like the one at Synchrony Bank so we have the money on hand when we need it as opposed to scrambling at the last minute.
Personal Shopping
I've not done personal shopping before, but have several family members who have done so. It can be a nice money maker, especially if you're efficient with your shopping time. You can charge either per hour or by the gig, though I'd tend to go with the per gig option as it could allow you to make more money in the long run.
This can be a nice little way to make money Christmas shopping because I know there are plenty of people like me who hate shopping. There are a variety of ways to get gigs doing this but have found that word of mouth tends to work best.
Don't want to shop, but have no problem driving people around as they shop or are traveling to visit family and friends? You can drive for Lyft and make a decent income in your free time.
In fact, Lyft offers a $250 bonus for new drivers to get you started earning extra cash!
Use Credit Cards to Make Money Christmas Shopping
I know it seems counterintuitive, but if you work it right you can use your credit card to make extra money during the Holiday season. We usually have a rewards credit card we're churning at this point in the year so it makes sense to use our normal holiday spending to get cash back or fund a free trip.
If you have a cash back card that has rotating quarterly bonuses you may see that one of those is  for Amazon purchases – allowing you to get five percent cash back.
Here are cash back cards you may want to keep in mind if you like to get cash back from your shopping.
Don't want cash back, but like to earn points to travel? That may not make you money, but it certainly saves you money.
You can find some of those rewards cards here to get a little something back for what you're already spending.
Mystery Shopping
If you've not done mystery shopping before the basic gist is retailers pay money for you to go to a store undercover and report back on your experience. The payout varies from just paying for the specific service to a significant amount so it's pretty variable.
However, with the season approaching it can be a nice way to make extra money before Christmas. If you can combine it with where you were going to go anyway then even better as you can kill two birds with one stone.
The nice thing about this option is that if you find that you enjoy it then it can be a nice way to make a little extra money throughout the year. The key to this though is being discerning so as to not waste time on jobs you may not get much back from.
It's also important not to overlook potential savings on your Christmas shopping needs. You can take advantage in drops in prices from your online shopping with Paribus. Paribus compares prices against what you paid to find rebate opportunities.
They also work with Amazon on shipping fees if no delivery attempt was made by the guaranteed delivery date.
TAKING SURVEYS
Have you ever noticed that some stores give out receipts that are a mile long? I hate those and they're just a waste of paper in nearly all cases. However, buried at the bottom of many of those receipts is a survey they want you to take. In many of those cases they'll put you in some sort of drawing to win cash or a gift card.
Another option for surveys is taking them online. You won't get rich quick on them, but it can be a nice way to make a little extra money during the holidays.
Below are some of our favorite survey sites:
Survey Junkie: One of the top survey sites and they pay cash directly to your PayPal account
Pinecone Research: They pay $3 per survey and they pay cash directly to your PayPal account
Opinion Outpost: One of the top survey sites in the space and they have quarterly $10,000 prize drawings
Inbox Dollars: Earn money for taking surveys, watching TV or making purchases online. Get $5 just for signing up
Don't like surveys, but like to earn cash back online? You can use a cash-back shopping portal like Ebates or Swagbucks to get cash back (up to 7%, sometimes more) from purchases on sites like Amazon, Walmart or Kohl's and start you with a free $10 when you open an account.
You can even stack the savings with a cash back card to double the savings.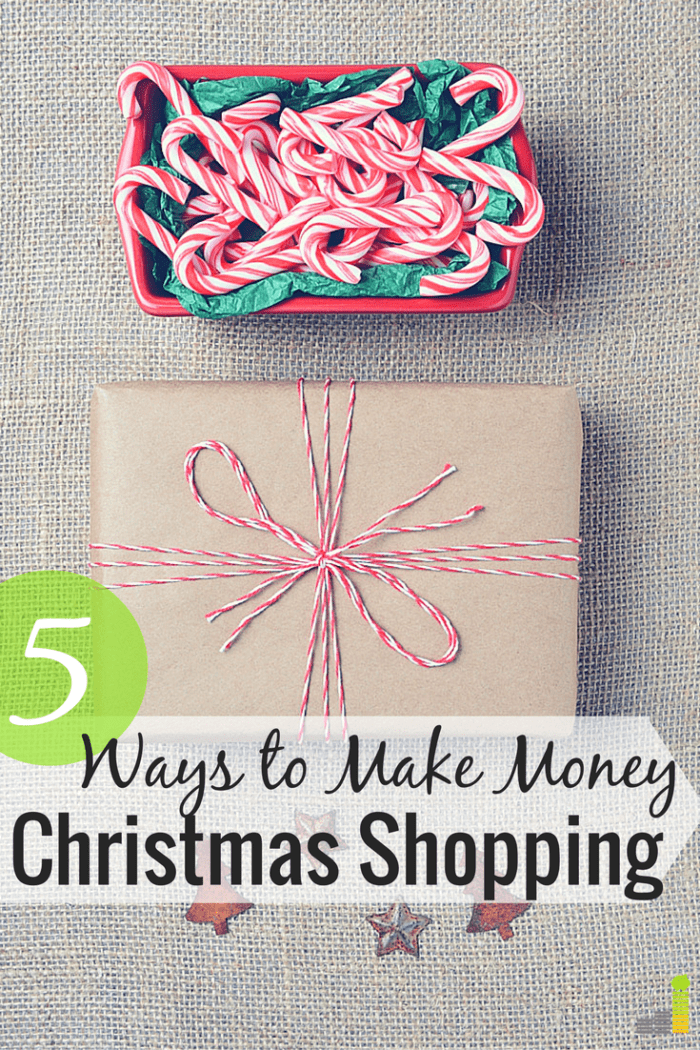 Selling Items on Ebay
We've sold a handful of items on Ebay in the past and made a little money doing so. If you have the time and can spot some deals you can make money Christmas shopping by snapping up the deal and selling the item on Ebay to make a profit. Just remember you do risk not being able to sell such items.
You can also sell items on Amazon. In fact, you can even turn it into a quality side hustle to earn money throughout the year. If you have an eye for a deal, you can turn around and flip them on Amazon to make a profit.
The Selling Family offers classes and other great resources to help you launch a shop on Amazon and make money.
Bonus – Sell Your Old Gift Cards
How many gift cards do you have that you haven't used? That's cash you're literally sitting on if you've had them for some time. Instead of letting them sit there and collect dust you can sell them for cash.
With CardPool you can sell your old gift cards for cash. CardPool also sells discounted gift cards, but we want to make extra money…not spend it. If you have old gift cards lying around, sell them to make a little extra money this Christmas.
What are some other ways you can think of to make money Christmas shopping? Do you set a Christmas shopping budget? Would you ever pay someone to shop for you?
Save
The following two tabs change content below.
John is the founder of Frugal Rules, a dad, husband and veteran of the financial services industry whose writing has been featured in Forbes, CNBC, Yahoo Finance and more.
Passionate about helping people learn from his mistakes, John shares financial tools and tips to help you enjoy the freedom that comes from living frugally. One of his favorite tools is Personal Capital , which he used to plan for retirement and keep track of his finances in less than 15 minutes each month.
Another one of John's passions is helping people save $80 per month by axing their expensive cable subscriptions and replacing them with more affordable ones, like Hulu with Live TV.
Latest posts by John Schmoll (see all)