10 Great Ways to Make Money Online From Home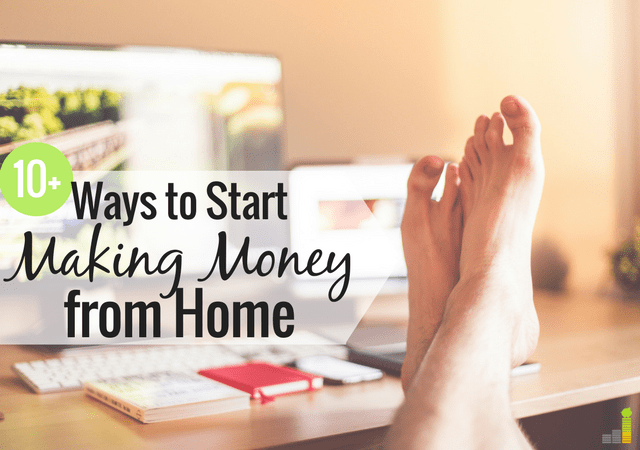 Finding ways to make money online from home seems like such a hot topic these days. If you ask me, the craze over work from home jobs is understandable because you can make good money doing it. Today, I cover some of the reasons why you'd want to look into how to make money online and what some the benefits are to earning income this way.
Why You'd Want to Make Money Online
Aside from the obvious reason of having more money, making money online is something you can do from anywhere with a laptop and an Internet connection. That may be your home but it could also be a coffee shop or library too. Being able to work from home can mean flexibility if you can create your own schedule, work as little or as often as you like, or work online and earn money from anywhere in the world.
The best part about earning extra money is that you can use it for so many goals. When you make money online, you can put it toward paying off debt, saving for retirement, saving for a car or house, saving for your child's college education or even just to have some play money for entertainment or guilt-free travel. There are many unique ways to make money online from home so you can try out different options to match your skills so you can see what works for you.
If you're interested in making extra money from home, here are ten ideas to consider.
1. Freelance Writing
Freelance writing is probably one of my favorite ways to make money online because it's flexible, fun and the income potential can be limitless. I recently left my traditional job to freelance full-time; now, the bulk of my client work is freelance writing and I love it.
If you like to write, you can earn money writing articles or blog posts for other websites or ghostwriting pieces as well that don't include your byline. What I like about freelance writing is that you can find clients in any niche. It's best to write about subjects you are knowledgeable about and have some interest in so all you have to do is find niches that match your interest and start writing. If you need help getting started writing for clients, check out Cat's course on how to get paid writing for blogs.
2. Social Media Management
If you spend quite a bit of time on social media, you can turn it into a profitable skill and manage social media pages for other businesses and entrepreneurs. I know a few people who do this full-time.
Social media managers typically study social media algorithms and oversee the development of strategies and campaigns to increase engagement on platforms like Facebook, Twitter, Instagram, Pinterest, YouTube and more. Some companies will hire remote social media managers so it's a job you can do from anywhere. You may have to send pitches to potential clients who will want to see samples of your work so start keeping track of your results and the pages you manage from the get go.
3. Surveys
While it probably won't allow you to earn a full-time income, taking surveys is a simple way to make money online from home. Some popular sites that pay for consumer surveys include Opinion Outpost,VIP Voice, Earning Station, Survery Junkie, OneOpinion, Pinecone Research, Vindale Research, CashCrate, National Consumer Poll, Inbox Dollars, MySoapbox, Ipsos iSay, Survey Voices and ClickPerks.
Sites like Ebates and Swagbucks also offer surveys, but they give you cash back when you shop through their portal on sites like Amazon – and they start you off with a free $5 for signing up.
To improve your earning potential, you can sign up for a few different sites and take surveys regularly during your spare time, whether you're watching a television show or listening to music.
4. Sell Items Online
Selling items online is a great way to make money from home. The income can be inconsistent though especially if you are just selling certain items you have lying around the house on Craigslist, Amazon or Ebay.
Do you have an eye for a good deal? You can sell those items, for a profit, by using Amazon FBA. You can make hundreds, or more, each month by selling items through Amazon. Here are some free training courses to help get you started to make money on Amazon.
However, if you want to get more organized and consistently list items online to sell you, can 'flip' popular items and sell them online each month for a profit. I know a blogger who flips women's clothing and makes a killing on Ebay each month.
Clothes, shoes, electronics, toys, college textbooks, household items and action figures are all great items to sell online for profit.
5. Affiliate Marketing
If you have a blog, YouTube channel or another type of audience large or small, affiliate marketing is an option to make extra money online. Affiliate marketing involves promoting a third party product through a review, link or advertisement. When a click or sale is made, you earn a commission. Over time, those commissions can add up to some nice passive income.
The main rule is to disclose that you're using an affiliate link and how affiliate marketing works so your audience is aware. Once you embed the affiliate link into your content or use an ad, you can just set it and forget it.
In order for affiliate marketing to work, it's important to only post links that are relevant to your audience for products and services that are legit and helpful. If you are just posting spam or referring shady companies, your audience might get turned off and not trust you. Affiliate marketing needs to be as natural as possible.
I saw a good example of this when watching a YouTube video from one of my favorite vloggers. I am a huge Game of Thrones fan and I follow this YouTube channel that highlights a ton of theories for the show. The host of the episodes recently referred a book to viewers that the show was based on in order to learn more about the series and where he gets his theory ideas from.
He quickly disclosed that his link in the description was an affiliate link and he also explained how affiliate marketing works. I thought it was very tasteful and relevant so I didn't mind. Plus, I felt no pressure as a viewer to make a purchase and that's key. Affiliate marketing can be very lucrative if done right.
Michelle from Making Sense of Cents, for example, makes over $50,000 per month from affiliate marketing. If you'd like to learn how to be successful with affiliate marketing, check out her course to learn tips to make money through affiliate marketing.
6. Test Websites
Have an opinion? You can get paid for it when you test websites out with UserTesting. UserTesting is a popular website that pays people to review other websites and blogs.
They pay $10 per 20-minute website review. My husband tried this website out and he liked it. Even though the pay wasn't spectacular, it still required little work and little equipment in order to earn money. As long as you have a basic microphone or one built in your computer and a strong internet connection, you'll be good to go..
7. INVESTING IN THE STOCK MARKET
Investing may seem like an odd way to make money online, but since you're likely going to use an online brokerage to do that, investing definitely fits. Investing plays a key role in your overall financial health and growing your net worth. Whether you're saving for retirement, saving for college or something else, the stock market can help you accomplish those goals.
What happens if you want to start investing, but don't know the first thing about how to start? In the past, you may have been held back, but with the growth in the robo-advisor space, you can start investing and have your investments managed for you.
Brokers like Betterment allow you to open accounts with little money and they take care of virtually everything for you. If you're a DIY investor, there are many other options available and you can check out our list of the best online brokerages to choose a broker.
8. Virtual Assistant
Virtual assistants are definitely a growing need as more and more business owners are outsourcing tasks. What I love about VA work is how flexible it is. If you have several different online skills or even just one, you can find work as a VA.
VAs often earn an hourly rate so this promotes a steady income. VAs do everything from managing emails and scheduling social media posts to managing blogs, sending out invoices, doing research and booking appointments.
9. Data Entry
If you have accurate and quick typing skills, you can make money online doing data entry. Data entry work involves taking data provided by a company and entering it into some type of system or spreadsheet to be organized.
The work and pay could vary but it's a common way to earn money from home and you can find gigs on sites like Upwork.com.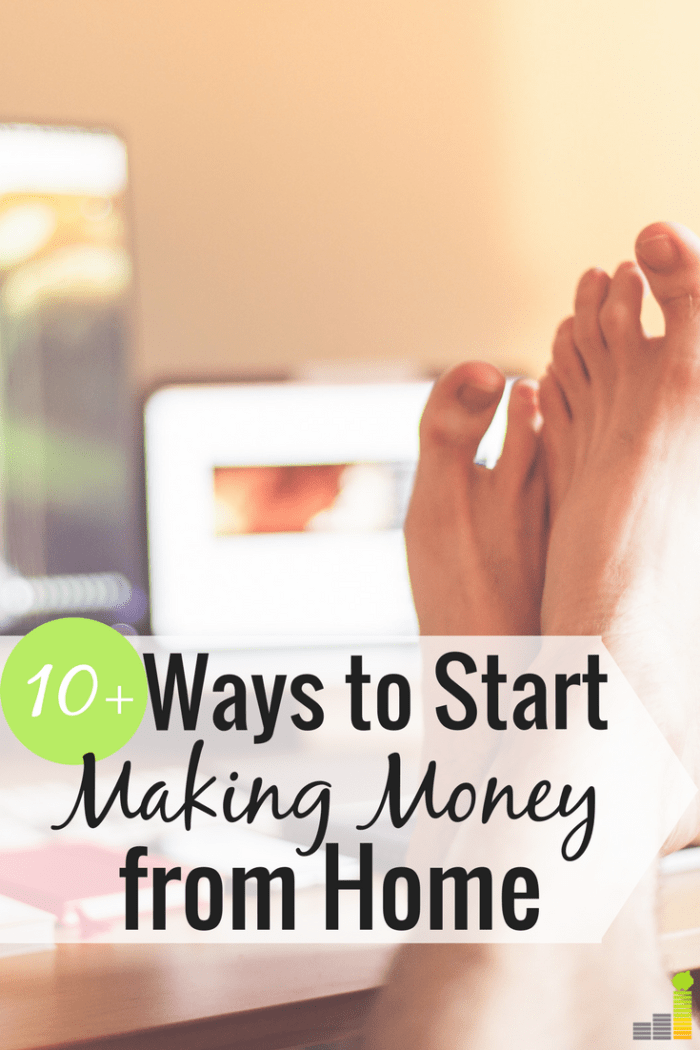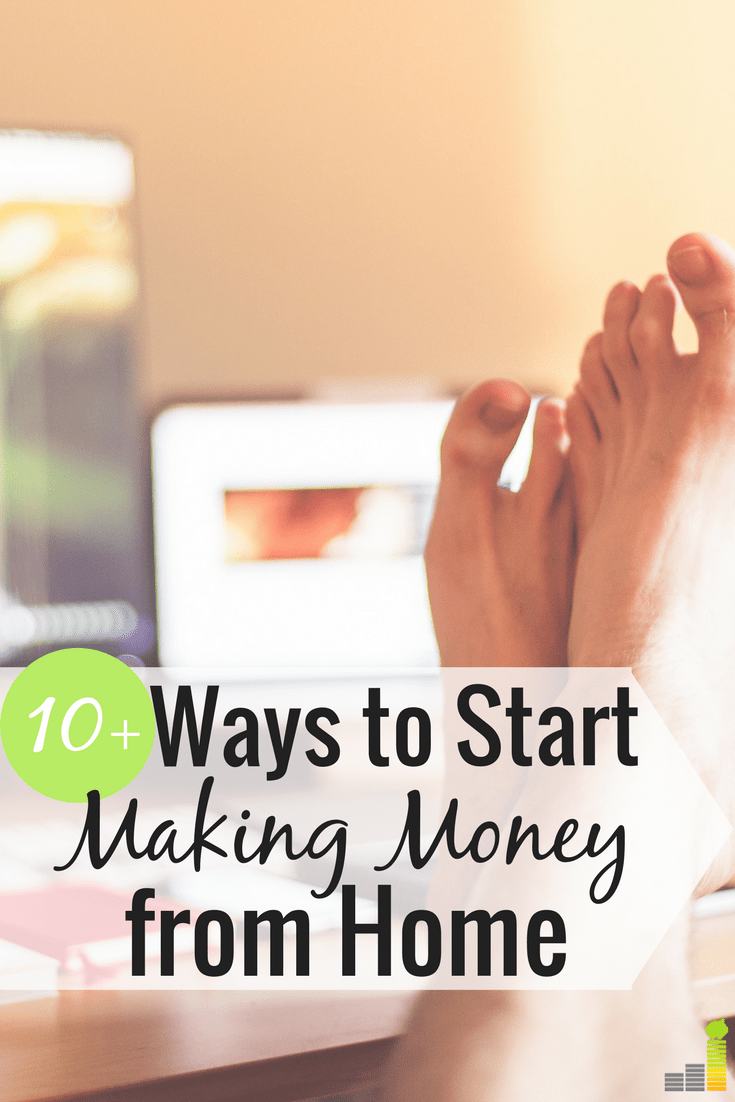 10. proofreading
Want to work from home, but hate writing? You can also make money from home, or anywhere else, proofreading a variety of items.
Proofread Anywhere provides free courses to help you learn how to land general proofreading and transcript proofreading jobs you can do from the comfort of your home, or anywhere else you choose.
With the right training, all you need is a laptop and you can land proofreading jobs.
Have you tried any of these work-from-home options to make money online? What would you add to the list? What are some of the things you do with the extra money you earn in your side hustles?
The following two tabs change content below.
Chonce is a freelance writer who's obsessed with frugality and passionate about helping others increase their savings rate, eliminate debt, and work toward financial stability. She chronicles her journey with balancing motherhood, work, and finances on her blog, MyDebt Epiphany.com