Saving money is an important part of financial stability. However, everyone is different and has unique long-term goals. Regardless of your situation, you may ask yourself, "how much money should I save each month?"
The amount of cash you regularly save plays a significant role in helping you reach your financial goals. This guide evaluates what you need to save and how to align your actions with your savings goals.
How Much Money Should You Save Each Month?
There are many theories behind how much you should save regularly, but the one that is most frequently recommended is the 50/30/20 rule.
The rule is a budgeting method that suggests the following:
Spend 50 percent of your budget on necessities like housing and food
Spend 30 percent of your budget on discretionary spending
Allocate the remaining 20 percent to savings
Let's take the example of earning $4,000 per month after taxes. Following the 50/30/20 model, you would allocate $2,000 towards needs, $1,200 towards discretionary items, and the remaining $800 towards savings.
We support the idea of saving at least 20 percent of your monthly income. However, you must personalize it to your situation. You may need to save more money to achieve your goals of financial security.
If you're unable to save at least 20 of your income each month, don't let that stop you. Saving something is better than nothing, and there are many ways to increase your savings over time.
Using a monthly budget is an excellent way to identify ways to reduce your expenses and increase your savings rate.
Where Should You Put Your Savings?
An online savings account is the best route to build your savings. Physical banks also have savings accounts, but their rates are often paltry compared to an online institution.
You want to find an online bank with minimal fees that doesn't require an excessive amount to open an account. Most online banks allow you to automate transfers, which is a simple way to save money every month.
CIT Bank is our top choice to save money. Their money market account currently pays 1.55 percent and is FDIC-insured like a savings account. You only need $100 to open an account.
Chime is another excellent choice to store your savings. It currently pays 2.00 percent APY on its savings account with no minimum balance requirement.
Additionally, it has other helpful features like early direct deposit and round-ups on purchases that get transferred to your savings.
You could also open a free account with Raisin.com. You can take advantage of high-yield savings products with more than one financial institution and manage it all from one account.
Start with an Emergency Fund
An emergency fund is the first priority when you save money each month. It's foundational and comes before putting money in any other account.
Life is full of the unexpected, and you never know what may occur. Your air conditioner could break down, or your car may need costly repairs.
*Related: New to writing checks? Check out our guide on how to fill out a check for step-by-step directions.*
If you don't have money set aside for emergencies, you could incur debt. This will sabotage your savings efforts.
To start, aim to have $1,000 in your emergency fund. Then you want to achieve one month of living expenses. Use that as a base to reach at least three months of living expenses, and finish at six months.
This amount can be included in the 20 percent you save each month. While it can be just as overwhelming, it's key to start, regardless of the amount.
You can even use a savings challenge, like the 52-week challenge. The challenge has you save $1 the first week of the year, adding an extra dollar each week until you hit $52 the last week of the year.
The net result is $1,378 saved. That's a terrific way to start an emergency fund.
Don't Stop at a Savings Account
A healthy savings account is just one part of actively working towards financial independence. They're a fantastic way to reach short-term goals but are inefficient at reaching longer-term goals.
Part of saving 20 percent of your income every month is investing in the stock market. That can entail saving for retirement in an account like a Roth IRA or investing through your employer-sponsored 401(k) plan.
The benefit of a Roth IRA is you can withdraw funds tax-free upon retirement. You can also withdraw funds tax-free if you're using the funds for a first-time home purchase.
Like saving in a savings account, don't let the amount you have dictate when you start. Time is the best gift you can give your money. Even if it doesn't seem like it will amount to much, it will grow over time.
For example, the S&P 500 index has averaged a near-annual ten percent return for a century. Starting now is the best way to grow your money, regardless of the amount.
If you're new to investing or don't know where to start, Betterment is a great resource. They help manage your investments in alignment with your goals, charge minimal fees, and have no account balance requirements.
Here is a brief overview of what to expect with the service.
Betterment at a Glance
Info
Data
Minimum Investment

✓

$0
Account Types

✓

Retirement | Trusts | Taxable | Joint
Management Fee

✓

0.25% / yr. (0.4% for $100K)
Features

✓

401(k) assistance

✓

Tax loss harvesting

✓

Portfolio rebalancing

✓

Auto deposits (weekly, bi-weekly, monthly)

✓

Advice from real humans

✓

Socially responsible investing

✓

Fractional shares

✓

Cust. Svc.: Phone, live chat, email
Get Started

Sign Up Now
Read our review of the service to learn more.
How Long Does it Take to Amass $1 Million?
It's essential to have a goal in mind when you ask yourself, "how much should I save?" Your goal should be specific to your situation. Look at your spending habits, cost of living, and more to determine your goal.
A common goal for many people is to reach at least $1 million in assets. Your goal may be different, and that's fine.
However, regardless of your goal, it's essential to start as early as possible. That's even true if you're living paycheck-to-paycheck and can't immediately save 20 percent of your monthly income.
More time is the best assistance you can give your savings efforts. For example, if you want to reach $1 million by 67, here's how much you need to save each month, assuming a modest six percent return.
| Age | Monthly Amount to Hit $1 Million |
| --- | --- |
| 20 | $319 |
| 25 | $440 |
| 30 | $613 |
| 35 | $864 |
| 40 | $1,240 |
| 45 | $1,831 |
Your goal is likely different, but the sentiment is the same. It's better to start earlier, even if it's in smaller amounts. Otherwise, you will need to put more money away in the future to reach your goal.
If you're struggling to find money to save, reduce your spending and identify ways to lower your bills to free up cash.
Ways to Increase Savings
Do you want to know how to save more money every month? Here are some simple ways to amplify your savings efforts.
Start a Budget
One of the top ways to increase your savings is to start a budget. A budget may seem restrictive or difficult to follow. This is especially the case if you're trying budget when you're behind on bills.
Fortunately, that is not the case.
*Related: Want to cut the cord but don't know which platform to pick? Check out our Hulu or Netflix guide to see which platform is best.*
A budget helps you analyze your monthly expenses to determine if you're receiving value for your spending. For instance, if you're spending $200 per month on cable, you may be able to cut that expense.
Our course on cutting the cord is a terrific way to learn how to cancel cable and save at least $1,200 annually.
Go through your budget and determine ways to lower your monthly bills. The amount you claw back can aid your savings efforts.
Increase Earnings
While it is essential to reduce your expenses, you can't cut your way to wealth. However, if you combine the cuts with making extra money, that instantly maximizes your efforts.
Ask for overtime at work or volunteer to take on new tasks. If that's not possible, a side hustle can be a great way to increase your earnings. It's best to pair a side gig with your skills and schedule.
If you value flexibility, a delivery app job like DoorDash is a suitable place to start. You can work on your own schedule and compensation varies depending on several factors like tips and items delivered.
Benefits
Logo
DoorDash
Earn cash and create your own schedule!

Deliver food with just a car or scooter. Get started today!


When you divert your earnings entirely to savings, you'll be surprised at how quickly you can reach saving 20 percent of your monthly income.
Take Advantage of Free Money
If your employer offers a 401(k) plan to help save for retirement, you may be overlooking an easy way to increase your saving with their match.
The match is money they give you to save for retirement. For example, if you contribute eight percent of your paycheck and they match 50 percent, you receive an additional four percent in your account.
That's free money and is included in the 20 percent number you should save each month. Each 401(k) plan works differently, so matches vary.
Better yet, your contribution comes out before taxes, so it lowers the amount of taxes you pay.
Avoid Debt
Debt is the largest detractor to your savings efforts. Instead of putting your money to work for you, you're sending monthly payments to someone else to make them wealthy.
A budget is a good way to avoid debt as it helps you stay abreast of your spending. If spending is a problem, ask a friend to keep you accountable for your spending.
How Much Does the Average American Save Each Month?
According to this report from Federal Reserve, the typical American family usually saves around eight percent of their monthly income.
That rate varies over time but usually holds steady between seven and eight percent.
*Related: Budgeting apps are a great way to stay on top of your finances. Read our guide the top alternatives to Mint to help you manage your money.
Don't use that as an indicator of what you should save. In many cases, that amount will not be enough to help you achieve your specific goals.
If you're only able to start with the average, that's terrific. Use that as a foundation to increase your efforts in the future.
However, if you want to increase your savings it's best to attempt to do that. Read our guide on ways to save $500 a month to learn how to maximize your efforts.
Personalize Your Savings
The idea of saving 20 percent of your monthly income can be overwhelming. Don't let that hinder you from getting started.
Even if you can only save five percent of your income each month, that's better than not starting. You want to use the pay yourself first mentality to begin to treat yourself as a bill, no matter how little you have to save.
Similarly, each situation is different. We all have different goals, and it's essential to match your savings efforts with that goal. You might be able to save more than 20 percent, or your goals may not dictate that.
To succeed, you must pair your savings efforts with what you want in life. If you do that and start as early as possible, you will increase the viability of reaching your goal.
Bottom Line
Knowing how much you should save every month is a great question to consider. We all have different priorities, so it's vital to align what you save with your goals and particular situation.
Starting is the most important part thing you can do. Time will aid your efforts, so start saving as soon as possible.
How much money do you save every month? What's one overlooked thing you think many people miss when trying to increase savings?
*Earning more on certain types of orders (ex. alcohol): Earn more per order as compared to restaurant orders. Actual earnings may differ and depend on factors like number of deliveries you accept and complete, time of day, location, and any costs. Hourly pay is calculated using average Dasher payouts while on a delivery (from the time you accept an order until the time you drop it off) over a 90 day period and includes compensation from tips, peak pay, and other incentives.
*Get paid instantly (DasherDirect): Subject to approval
*Cash out daily (Fast Pay): Fees apply
*Start Dashing today: Subject to background check and availability
*Dash anytime: Subject to availability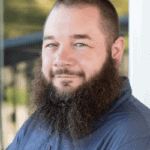 I'm John Schmoll, a former stockbroker, MBA-grad, published finance writer, and founder of Frugal Rules.
As a veteran of the financial services industry, I've worked as a mutual fund administrator, banker, and stockbroker and was Series 7 and 63-licensed, but I left all that behind in 2012 to help people learn how to manage their money.
My goal is to help you gain the knowledge you need to become financially independent with personally-tested financial tools and money-saving solutions.