How to Budget When You're Broke
Posted on August 8, 2013 by John Schmoll in
Budgeting
How can you budget when you're broke? How can you get out of debt when you're in so deep you're not sure where to start? You may have all of the dreams and aspirations in the world to get your debt paid off, but how do you begin when there's not even money to make ends meet?
It may be a challenge to pay off debt when you're strapped for cash, but it can be done. You can make and follow a budget when you're broke. Here's how:
1. Assess your Situation
The thought of figuring out exactly where you're at money-wise right now may seem overwhelming, but it really is a crucial first step. Now is the time to write down every asset and liability you have. For liabilities, write down whom you owe, how much you owe, the minimum payment and the interest rate you're paying. For assets, write down who has your money, how much money they have and what interest rate you're earning.
Also, write down exactly how much income you've got coming into your household. If you're on a commission basis, average last year's income, or use your base pay amount if you have one. Knowing exactly where you're at financially is the first step to budgeting when you're broke.
2. Make a Budget and Prioritize your Expenses
Now that you know how much you owe and how much you own, it's time to figure out monthly expenses. Write down each monthly payment and what it's for, and put them in order of priority: living expenses first, such as shelter, food, electricity. Bill payments such as to your credit cards, loans or medical bills second.
Extras such as cell phones go in the third category, as do kids' extracurricular activities, vacation plans and entertainment money. Be honest with yourself as you're making this list about what's most important to pay as far as you and/or your family's safety and well-being is concerned.
I know it may seem overwhelming, but now is the time to start saving money on a regular basis. By saving money you begin to break the cycle of being broke and having money to fall back on when an emergency arises. You may think saving is impossible – it's not. You can even save a few dollars every few weeks through one of my favorite tools – Digit.
Digit connects to your checking account, analyzes your spending, and pulls out small amounts (we're literally talking several dollars here) and moves it to a savings account. Digit works in the background to automate savings and even has a no-overdraft guarantee and you can access the funds at any time.
The best part of Digit – it's free to use so there's no excuse not to open an account with Digit and start saving money.
3. Cut Expenses
Time to get real here, and it's not easy. If you're trying to budget when broke, you don't have room for extras. The clothing budget needs to be kept to a bare minimum, necessity-only clothing. Budget in a small – and I mean small – amount for entertainment, and look for cheap and free ways to entertain your family, such as the local library or a nearby beach.
Assess your cell phone expenses: could you get by with a pay-as-you-go plan, such as Republic Wireless, as plans start at $10 per month. It's time to face the music here; if you're really strapped for income and are having trouble paying your bills, it's time to focus on your "needs" and not your "wants."
Take an honest look at your budget and make those tough decisions about what needs to go. There are many ways to save money every month, pick a few and throw your savings at the debt.
4. Make a Plan
And stick to it. Pay your bills according to priority, and let the rest be late if you truly have no other choice. And now's the time to start looking at either increasing your income, or revisiting your expense list to look for more cuts. Can you get overtime hours at work? Pick up a second job? Look for online income opportunities? Can you sell your "stuff" on Ebay, Craigslist or at a garage sale?
Ultimately, you can only cut your expenses so much. You also need to bring in extra money. There are many ways to make extra money, even if you feel you have little talent. Find something to earn extra income each month and throw the money at your debt.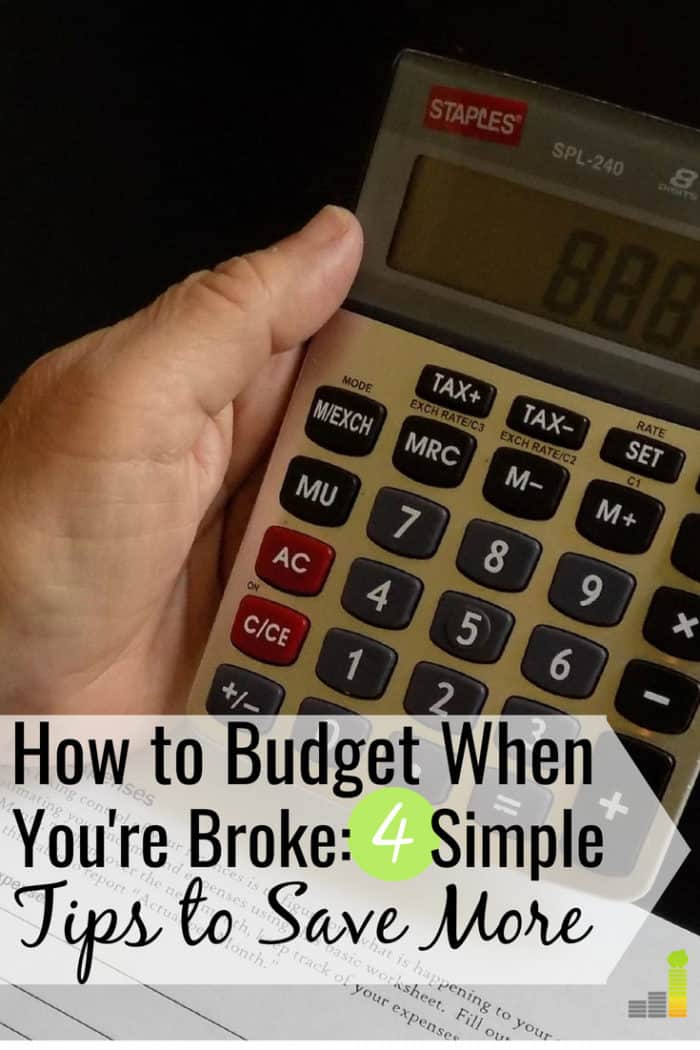 If you're in a situation where you really are broke, and where it's difficult to pay the bills on time, you need to make a plan that will allow for more income or less expenses so that everything due each month can be paid and paid on time. Waiting and paying late will only result in lots of late fees, meaning less money for you and/or your family each month.
I know making a plan may feel intimidating, it doesn't have to be. There are many ways to make a plan, from a simple pen and paper or something automated to do it for you. My favorite tool is Personal Capital. Personal Capital is free to use and allows you to sync all your bank accounts, credit cards, etc. so you can track all of your expenses and find money saving opportunities. You can open a Personal Capital account today and get started in as little as 15 minutes.
Now is also the time to see if you can get lower interest rates on your credit cards, mortgage and loans, and higher earnings rates on any investments or savings accounts you might have, while still minimizing risk. You can also find a balance transfer credit card to reduce your interest to 0%.
Do your homework and see how you can earn more money by reducing interest paid and increasing interest earned. Budgeting while you're broke can be done. Yes, it takes some extra discipline, some creativity and the commitment to follow through, but you know it will be worth it when you reach the day where money isn't tight anymore. Imagine that day, and keep it in your "dream" file as you work toward your goal of being debt-free.
Additional resource: If you're trying to pay off debt but making little progress you may benefit from consolidating your debts into one loan to lower your interest rates. In many cases you can lower your rates by at least 10%, which means more of your monthly payment goes towards killing your debt once and for all. There are many options available though the best option is through Lightstream. Check out rates at Lightstream today and kill that debt for good!
Other than the items already listed, what is something you cut in order to live within your budget? If you do try to live within a budget, what are some challenges you face in sticking to it?
The following two tabs change content below.
John is the founder of Frugal Rules, a dad, husband and veteran of the financial services industry whose writing has been featured in Forbes, CNBC, Yahoo Finance and more.
Passionate about helping people learn from his mistakes, John shares financial tools and tips to help you enjoy the freedom that comes from living frugally. One of his favorite tools is Personal Capital , which he used to plan for retirement and keep track of his finances in less than 15 minutes each month.
Another one of John's passions is helping people save $80 per month by axing their expensive cable subscriptions and replacing them with more affordable ones, like Hulu with Live TV.
Latest posts by John Schmoll (see all)