Living on a budget can help you stay on track financially. However, you might think budgeting is too difficult if you have limited resources.
Thankfully, it's not as hard as it may seem. This guide can show you how to wisely manage your money even if you earn minimum wage or are facing dire circumstances.
Following these steps will help you confidently become financially stable.
How to Budget With Limited Income
Earning a low income is challenging, but it's not impossible to learn how to stop living paycheck-to-paycheck. Here's how to budget when you're broke and make sure your finances stay on track.
Assess Your Finances
The first step to creating a budget is taking an honest look at your finances. You need to sit down and evaluate how much you earn each month and how much you spend.
This sounds difficult, but it's actually quite simple. Follow these steps to begin:
Track your spending: Write your monthly expenses on a piece of paper. Reference your paychecks and bank statements to capture every detail. Determine if you're spending more than you're earning.
Analyze your spending: Identify your necessary and optional expenses. A budgeting app like YNAB lets you look at all your transactions in one place to help you see where you can make cutbacks. If the service doesn't meet your needs, you can try one of the YNAB alternatives to get on track.
Prioritize essential expenses: Use the first part of your income for food, shelter, transportation, and utilities. In the Dave Ramsey baby steps philosophy, this is your four walls. Then you can budget money for other expenses.
Completing these steps can help if you're struggling to budget because you don't know where to start. It's also vital if you're losing your job and need to clamp down on your finances.
Review Your Due Dates
It's essential to know the due dates of your monthly bills. Missing payments can result in late fees and potentially hurt your credit score.
Writing your payment schedule and the minimum payment due on a calendar can make managing your money easier.
Here are some common bills you want to monitor:
Rent or mortgage
Utilities
Insurance
Loans and credit cards
Cell phone
It's important that you pay the essential bills first, then pay non-essential bills.
Stop Spending
Now is the time to take a serious look at the things you spend money on that aren't necessities. You should cut expenses as much as possible so that you aren't living paycheck-to-paycheck.
This practice is crucial if you are trying to budget when you're behind on bills. Canceling services frees up cash that you can use to pay for necessities.
Cable is a perfect example. Do you spend $200+ per month on cable?
Sling TV is an excellent replacement that only costs $40 per month. You can read our review of the Sling TV packages available to learn about how the service works as well as all of the channels you receive on the platform.
Your cell phone bill is another example. Do you spend $50+ per month on your cell phone?
You can switch to Tello to save money. Plans start as low as $10 a month.
Food can be another budget buster if you're constantly dining out. It's best to look for ways to save at the grocery store since that is an easy way to make cutbacks.
Cable, cell phone bills, and food are the tip of the iceberg. Here are a few other unnecessary expenses you can significantly reduce:
Internet bill
Entertainment
Subscriptions
A bill negotiation service can also help you look for discounts and cancel subscriptions.
Every situation is different, so you may have other areas where you can make cutbacks. This is why analyzing your spending is so vital if you are trying to budget when you're broke.
Contact Creditors
Debt is a key factor that keeps many people from living on a budget with little money. If you're trying to pay off debt while you are broke, you need to contact your creditors and explain the situation.
This strategy can be helpful if you're paying off credit card debt. The creditor may temporarily reduce your interest rate or modify your payment plan.
Another possibility is enrolling in a hardship plan when you're unemployed or overcoming a serious illness. Either prospect is better than ignoring your debt as that will not encourage creditors to work with you.
Be honest about your situation and show a willingness to work together to determine a plan.
If they're unable to help and you're deep in debt, consider using one of these credit repair companies to help you find a solution.
Avoid payday loans at all costs. While these may seem like a good choice to get creditors off your back, they're not. Payday loans only make the situation worse.
Earn Additional Income
One overlooked option to help budget when you're broke is earning extra money.
Extra income helps you in one of two ways. It either helps increase your income, or it gives you the ability to kill debt faster.
The first place to look for extra money is your day job. Can you work overtime hours or take on additional tasks? If so, use that income to help with your budget.
If not, you can use side job apps to fin gigs that require little skill and let you work in your spare time. A popular option is to find work through on-demand delivery apps.
DoorDash is one choice to make money on the side. The DoorDash app lets you deliver restaurant meals and fast food to people at their homes or where they work.
With DoorDash, you can create your own schedule and work in your spare time. Driver pay varies depending on several factors like tips and items delivered.
You can learn about DoorDash and the other delivery app jobs to decide which is best for you.
A side hustle can be an effective way to supplement your income if you have free time. However, you should also consider getting promoted to a higher-paying job to earn more for your effort during your regular workday.
Regardless of how you increase earnings, it can be a terrific way to save $500 monthly to help bolster your efforts.
Benefits
Logo
DoorDash
Earn cash and create your own schedule!

Deliver food with just a car or scooter. Get started today!


Monitor Your Spending
One of the best budgeting tips is to analyze your spending. Tracking your spending takes your finances to the next level because it allows you to regularly evaluate your spending habits.
Continue looking for ways to reduce your fixed expenses and variable expenses to save money every month.
Cutting expenses can be an excellent way to increase your available cash, especially when you don't have the time for a side hustle.
You may even realize you don't need to get help paying bills when you implement this practice. Watching your spending can be the key to financial stability once you figure out how to budget your money.
If you're just starting to attack your finances, you may feel like lowering your spending is impossible. Progress is possible.
Read our guide on ways to save money on a tight budget to identify areas to cut costs.
Start an Emergency Fund
Starting and growing an emergency fund is critical to getting your head above water. It helps prevent panic and going deeper into debt when your next unexpected bill comes.
You should have three to six months of living expenses in your emergency fund. Even though that amount can be overwhelming when you first start, you shouldn't let it hold you back. Saving money is critical.
When you are first starting out, start small. This could mean just $20 each month. Set a goal to save $250, then $500, then $1,000.
These smaller goals will give you the confidence you need to push ahead. And, it will help you develop the pay yourself first strategy necessary to grow your wealth.
It's wise to keep your rainy day funds in a savings account separate from your everyday spending and long-term savings goals.
CIT Bank is one good option that has a $100 initial minimum deposit. The online bank also has various tools to help you manage and grow your money.
Read our CIT Bank review to learn more.
Benefits
Logo
CIT Bank - start your emergency fund
$100 minimum deposit requirement

Open a high yield savings account or money market with $100!

Bottom Line
Being broke makes it harder to save money and pay your monthly bills. Fortunately, with a little effort, you can break this cycle. It's not always easy, but it is possible to budget when broke.
Instead of looking at the challenges, think about how improving your money habits will impact your life. A budget cultivates freedom, which is far better than struggling each month or ending up in debt.
If you take it one step at a time, you can confidently create a budget that gives you the freedom you want.
What are your tricks to living on a budget when money is tight?
*Earning more on certain types of orders (ex. alcohol): Earn more per order as compared to restaurant orders. Actual earnings may differ and depend on factors like number of deliveries you accept and complete, time of day, location, and any costs. Hourly pay is calculated using average Dasher payouts while on a delivery (from the time you accept an order until the time you drop it off) over a 90 day period and includes compensation from tips, peak pay, and other incentives.
*Get paid instantly (DasherDirect): Subject to approval
*Cash out daily (Fast Pay): Fees apply
*Start Dashing today: Subject to background check and availability
*Dash anytime: Subject to availability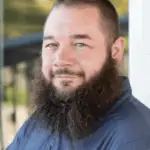 I'm John Schmoll, a former stockbroker, MBA-grad, published finance writer, and founder of Frugal Rules.
As a veteran of the financial services industry, I've worked as a mutual fund administrator, banker, and stockbroker and was Series 7 and 63-licensed, but I left all that behind in 2012 to help people learn how to manage their money.
My goal is to help you gain the knowledge you need to become financially independent with personally-tested financial tools and money-saving solutions.