If you're looking for an on-demand streaming service, Netflix is not your only option.
Max offers access to new Warner theatrical releases, an impressive library of shows and movies, and exclusive, award-winning original content.
In this Max review, we cover pricing, the content it offers, what it's like to use the app, features, and top alternatives.
What is Max?
Max (formerly known as HBO Max) is an on-demand streaming platform that includes content from the HBO library. It also offers shows and movies from Warner.
Many people are used to getting content from the service through a cable or satellite subscription. Luckily, you don't need cable to watch it.
You can cut the cord on cable and access the entire HBO library through this streaming service.
Originally HBO Go, then HBO Now, then HBO Max, Max is the latest version of the popular AT&T-owned streaming service.
The service describes itself as a standalone streaming platform that bundles all of HBO together.
This includes popular TV shows, a blockbuster library of movies, and Max originals you can't access anywhere else.
Instead of multiple channels of HBO shows, you'll get all of HBO plus new release Warner movies, original television series, and exclusive content only available through the streaming service.
While it's not a cable replacement, it may provide everything you need for a fraction of the cost of cable if you pair it with an over-the-air antenna to get your local channels.
How Much Does Max Cost?
There are three Max plans. The ad-supported option costs $9.99 a month, while the ad-free plan costs $15.99 monthly. You can get the 4K plan for $19.99 a month.
| Plan | Cost | Screens |
| --- | --- | --- |
| Ads | $9.99 | 2 |
| No Ads | $15.99 | 2 |
| 4K | $19.99 | 4 |
You'll get the same content on each plan. The only difference is that the cheaper option includes limited commercial interruptions.
Does Max Have a Free Trial?
While the video streaming service does not currently offer a free trial, it does let you sample its original titles at no cost.
You can sample free episodes of HBO originals for free without signing up for a plan or providing your information.
This is a risk-free way to see if you like what's on the streaming service.
Other ways to try Max for free include adding it through a different service. Many live TV streaming services let you add it through their platform once you have a subscription.
For example, both Hulu and DirecTV Stream currently offer access to the streaming service on a trial basis.
However, to snag the seven-day free trial through Hulu, you must not have previously signed up for the on-demand service.
Keep in mind that we do not recommend this option because there are too many strings, and it's too much like cable.
How Bad are the Ads on Max?
If you're concerned about ads ruining your viewing experience, know that this streaming service approaches ads differently.
Network execs say they're committed to making it the lightest ad load in the streaming video space.
Julian Franco, who is WarnerMedia's VP of Product and manages the ads on the streaming service, told AdWeek that its focus is to make the ad experience enjoyable for subscribers.
"Our very simple North Star was to build the most delightful ad-supported viewing experience we could for our customers while making this the best place for brands to reach them."
An ad-supported plan includes commercials before and during select shows and movies.
The frequency of ad breaks depends on what you're watching, but the service says you can expect to see about four minutes of ads per hour.
You cannot skip or fast-forward through ads on Max. However, progress wheels are included so that you can see how much time is left while the ads are running.
What Content Does the HBO Streaming Service Have?
While Max doesn't offer live TV or local channels, its abundance of original and entertaining on-demand content more than makes up for it.
A subscription includes 13,000+ hours of on-demand content from HBO, DC, Adult Swim, TCM, Cartoon Network, Studio Ghibli, and more.
Original Shows
HBO has always been known for its award-winning comedy, drama, and documentary series.
The streaming service keeps that going with every episode of every HBO original series, including:
Game of Thrones
Euphoria
Succession
It also offers access to Max originals, including:
And Just Like That
Station Eleven
The Flight Attendant
With Cinemax gone as a standalone streaming service, originals that may have previously been planned for that service are now on the platform as "Max Originals."
Original Movies
Max is a fantastic choice for movie lovers. The streaming service has numerous original movies.
These include:
Zac Synder's Justice League
Let Them All Talk
Judas and the Black Messiah
While the service wasn't originally known for its movies, that is no longer the case.
Its library of Hollywood hits like Matrix, Jurassic Park, Twister, Ocean's Eleven, and many more strengthen it as a well-rounded streaming service.
TV Shows
The streaming platform is an excellent choice for people who love popular TV shows. Max has access to the entire Warner Media library of content.
Popular TV shows to stream include:
Friends
Gossip Girl
South Park
TV shows on Max come from TCM, Criterion, Cartoon Network, Adult Swim, DC, Studio Ghibli, Sesame Workshop, and more.
Warner Brothers Movies
Max advertises exclusive streaming rights to the "biggest Warner Bros. movies of 2022." All of those movies are included for subscribers at no extra cost.
In 2021, streaming theatrical releases included Dune, In the Heights, and Godzilla vs. Kong.
In 2022, the service appears to be making a shift back to traditional theatrical releases.
Movies that will stream exclusively on the platform this year include:
House Party
Father of the Bride
Kimi
The Fallout
Scoob: Holiday Haunt
Moonshot
As these are lower-tier movies, it opens a path for Warner Bros. to release new blockbusters exclusively in theaters while still offering exclusive content for Max subscribers.
Kids Content
Not typically known for family-friendly content, the streaming service is changing that by using shows from Sesame Workshop and Cartoon Network.
It now offers a curated experience, organized by age, that grows with children as they age.
Content is organized into categories like Family Movie Night and by age range (i.e., 2-5, 6-9, 10-12, 13+).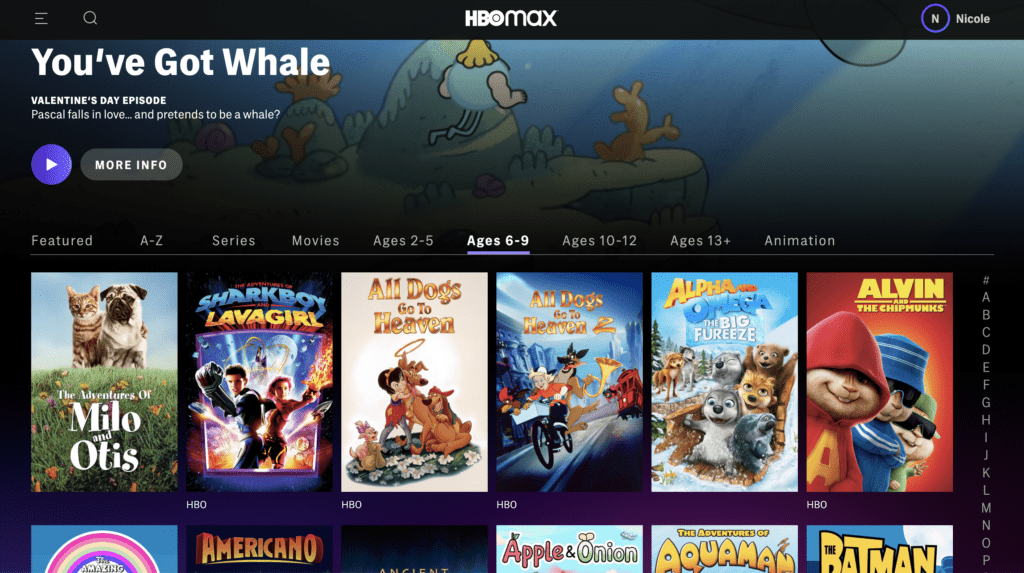 Kid-friendly titles on the service include:
Alvin and the Chipmunks
Gumball
Curious George
There are also pin-controlled parental controls that subscribers can use to limit content to age-appropriate shows and movies.
Look and Feel
As a service, Max is easy to use. A familiar home page with top and left-side navigation makes it easy to navigate the platform's available content.
Featured content appears up top, followed by shows in progress and titles you've added to your watchlist.
There are also categories that break up content and make it easy to find something to watch.
On the left menu are more ways to filter content, including Originals, Just Added, Last Chance, Action, Drama, Latino, News, Sports, and more.
At the bottom are content hubs or networks that, when clicked, launch a distinct home page populated with content from that hub.
Hubs include HBO, Max Originals, DC, TCM, Adult Swim, Cartoon Network, Studio Ghibli, Sesame Workshop, Looney Tunes, and Cartoonito.
All of this navigation makes for a satisfying user experience.
"]
Features
Beyond content, there are a number of features to evaluate when considering if this streaming service is right for you.
Users and Permissions
You can stream content on up to three screens, also known as simultaneous streams, at once. Better yet, one account can have up to five child or adult profiles.
Separate profiles allow individuals with access to the same account to favorite different items and set distinct parental controls, if necessary.
What Devices are Compatible with Max?
The list of compatible devices is lengthy.
Like other popular subscription streaming services, you can watch Max on a Samsung or LG smart TV, streaming media players like Roku, Amazon Fire TV, Apple TV, Chromecast, and more.
In addition to a streaming device, you can also stream on a smartphone, tablet, or computer.
Playback
Playback is intuitive. Within any title, press play to begin the content. While watching shows or movies, anything other than ads can be paused.
You can also rewind and fast-forward through anything you watch.
Streaming in 4K Ultra HD, HDR 10, and Dolby Digital is only available with select titles on the ad-free plan.
Minimum Speed Requirements
A high-speed internet connection is required to stream Max. For the best viewing experience, the service recommends the following internet speed connections.
| Video Quality | Min. Speed |
| --- | --- |
| HD | 5 Mbps |
| 4K | 50 Mbps |
| HD (2+ TVs) | 10 Mbps |
Remember that these speeds are per stream. So, if you are watching on two devices at once, these requirements would double.
Read our guide on minimum internet speed requirements to learn what you need to watch TV without cable.
Parental Controls
The service makes it easy to set pin-controlled parental controls that can be filtered by age.
When creating a child profile, you can enter a child's name and birth date along with the ratings they're allowed to watch.
To keep a child from accessing another profile, you can require a pin to switch profiles.
Pros and Cons
There's a lot to consider when choosing an on-demand streaming service. Here are some factors to keep in mind when looking at the platform.
Pros:
Great selection of movies
Award-winning original content
Easy to use interface
Parental controls
Multiple plans at different cost points
Cons:
No 4K content in the ad-supported plan
Has less total content than Netflix, for about the same cost
Not as much kids content as Netflix or Disney+
If you like watching original shows and movies, the Max streaming service is worth considering.
Is Getting Max Worth it?
If you enjoy HBO originals and are looking for a strong library of content that is primarily geared towards adults, this is a great deal.
While the $9.99 per month plan includes ads, you'll get a lot of quality content at an affordable rate if you can tolerate a few interruptions.
Can I Buy Max for a Year?
If you're willing to prepay for a year, you snag a slight discount. The plan with commercials runs $99.99 a year, and the ad-free plan costs $149.99 per year.
| Plan | Cost (Monthly) | Cost (Annual) | Screens |
| --- | --- | --- | --- |
| Ads | $9.99 | $99.99 | 3 |
| No Ads | $15.99 | $149.99 | 3 |
Max Alternatives
Do you want to know how Max compares to other on-demand streaming services? Here's a quick comparison of top competitors.
| Service | Cost | Streams | Trial |
| --- | --- | --- | --- |
| Paramount+ | $4.99 (ads) or $9.99 (no ads) | 3 | Try |
| Disney+ Hulu + ESPN+ | $13.99 (ads) or $19.99 (no ads) | 4 | 2 | 3 | Try |
| Netflix | $6.99| $9.99 | $15.50 | $19.99 | 1 | 2 | 4 | Try |
Paramount+
A rebrand of CBS All Access, Paramount Plus offers live sports and original content with two plans.
Similar to Max, there is an ad-supported subscription and an ad-free plan. But, the prices are lower. You'll pay just $4.99 a month and $9.99 a month, respectively.
The ad-free plan includes access to four local CBS channels. Learn more in our Paramount+ review.
Disney Bundle
If you're looking for an expansive collection of network TV shows, movies, sports, and content for kids, the Disney+ Hulu + ESPN+ bundle offers it all.
The ad-supported plan costs just $13.99 a month. This is about the same cost as the ad-free Max plan.
When you pair the bundle with an antenna for your locals, it's a well-rounded cable replacement.
Netflix
Netflix is the most natural competitor to Max. With a wide selection of movies and original series, it is the grandaddy of the streaming space.
Original content and overall content are the two key areas where Netflix outshines the competition.
It has more content than any other streaming service and constantly adds new titles.
While it has three plans, the cheapest option streams on one screen in standard definition for only $6.99 a month, though it does include ads.
Explore other sites like Netflix now.
Max Review
Available content

Price

Availability

Original Series

Ease of Use
Max Review
Max is a top streaming app that includes original content, popular TV shows, and movies from Warner Brothers.
Pros
✔️ Generous selection of movies
✔️ Lots of award-winning original content
✔️ Includes parental controls
✔️ Multiple plan options
✔️ Intuitive interface
Cons
❌ Less content than Netflix
❌ 4K content not available in ad-supported plan
❌ Free trial is only available through select third-party platforms
Bottom Line
Finding a way to watch your favorite shows without cable can feel overwhelming. Max makes it easier by offering a solid selection of content and an easy-to-use interface.
If you like watching award-winning original shows and want a vast library of content, the platform can be a good resource for cord-cutters.
What do you look for in an on-demand streaming platform?