Recurring Expenses You Should Plan For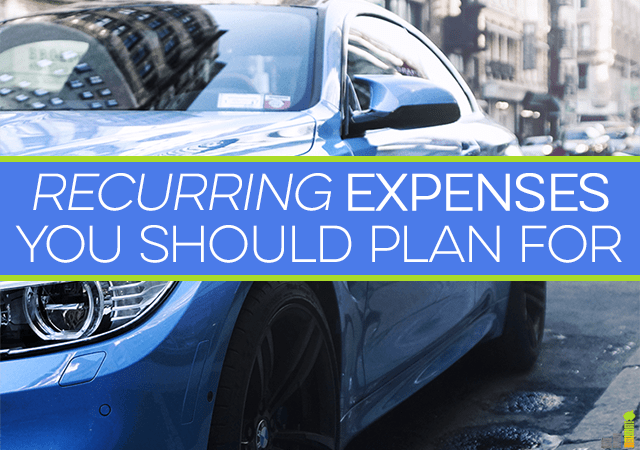 How far ahead do you plan for expenses? If you're like most people, you probably create a budget or spending plan for the upcoming month at the end of the current month. Or you might not plan at all!
There's a problem with that. While it's all well and good to plan for your usual expenses, such as gas, groceries, your mortgage/rent, and utilities, there are other expenses that tend to be recurring in nature.
They might not pop up every month, but they're guaranteed to happen at some point. Since you technically know about them, you can (and should) plan for them.
If you're tired of irregular expenses getting the best of you and your bank account, review this list of recurring expenses you should plan for.
Special Occasions
Many people may not budget for special occasions because they think of them as 'special' and therefore not recurring expenses to include in a budget. The truth is, special occasions are easier to handle when you include them in your budget. If you stop to think about all the holidays and special occasions we buy gifts for, you might get a little overwhelmed. There's birthdays, baby showers, bridal showers, anniversaries, graduations, holidays, and more to worry about!
What's even worse is when these all occur at the same time. These events can take a huge bite out of our wallets if we're not careful.
For example, my cousin is due to have a baby this month, and my other cousin is graduating high school. Those are two awesome things to celebrate, but they're costly so close together.
If you know events like these are happening ahead of time, you can get your budget in shape to handle them.
Any Type of Maintenance
Maintenance is one thing that loves to get the best of us. Whether you're dealing with your home, your car, or even your health (or the health of your pets), you need to plan for it.
Don't be too frugal to the point you put maintenance off, either. Thinking you can go another month or so without getting your oil changed, getting your annual checkup, or getting your roof looked at can end up costing you more in the long run.
Figure out how often maintenance needs to occur on the things you own, and plan out any medical-related visits you can at the start of the year.
Insurance
Insurance premiums can deliver a nasty blow to your bank account if you're not careful. This might not be a problem when you're paying monthly, but if you pay every six months or yearly, it's easy to forget when your premium is due.
What's worse? Having a bunch of premiums due at the same time. Like two cars, plus your homeowner's/renter's insurance on top of that (totally didn't happen to me).
Keeping track of your insurance premiums is as simple as plotting them on the calendar. Considering this expense probably pops up once or twice a year, it won't take long!
Taxes
Ah, don't we all love taxes? Whether you're paying property taxes on your car or your home, or quarterly taxes on your earnings because you're self-employed, they're guaranteed and here to stay.
Again, this is one of those expenses that pops up sparingly throughout the year, but taxes can be a huge burden if you're not prepared. I've heard too many horror stories of freelancers not realizing taxes were due, and scrambling to get the money together. Or stories of people not realizing how much they would owe, and having to find a way to pay.
I actually ended up owing the state for the first time in my life this past tax season. Thankfully it was only $40 (and I had saved for it), but you get the idea. It really does pay to plan for these things!
Vacations and Getaways
Most people start planning their vacations a year or so out – that's plenty of time to budget for savings! If you want to make the most of your trip, save enough to cover all anticipated expenses, such as gas, lodging, food, and entertainment.
I've been guilty of going into a vacation wanting to spend the least amount possible, but that doesn't make for a very enjoyable getaway. Have your savings ready just in case you're up for a little more adventure than you thought.
If a big vacation isn't in your overall budget for the year, you might want to take a few weekend trips instead. These are still worth planning for, especially considering you'll be paying for gas and a one-night stay somewhere!
Figure out where you want to go, do your research on the area, and start saving.
Annual Fees
I was originally going to mention car registrations and inspections because it's fresh in my mind, but I realized there are plenty of annual memberships out there that might require a fee.
Are you a member of AAA? AARP? A fancy gym? A professional organization important to your career field? Is one of your guilty pleasures a magazine subscription? Do you love your Amazon Prime subscription?
These all have yearly fees that can be $100 or more. Couple this with, say, the holiday season, and you might have a recipe for disaster.
$100 on its own doesn't sound daunting, but it's never fun to deal with multiple recurring expenses in one month when you only have so much money to spend.
Keep Track of Your recurring Expenses
The point is, there are a lot of expenses that can pop up throughout the year, and they can be anticipated. We're busy people, though – the chances of us remembering on our own, and weeks (let alone months) beforehand is slim.
The best thing you can do is get a system down when it comes to planning out your expenses for the year, or at least a couple of months beforehand.
If you keep your spending plan in a regular old spreadsheet, it's as simple as going through each month at the beginning of the year and adding your expenses in as a reminder.
Don't follow a set budget? It might be easier to create dedicated savings accounts, for the different types of expenses you have to deal with. Do a rough calculation of all the irregular expenses you might experience over the year, divide by 12, and aim to save that much on a monthly basis to cover it all.
If tracking your expenses isn't your cup of tea, you can also use the free tool available at Personal Capital that does all the work for you and still accomplish the same goal of staying on top of your finances.
It's also a smart idea to put a little redundancy in your plan. Save all your important dates to the calendar you use most often with reminders.
The next time your car's registration needs to be renewed, and it needs to be inspected, and your insurance premium needs to be paid, along with having to pay for a flight, a birthday present, and new tires, you'll (hopefully) be more prepared. (Lesson learned!)
What irregular but recurring expenses pop up the most for you? How have you learned to plan for them? Has not planning ever cost you?
The following two tabs change content below.
Erin M. is a personal finance freelance writer passionate about helping others take control over their financial situation. She shares her thoughts on money on her blog Journey to Saving.