How to Start Paying Off Debt in 6 Simple Steps
Posted on August 21, 2017 by Cat in
Debt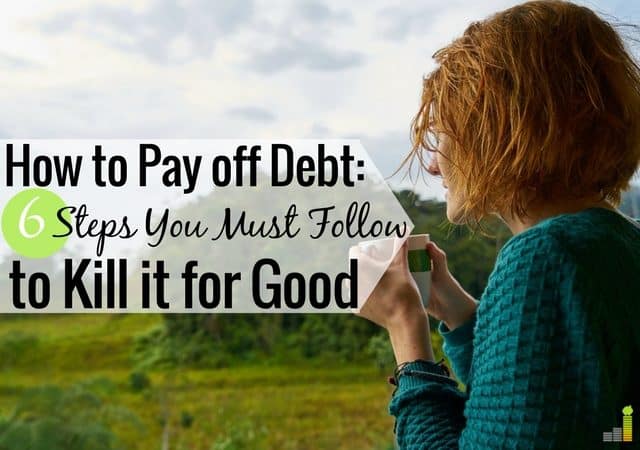 This month is Financial Literacy Month, and I hope that it inspires people to get pumped about money. Now I don't mean just earning it, but saving it; investing it; learning to view it as a tool to help accomplish the goals and dreams that matter most – a big part of that is learning how to start paying off debt so you can hit those aforementioned goals.
Whether you want to save money for your first emergency fund; start investing in a 401(k) for your retirement or pay down student loans and other debt, financial literacy is necessary to get there. Today, I want to do my part to promote financial literacy month by talking about how to start paying off debt. Like many people, you may want to get out of debt, but just aren't sure how to get there.
So, I've included six important steps that will help you on your debt repayment journey. I've been paying off debt for a long time now, and the first step especially has been integral in the progress I've made thus far. I believe that if you follow these six simple steps, you'll be well on your way to paying off your debt.
#1 – Start an Emergency Fund
You've probably heard this over and over again, and it's because it's the most important step anyone can take when paying off debt. That's why I've listed it first.
The reason most of us get into debt repeatedly is because we don't have a good cushion. You can pay off tons and tons of debt, but if one car repair puts you back into the cycle, then it's hard to break the habit completely.
Start with a small goal, like $500 or $1,000, and use it as motivation to make it larger. Aim to grow it slowly over time until you have 3-6 months worth of expenses in your emergency fund. While $1,000 should cover most of life's unplanned expenses, having more is always better.
So how, literally, do you do this? A good way to start is by opening a savings account with a bank that requires no minimum balance, like Barclays, so you can start saving right away.
The great thing about Barclays they pay 2.20 percent on your saving account balance. That's free money that over time, helps grow your emergency fund to the ideal amount you need it reach.
#2 – Know Exactly What You Owe
I remember calling my financial aid office as a senior in college asking how to determine how many student loans I owed. I literally had no clue. I know I'm not the only one. Many of us have some idea of how much money we owe, but it's important to know the exact numbers and the interest rates.
So make a date with yourself (bring a glass of wine if you feel like it) and go through those debts one by one, writing down how much is left, your minimum payment(s) due and the interest rate(s). With this information in hand, you'll know exactly where you stand.
If you find that your rates are too high, consider refinancing your student loan debt through SoFi to lower interest rates so you can pay it off quicker.
If you have consumer debt you're paying too much interest on, look at Lightstream to slash your rates by half or more.
You can also compare lenders to find the best rate/fit possible. Fiona by Even Financial lets you compare up to 17 lenders to find the best personal loan for your needs.
It takes less than a minute to fill out the application, and within a few minutes they provide possible matches.
Oh, and for the record, you can always check out how much you owe using www.AnnualCreditReport.com and for student loans, use the NSLDS website.
#3 – Track Your Spending & Find Your Weak Points
We all have our weak points when it comes to spending money. It can be as simple as spending too much at the grocery store or as complicated as having a more serious problem, like gambling.
Still, you might think you know what your weak points are but a careful analysis of your spending will show you exactly where you send your cash. Personal Capital is by far one of the best programs out there for tracking your spending and best of all, it's free.
#4 – Adjust Your Budget
Now we get to the point where it might get uncomfortable. Now that you know how much debt you have and you've tracked your spending, it's time to tweak your budget. Cutting back is never fun, but it's a necessary evil in the debt repayment journey.
Rather than cut out everything you enjoy in your budget, pick and choose. For example, I keep my expensive gym membership because of the childcare facilities there, but I've cut way back on my grocery spending and am planning my meals much better.
#5 – Make Extra Money to kill the debt
We're big fans of the side hustle around here. When you feel like you've cut out all you can, it's time to make extra money to pay off debt.
My job as a blogger started out as a side hustle and grew into a full-time job. However, there are so many more side hustles you can do, like delivering pizza or working at Starbucks every weekend.
When you don't want to do extra work, or you're already tired from your day job, just remember that this is temporary. It's only for a short period of time until your debt is completely paid off.
#6 – Get As Much Accountability as Possible
The truth is, a debt repayment journey is much more emotional than mathematical. You are going to get discouraged and there will be times that you mess up (that's normal.) What's great to have in those moments is an accountability partner.
This could be your spouse, your mom, your best friend or the entire Internet through a blog. Whoever you choose, involve someone else in your journey who is dedicated to your success.
This last and final step could mean the difference between paying off your debt completely or staying in that cycle forever, so make sure you get the support you need.
Have you paid off a lot of debt lately? What was the most important step for you out of the ones mentioned above? What are some other must follow steps as you begin to pay off debt? What are some areas you overlooked when paying off debt?
The following two tabs change content below.
Catherine Alford is the go to personal finance expert for parents who want to better their finances and take on a more active financial role in their families.