Student loans are a necessary evil for many students. If you're a graduate, you may also be dealing with refinancing or consolidating your loans.
SoFi (short for Social Finance) is a leading option to take out and refinance loans. However, they are just one player in the growing space.
This SoFi review will help you determine if the lender can save you money.
What is SoFi?
SoFi got its start in 2012 and is a resource to refinance your federal or private student loans.
The company often has stricter lending requirements for refinancing. If you encounter a challenge when checking rates, Credible is another fantastic resource to refinance.
Requirements aside, SoFi is a leader in the student loan space. The company has refinanced over $30 billion in student loans, helping nearly 400,000 members.
Loans and refinancing for students aren't the only products the company can help you with. They offer a full wealth of cash management products as well.
Student Loan Refinancing
SoFi is a top choice for many people looking for loan repayment options. While the company has expanded to offer numerous other financial tools, they're still a leader in the refinancing space.
The online lender is best for graduates needing to refinance private or federal student loans with high interest rates.
You can manage the entire process online as you compare them against other lenders.
Rates and Terms
SoFi is a terrific option for graduates looking for flexible repayment programs. You can choose from five, seven, ten, 15, and 20-year terms to repay your loans.
They offer both fixed and variable rates, so you can pick whichever one fits your budget best.
The current SoFi interest rates are competitive. Here's the range you can expect:
Fixed: 5.24 to 9.99 percent
Variable: 6.24 to 9.99 percent
If you sign up for AutoPay, they may reduce your rate by 0.25 percent to help lower your monthly payments. The rates are fluid, so it's important to know that they can change.
You can prequalify your rate without a hard credit pull. Additionally, you can lock in your rate now and still take advantage of the federal freeze on student loan payments.
It's possible to check your rate for free. If you find a lower rate, they'll match it and give you $100 when your loan is funded.
Repayment Options
SoFi offers a myriad of repayment options to help those who may face special circumstances.
These customized refinancing programs are available in the following areas:
Medical resident refinancing
Law & MBA refinancing
Medical professional refinancing
Available assistance includes additional lower rates or potential payments to help you make ends meet.
SoFi also offers refinancing options for Parent PLUS loans.
The Competition
There are a lot of platforms that offer student loan refinancing. It's essential to compare different options extensively to find a company that works best for your needs.
SoFi is an excellent option, but you want to do your due diligence. Here is how they compare against other top choices.
| Rates | SoFi | Credible | Splash Financial |
| --- | --- | --- | --- |
| Fixed | 5.24 - 9.99% | 2.15 - 7.83% | 2.49 - 6.25% |
| Variable | 6.24 - 9.99% | 1.74 - 7.58% | 1.89 - 6.15% |
| | Get Rate | Get Rate | Get Rate |
SoFi Private Student Loans
SoFi isn't just an option to refinance and consolidate your student loans. You can take out the following loans:
Undergraduate
Graduate
Law
MBA
They even offer parent loans, which aren't as readily available in the market.
Rates and Terms
Similar to their refinancing rates, SoFi student loans have competitive interest rates. You must borrow at least $1,000 (or $10,000 for California residents).
They offer both variable and fixed rates and compare well within the market.
Here's the range you can anticipate for both undergraduate and graduate loans:
Fixed (Undergraduate): 4.24 to 13.55 percent
Variable (Undergraduate): 1.45 to 11.09 percent
Fixed (Graduate): 5.00 to 13.35 percent
Variable (Graduate): 1.35 to 11.59 percent
If you select AutoPay on your repayments, you can receive a 0.25 percent reduction of your interest rate. The rates are dynamic, so keep that in mind when comparing your choices.
Repayment Options
Similar to student loan refinancing, SoFi loans offer a variety of repayment choices. You can choose from five, seven, ten, and 15-year loans.
They also let you customize your repayment to fit your current budget situation. Those plans include:
Immediate
Partial
Interest Only
Deferred
Consult our budget worksheet for new grads to help formulate your strategy.
Regardless if you want to repay your loans quickly or need to use deferment, SoFi will work with you to find the best solution.
SoFi Student Loan Requirements
You don't need a credit history to access federal direct undergraduate loans. That is not the case with private student loans or refinancing your debt.
SoFi is a bit cagey when giving clear direction on credit requirements for refinancing student loans or taking out a new one. In the past, they said they required a score of 650.
They now say they require a good or excellent credit score to qualify. SoFi does review things like your finances and career experience to help give a better picture of your eligibility.
If you have a solid monthly income and don't have a lot of additional debt, you will increase your chances of qualifying.
Adding a cosigner to your loan is a good solution if you've had credit problems in the past.
The Competition
There are a lot of choices for private student loans. It's essential to compare different options to find a company that works best for your needs.
SoFi is an excellent choice, but you want to do your research. Here is how they compare against other top options, each of which offers both variable and fixed loans.
What Protections Does SoFi Offer?
Refinancing is an excellent way to get a lower interest rate and accelerate repaying your student loans.
However, refinancing also exposes you to risk by forfeiting the protections you receive from federal student loans.
Those protections include:
Reducing payment via income-driven repayment
Postponing payment via mandatory forbearance
Receiving subsidized interest during deferments
Qualifying for loan forgiveness
It's important to note that you will lose these protections when you refinance with any lender, not just SoFi.
Fortunately, they do offer loan deferment in cases like returning to school, if you're an entrepreneur, or serving in the military.
They also offer the aforementioned repayment options to help you manage your payments.
Does SoFi Charge Any Fees?
There are no fees to use either of SoFi's student loan products. They charge no application, origination, or prepayment fees.
You're only responsible for the amount you borrow and the interest. There are no student loan fees, which is a significant perk of working with the company.
Additional Products
SoFi doesn't just offer student loans and refinancing options. They provide numerous financial products to help people get their finances back on track.
You can find the following products on the platform:
Personal loans – Refinance or consolidate consumer debt and lower your payments
SoFi Mortgage – Offers a range of mortgage-related products, from refinancing to home equity loans
SoFi Money – A cash management tool that includes high-interest checking accounts and no fees
SoFi Protect – Offers a variety of insurance products from renters to auto insurance
SoFi Invest – Active and automated investing options, including retirement accounts, partial shares of stock, user-friendly options trading, and crypto
While SoFi isn't a bank, they do provide the same FDIC protection you find at any bank and offer the same level of security.
Perks of Working with SoFi
Part of what sets the company apart from its competition is the perks it offers to members. Beyond the minimal fees, they offer a lot of extras to enhance the lives of their members.
Current perks include:
Career specialist
Financial planning
Estate planning
Unemployment protection program
Points that you can convert to cash for making smart financial moves with SoFi Money
Access to SoFi Member Lounge at SoFi Stadium in Los Angeles
Most of these perks are free of charge for being a member.
Pros and Cons
There is a lot to keep in mind when dealing with student loans and working with SoFi. Here's what to consider.
Pros:
No fees
You can see if you qualify without a hard credit pull
Wide variety of other financial products available
Reduced rate if you automate payments
Parent PLUS loans and refinancing
Assistance programs for medical students
Career planning and job search assistance
Cons:
Less than clear credit requirements
Bi-weekly payments not available via AutoPay
If you need to refinance your student loans or want to take out a private loan, SoFi is a legitimate option for reducing your rates.
SoFi Student Loan Refinancing
Rates and Fees

Tools

Application Process

Products

Customer Service
Summary
SoFi offers student loan refinancing, private student loans, and a wealth of other financial products. The company is an excellent resource to save money and better manage your finances.
Pros
✔️ No fees to refinance or take out loans
✔️ Parent PLUS loans and refinancing
✔️ Lots of other financial products to manage your money
✔️ Checking your rate doesn't impact your credit
✔️ Multiple repayment options
Cons
❌ No bi-weekly payments via AutoPay
❌ Unclear credit requirements
❌ Potentially strict requirements to refinance
Bottom Line
SoFi is a leader in the student loan space for great reasons. They offer competitive rates and no additional fees. This makes repaying your student loans easier to manage.
If you have a good job and above average credit history, it's worth considering SoFi to get a lower rate.
How much are you paying on your student loans each month?
SoFi Invest refers to the three investment and trading platforms operated by Social Finance, Inc. and its affiliates (described below). Individual customer accounts may be subject to the terms applicable to one or more of the platforms below.
1) Automated Investing and advisory services are provided by SoFi Wealth LLC, an SEC-registered investment adviser ("Sofi Wealth"). Brokerage services are provided to SoFi Wealth LLC by SoFi Securities LLC.
2) Active Investing and brokerage services are provided by SoFi Securities LLC, Member FINRA/SIPC, ("Sofi Securities"). Clearing and custody of all securities are provided by APEX Clearing Corporation.
3) SoFi Crypto is offered by SoFi Digital Assets, LLC, a FinCEN registered Money Service Business.
For additional disclosures related to the SoFi Invest platforms described above, including state licensure of SoFi Digital Assets, LLC, please visit SoFi.com/legal.
Neither the Investment Advisor Representatives of SoFi Wealth, nor the Registered Representatives of SoFi Securities are compensated for the sale of any product or service sold through any SoFi Invest platform. Information related to lending products contained herein should not be construed as an offer or pre-qualification for any loan product offered by SoFi Bank, N.A.
*Personal Loan Disclaimer: Fixed rates from 8.99% APR to 25.81% APR reflect the 0.25% autopay interest rate discount and a 0.25% direct deposit interest rate discount. SoFi rate ranges are current as of 05/19/23 and are subject to change without notice. Not all applicants qualify for the lowest rate. See Personal Loan eligibility details. Lowest rates reserved for the most creditworthy borrowers. Your actual rate will be within the range of rates listed and will depend on the term you select, evaluation of your creditworthiness, income, and a variety of other factors. See APR examples and terms.
Loan amounts range from $1,000– $100,000. The APR is the cost of credit as a yearly rate and reflects both your interest rate and an origination fee of 0%-6%, which will be deducted from any loan proceeds you receive.
Autopay: The SoFi 0.25% autopay interest rate reduction requires you to agree to make monthly principal and interest payments by an automatic monthly deduction from a savings or checking account. The benefit will discontinue and be lost for periods in which you do not pay by automatic deduction from a savings or checking account. Autopay is not required to receive a loan from SoFi.
Direct Deposit Discount: To be eligible to potentially receive an additional (0.25%) interest rate reduction for setting up direct deposit with a SoFi Checking and Savings account offered by SoFi Bank, N.A. or eligible cash management account offered by SoFi Securities, LLC ("Direct Deposit Account"), you must have an open Direct Deposit Account within 30 days of the funding of your Loan. Once eligible, you will receive this discount during periods in which you have enabled payroll direct deposits of at least $1,000/month to a Direct Deposit Account in accordance with SoFi's reasonable procedures and requirements to be determined at SoFi's sole discretion. This discount will be lost during periods in which SoFi determines you have turned off direct deposits to your Direct Deposit Account. You are not required to enroll in direct deposits to receive a Loan.
The following payment example depicts the APR, monthly payment and total payments made during the life of a personal loan with a single disbursement. All loan rates below are shown with the autopay discount (0.25%) and direct deposit discount (0.25%). The monthly payment for a $30,000 loan with a 60-month term and a fixed annual percentage rate (APR) between 12.95% – 25.03% would be $681.82 – $881.07 in monthly payments, with total payments between $40,909.47 – $52,864.05. Your actual interest rate may be different than the loan interest rates in these examples and will be based on term of loan, your financial history, and other factors, including your cosigner's (if any) financial history. Lowest rates reserved for the most creditworthy borrowers. See SoFi.com/eligibility for details.
NOTICE: The debt ceiling legislation passed on June 2, 2023, codifies into law that federal student loan borrowers will be reentering repayment. The US Department of Education or your student loan servicer, or lender if you have FFEL loans, will notify you directly when your payments will resume For more information, please go to https://docs.house.gov/billsthisweek/20230529/BILLS-118hrPIH-fiscalresponsibility.pdf https://studentaid.gov/announcements-events/covid-19
If you are a federal student loan borrower you should take time now to prepare for your payments to restart, including the opportunity to refinance your student loan debt at a lower APR or to extend your term to achieve a lower monthly payment. Please note that once you refinance federal student loans you will no longer be eligible for current or future flexible payment options available to federal loan borrowers, including but not limited to income based repayment plans or extended repayment plans.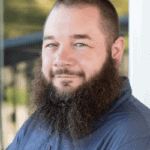 I'm John Schmoll, a former stockbroker, MBA-grad, published finance writer, and founder of Frugal Rules.
As a veteran of the financial services industry, I've worked as a mutual fund administrator, banker, and stockbroker and was Series 7 and 63-licensed, but I left all that behind in 2012 to help people learn how to manage their money.
My goal is to help you gain the knowledge you need to become financially independent with personally-tested financial tools and money-saving solutions.