A Budget Template for New Grads: 10 Steps to Master Your Money
Posted on February 15, 2019 by Erin M in
Budgeting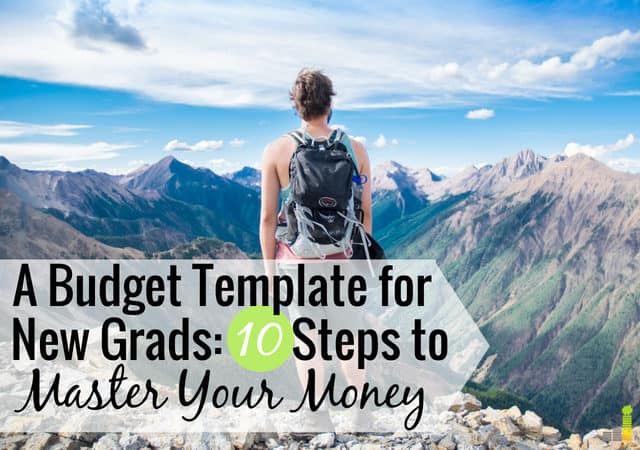 When you're a new college graduate, mistakes can make or break your financial success right off the bat. Following a budget template for new grads is a great way to get and stay on the right track. You don't want to start off spending more than you earn only to end up living paycheck-to-paycheck, or worse, in debt.
It can be difficult to anticipate what expenses you should budget for if you've never lived on your own. If you had few expenses in college, or your parents helped it can also be difficult.
For example, even though I was tracking my expenses and income when I graduated, moving in with my then-boyfriend and figuring out a budget entailed more than I expected. I don't think I'm alone in my experience.
Sample budget for college graduates
It's easy to make financial mistakes in your 20s, but learning to manage your money wisely makes a difference. Many people find it difficult to start a budget, especially if they don't know the recommended budget percentages by category.
Thankfully, it doesn't have to be that way. Below are ten things that should be in your first budget after graduating from college.
1. Rent and Utilities
Rent is a big expense, regardless of whether you choose to move out of your parents' house or live with roommates. You want to focus on keeping this expense as low as possible while still living comfortably.
Think of it this way – if 40 percent of your income is going toward rent and utilities, that doesn't leave much room for anything else in your budget.
Earn 15 Times More on Your Savings!
CIT Bank
pays 1.00% interest on your money market balance and charges no fees, which helps you save more money faster.
Enjoy quick and easy access to your money, which is FDIC insured up to $250K. Start saving today with as little as $100!
When I first moved out, I looked for places with utilities included in the rent. That made my life a lot simpler when it came to budgeting as I didn't have to scramble to get money for rent each month.
As you consider the expense of rent in the overall picture of your expenses you want to track your spending. Tracking your spending lets you stay on top of all your expenses by showing you where your money goes each month.
This sounds difficult, but it's actually quite simple – especially when you automate it.
We recommend Tiller as a simple way to track your spending that lets you view all your financial transactions in one place.
Tiller is a service that automatically pulls all your banking and financial transactions and puts it in a Google Sheet. The service goes categorizes your spending so you can find opportunities to save.
Tiller is free to use for the first month, then $7 per month thereafter.
As you review your larger expenses you may learn that you need to bring in additional income to help make ends meet. That's fine as many face that situation. Thankfully there are countless ways to make extra cash.
Postmates is an excellent choice if you want a side hustle that requires minimum skill and flexibility to fit with your day job. You can earn up to $25 per hour with Postmates and you can create your own schedule.
2. Student Loan Payments
This one is a given, but that doesn't mean you should exclude it from your new graduate budget. Most student loans give you a six month grace period upon graduation, so it's important to come up with a plan to repay them during that time.
It's typically best to automate payments as most lenders offer a .25 percent reduction in your interest rate, helping save you on interest.
You never want to be late on a payment, so it's important to have the funds ready to cover your monthly debt payments. Doing so can help you pay off your student loans fast to become debt free as soon as possible.
Do you have multiple loans, or high-interest rate loans? You may benefit from consolidating the loans so you only have one payment to make each month, and at a lower rate.
Check rates at Credible to see how much you can save on payments. Credible lets you compare up to ten lenders at once and has rates as low as 2.39 percent on a variable loan, with auto pay.
The average person saves almost $19,000 when they refinance with Credible, so it pays to check your rate.
Do you have credit card debt? If so you want to pay those off as soon as possible. Like student loans, refinancing or consolidating your credit cards is an excellent way to kill the debt. It's best to simultaneously compare multiple lenders to find the best fit and rate.
Fiona by Even Financial is an excellent resource to compare lenders. Fiona lets you compare up to 17 lenders to find the best rate. It takes just a minute to provide your information and receive potential rates.
3. Groceries
Groceries are likely going to be your second largest variable expense. You have to eat, right? Yes, but that doesn't mean you have to spend a lot on food. You don't want to go overboard at the store only to throw out items because they've gone bad. That's no different than throwing money in the trash.
Everyone's appetite is different, but my fiance and I hover around $300 per month for groceries. If I were budgeting just for myself, I'd probably spend $75-$100 per month, only because my appetite is small.
Here are some simple tips to save money on grocery shopping:
Shop sales
Stick to your grocery list
Use meal planning to arrange shopping trips
Limit your trips to the store to help reduce opportunity to spend.
Did you know you can also get cash back on your grocery shopping? With Ibotta you can earn cash back from items you buy at the grocery store.
After you're done shopping, you scan your receipt and Ibotta matches it against cheaper offers and pays you the difference.
Ibotta doesn't just work at grocery stores, it also works with 350+ vendors, including:
Amazon
Costco
Target
Walmart
Ibotta connects to your PayPal or Venmo account so you can get paid right away. If you'd rather not scan receipts, you can use the Ibotta app on your phone to locate sales for the store you're at.
Ibotta gives you a $10 bonus just for signing up, and you can cash out once you hit $20.
Here are some of the other best grocery rebate apps that give you cash back on your shopping.
4. Phone Bill
I prefer to keep this separate from utilities since your phone isn't exactly a "living expense". It's still a big you must pay each month.
It's also probably one of the first bills you were responsible for paying yourself. It can be easy to fall into the trap of thinking you have to spend $100+ per month for your service, but you don't.
Cheap cell phone plans do exist that let you save big money each month without sacrificing on quality coverage. The key is to use a MVNO that piggybacks on someone else's network.
One MVNO example is Republic Wireless. Republic Wireless offers unlimited talk and text plans starting at $15 per month, with an additional $5 per GB per month if you want data.
Read our review of Republic Wireless to learn more about the provider.
There are other similar carriers out there that, like Republic Wireless, let you save $50+ per month in this budget category.
5. Insurance
This might be a "boring" category, but you should include it if you have a renter's insurance or car insurance. You likely will, so it's important to include in your budget.
Additionally, if you're not covered by your parents' health insurance, or you have any co-payments or exams that you need to pay for out-of-pocket, it's a good idea to budget for them.
Health insurance is obviously going to be the more expensive of the insurance needs.
PolicyGenius is a great option for most insurance needs. PolicyGenius offers coverage in several areas, including:
Health insurance
Life insurance
Renters insurance
If you're new to auto insurance, Esurance is a good option for low prices. If you want to simultaneously compare multiple insurers, check out Gabi to identity saving opportunities.
6. Savings
You should budget in your savings, otherwise you might not actually do it. When you allocate all your money and give it a purpose, it's harder for things to fall through the cracks.
The best way to begin saving money is to automate it, so you don't forget to do it. The amount doesn't matter in the beginning, you simply need to start saving on a regular basis.
Give yourself a goal when you start saving. First you can work to save $500, then $1,000. You can use this as a foundation of an emergency fund as the unexpected will happen and you want to be prepared to handle whatever comes your way.
Chime Bank is a good option as they round up each purchase you make to the nearest dollar and places that amount in a savings account – assuming you're unable to automate savings right away.
You can read our Chime Bank review here to learn more about the institution.
7. Gas and Transportation
If you're able to land a job before you move out, I recommend moving as close to work as possible to cut down on transportation costs.
Rent may be higher depending on where you work, but if you can get by without a car, the savings could make up for the increase in rent. Besides that, sitting in traffic isn't fun.
Can't get anywhere without a car? Estimate how much you'll spend in gas on your commute to work by using a trip cost calculator (Gasbuddy has one). Factor in any other errands you may run over the week, as well as any trips you want to take.
*Related: Want to save more money? Check out our guide on bill negotiation strategies to follow to garner more savings.*
Only spending on public transportation? Figure out how much monthly passes are and add it into your budget.
If public transportation isn't an option, consider completely getting rid of your car and use Lyft or Uber to get around town. Depending on where you will live it can be cheaper than owning a car, and an easy way to save money. Just make sure to do the math before making this decision.
8. Entertainment
Contrary to what some might think, it is possible to enjoy life while living on a budget; you can even treat yourself when you look for ways to save money on entertainment. This is a very broad category that encompasses a lot of "fun" expenses.
Maybe only one of these appeals to you as you're a homebody, or maybe all of them apply. Depending on how detailed you want your budget to be, you can break entertainment down into these sub-categories:
Restaurant
Gym membership
Bars
Concerts/Festivals
Sports games
Movies
Books
Most of these expenses aren't needs, but wants. It's a good idea to leave this category for last when figuring out how much money you can allocate to it in your budget.
9. Pet Expenses
If you're a proud owner of a furry family member, you should budget for any pet-related expenses. These can include many things, including:
Behavioral classes
Food
Litter
Medicine
Toys
Remember how we were talking about savings? You need to take future veterinary expenses into account, too.
None of us like to think about anything bad happening to our pets, but it's better to be prepared for the expense with a dedicated pet savings fund.
10. One-Time Expenses
These are oddball expenses that tend to get forgotten as they don't happen on a regular basis. They can include any number of items, including:
Annual memberships
Birthdays
Car registration
Taxes
Some of these can be planned for (holidays, special events), and for others, you might need to adjust your spending elsewhere to make room.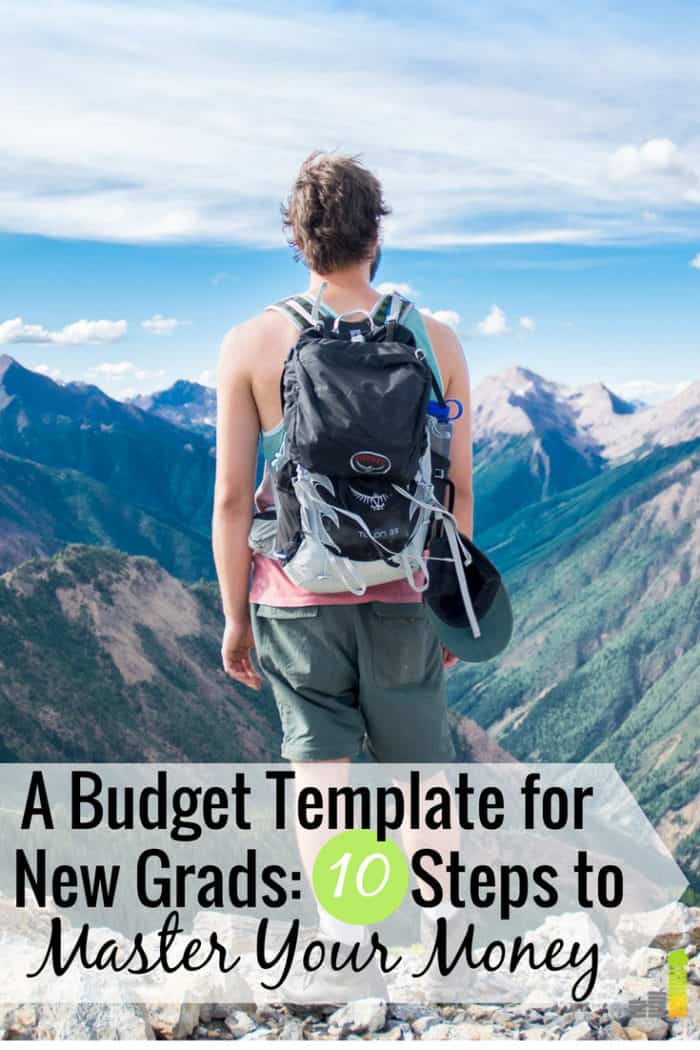 Optional: Occasional Splurges
This is useful for those on an extremely tight budget who think they might encounter saving or debt fatigue. There's only so much you can cut, and you never want to feel like you're not allowed to have any fun.
For that reason, having an "occasional splurge" category is a good idea. If you have any money leftover after budgeting for everything else, even $10, consider letting yourself use it for a fun splurge. $10 can get you a few coffee trips, a new top, an ebook or a used video game.
It'll give you a purchase to look forward to – just make sure it's a good one!
Budgeting Doesn't Have to Be Restrictive, Just Spend Wisely
I want to make sure we're clear here – budgeting, and being frugal, is not restrictive. In fact, both should give you freedom to spend according to what you want in life. The key is to be flexible and know what you value in life.
If you want to have more entertainment money one month, you can "borrow" from your grocery budget. Staying aware of your expenses is the biggest key to avoiding financial stress.
Managing money after graduating college does not have to be difficult. Following this sample budget for new college graduates is a great way to set yourself up for success and use money as a tool to get what you want in life.
How did you approach budgeting when you were a new grad? Do you have any advice on how to manage money right out of college? What's one fun category you like to include in your budget?
The following two tabs change content below.
Erin M. is a personal finance freelance writer passionate about helping others take control over their financial situation. She shares her thoughts on money on her blog Journey to Saving.