Working online can be a great thing. I get to work from the comfort of my home, in my pajamas and pretty much make my own schedule. Not surprisingly, when I talk to people about making money online, I get quizzical looks.
With that in mind, I thought I'd share some truths about making money online to separate fact from fiction.
You Don't Live in a Lap of Luxury
When I tell friends or people I just met that I make money online, they have a certain misconception about what that looks like. They think we have expensive cars, live in a mansion or have our own personal jet.
Yes, we travel more than we did in the past. A big part of that is due to travel hacking. The other part is that we budget so we can afford our travel addiction as it matters to us.
We can work from anywhere, and we commonly work while on trips, so it's not as if we're staying in five-star resorts and indulging in the finest. If we did, we wouldn't have the business we do.
There Are No Get Rich Quick Schemes
Making money online is great, but just as in real life, there's no such thing as a get rich quick scheme. If that's what you're looking for in working online, you'll be disappointed.
There are many people who make money online, but the simple truth is that they've worked hard to get where they are with their business.
Personally speaking, I put in nearly a year until I saw good income from my site. That year was full of countless hours working on the site and numerous stressful times because something wasn't working like I wanted.
That being said, blogging is one of the best ways to earn extra money, and I'm thankful every day that I started this site.
If you'd like to start a blog, and don't know how, I recommend checking out my how to start a blog guide to get started.
Most Experts Can Be Ignored
The Internet is full of experts, or so-called experts. Many of them are on top of their game and are where they're at for a reason – there's no denying that.
That's not who I'm talking about here. I'm talking about those who make claims about how much they earn and sell you a course. You think the course is going to be great and help you make more money online.
You buy the course and notice something. The course is only about how to make a course to sell and make money. It provides no actionable tips to grow your business, only how to create a course to sell.
Notice the problem? It sort of feels scammy, to be honest. This is not to disparage all courses or "experts" online as there are some good ones out there, but it means you have to pick and choose and take many things with a massive grain of salt.
There are Many Ways to Make Money Online
This is part of what I love about working online. There are so many ways you can make money online if you're willing to do the work. I make most of my income through this blog, along with some freelance writing I do on the side.
Those don't even scratch the surface of ways to make money online from home. Just off the top of my head, here are some of the best ways to make an income online:
Blogging
Freelance writing
Being a virtual assistant
Technical work
Selling items
Photography
Freelance editing
There are many other ways to make money online; you just need to think outside the box and be a little creative.
You Must Have Multiple Streams of Income
This can be one of the harder learned truths to making money online. Think of making money online like investing in the stock market. You want to have diversity. Without diversity, you open yourself up to risk that a stream of income will dry up.
You can have a client that decides to go a different direction and all of a sudden, you lose that income. The same thing happens with affiliate marketing.
A company you've been promoting and making good income from decides they want to shutter their affiliate program. Now, all of a sudden, you're making less money and are left looking for other opportunities.
By adding multiple income streams you can weather most storms that come your way and, thankfully, you'll find in most cases that when one thing goes away, another picks up.
You Need to Be Incredibly Self-Motivated
The great thing about making money online from home is that you get to work from home, or wherever else you want to be at the moment. The good thing is also a drawback; you're alone a lot of the time.
This sounds great to an introvert like myself, but the harsh reality is you need to be incredibly self-motivated – at the very least. If you're not, it can get very easy to burn out or give up when you face a challenge.
I like to get around this by attaching different projects or streams of incomes to specific goals. If I know that my work on X project is meant to help us go on vacation or save for retirement throughout the year, I'm typically going to work harder to reach my goal.
Don't just stop at the self-motivation. Find an accountability partner or mastermind group to help keep you accountable to your work and goals.
When you surround yourself with the right group of people, they'll be your biggest cheerleaders and your strongest challengers to accomplish a goal.
This is a great way to curb the feeling of isolation inherent in working online, as well as increase the chance of success.
You Need to Know When to Turn Off
Working online isn't like most typical 9-5 jobs. You can work 24 hours a day if you wish, but the simple truth is you won't make it long if you do.
That sounds great in theory, but it's easy to overlook your need to unplug when working on a project or trying to increase income. Again, you won't last long if you don't give yourself time away to recharge.
Since I like to learn things the hard way, it has taken me years to learn this lesson. It wasn't until a year or so ago that I began to force myself to take weekends off.
I stop working around dinner time on Fridays and don't touch the site until Sunday evening. It took me awhile to get used to doing this, but I've noticed quite a few benefits from it – our kiddos actually get time with their Dad the whole weekend, I get less screen time and I feel refreshed come Monday morning.
Find a day that works for you to take off and really follow it. It will be a challenge in the beginning, but you and your business will both benefit from the time away.
Bottom Line
Making money online can be a great way to grow your income, pay off debt, or even start your own business. By going into it with your eyes open to some of these truths, you'll be even more successful.
What are some other truths you've found to making money online? If you work online, what is the most common misconception you hear from others? How do you motivate yourself when you work alone?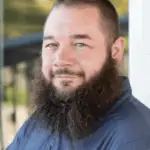 I'm John Schmoll, a former stockbroker, MBA-grad, published finance writer, and founder of Frugal Rules.
As a veteran of the financial services industry, I've worked as a mutual fund administrator, banker, and stockbroker and was Series 7 and 63-licensed, but I left all that behind in 2012 to help people learn how to manage their money.
My goal is to help you gain the knowledge you need to become financially independent with personally-tested financial tools and money-saving solutions.