Are you searching for a meal kit delivery service that doesn't compromise on ingredient quality? Look no further than Sunbasket.
This healthy meal kit service offers weekly shipments of recipes composed of fresh, organic, and high-quality ingredients.
Our Sunbasket review shares what you need to know before you try this subscription-based service.
What Is Sunbasket?
Sunbasket is a meal kit delivery service that provides weekly recipes and ships all the fresh ingredients you'll need to prepare the meals straight to your door.
They are different from other services because they focus on organic food and unique recipes from around the world.
They also cater to special diets like paleo, vegan, and gluten-free by offering menu options to suit these needs. Read our guide on vegan meal delivery services if Sunbasket doesn't fit your needs.
In addition to their meal kits, Sunbasket offers a line of ready-to-heat meals and a large assortment of organic and natural groceries that you can add to any order.
How Does the Service Work?
It's easy to sign up for Sunbasket. After you click "Get Started," you'll be asked if you prefer meal kits or Fresh & Ready (heat-and-eat) meals.
No matter which one you choose, you'll still have access to the full menu. This lets you mix and match if you want to.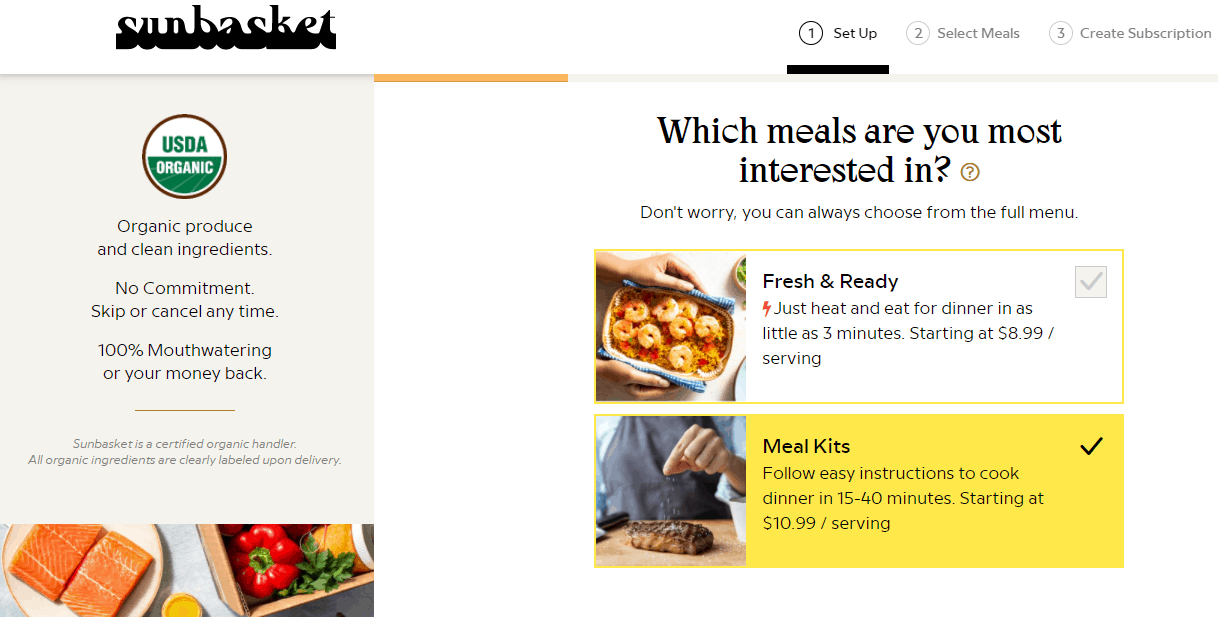 Next, you'll be asked about your dietary restrictions and preferences.
Then, you'll be asked how many servings you'll need. Sunbasket offers meal kits for two or four people, and you can choose from anywhere between two and five recipes each week.
After entering your payment details and completing checkout, you'll be taken to the Sunbasket menu.
They offer 20 weekly meal options along with about 20-25 Fresh & Ready meals and a large selection of groceries.
Here's what the selection page looks like. It's easy to filter based on your needs and preferences.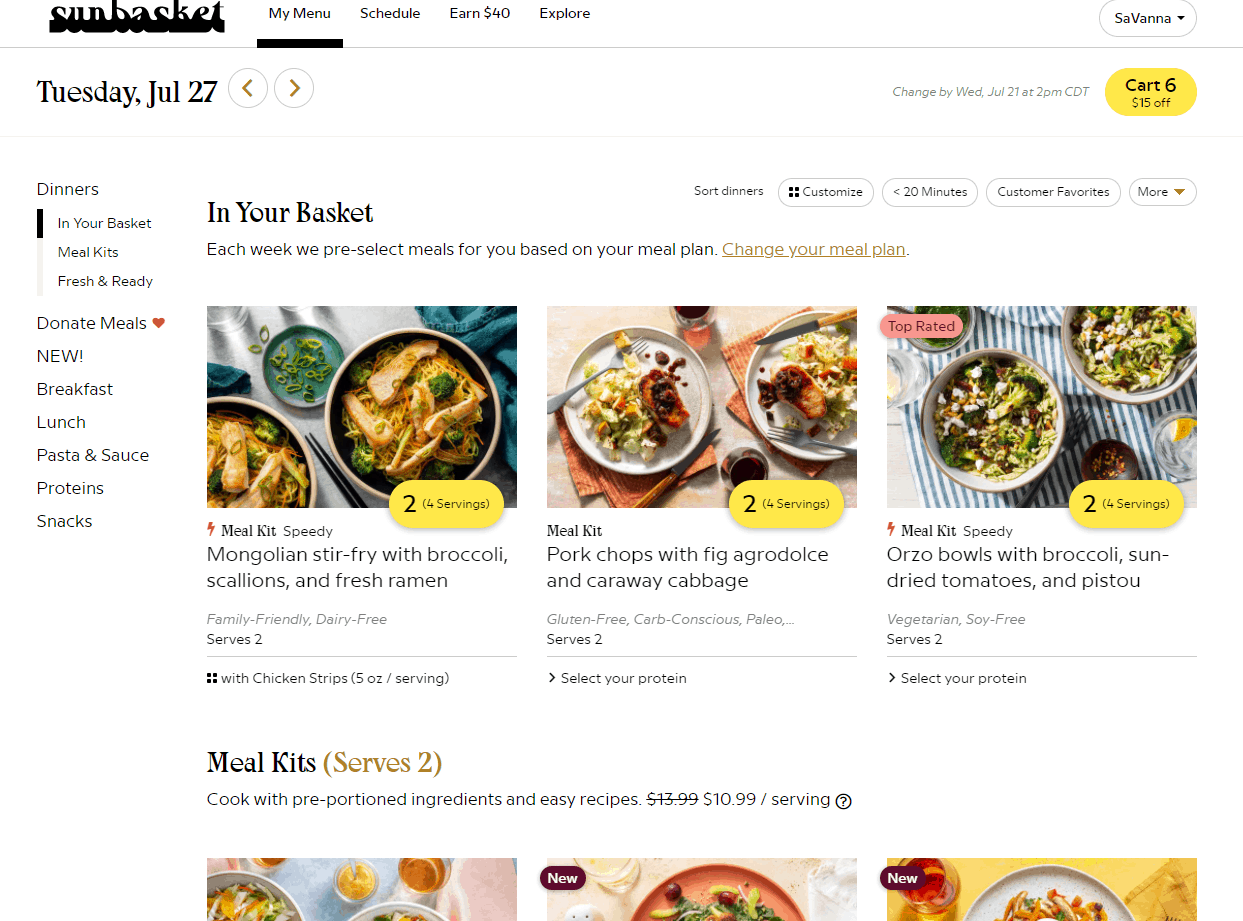 Once you make your selections, your box will be shipped to your door. It's a subscription-based service, so you'll receive a shipment each week.
If you need to take a break from your subscription, Sunbasket makes it simple to skip weeks or cancel online.
Remember to choose your meals from the weekly menu before the deadline. Otherwise, Sunbasket will send you preselected meals.
What Can You Eat With Sunbasket?
Sunbasket offers simple recipes made with high-quality, organic ingredients. They also cater to certain dietary needs and preferences.
Here are the diets they offer meals for as well as some sample ready-to-make meals:
Paleo: Chicken Marbella with olives, dates, and chicory; Korean beef japchae with glass noodles, kale, and mushrooms. Read our guide on other paleo meal delivery companies to learn how Sunbasket compares.
Gluten-free: Lettuce-wrapped "sliders" with root vegetable fries; seared steaks with quinoa-raisin pilaf and pipian verde. Read our guide on other gluten-free meal delivery services to see how Sunbasket compares
Vegan/vegetarian: Two-bean sloppy joe wraps with mushrooms and tangy coleslaw; rainbow quinoa-black bean tacos with guacamole and cabbage slaw. The service is one of the best vegetarian meal delivery services in the market, if that is important to you
Pescatarian: Seared tuna and black rice bowls with roasted sweet potato and nori; Mediterranean honey-harissa salmon with apple-cabbage slaw
Mediterranean: Your choice of protein with two tangy romescos and vegetable skewers; ginger stir-fry with steamed cabbage, zucchini, and carrot
Diabetes-friendly: Yucatecan sopa de lima with shredded chicken and tortilla chips; pan-cooked chicken with baby broccoli and warm Tuscan farro salad
You can also select from several dietary preferences when you sign up so that you receive recommendations that are a better fit for you.
How Much Does Sunbasket Cost?
Sunbasket's meals range from $10.99 to $13.99 per serving depending on how many servings you receive with each shipment. If you're looking for a cheap meal delivery service, this is not it.
They also offer ready-to-heat single-serving meals (Fresh & Ready) starting at $8.99 each. You're even able to add on extra groceries like snacks or breakfast foods that range in price.
Shipping is $7.99 per box.
If you're new, don't forget to check out their promo codes and special offers. Currently, they're offering $90 off your first four boxes, free shipping on your first box, and four free gifts.
Additionally, Hungryroot is a suitable alternative if you want a service that's a bit cheaper.
| Servings Per Week | Total Cost with Shipping |
| --- | --- |
| 2 people, 2 dinners | $63.95 |
| 2 people, 3 dinners | $85.93 |
| 2 people, 4 dinners | $103.91 |
| 2 people, 5 dinners | $117.89 |
| 4 people, 2 dinners | $103.91 |
| 4 people, 3 dinners | $139.87 |
| 4 people, 4 dinners | $183.83 |
| 4 people, 5 dinners | $227.79 |
*Related: Are you looking for a more inexpensive meal delivery service? Take our free quiz to identify the best option for your needs.
My Experience Using the Service
In my opinion, Sunbasket was impressive in terms of packaging, ingredients, meal selection, prep time, portion size, and taste. In fact, it's one of the best meal delivery services on the market.
The meals I chose were:
Harissa-rubbed chicken with artichoke tapenade and seared romaine
Fried cauliflower "rice" with carrots, peas, and scallions with ground pork
Top sirloins with romesco, vegetables, and almonds
We opted for the family plan with three recipes per week. These meals arrived in two boxes, and each box was neatly packed with ingredients.
The recipe card for each meal was in its own separate paper bag.
Meats were tucked between ice packs in the bottom of the box, and nearly everything in the box was recyclable or reusable.
The recipes were surprisingly simple with minimal preparation, and I thought they really let the quality of the ingredients shine.
For example, the prep work for the sirloin with romesco, vegetables, and almonds only involved trimming the baby broccoli and quartering the lemon.
The romesco sauce was premade but still tasty.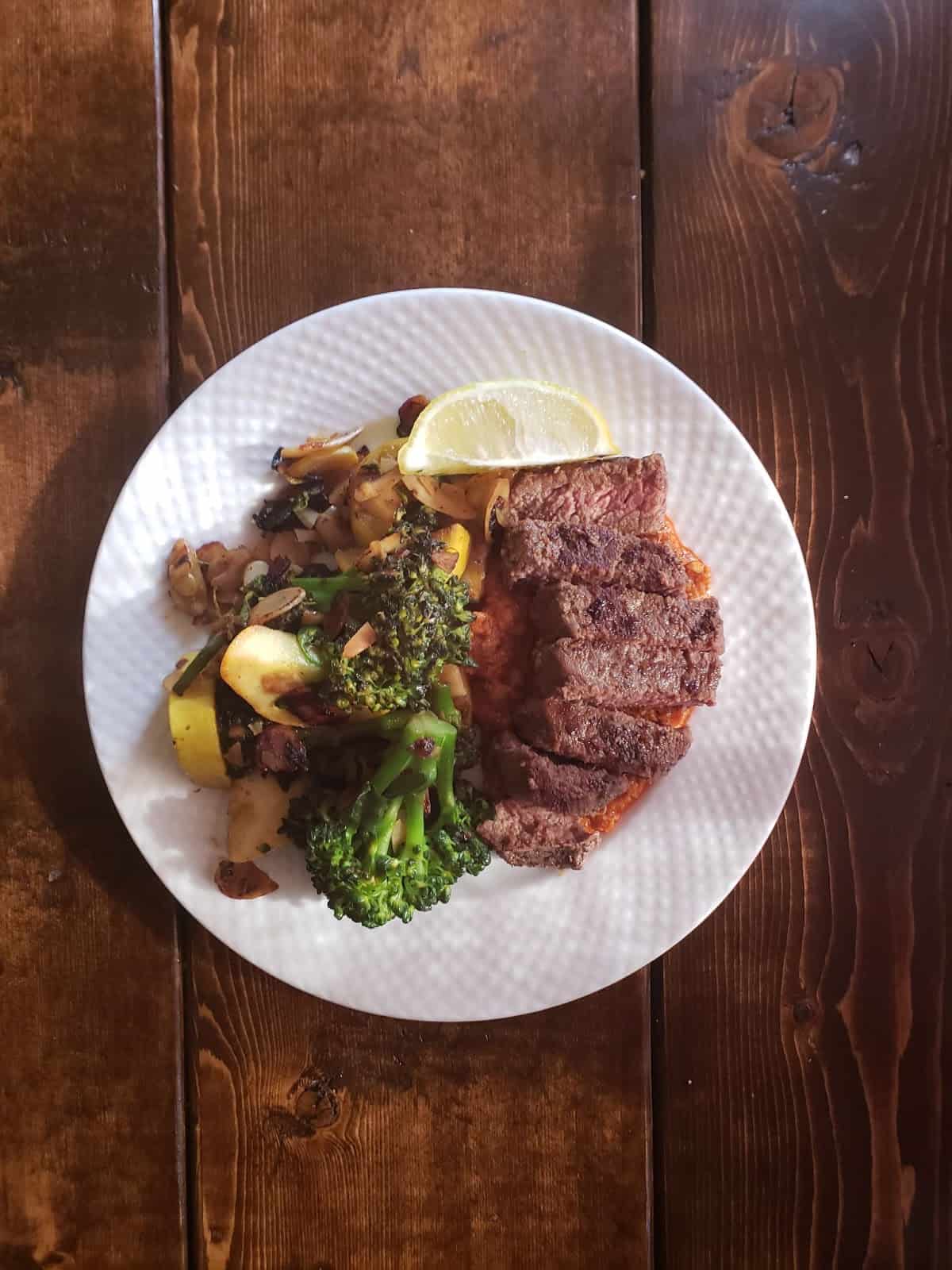 For the cauliflower fried rice, the only prep work needed was chopping the scallions and grating the ginger.
Finally, for the harissa-rubbed chicken, all I needed to do was roughly chop the artichokes and cut the romaine in half. The tapenade featured olives, but we skipped those because no one in my family likes olives.
Overall, the food was delicious and a huge departure from the types of things I usually cook. Baby broccoli was new to us, as was seared salad. Fortunately, they were both hits!
Sunbasket was a definite win in all categories when it came to my experience using the service.
Are Sunbasket Meal Kits Easy to Prepare?
I was concerned that Sunbasket meals would be a bit more complicated to make than other healthy meal delivery kits. However, they were surprisingly easy to prepare meals with delicious results.
*Related: Read our Martha & Marley Spoon review if you want healthy meals for foodies.
The recipe cards were detailed and spelled everything out plainly, although they didn't include step-by-step photos.
Many of the ingredients were already prepared, like the sauces and some of the vegetables. Additionally, even though all of the recipes I tried were packed with flavor, none of them contained more than a handful of ingredients.
*Related: Are you looking a plant-based meal delivery service? Read our Gobble review to learn if they might be a fit for your needs.
For example, the sirloins with romesco and veggies required just five ingredients, including steak, lemons, sauce, baby broccoli, and pre-prepped squash with almonds.
Additionally, the recipes mostly consisted of some very light prep followed by cooking the protein and vegetables.
For all three of the meals I tried, it took less than 30 minutes to complete the prep and cooking process.
When it comes to meal prep, Sunbasket offers home-cooked meals that are appropriate for home gourmets and beginner cooks alike.
Fresh & Ready Meals
Sunbasket also has a line of individual, ready-to-heat meals called Fresh & Ready meals. These are perfect for people who don't need a meal kit, don't like making dinner, or want to take a quick and healthy lunch to work.
These meals start at $8.99 per meal for ten meals per week but can go up to $11.99 per meal if you opt for four or five meals per week.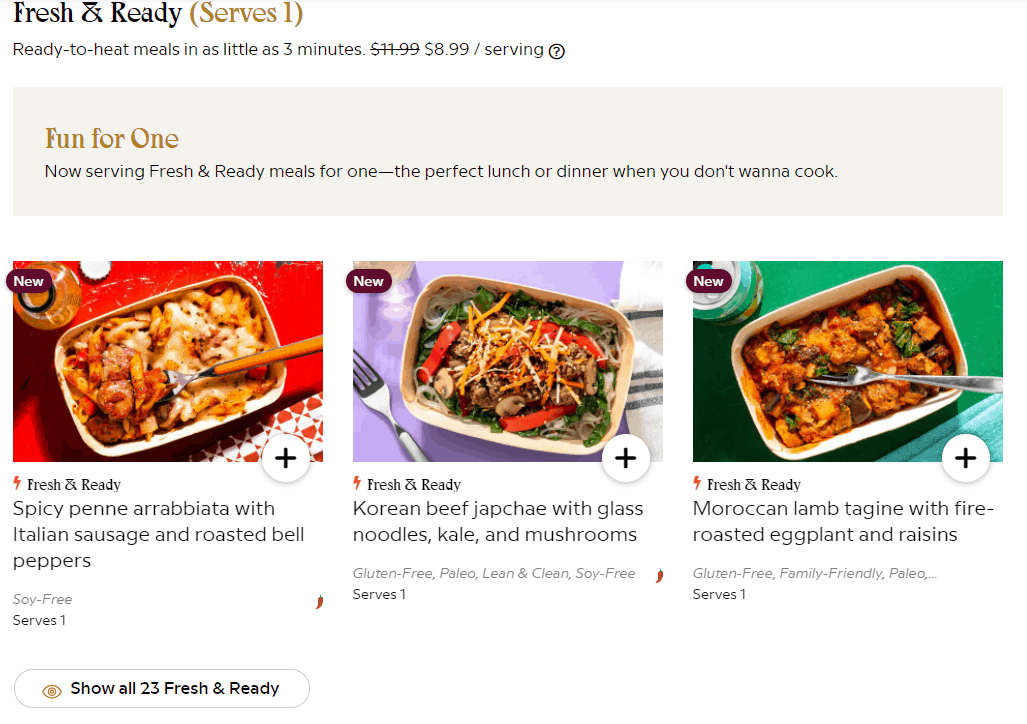 Some of their Fresh & Ready meals include:
Smokehouse sausage jambalaya
Pancetta-kimchi fried rice
Cheesy chicken Tetrazzini with braised kale
Zesty black bean-quinoa bowl
Factor Meals is a suitable alternative, that focuses on heat-and-serve meals at a slightly lower price.
Who Should Use Sunbasket?
Sunbasket could be a great fit for you if you fall into one of these categories.
People Who Like Clean Eating
Of all of the major meal kit delivery services, Sunbasket offers the most high-quality, clean ingredients, and recipes.
Virtually everything they send is organic and accompanied by high-quality meats and sauces that are made from all-organic ingredients.
*Related: Are you looking for a meat subscription box that specializes in grass-fed beef and other sustainably sourced meats? Read our review of the Good Chop to see if they work for you.
The recipes also highlight the quality of the ingredients, letting them shine with simple preparations.
If eating clean or organic and avoiding processed food is important to you, Sunbasket is a great choice.
Porter Road is another alternative if hormone-free and sustainably sourced meat is important to you. Read our Porter Road review if you want to learn more.
People With Specific Dietary Requirements
Sunbasket is one of a handful of well-known meal kit services offering gluten-free, vegan, and paleo options. The others are Green Chef and Purple Carrot.
They also have several meals that are dairy-free and soy-free for people who are allergic or need to avoid these ingredients.
*Related: Are you looking for a meal delivery service that specializes in vegetarian meals? Read our Purple Carrot review to learn more.
Someone Who Wants Flexibility
Sunbasket is super flexible, offering meal kits, individual heat-and-eat meals, and organic groceries. The service can help you cut down on grocery shopping thanks to its many options.
Additionally, you can swap out any protein source for another option in their recipes. Many meat recipes can be made vegetarian or pescatarian, and vice versa.
*Related: Are you looking for vegan meals to make on the go? Read our review of the Daily Harvest menu to see how the service works.
It's also easy to skip weeks, so you can stick with the service even if you don't need to place a weekly order.
For people who need flexibility in the types of meals and foods they receive, like families with kids in afterschool activities or people who travel for work, Sunbasket is an excellent choice.
Read our analysis of other meal kits for families that provide similar flexibility.
Who Shouldn't Use the Service?
On the other hand, Sunbasket may not be a great fit for some households.
People On a Budget
With its $10.99 per serving minimum, Sunbasket may not fit into a limited grocery budget.
Related: Are you looking for a meal delivery service that can help you get fit? Read our review of Diet-to-Go to see how they can help.
People on a tighter budget may want to consider less expensive services like EveryPlate, Dinnerly, and even HelloFresh.
People Who Don't Like Exotic Meals
Sunbasket incorporates a wide variety of recipes in its menu, including some cuisines that people in the U.S. may be less familiar with.
If you have picky eaters in your house, you may want to choose a meal kit service that offers a larger selection of more familiar meals with a broader appeal like Fresh n' Lean.
Read our review of Fresh n' Lean to learn more about that service.
People With Severe Food Allergies or Intolerances
Sunbasket's meals are packed and prepared in facilities that handle gluten and allergens.
As a result, Sunbasket's FAQ states they may not be a good fit for those with serious food allergies or intolerances..
Pros and Cons
Here are some of the pros and cons of Sunbasket.
Pros:
Organic and premium ingredients
Offers meal kits, heat-and-eat meals, and groceries
Extremely flexible
Organized, eco-friendly packaging
Offers gluten-free, paleo, and vegan options
Unique meal ideas
Cons:
More expensive than most other meal kit services
May not appeal to picky eaters
Recipe cards don't have step-by-step photos
If eating organic is important to you Sunbasket is worth considering.
The Competition
How does Sunbasket stack up against other meal delivery subscription services? Here's a quick rundown.
| Company | Cost | # of Meals | Best For | Servings | Sign Up |
| --- | --- | --- | --- | --- | --- |
| Sunbasket | $8.99+/serving | 2-5/wk | Organic ingredients | 2 or 4 | Try |
| EveryPlate | $4.99+/serving | 3-5/wk | Budget meals | 2 or 4 | Try |
| Blue Apron | $7.49+/serving | 2-4/wk | Healthy options | 2, 3, or 4 | Try |
| HelloFresh | $7.49+/serving | 2-6/wk | Variety | 2 or 4 | Try |
| Trifecta | $9.50+/serving | 7-12/wk | Calorie counters | 1 | Try |
EveryPlate
EveryPlate is well-known as an affordable meal kit service and offers meals at a flat $4.99 per serving. This is less than half the price of the least expensive Sunbasket order.
For the cost savings, however, it's pretty no-frills compared to Sunbasket.
The ingredients aren't separated by recipe in each shipment, you will receive organic foods occasionally, and the meal options tend to be kid-friendly American classics.
*For a limited time, Frugal Rules readers can get $1.49/meal on their first EveryPlate order.
Read our EveryPlate review to learn more about the service.
Blue Apron
Blue Apron is a moderately-priced meal delivery service that offers premium meals for vegetarians and omnivores. Prices start at $7.49 per serving.
They also provide several healthier meals each week.
If you're interested in eating healthier at a more affordable price than Sunbasket charges, you may want to consider Blue Apron.
Read our Blue Apron review to learn more.
HelloFresh
HelloFresh is another moderately-priced meal kit company. Their meals also start at $7.49 per serving.
Like Sunbasket, they offer a wide selection of meals from a variety of different cuisines each week.
If you don't have specific dietary needs and are eyeing Sunbasket for the meal variety, look into the less expensive HelloFresh.
*For a limited time only, Frugal Rules readers can get 16 Free Meals, and your first box ships free. You'll also get 3 surprise gifts with your order!
Read our HelloFresh review to learn more.
Trifecta
Trifecta is a meal delivery company that serves carb-conscious people. While not necessarily a diet meal service, it targets people who want to monitor their calories.
The meals are heat and eat, with a focus on organic produce and ethical meats. The service offers five different plans to choose from: Classic, Vegetarian, Paleo, Keto, and Vegan.
Meals average between 300 and 500 calories.
New customers can currently receive 40 percent off their first order.
Read our review of the Trifecta menu to learn more.
Sunbasket Review
Price

Menu Variety

Recipe Cards

Preparation Ease

Specialty Diets
Summary
Sunbasket is a premium meal kit service offering organic and high-quality ingredients, ready-made meals, and groceries delivered to your home.
Pros
✔️ Loads of organic ingredients
✔️ Offers ready-to-eat meals
✔️ Minimal packaging
✔️ Plenty of choice for people on specialty diets
✔️ Flexibility to skip weeks
Cons
❌ On the pricier end of meal kits
❌ Not for picky eaters
❌ No step-by-step photos on recipe cards
Bottom Line
Sunbasket is one of the higher-end food delivery services that caters to health-conscious eaters by offering organic ingredients alongside paleo, vegan, and gluten-free options.
Keep in mind that they are one of the most expensive meal delivery kits available. If cost is a concern for you, you may want to look into other options.
Regardless, Sunbasket delivers a premium experience and delicious food.
What do you look for when choosing a healthy meal kit delivery service?
SaVanna is a registered dietitian, freelance writer, and recipe developer. She's a regular contributor for Healthline Nutrition and Greatist, and she blogs about low carb meal planning at SaVannaShoemaker.com. When she's not writing about food and nutrition, she's brainstorming ways to make meals that are inexpensive, kid friendly, tasty, and healthy.