Healthy living might be difficult if you lead a busy lifestyle. It can be a challenge to get nutritionally balanced meals on the table, especially if you or someone in your household has dietary restrictions.
However, meal kit companies like Daily Harvest can help. The service is a plant-based smoothie delivery company that specializes in no-cook recipes made from high-quality ingredients.
Our Daily Harvest review can help you decide if these ready-to-make meals are a good fit for your healthy eating lifestyle.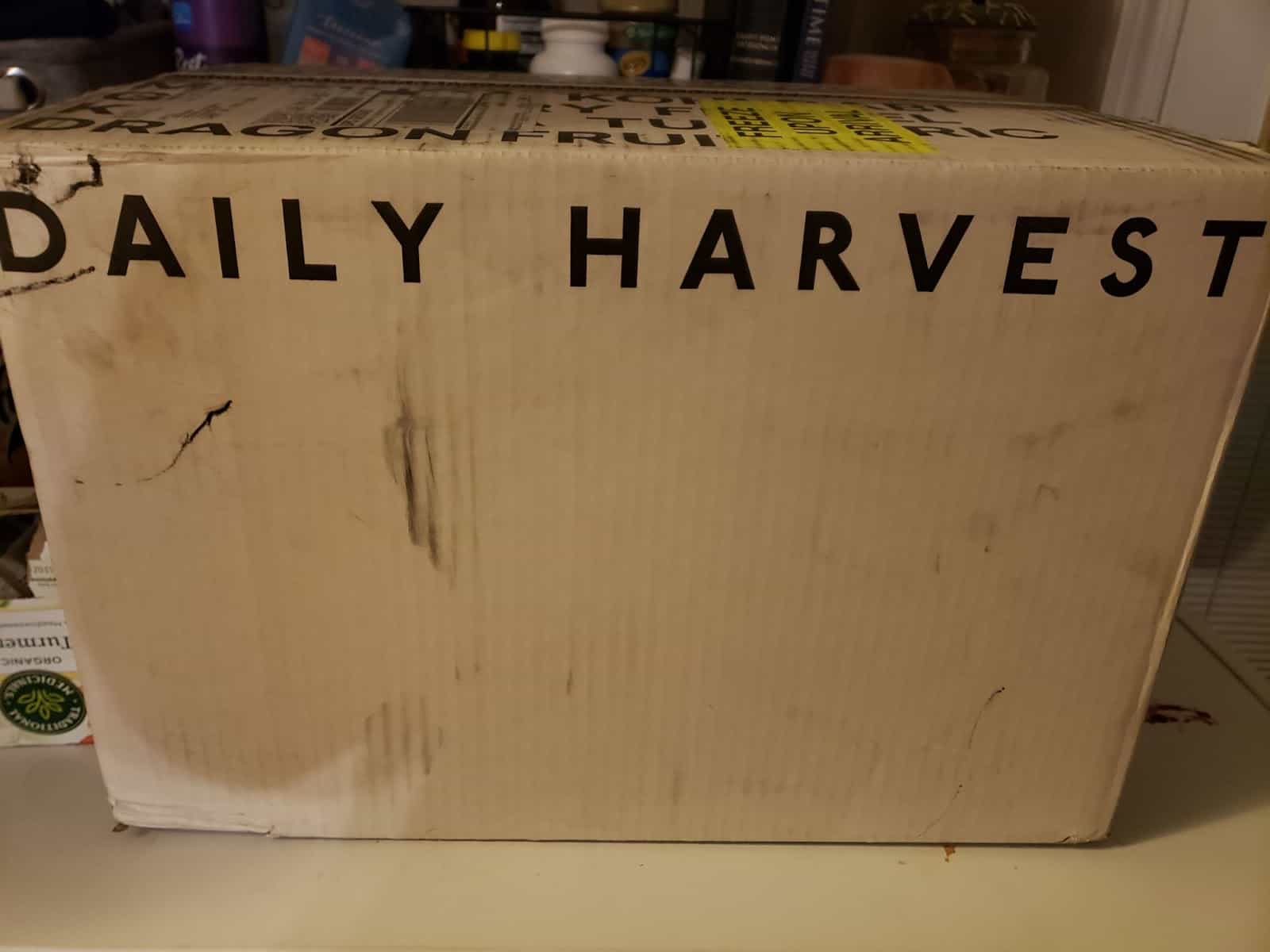 What Is Daily Harvest?
Daily Harvest is a vegan and smoothie delivery service. It specializes in plant-based, easy-to-prepare meals that are minimally processed and made with mostly organic ingredients.
Their frozen meals utilize fresh ingredients, but the freezing process extends their shelf life and preserves nutrients. The meals include gluten-free whole grains, fruits, vegetables, and seasonings.
Daily Harvest's offerings include meals and snacks that are full of organic produce. Additionally, they only require minimal prep time.
How Does the Service Work?
Signing up for vegetarian meal delivery with Daily Harvest is easy. First, you'll select your plan size based on the number of weekly meal options you want to receive.
Your choices include:
Small: Nine weekly meal choices
Medium: 14 weekly meal choices
Large: 24 weekly meal choices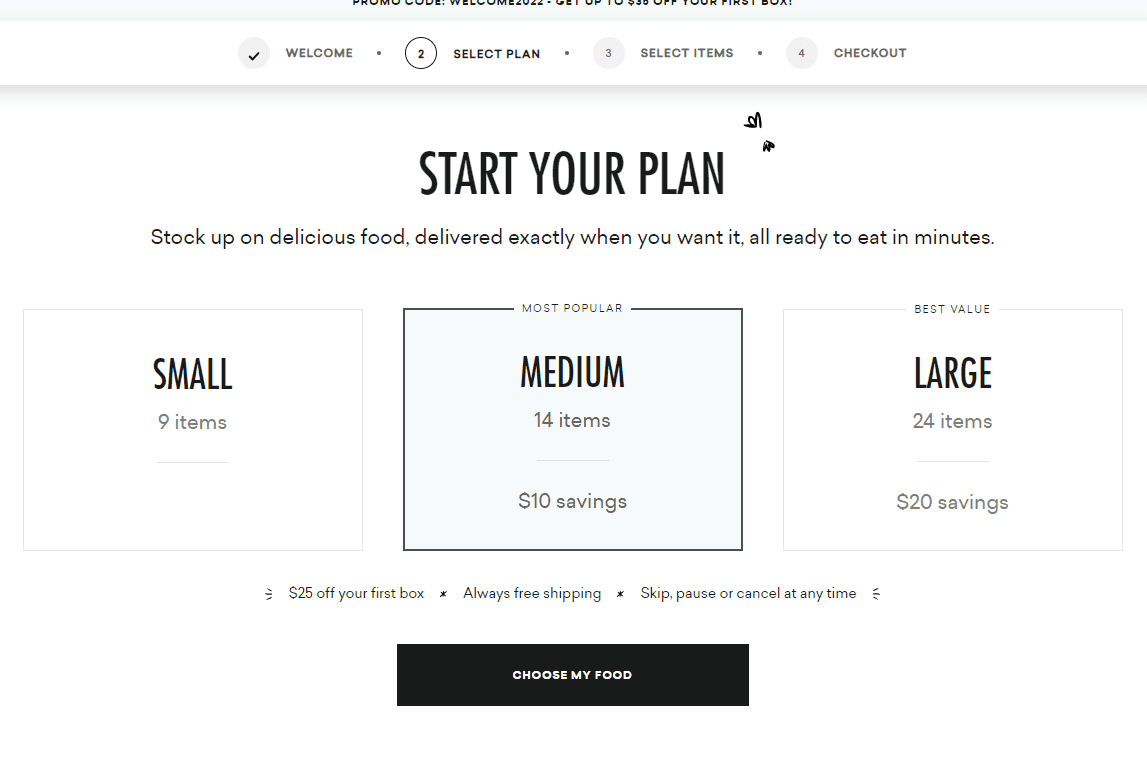 Next, you'll choose your meals from the fixed Daily Harvest menu. You have access to the full menu each week.
Daily Harvest offers the following on their weekly menu:
Smoothies
Harvest Bowls
Harvest Bakes (two-serving oven-ready meals)
Flatbreads
Soups
Forager Bowls
Oat Bowls
Chia Bowls
Scoops (ice cream)
Bites
Lattes
Mylk (plant-based milk)
After making your meal selections and checking out, your Daily Harvest box will prepare to ship.
Daily Harvest is a subscription-based service, so you'll receive a box every week until you cancel or pause your subscription.
Either of these options can be done on the website or by contacting customer service.
How Much Does Daily Harvest Cost?
Daily Harvest items range in price from $5.99 to $11.99 each. Shipping is free on all orders.
You must order at least nine items, but you can get $10 off a 14-item box and $20 off of a 24-item box.
Right now, new users can get $40 off their first Daily Harvest meal delivery kit. Just use the code FRUGALRULES to receive the discount.
| Menu Item | Price |
| --- | --- |
| Smoothies | $7.99 |
| Harvest Bowls | $8.99 |
| Harvest Bakes | $11.99 |
| Flatbreads | $8.99 |
| Soups | $7.99 |
| Forager Bowls | $5.99 |
| Oat Bowls | $5.99 |
| Chia Bowls | $5.99 |
| Scoops | $8.99 |
| Bites | $7.99 |
| Lattes | $5.99 |
| Mylks | $7.99 |
*Related: Are you looking for a more robust meal delivery service? Take our free quiz to learn the best option for your home.
My Experience Using the Service
The ordering process with Daily Harvest is simple and straightforward. Unfortunately, when I placed my order, the service was out of all of the Flatbreads.
My box arrived neatly packaged, and it was easy to toss everything right into the freezer.
Nearly all of the packaging is recyclable or biodegradable, so it seemed pretty eco-friendly.
All of the food I tried was quick and convenient, including the smoothie. I liked every item I ordered.
However, for the savory items, I found myself wanting a little bit more texture variety. I think sauteing them in some oil would help (or adding an animal protein if you're not a vegetarian).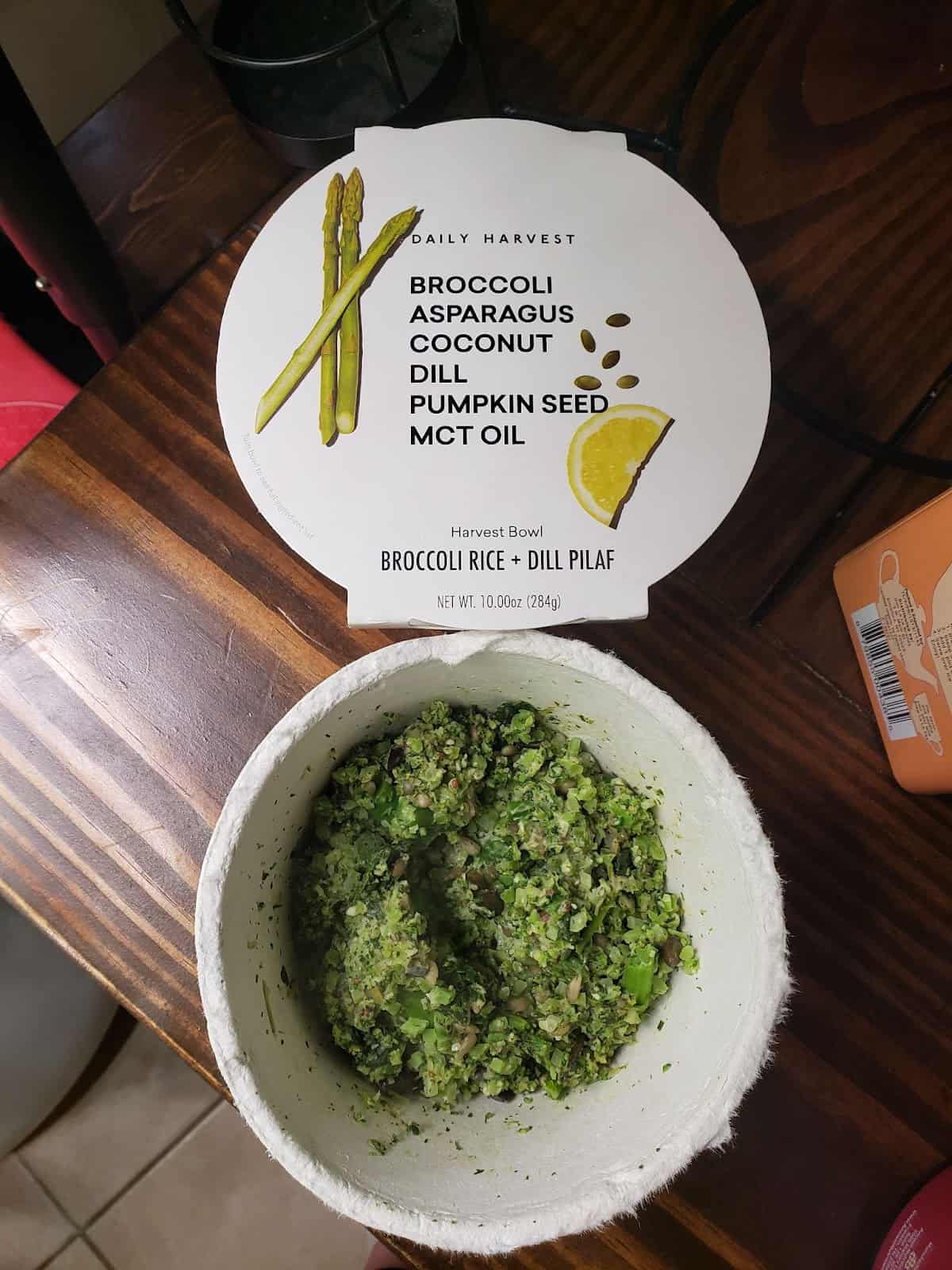 The Chocolate + Hazelnut smoothie I shared with my six-year-old son was also easy to whip up and tasty, although it wasn't sweet enough for him.
I thought it had the perfect amount of sweetness. Here's a photo of my son holding the finished smoothie so you can see how huge it is.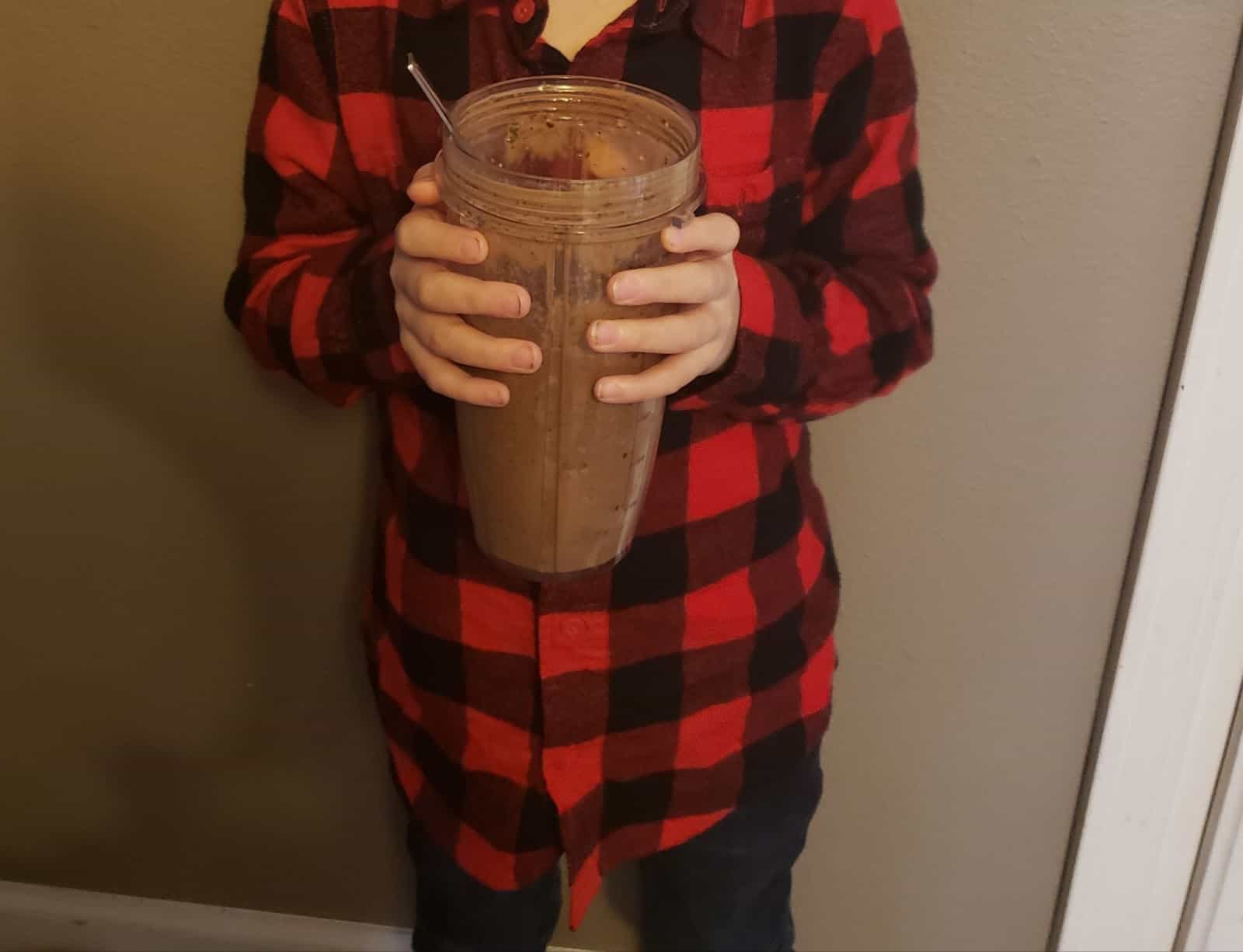 The drawback for me was the lack of low-carb options, but this shouldn't be an issue unless you're limiting carbs.
I also think that eating a lot of Daily Harvest food regularly would get old fairly quickly. There's a lot of variety of ingredients between meals, but the meals are all very similar.
For instance, all of the Harvest Bowls include finely chopped veggies, and many of the smoothies share some ingredients (like banana, which can have an overwhelming taste).
However, I thought the portion sizes were generous.
Overall, I was really satisfied with my Daily Harvest experience. It would be an excellent choice for plant-based eaters looking to have some convenient meal options tucked away in the freezer.
How Easy Are Daily Harvest Meals To Prepare?
The meals are easy to prepare. Surprisingly, the smoothie was the most intensive in terms of prep, and all it required was adding milk, then pouring the whole mixture into a blender and blending it.
Everything else I received just required the microwave. However, to make it taste a little better, there are also stovetop directions on the packaging.
Also, there are no recipe cards needed. You'll find all of the directions right on the package.
Do You Need a Blender for Daily Harvest?
You'll only need a blender for Daily Harvest meal delivery kits if you plan to order their smoothies. They offer several other menu items as well, none of which require a blender.
An inexpensive single-serve blender like a NutriBullet is an excellent choice for making the smoothies.
Who Should Use Daily Harvest?
Daily Harvest might be perfect for you if you fall into one or more of these categories.
Vegan or Plant-Based Eaters
All of Daily Harvest's meals are vegan and gluten-free. If you follow a vegan and/or gluten-free diet, this service is ideal.
Read our guide on other gluten-free meal kits to see how Daily Harvest compares.
It's also a good choice if you just want to incorporate more fruits and veggies into your diet, even if you're not a vegan or vegetarian.
People Who Are Short on Time
Daily Harvest meals are easy to prepare. This makes them an excellent choice for people who are short on time.
With the exception of things that require baking, like the Harvest Bakes, everything can be prepped in five minutes or less.
Factor is a suitable replacement if you want true heat-and-eat meals. Read our Factor review to learn more.
People Who Want No Additives or Preservatives
If you're trying to avoid processed ingredients or additives in your food, you may appreciate Daily Harvest.
The service focuses only on whole, minimally processed, plant-based ingredients. It is totally free of artificial ingredients, additives, and preservatives.
Plus, the meals are frozen so that they don't require any of these ingredients.
Who Shouldn't Use the Service?
Here's who Daily Harvest may not be a great fit for.
People Who Follow Specialty Diets
People who follow a special diet, like keto or low carb, may find that Daily Harvest isn't a good fit.
Most of the menu items are fairly high in carbs, although they may work for a moderately low-carb eating pattern.
Additionally, the service may not be the best for picky eaters unless the picky eater in question is a big fan of fruits and vegetables.
Big Eaters
If you have a big appetite, you may find that Daily Harvest meals aren't quite filling enough for you.
The meals are high in volume thanks to the number of veggies they receive, but most of them don't contain a lot of protein. This may leave you feeling hungry fairly quickly.
To remedy this, you can add meat (if you eat it) or extra protein in the form of beans, nuts, or seeds.
Can You Lose Weight on Daily Harvest?
It is possible to lose weight with Daily Harvest. However, the company doesn't claim to support weight loss.
The meals are portion controlled and fairly low in calories due to the inclusion of only whole, plant-based ingredients.
However, your results depend on the other foods you're eating as well as lifestyle factors like fitness, sleep, and stress levels.
Additionally, these meals are too high in carbs for people who are on the keto diet for weight loss.
Read our guide on alternatives to Nutrisystem if losing weight is a priority to you.
Pros and Cons
Here are the pros and cons of Daily Harvest's meal kit delivery service.
Pros:
Vegan and gluten-free
High-quality ingredients
Free shipping
Prices start at $5.99
Easy, quick prep
Great for single serving meals
Cons:
Menu can be repetitive
Not a good fit for meat eaters
Not a good fit for people with big appetites
If you value convenience and want a plant-based diet, Daily Harvest is worth considering for healthy meal delivery.
The Competition
Here's how Daily Harvest stacks up against some of its main competitors in the meal delivery subscription services space.
| Company | Cost | # of Meals | Best For | Servings | Sign Up |
| --- | --- | --- | --- | --- | --- |
| Daily Harvest | $5.99+/serving | 9-24/wk | Vegan meals | 1 | Try |
| Purple Carrot | $9.99+/serving | 3-4/wk | Plant-based diet | 2 or 4 | Try |
| Sunbasket | $8.99+/serving | 2-5/wk | Organic | 2 or 4 | Try |
| Revive Superfoods | $5.99+/serving | 9-24/wk | Low-cost meals | 1 | Try |
Purple Carrot
Purple Carrot differs from Daily Harvest in that it is a traditional meal kit company. It offers all of the ingredients you need to prepare your meal yourself from their many recipes per week.
However, it is exclusively plant-based. Purple Carrot recently started offering pre-prepared meals as well.
Purple Carrot prices start at $9.99 per serving. It's a good fit for people who want to prepare their own vegan meals.
Read our review of Purple Carrot to learn more.
Sunbasket
Sunbasket is a high-end, specialty meal kit that caters to several different dietary needs, including plant-based, paleo, and low carb.
It is an organic meal delivery service that uses high-quality and sustainably farmed proteins.
Sunbasket prices start at $8.99 per serving. If your main focus is on food quality, then this service could be a good fit for you.
Read our review of Sunbasket to learn more.
Revive Superfoods
Revive Superfoods is remarkably similar to Daily Harvest in its offerings and how the service works.
They offer frozen plant-based smoothies, heat-and-eat meals, soups, ice creams, oats, and falafel.
Their meals start at $5.99 per serving. For the most part, their prices are slightly more affordable, but they also have a more limited variety of recipes.
Daily Harvest Review
Price

Menu Variety

Instructions

Preparation Ease

Specialty Diets
Daily Harvest Review
Daily Harvest is a vegan and gluten-free meal delivery company that specializes in smoothies and easy-prep, veggie-forward meals.
Pros
✔️ Vegan, vegetarian, and gluten-free meals available
✔️ Free shipping
✔️ Easy-to-prepare
✔️ Quality ingredients
✔️ Convenient meals for when you're busy
Cons
❌ Not a good fit for people with big appetites
❌ Meals can seem repetitive
❌ Not for meat eaters
Bottom Line
If you are interested in clean eating and tired of overnight oats, healthy food and convenience are both within your reach with a subscription to Daily Harvest.
This meal delivery service offers a number of menu options for vegan dieters.
Although their menu may not be ideal for omnivores or people with big appetites, it's an easy way to add variety and convenience to a plant-based diet.
How do you save time in the kitchen?
SaVanna is a registered dietitian, freelance writer, and recipe developer. She's a regular contributor for Healthline Nutrition and Greatist, and she blogs about low carb meal planning at SaVannaShoemaker.com. When she's not writing about food and nutrition, she's brainstorming ways to make meals that are inexpensive, kid friendly, tasty, and healthy.