Do you struggle with meal planning, grocery shopping, and making dinner? Or do you find yourself eating out too much and blowing your food budget?
You might need a meal delivery subscription service like Blue Apron. This moderately priced meal kit company can help you save time while still allowing you to get wholesome, home-cooked meals on the table.
Our Blue Apron review can help you decide if it's the right fit for your household.
What is Blue Apron?
Blue Apron is one of the original meal kit delivery services. It's been around for years and has set the standard for the industry.
They offer a variety of healthy, ready-to-make meals and delivers fresh ingredients for simple recipes straight to your door each week.
They also offer wines, spices, and kitchen tools through the Blue Apron Market.
How Does the Service Work?
To get started with a Blue Apron subscription, the first thing you'll need to do is choose your meal plan.
Blue Apron offers a handful of meal plans to meet different dietary preferences. These include:
Signature and Signature for Four: For two or four people, offers a variety of meals
Vegetarian: For two people, offers plant-based meals
Wellness: For two people, offers healthy, carb-conscious, and WeightWatchers approved meals
After entering all of your information and completing checkout, you can start the meal selection process. You can also choose to receive a curated bottle of wine with each recipe for an extra fee.
The Signature plan has 14 weekly meal options, the Signature for Four plan offers eight meals, and the Vegetarian and Wellness plans have three weekly options.
Example meals from a recent weekly menu include:
Signature: Beef and Mushroom Baguettes, Tilapia and Creamy Curry Sauce
Signature for Four: Glazed Beef and Crispy Rice, Steaks and Black Bean-Butter Sauce
Vegetarian: Spicy Zucchini Quesadillas, Black Bean-Chile Tofu
Wellness: Seared Chicken and Kale Salad, Grilled Garlic Shrimp and Spanish Style Potatoes
Just remember that this is a subscription-based service, so you receive weekly shipments until you skip or cancel (both of which are easy to do online).
Be sure to choose your meals before the deadline each week. Otherwise Blue Apron will pick your meals for you.
*Related: Are you looking for a more affordable meal delivery service? Try our free quiz to identify the best choice for your needs.
How Much Does Blue Apron Cost?
Blue Apron's prices range from $7.49 to $9.99 per serving. The Signature for Four plan unlocks the lowest prices.
The Wellness, Vegetarian, and Signature for Two Plans range from $8.99 to $9.99 per serving depending on how many recipes you choose each week.
Shipping is a flat $9.99 per box.
The company also offers a monthly wine subscription delivery service, providing seven bottles of wine for $69.99 per month.
In addition, the Blue Apron Market sells kitchen tools and spices starting at $5.99.
If you're new to Blue Apron, you can usually get a great deal on your first few shipments.
*For a limited time, Frugal Rules readers can get $180 off their first six boxes of Blue Apron plus free shipping on the first box!
| Servings Per Week | Total Cost with Shipping |
| --- | --- |
| 2 people, 2 recipes per week (4 servings) | $49.95 |
| 2 people, 3 recipes per week (6 servings) | $63.93 |
| 2 people, 4 recipes per week (8 servings) | $81.91 |
| 4 people, 2 recipes per week (8 servings) | $81.91 |
| 4 people, 3 recipes per week (12 servings) | $105.87 |
| 4 people, 4 recipes per week (16 servings) | $129.83 |
My Experience Using the Service
Overall, we were impressed with the Blue Apron meals. We ordered the Signature for Four family plan. It was difficult to choose our meals because everything sounded delicious.
The portion sizes were generous, and the food was tasty.
However, the packaging wasn't the best that I've seen. The insulated lining of the box was thin, and the ice pack had melted slightly during shipping, making the box a little soggy.
Although some ingredients were placed in separate "Knick Knack" bags by the recipe, others were loose in the box alongside the meats.
There were a few ingredients I had to throw out because they had gotten very wet and soggy during transit.
I couldn't help but compare this box to the much more neatly-packed HelloFresh box that contains each recipe's ingredients neatly rolled up in its own paper bag.
*Related: Read our analysis of Blue Apron vs. HelloFresh to see how the two meal delivery services stack up.
Additionally, Blue Apron's box wasn't quite as eco-friendly since there was more plastic packaging.
The recipes we received were:
Salmon and Sushi Rice Bowls with Avocado and Spicy Mayo
Creamy Cilantro Chicken with Toasted Pepita Rice and Green Beans
Greek Feta Burgers with Salsa Verde Potatoes and Parmesan
Although I made many modifications to the recipes to suit my low-carb diet, I was really impressed with the flavors and ease of meal preparation.
The creamy cilantro sauce in the chicken recipe was so delicious that I could have enjoyed drinking it by the gallon.
I also really appreciated the variety of veggies that were included in our Blue Apron box.
Some food delivery services can be heavy-handed with carrots and zucchini, but our meals for the week included sweet peppers, avocado, green beans, and tomatoes.
Furthermore, I liked how easy it was to customize these meals to our liking.
Not only did I easily make some low-carb modifications for these recipes, but I also swapped out some veggies sent from Blue Apron for some garden-fresh veggies from my parents' garden.
The photo above is of the Greek Feta Burgers. I made mine bunless and swapped out zucchini for the potatoes. It was delicious.
This next photo shows the Salmon Sushi Bowl. I subbed out cauliflower rice in my bowl and made the provided sushi rice for the rest of the family.
It's nice to have a blueprint that I can make minor changes to based on what we have in our kitchen and what my family likes. Blue Apron definitely provided that.
However, Blue Apron is a little too expensive for us to use regularly, especially considering there are more affordable meal kit services available like Dinnerly and EveryPlate.
How Easy Are Blue Apron Meal Kits to Prepare?
Blue Apron offers easy-to-prepare meals featuring large, full-color recipe cards with detailed instructions and many pre-prepped ingredients like sauces.
The recipe cards feature step-by-step photos and clear directions to guide you through the cooking process. You can also use the Blue Apron app to receive additional direction.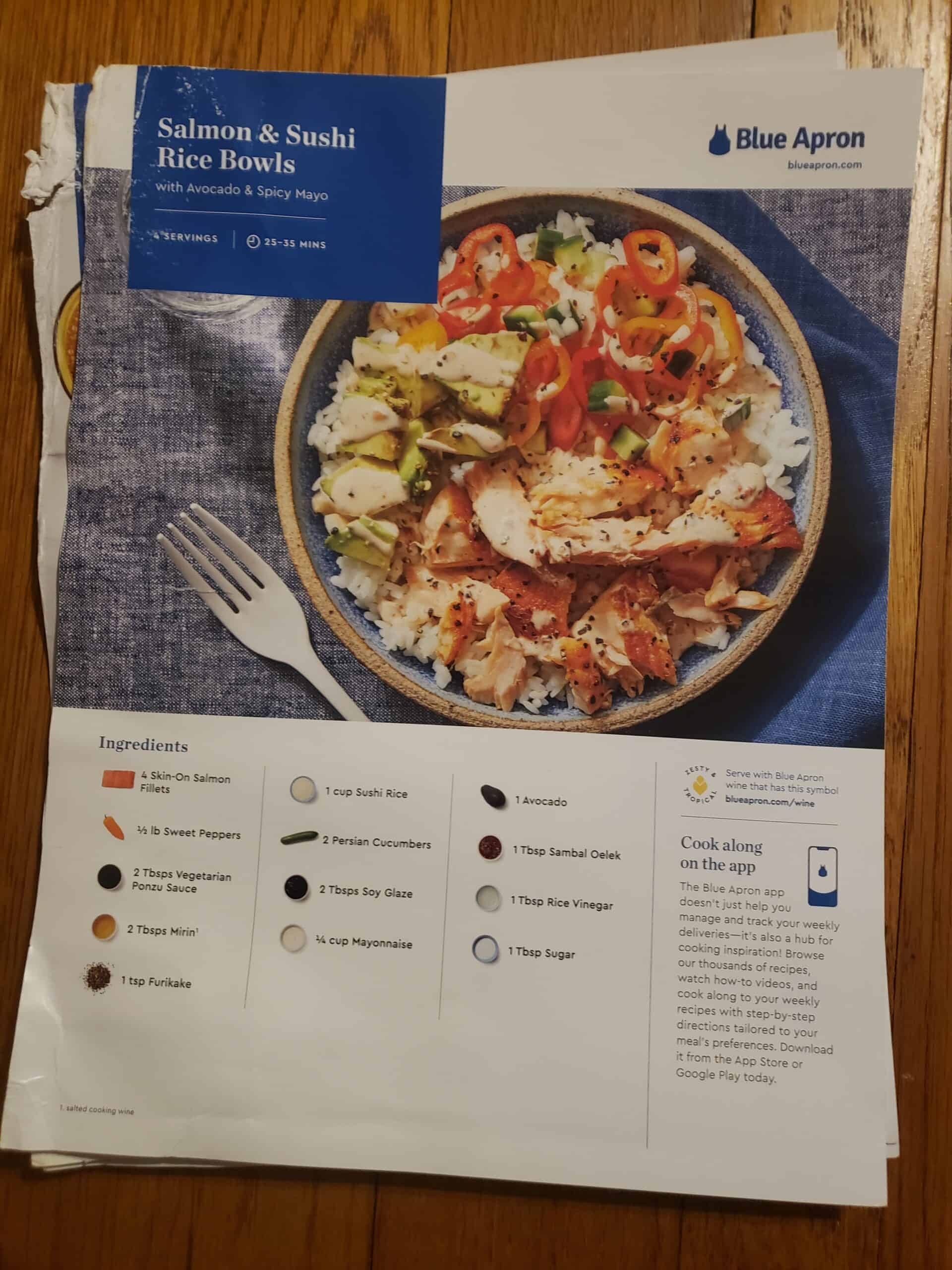 However, most of the produce is not prepped. If you're new to cooking or slow with a knife, this will add an extra five to ten minutes to each recipe for prep time.
In my experience, each meal took about half an hour to prepare, along with a few extra minutes for prep.
Some of the meats also needed to be cooked longer than the instructions stated to be fully done, but this can vary depending on your stovetop.
Who Should Use Blue Apron?
Blue Apron is a great fit for wine lovers, new cooks, and people who appreciate variety in their meals.
Wine Lovers
If you appreciate wine and curated wine pairings, then you'll love Blue Apron. Each recipe card you receive will recommend a wine you can purchase from Blue Apron or a type of wine that would go well with your meal.
Blue Apron also offers a separate subscription wine service, and they sell wine bundles or bulk wine cases through the Blue Apron Market.
Newer Cooks
This meal kit delivery service is an excellent choice for beginner cooks or people who want to hone their cooking skills.
The unique recipes are flavorful but still easy to prepare using their detailed instructions.
With Blue Apron, you'll learn how to prepare fresh produce, cook meats and proteins to proper doneness, and make simple sauces to create tasty meals.
People Who Want Variety
Blue Apron offers menu options from a wide variety of cuisines, but they still appeal to people of all ages.
If you're stuck in a meal planning rut or bored of making the same handful of recipes, then you'll enjoy the options Blue Apron offers.
This makes the company a terrific choice for families with different tastes. Read our guide on other family-friendly meal delivery services to identify similar options.
Who Shouldn't Use the Service?
On the other hand, Blue Apron may not be a good fit for advanced cooks and people with specific dietary restrictions or preferences.
People Who Follow a Specialty Diet
While Blue Apron does offer healthy selections like WW-friendly meals and vegetarian options, they don't have meals for other dietary needs like gluten-free, paleo, vegan, or keto.
If you follow one of these diets, you may need to look into services like Green Chef or Sunbasket.
Advanced Cooks
You may find that the Blue Apron menu is a little too basic,easy to prepare, or may not provide the gourmet-level recipes you want if you are already a great cook.
For a more high-end cooking experience with a much larger variety of cuisines and ingredients, you may want to consider Sunbasket.
Pros and Cons
Here are some of the pros and cons of Blue Apron.
Pros:
Unique meal ideas
Offers healthy and vegetarian meals
Sells wine, spices, and cooking tools in Blue Apron Market
Long considered the best meal delivery kit with a good reputation
Moderately priced
Cons:
Shipping is $9.99 per box
Somewhat unorganized packaging
Overall, the company is worth trying, especially if you want a wide variety of meals to serve the entire family.
The Competition
There are several competing services in the meal kit delivery space. Here's how Blue Apron compares to some other similarly priced meal delivery subscription services.
| Company | Cost | # of Meals | Best For | Servings | Sign Up |
| --- | --- | --- | --- | --- | --- |
| Blue Apron | $7.49+/serving | 2-4/wk | Healthy options | 2 or 4 | Try |
| Home Chef | $6.99+/serving | 2-6/wk | Easy prep | 2,4, or 6 | Try |
| HelloFresh | $7.49+/serving | 2-6/wk | Variety | 2 or 4 | Try |
| Sunbasket | $8.99+/serving | 2-5/wk | Organic ingredients | 2 or 4 | Try |
Home Chef
Home Chef is priced more affordably than Blue Apron, and meals start at $6.99 per serving. They may be a better fit for you if you're looking for a quick and convenient meal kit or a cheap meal delivery service.
The company offers traditional meal delivery kits, 15-minute meals, oven-ready and grill-ready meals, and extras like breakfast, breads, and snack foods.
Read our Home Chef review to learn more.
Furthermore, read our Home Chef vs. Blue Apron review to learn how the two services compare.
HelloFresh
HelloFresh is another big name in the meal kit delivery world and is comparable to Blue Apron. They offer similar selections and pricing starting at $7.49 per serving.
However, HelloFresh is packaged more neatly and offers a larger variety of recipes per week.
*For a limited time only, Frugal Rules readers can get 16 Free Meals, and your first box ships free. You'll also get 3 surprise gifts with your order!
Read our HelloFresh review to learn more.
Sunbasket
Sunbasket offers meal kits made with high-quality, organically grown ingredients. They also provide several meals per week that meet the needs of paleo, vegan, and gluten-free dieters.
For this reason, Sunbasket may be a good option for people on special diets or people who prefer organic food.
Read our review of other organic meal delivery services to identify other choices if Sunbasket doesn't work for you.
It's important to note that Sunbasket is one of the more expensive options, with meals starting at $8.99 per serving.
Read our review of Sunbasket to learn more.
Blue Apron Review
Price

Menu Variety

Recipe Cards

Preparation Ease

Specialty Diets
Blue Apron Review
Blue Apron is a popular and moderately-priced meal kit that offers healthy and fresh meals with optional curated wine pairings.
Pros
✔️ Affordable
✔️ 14+ meals to choose from each week
✔️ Vegetarian and WW-friendly meals available
✔️ Optional wine pairings
✔️ Can purchase cooking utensils, spices, and more
Cons
❌ Somewhat poor packaging
❌ Not a good fit for dietary restrictions
❌ Shipping costs extra
Bottom Line
Blue Apron is one of the best meal kits in the space and are moderately priced. The service offers a variety of recipes that highlight fresh ingredients and world cuisines.
They also provide a wine subscription service that supplies curated wine pairings to go with your meals.
It's a great fit for new cooks, wine lovers, and people who are looking for flavorful recipes to breathe some new life into a stale dinner routine.
How often do you order meals from a delivery service?