Are you considering using a meal kit delivery service? They can help you cut down on the amount of time you spend meal planning, grocery shopping, and making dinner.
However, you've probably noticed that there are many options available now.
Most people consider HelloFresh and Blue Apron the "big two" of meal kits. These services are well-known, moderately priced, and offer ready-to-make meals that appeal to most households.
In this post, we'll compare HelloFresh vs. Blue Apron to help you figure out which one is best for your needs.
Is HelloFresh or Blue Apron Better?
We'll be conducting a head-to-head comparison of HelloFresh and Blue Apron based on price, specialty diets, preparation ease, customer service, and more.
Each of the two services are relatively similar. But, depending on your needs, one may be a better choice than the other.
Blue Apron vs. HelloFresh: Cost
Blue Apron and HelloFresh are similarly priced and represent two of the major middle-of-the-line meal kit companies.
While neither offer ultra-premium or high-end meals, they also aren't considered budget meal kits.
HelloFresh meals start at $7.99 per serving, and shipping costs $9.99 per order.
| Servings Per Week | Total Cost with Shipping |
| --- | --- |
| 2 people, 2 recipes per week | $58.95 |
| 2 people, 3 recipes per week | $62.93 |
| 2 people, 4 recipes per week | $80.91 |
| 2 people, 5 recipes per week | $98.89 |
| 2 people, 6 recipes per week | $116.87 |
| 4 people, 2 recipes per week | $80.91 |
| 4 people, 3 recipes per week | $98.87 |
| 4 people, 4 recipes per week | $128.83 |
| 4 people, 5 recipes per week | $158.79 |
| 4 people, 6 recipes per week | $188.75 |
Currently, new HelloFresh users can get 16 free meals plus free shipping on their first box.
Blue Apron meals start at $7.49 per serving, and shipping costs $9.99 per order.
| Servings Per Week | Total Cost with Shipping |
| --- | --- |
| 2 people, 2 recipes per week (4 servings) | $49.95 |
| 2 people, 3 recipes per week (6 servings) | $63.93 |
| 2 people, 4 recipes per week (8 servings) | $81.91 |
| 4 people, 2 recipes per week (8 servings) | $81.91 |
| 4 people, 3 recipes per week (12 servings) | $105.87 |
| 4 people, 4 recipes per week (16 servings) | $129.83 |
Right now, new Blue Apron customers can take $110 off their next four orders when they sign up.
If you're deciding between the two based solely on price, then you should choose the largest Blue Apron plan (four Signature recipes per week for four people). This has the lowest price per serving of $7.49.
Winner: Blue Apron
*Related: Are you looking for a more affordable meal delivery service? Take our free quiz to find the best choice for your needs.
HelloFresh vs. Blue Apron: Specialty Diets
Both HelloFresh and Blue Apron offer healthy recipes. However, they are fairly limited in their offerings for specialty diets or people with certain dietary restrictions or dietary needs.
Blue Apron offers Signature, Wellness, and Vegetarian plans. Unfortunately, they lack strict vegan options as well as gluten-free or other specialty diets (like keto or paleo).
HelloFresh offers Meat & Veggies, Veggie, Family Friendly, Fit & Wholesome, Quick and Easy, and Pescatarian plans.
Like Blue Apron, they don't offer gluten-free, vegan, or other specialty diet menus (with the exception of options for vegetarians and pescatarians).
There are other options for vegan meal delivery, for example. Read our guide on the top vegan meal delivery services to learn more.
If you follow a specific diet that's not offered by HelloFresh or Blue Apron, you might be able to find meals that work for you from their selections. There are no guarantees, though.
Keep in mind that this is also something you'll need to review the menu each week for.
For strict dietary needs or specialty diets, consider meal delivery kits like Purple Carrot or Green Chef.
These offer customizable plans tailored to specific needs like vegan, gluten-free, keto, or paleo.
Winner: HelloFresh, thanks to their pescatarian meals.
Blue Apron vs. HelloFresh: Add-ons
Each meal kit company offers add-on grocery items that you can have shipped weekly with your meals.
Many times, these include things like easy breakfasts or snacks, desserts, extra proteins, or sauces and seasonings.
Both services offer premium meals as well. HelloFresh charges an extra fee per serving for any meal with the tags Gourmet, Gourmet Plus, Surf & Turf, Taste Tours, and Craft Burger.
Likewise, Blue Apron charges extra for their Craft and Premium options.
However, Blue Apron takes the cake with add-ons. They offer several Heat & Eat meals on their menu each week for people who need to cut down on meal prep.
Additionally, they sell gifts, cooking tools, and seasonings on their Blue Apron Market.
Blue Apron even offers an optional wine subscription that is designed to pair nicely with their meals.
Winner: Blue Apron
HelloFresh vs. Blue Apron: Packaging
You might be curious about the neatness or sustainability of each service's packaging.
HelloFresh boxes each contain a thick insulated liner. Meats and ice packs are placed on the bottom, then separated from other ingredients with a cardboard divider.
All of the other pre-portioned ingredients for each recipe are packed in a single paper bag per recipe.
This makes it really easy to unload your HelloFresh box into the fridge and get all of your ingredients out when you're ready to cook.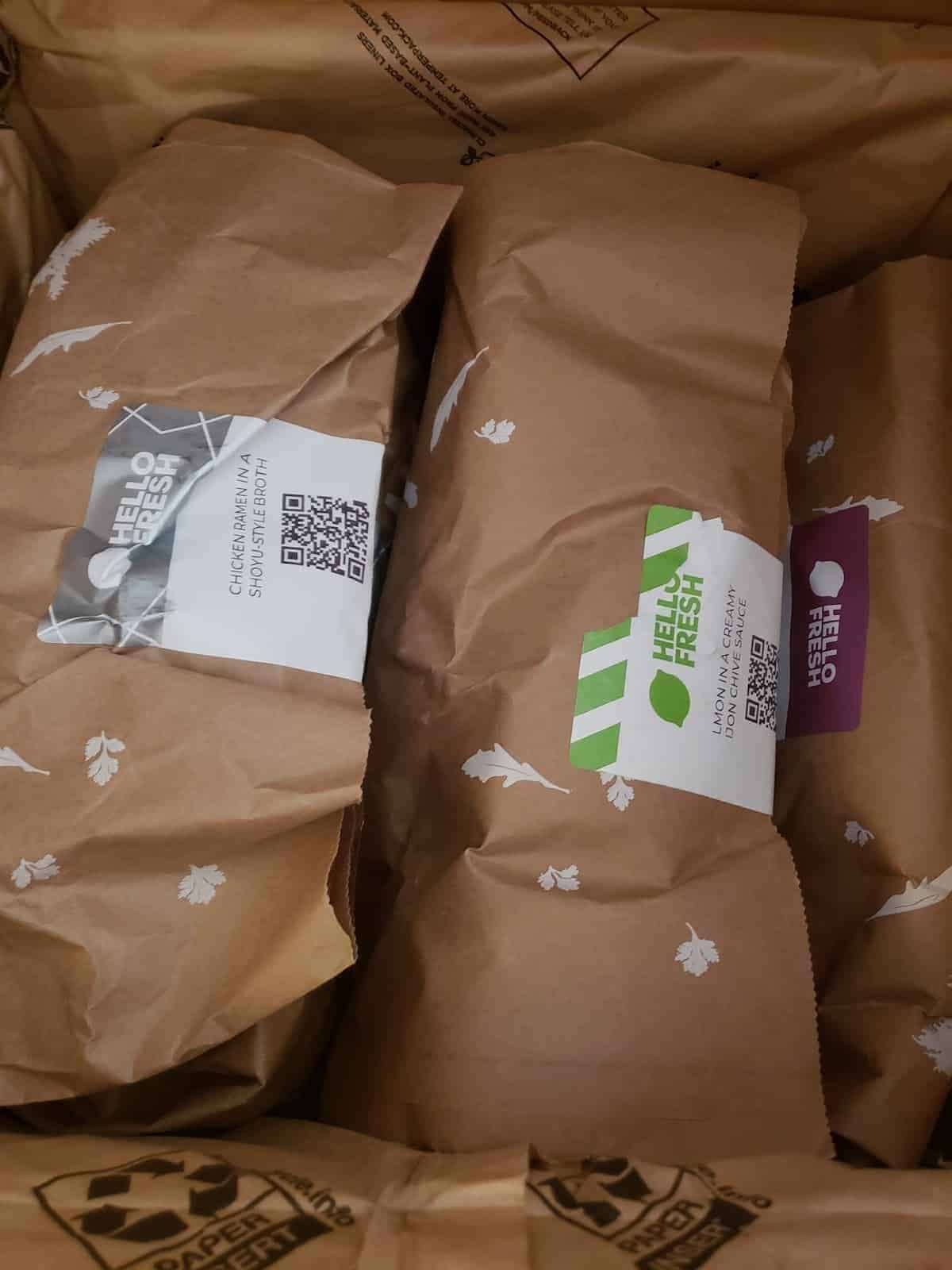 Blue Apron boxes contain a liner as well, but it's thinner. They also have all the meats and ice packs at the bottom of the box, separated from other ingredients.
Most of the ingredients for each meal are separated out into different "Knick Knack" plastic bags (one per meal), but there were also some other loose ingredients in plastic wrappers in the box.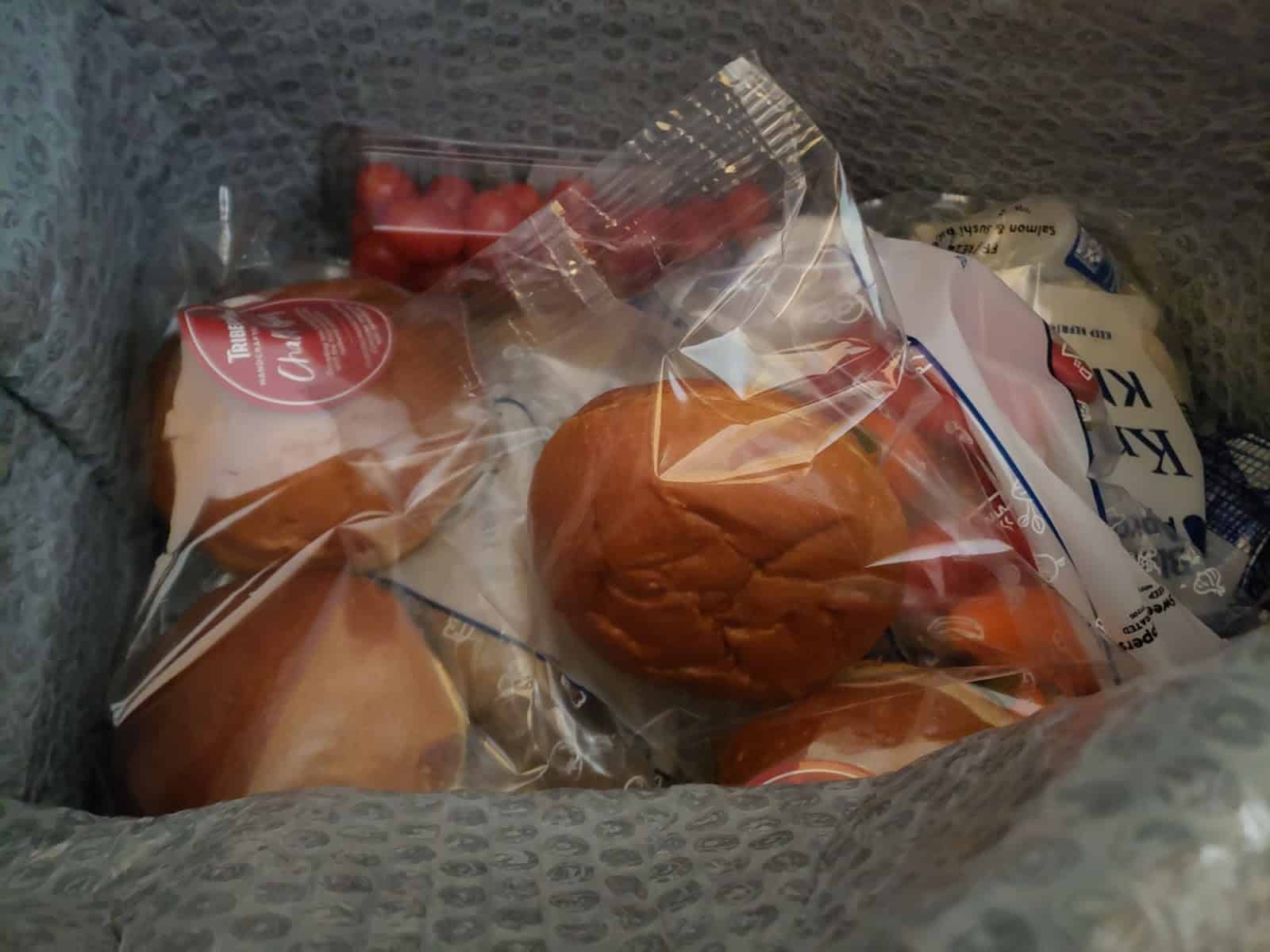 Overall, I was more impressed with HelloFresh's packaging. It seemed to be more eco-friendly because there was less plastic.
Winner: HelloFresh
Blue Apron vs. HelloFresh: Preparation Ease
Each week, your Blue Apron or HelloFresh box will contain all of the fresh ingredients you'll need to cook your meals.
With both services, you'll need to do some advance prep work. This mostly involves washing and chopping veggies.
For the novice chef, this can be the most time-consuming part of meal prep. However, these services will help you hone your knife skills.
For both services, I found that it took me slightly longer to prepare the meals than the recipe card suggested. Fortunately, it typically took no longer than 30-40 minutes.
This makes either service a suitable option for larger family. Read our guide on other top meal delivery kits for busy families to identify similar choices.
Winner: Tie
HelloFresh vs. Blue Apron: Supporting Materials
Both companies send detailed, full-color recipe cards that walk you step-by-step through the cooking process. They feature progress photos and easy-to-follow instructions.
As a bonus, they come with lots of extra tips.
For example, Blue Apron's recipe cards include suggested wine pairings, and the HelloFresh recipe cards include helpful definitions for food and cooking terms you may not be familiar with.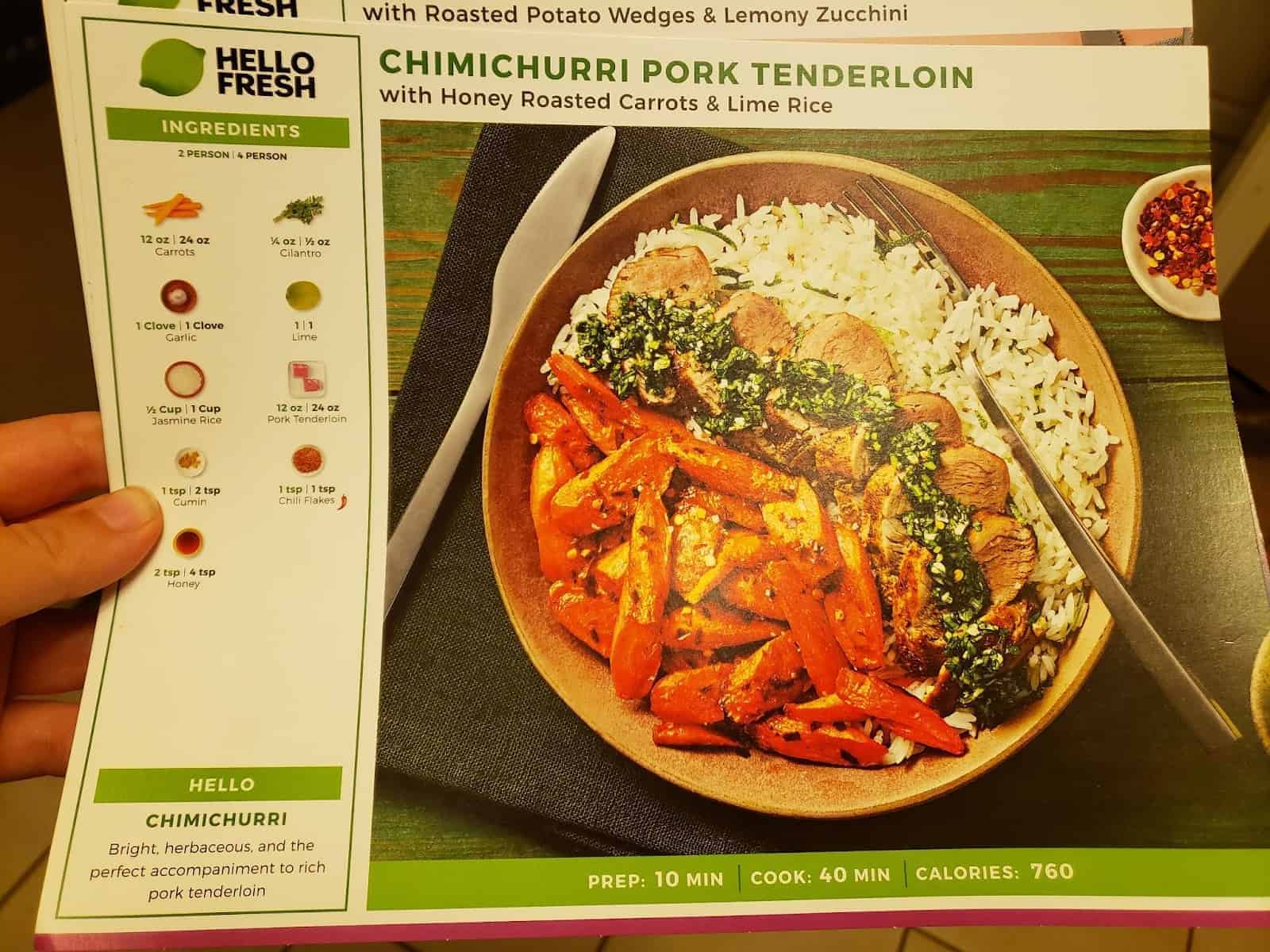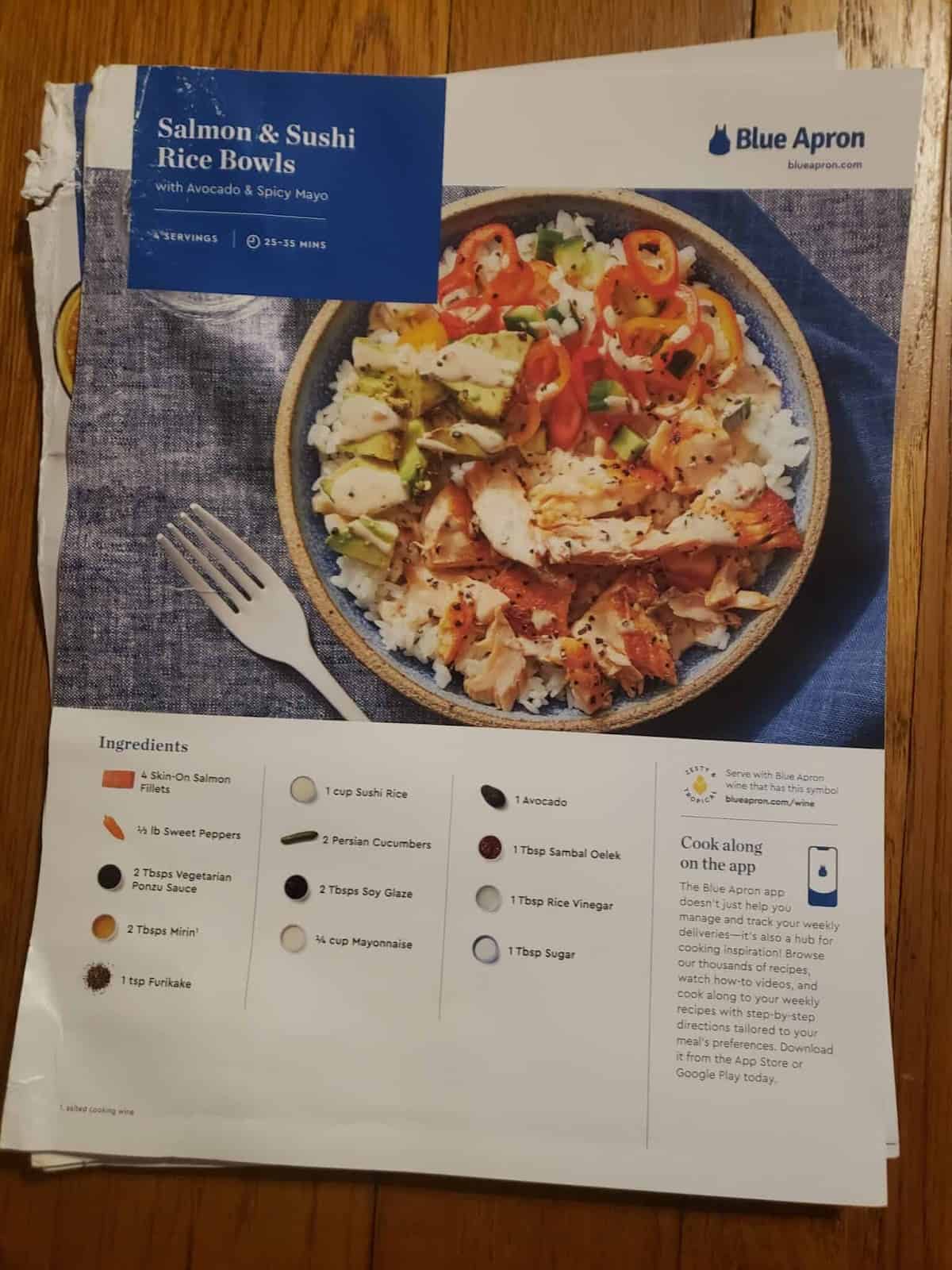 Winner: Tie
Blue Apron vs. Hello Fresh: Taste
Taste is often the most important part of choosing a meal delivery service.
Let me preface this section by saying that I was impressed with the taste of the meals I tried from both meal delivery services. I was also satisfied with the portion sizes provided by both services.
In my initial review of Blue Apron, I wrote that I could have guzzled the cilantro sauce from the Creamy Cilantro Chicken with Toasted Pepita Rice and Green Beans by the gallon. That's still true.
The sauce was delicious. However, while tasty, the other meals we tried from Blue Apron weren't show-stoppers.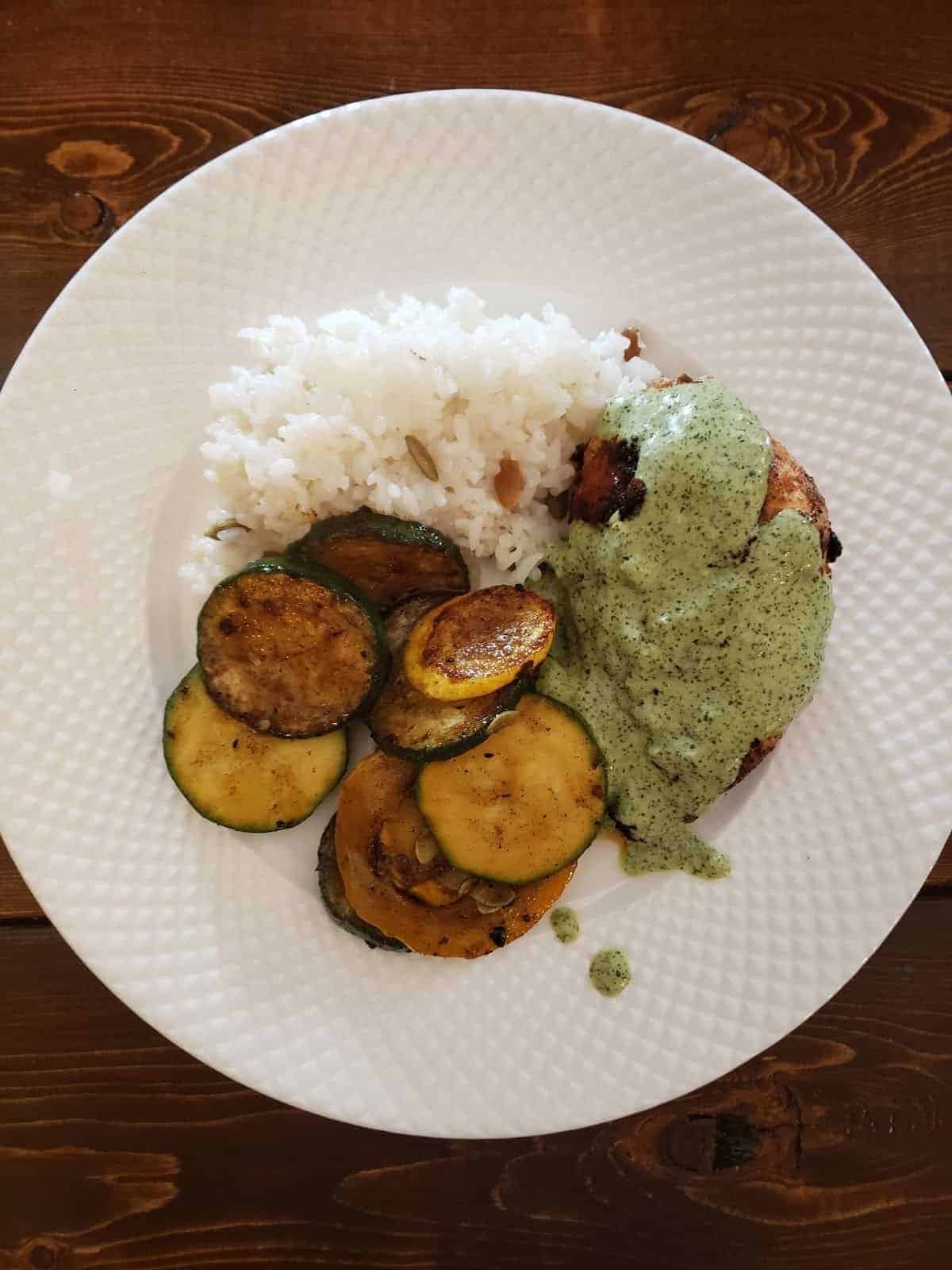 On the other hand, every meal we tried from HelloFresh was a huge hit with my family. They were simple dishes but were packed full of flavor.
We loved the Chimichurri Pork Tenderloin with Honey Roasted Carrots and Lime Rice, as well as the Salmon in a Creamy Lemon Chive Sauce with Roasted Potato Wedges and Lemony Zucchini.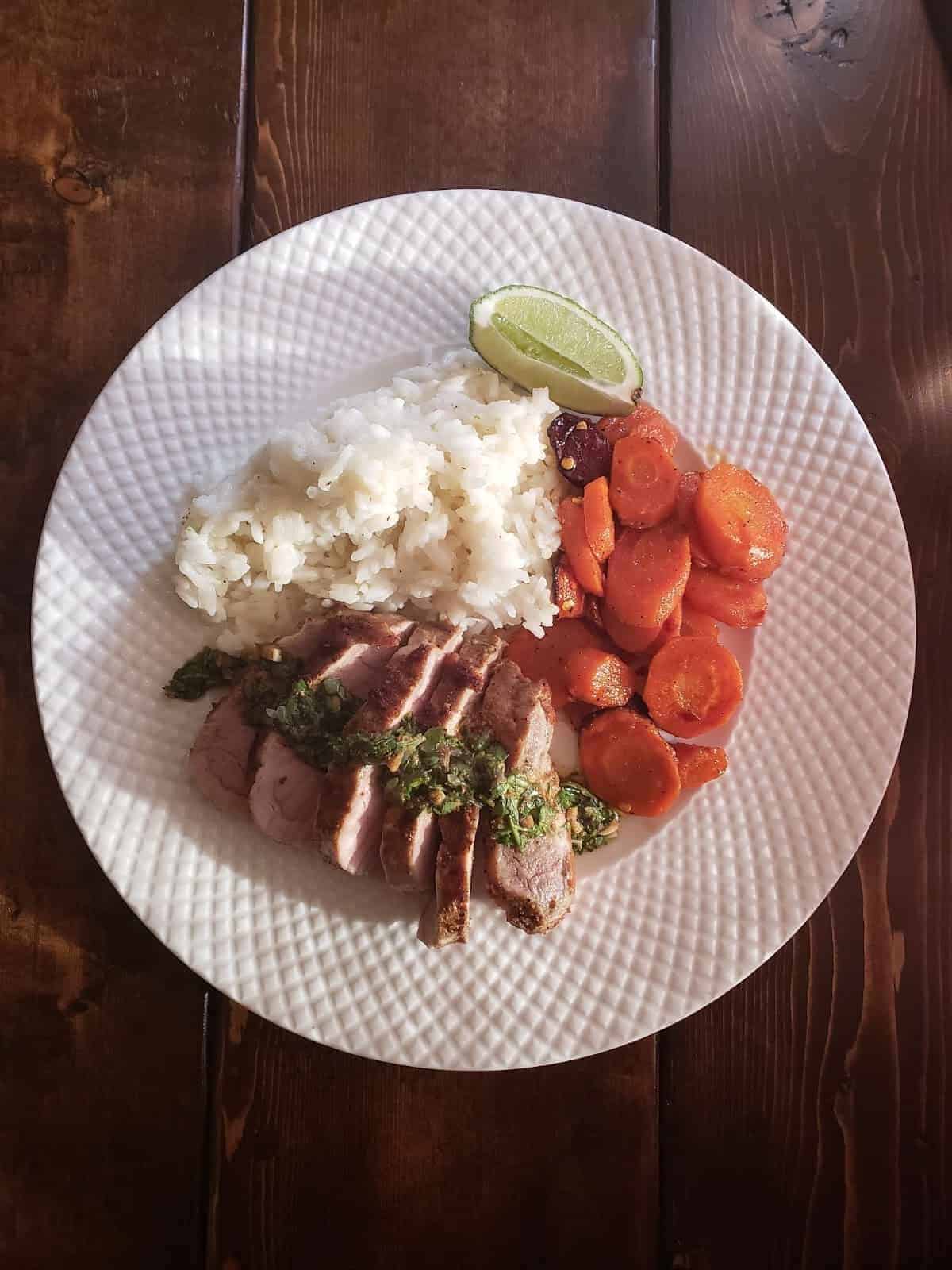 Generally, the HelloFresh menu options were more appealing to us. They also offered more weekly meal options and a wider variety of recipes.
My personal opinion is that HelloFresh's delicious meals win the taste category, but this is a subjective conclusion.
Winner: HelloFresh
HelloFresh vs. Blue Apron: Customer Service
HelloFresh and Blue Apron are comparable in terms of customer service.
I didn't have to interact with customer service for either company when I was trying them, so I can't judge that piece. However, both companies have great scores on Trustpilot.
They both have 4.2 out of 5 stars at the moment based on thousands of reviews.
Both services also allow you to skip weeks or cancel your service online, with no need to email or call. This is extremely convenient.
Winner: Tie
What's the Difference Between HelloFresh and Blue Apron?
Both companies have a lot going for them, so we evaluated them based on our chosen criteria.
| Category | Winner |
| --- | --- |
| Best Price | Blue Apron |
| Best for specialty diets | HelloFresh |
| Best add-ons | Blue Apron |
| Best packaging | HelloFresh |
| Best prep | Tie |
| Best supporting materials | Tie |
| Best taste | HelloFresh |
| Best customer service | Tie |
Overall, it's a draw. But, if we had to give a slight nod in one direction, it would go to HelloFresh.
If you're looking at it purely from a price perspective, then Blue Apron's largest plan is the one that you'll want to choose.
Blue Apron also offers far more add-on selections, making it one of the best HelloFresh alternatives for meal delivery.
However, HelloFresh offers a larger weekly selection of recipes, and their packaging is much neater.
Both services have great-tasting food and helpful recipe cards, so it's hard to go wrong with either option.
Bottom Line
Blue Apron and HelloFresh are two really similar meal delivery subscription services.
There are some differences between the companies, but they are similarly priced and generally offer the same types of meals.
Both services are great for families and households without specific dietary needs who want more flavorful meal choices at home.
Our recommendation is to try both services and then choose your favorite after you've had a chance to determine which one best fits your needs.
What's most important to you when choosing a meal delivery company?