Making dinner every night can be a huge pain point for busy families. Fortunately, numerous meal kit services have popped up to take the stress out of grocery shopping, delivery, and meal planning.
EveryPlate is an affordable meal kit company that allows you to select inexpensive meals your family will love. The service then ships ingredients directly to your home.
Here's our in-depth EveryPlate review.
What is EveryPlate?
EveryPlate is a meal kit service that delivers everything you need to create complete, home-cooked meals for your household straight to your door.
Although there are various meal kit services available, EveryPlate stands apart as one of the top cheap meal delivery services available.
The company offers a selection of kid-friendly, classic, and comfort food meals that will appeal to people without specific diet needs.
EveryPlate is owned by HelloFresh, a larger and higher-end meal service.
While HelloFresh is more expensive, these two services are very similar from a quality standpoint. You may even receive some HelloFresh branded ingredients in your EveryPlate box.
Read our EveryPlate vs. HelloFresh comparison to see how the two services stack up.
How Does the Service Work?
EveryPlate is able to stay on the more affordable side by being a pretty no-frills service. The registration process is streamlined and uncomplicated.
The first step when signing up is to choose your plan. EveryPlate offers three, four, or five meals weekly for either two or four people.
Once you are done checking out, you can select your first week of meals.
*Related: Interested in other meal delivery options? Read our HelloFresh review to learn how it compares.
However, you can view their menus for the current and upcoming weeks before committing by clicking on the "Weekly Menu" link on their homepage.
Customers can choose from 14 different recipes per week. Some weekly meal options that were available at the time of writing include:
Garlic Rosemary Chicken with Roasted Root Veggies
Greek Pork Meatball Bowls with Cucumber Tomato Salad and Garlic Couscous
Lemony Asparagus Farro Bowls with Roasted Tomato, Parmesan, and a Fried Egg
There are some vegetarian options available, but most of their meals are classic American fare featuring pork, chicken, or beef.
If you have specific dietary needs or restrictions, EveryPlate may not be right for you. You may have better luck with Green Chef or Trifecta.
*Related: Are you interested in a meal delivery service that focuses on specialty diets? Read our review of the Green Chef menu to learn how they might be a good fit for your needs.
Make sure you pay attention to when you need to have your meal selections submitted so you receive the meals you want. Otherwise, EveryPlate will choose which meals to send.
Once your meal kit arrives, you're ready to start cooking.
Each kit comes with the following:
Detailed, full-color cooking instructions
All of the ingredients you'll need to make your meal
It's important to note that you won't receive staples like salt, pepper, oil, eggs, and sugar. You will need to have those on hand or purchase them at a grocery store.
Keep in mind that once you sign up, you'll receive weekly meal kit shipments. You can cancel easily online at any time. EveryPlate also allows you to skip weeks indefinitely.
Just contact customer service to skip shipments.
How Much Does EveryPlate Cost?
No matter the plan or number of meals you choose, EveryPlate costs a flat $4.99 per serving with an $8.99 shipping fee per box.
Here is what you can expect to pay with this base pricing.
| Servings per week | Total cost |
| --- | --- |
| 2 people, 3 dinners | $38.93 |
| 2 people, 4 dinners | $48.91 |
| 2 people, 5 dinners | $58.89 |
| 4 people, 3 dinners | $68.87 |
EveryPlate also offers some extras, such as premium meals. For an extra $3.99 per serving, you'll receive higher-quality ingredients like fish or more expensive cuts of steak.
You can also add extra meat to your box by adding on a Protein Pack.
*For a limited time, Frugal Rules readers can get $1.49/meal on their first EveryPlate order!
*Related: Are you looking for a more robust meal delivery service? Try our free quiz to learn the best service for your needs.
My Experience Using the Service
My overall experience with EveryPlate was positive. The box arrived at my home in excellent condition, and the meats were kept separate from the other ingredients.
This particular feature is nice in case there happens to be a leaky package during transit.
The packaging was eco-friendly as well. There was a recyclable insulated cooler and two reusable ice packs in the box.
Most produce didn't have any extra packaging around it, but it was all in good condition.
The meals I received included:
Creamy Dijon Chicken with Zucchini and Herby Potatoes
Carne Asada Fajitas with Pickled Onions and Lime Crema
Sticky Umami Broccoli and Bell Pepper Bowls with Ginger Rice, Sriracha Mayo, and a Fried Egg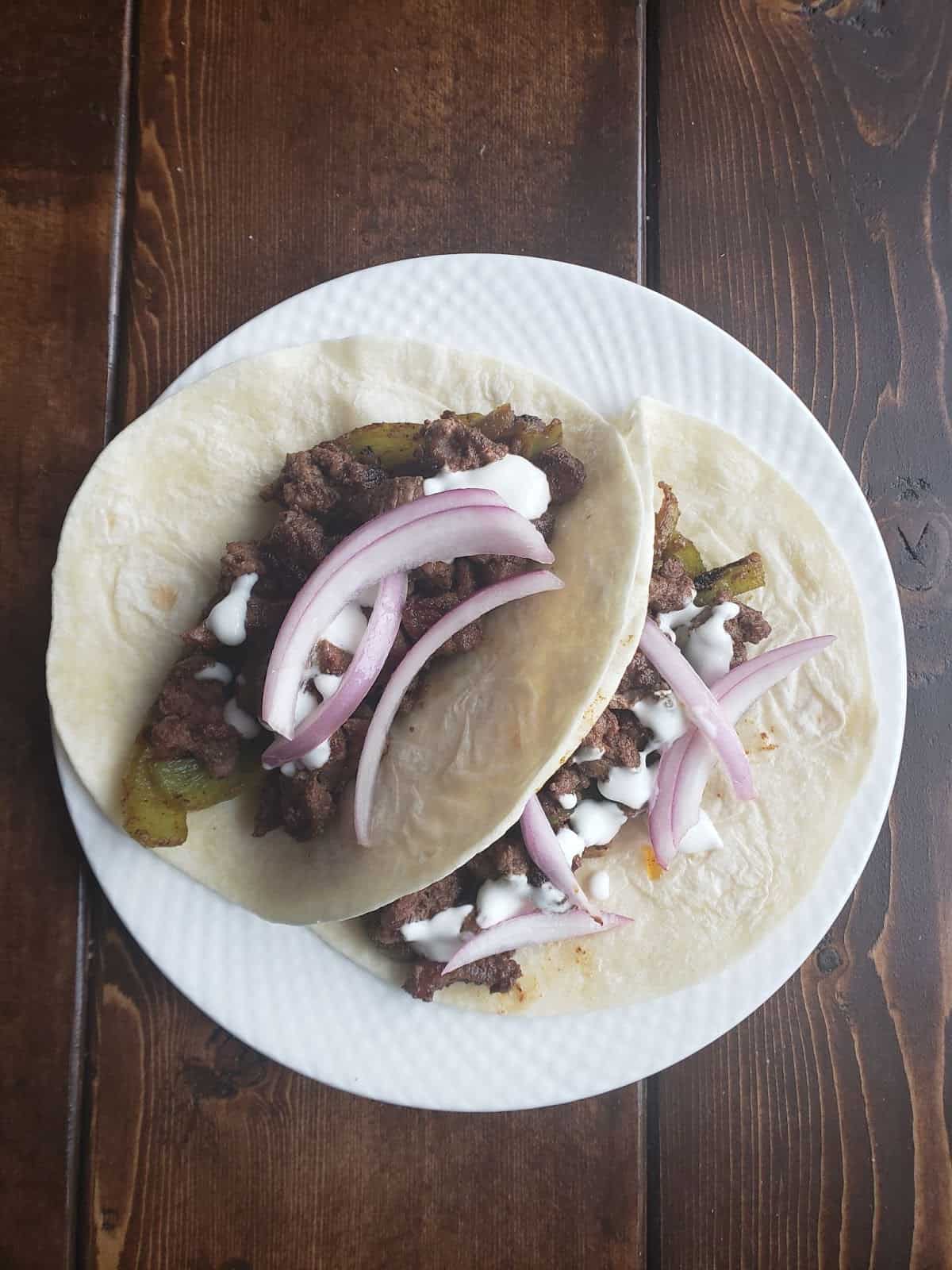 They all received rave reviews from my family and were fun to cook. The recipes were straightforward and made for a nice change of pace from the same handful of meals I usually make.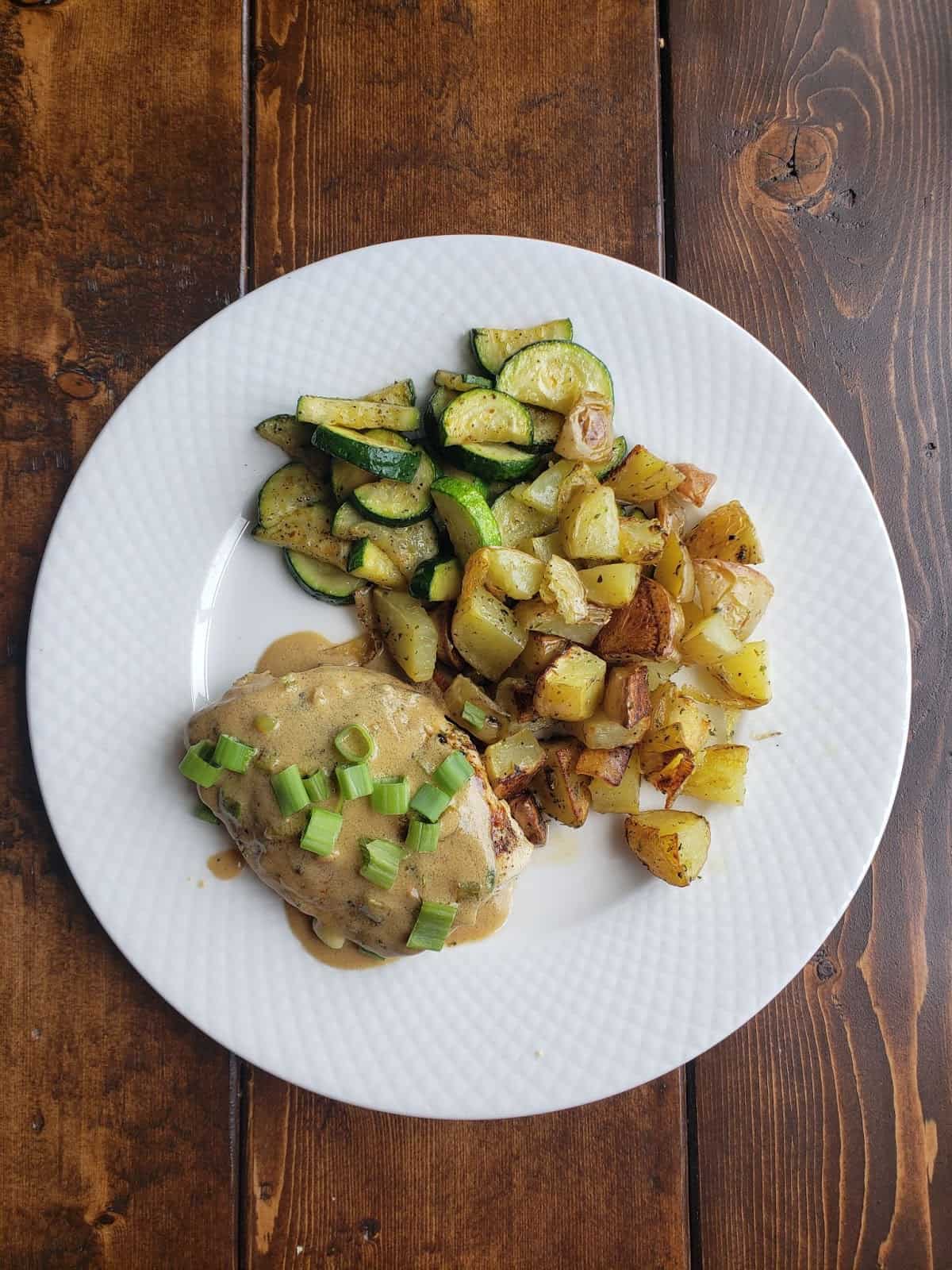 The runaway hit was the Creamy Dijon Chicken. My family loved it so much that I'll be adding it to our regular meal rotation.
How Easy are EveryPlate Meal Kits to Prepare?
EveryPlate is all about easy to prepare meals. Every kit comes with full-color recipe cards featuring photos of each step. This was extremely helpful in preparing meals.
If you are a new cook, following the instructions will help you learn the basics of cooking and result in a great meal.
Those who are already familiar with cooking will find it easy to make changes as they go. For example, I made a few on-the-fly changes based on my family's preferences.
I usually eat low carb, so I swapped out mushrooms for the potatoes for my serving of the Creamy Dijon Chicken.
Then, I made scrambled eggs instead of fried eggs for the Sticky Umami Bowl recipe since that's what my son prefers.
You'll need plenty of time before beginning the cooking process to prep your veggies. The produce you get from EveryPlate isn't always washed or prepped for you.
I found that each recipe took about 10-15 minutes longer than the recipe card stated it would.
If you've got great knife skills, you can probably slash your prep time significantly.
Who Should Use EveryPlate?
EveryPlate has features that make it ideal for certain people. Here's who would benefit the most from the service.
People on a Tight Budget
If your busy schedule is sabotaging your efforts to stick to a grocery budget, then EveryPlate is perfect for you.
For the largest plan of five meals per week for four people, Every Plate costs about $100 plus $8.99 shipping.
This is significantly less than dining out five times for a family of four unless it's all fast food (in which case, EveryPlate is similar in price but much healthier).
This makes it one of the top services for large families. Read our guide on the top meal delivery services for families to identify similar options.
Anyone Who Wants to Cook Something New
EveryPlate is an inexpensive way to get out of a cooking rut. It's easy to get stuck cooking the same things repeatedly because they're simple and familiar.
However, subscribing to EveryPlate or another meal kit company can add some excitement to your dinner routine and help you become more inspired in the kitchen.
New Cooks
If you want to become a better cook, there's no better way than to just start cooking. Unlike a cookbook, EveryPlate offers detailed recipes that feature step-by-step instructions with full-color photos.
Some of the culinary basics that you'll become well-versed in when using EveryPlate include:
Cooking rice
Roasting vegetables
Making sauces
Cooking meat to a proper doneness
For these reasons, EveryPlate is excellent for the beginner cook.
Additionally, if you need one person meal kits EveryPlate is a good choice.
Who Shouldn't Use the Service?
EveryPlate isn't right for everyone. Here are some people who may not benefit from the service.
People Following Specialty Diets
If you have any specific dietary needs, EveryPlate probably won't be a good choice for you.
They do offer some vegetarian options. However, the service isn't great for people following other diets, such as vegan, gluten-free, keto, dairy-free, or paleo.
However, you may find that certain meals can meet your needs with no or few adjustments.
Personally, I found that it's easy to modify the meals to be lower in carbs. But, unfortunately, the extra planning and prep work take away from the convenience of the kit.
Adventurous Cooks
EveryPlate's menu can get repetitive quickly. When browsing through their offerings, you'll notice that most of their meals are variations of the same base ingredients.
You'll see lots of chicken breasts, pork chops, ground beef, carrots, zucchini, rice, and potatoes.
EveryPlate offers a wide variety of recipes, but they mostly fall in the realm of American (or Americanized) comfort food that will appeal to kids.
While this makes the service great for families, it may be on the boring side if you like to branch out and try new cuisines or healthy meal ideas when you're cooking.
Pros and Cons
Like any paid service, EveryPlate has its benefits and downsides. Here are the pros and cons of the meal service.
Pros:
Terrific for families on a tight budget
Requires less shopping and planning
Great for learning or refreshing basic cooking skills
Menu selections have mass appeal for families and kids
Great for busy people looking for meals with generous serving sizes
Cons:
Repetitive menu
Prep can be time-consuming
Not a good fit for special diets or dietary restrictions
Given the price, the company is a solid choice for affordable meal delivery.
The Competition
Here's how EveryPlate stacks up against other competitors in the meal kit delivery space.
| Company | Cost | # of Meals | Best For | Servings | Sign Up |
| --- | --- | --- | --- | --- | --- |
| EveryPlate | $4.99+/serving | 2-5/wk | Easy recipes | 2 or 4 | Try |
| Dinnerly | $4.69+/serving | 3-6/wk | Families | 2 or 4 | Try |
| Sunbasket | $8.99+/serving | 2-4/wk | Special diets | 2 or 4 | Try |
Dinnerly
Dinnerly is EveryPlate's closest competitor. Both services are known for offering affordable meals.
Depending on how large your weekly order is, Dinnerly's meals cost anywhere from $4.69 to $5.29 per serving.
Dinnerly's menu is similar to EveryPlate's, but it does seem to have a wider variety of meal options.
Read our EveryPlate vs. Dinnerly analysis to learn more about how they compare.
Fish and shrimp appear on Dinnerly's menu fairly regularly for no extra cost. They offer about 20 different selections each week, including some desserts and breakfasts.
Dinnerly doesn't send cooking instructions. Instead, you access all of your recipes through their app or website after receiving your box.
Read our Dinnerly review to learn more about the service.
Sunbasket
Sunbasket has a reputation for being a healthy subscription meal box service that uses the highest quality ingredients possible.
This company caters to diets like paleo, low carb, gluten-free, dairy-free, and vegan. They offer meal kits for families, single-serving heat-and-eat meals, and groceries.
Because of the quality of their ingredients, Sunbasket is significantly more expensive than EveryPlate. Prices range from $8.99 to $13.99 per serving.
You may find the expense worth it if you eat organic and have specific dietary needs or preferences. If not, EveryPlate is less expensive without sacrificing quality.
Read our Sunbasket review to learn more about the service.
EveryPlate Review
Price

Menu Variety

Recipe Cards

Preparation Ease

Specialty Diets
EveryPlate Review
EveryPlate is a low-cost meal delivery service that helps you save time at the store and lets you discover new recipe ideas.
Pros
✔️ Very affordable
✔️ Perfect for new or learning cooks
✔️ Easy to prepare meals
✔️ You can swap out proteins and sides
✔️ Minimal packaging
Cons
❌ Minimal options for dietary restrictions
❌ Boxes are somewhat disorganized
❌ You must pay for shipping
Is EveryPlate a Good Service?
EveryPlate is one of the least expensive meal delivery subscription services, offering ready-to-make meals with fresh ingredients and simple recipes each week. My overall experience was a good one.
If you struggle to make meals each night or you're spending too much money dining out, the service offers an affordable solution to get home-cooked, family-friendly meals on the table.
How do you save time making meals?
SaVanna is a registered dietitian, freelance writer, and recipe developer. She's a regular contributor for Healthline Nutrition and Greatist, and she blogs about low carb meal planning at SaVannaShoemaker.com. When she's not writing about food and nutrition, she's brainstorming ways to make meals that are inexpensive, kid friendly, tasty, and healthy.