Meal planning, grocery shopping, and making dinner can be repetitive and time-consuming, especially if you have a busy schedule.
Meal kit delivery services can be a good solution, but most of them are more expensive than grocery shopping. Fortunately, Dinnerly and EveryPlate are two lower-cost alternatives — that offer customizable plans and healthy recipes.
But how can you choose between Dinnerly vs. EveryPlate? We'll help you figure out the best one for your household.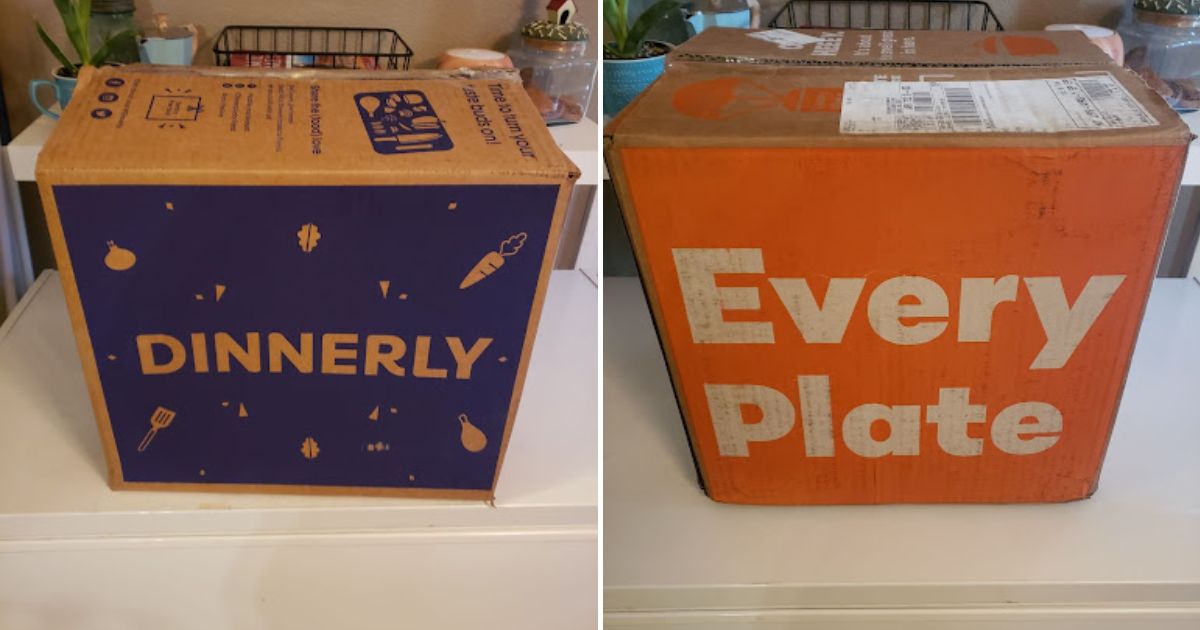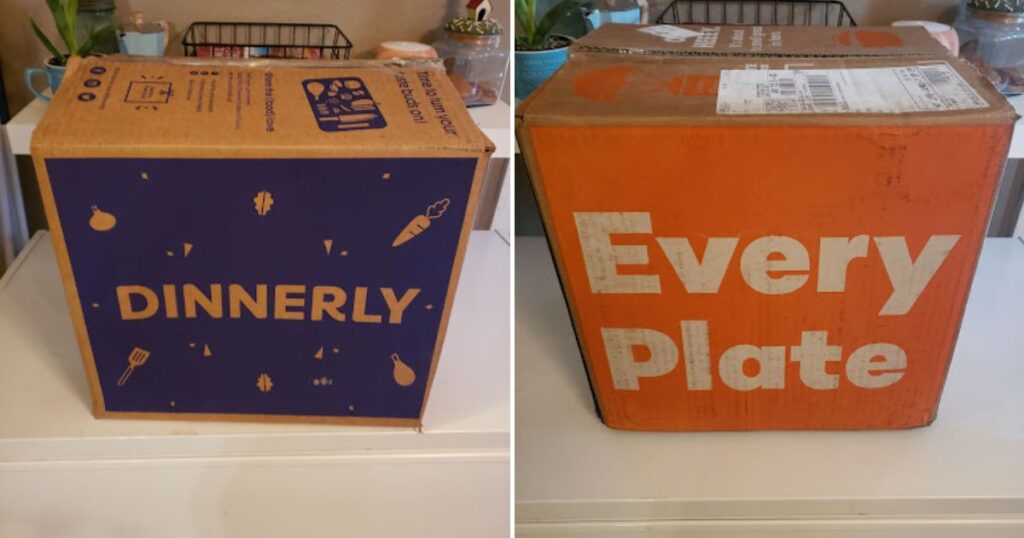 Is Dinnerly or EveryPlate Better?
If you're torn between EveryPlate vs. Dinnerly, we can help you decide. Both of these meal delivery subscription services offer ready-to-make meals with pre-portioned ingredients.
Better yet, both are less expensive than similar services like Blue Apron, Home Chef, and HelloFresh. Read our Dinnerly vs. HelloFresh analysis to learn how those two services compare.
EveryPlate is owned by HelloFresh, and Dinnerly is owned by MMM Consumer Brands Inc., which also owns the meal kit company, Martha Stewart & Marley Spoon. Read our Marley Spoon review to learn more about that service.
We've tested both services to see how they compare. Here are the criteria we used to determine the winner:
Cost: Dinnerly and EveryPlate are both inexpensive, but which one offers more value, better shipping costs, and the lowest price per serving?
Specialty Diets: If you have specific dietary needs such as vegan, gluten-free, paleo, or food allergies, does one of these meal kit companies offer a wider variety of specialty meal choices?
Add-ons: Which affordable meal kit offers the best variety of add-ons?
Packaging: Does one of the meal delivery kits offer more convenient or sustainable packaging than the other?
Preparation Ease: Which meal delivery service offers menu options with minimal prep time and clear instructions, making it ideal for a novice chef and busy family alike?
Supporting Materials: Does one meal kit have significantly better supporting materials, like recipe cards?
Taste: Which of these two meal kits offers a greater number of delicious meals or a wider variety of recipes?
Customer Service: How easy is it to skip or edit your order? Is canceling your subscription hassle-free? Does one of these meal kit delivery services make it easier than the other?
Here's our head-to-head comparison of Dinnerly and EveryPlate.
EveryPlate vs. Dinnerly: Cost
These companies both market themselves as affordable meal kit services. They consistently offer the lowest prices of any meal kit company.
EveryPlate's prices per serving range from $4.99 to $6.49 based on how many servings you order each week. Their most popular plan (four meals per week for two people) costs $5.99 per serving.
*For a limited time, Frugal Rules readers can get $1.49/meal on their first EveryPlate order.
Shipping is an additional $8.99 per box.
| Servings per week | Total cost |
| --- | --- |
| 2 people, 3 dinners | $38.93 |
| 2 people, 4 dinners | $48.91 |
| 2 people, 5 dinners | $58.89 |
| 4 people, 3 dinners | $68.87 |
Dinnerly's meals cost $4.69 to $5.29 per serving based on your order size. Their meal plan offering four meals per week for two people costs $5.99 per serving, just like EveryPlate's.
Shipping is also $8.99.
| Servings Per Week | Total Cost with Shipping |
| --- | --- |
| 2 people, 3 dinners | $40.73 |
| 2 people, 4 dinners | $48.91 |
| 2 people, 5 dinners | $58.89 |
| 2 people, 6 dinners | $67.67 |
| 4 people, 3 dinners | $68.87 |
| 4 people, 4 dinners | $88.83 |
| 4 people, 5 dinners | $106.79 |
| 4 people, 6 dinners | $121.55 |
Dinnerly and EveryPlate are priced nearly identically. Both options offer excellent value compared to other meal kit services.
Winner: Tie
Dinnerly vs. EveryPlate: Specialty Diets
Since they are budget-friendly, Dinnerly and EveryPlate don't offer as many options for dietary restrictions as more expensive at-home meal kits.
Neither service is appropriate for gluten-free diets or food allergies. However, they both offer several vegetarian or vegan menu options and some low-calorie choices.
Nevertheless, Dinnerly is a better choice because they offer more options for vegetarians and some low-carb meals.
However, Green Chef, Purple Carrot, and Sunbasket are all better suited for people with more restrictive dietary needs and preferences.
Read our review of the top healthy meal delivery services to learn about more well-rounded options.
Winner: Dinnerly
EveryPlate vs. Dinnerly: Add-ons
EveryPlate and Dinnerly both offer a small selection of add-on items and premium meals that you can purchase for an extra fee per serving.
Add-on offerings from EveryPlate include extra meat, side dishes, desserts, breakfasts, lunches, pantry staples, and seasonal meals.
Dinnerly offers seasonal sides and entrees, breakfasts, appetizers, desserts, extra meats, and fully cooked, ready-to-eat meals.
When it comes to add-ons, they're pretty evenly split. However, EveryPlate edges out Dinnerly because they also offer some pantry staples.
Winner: EveryPlate
Dinnerly vs. EveryPlate: Packaging
One reason that Dinnerly and EveryPlate can slash prices is because they offer no-frills packaging.
While other meal kit services bundle ingredients by recipe, Dinnerly and EveryPlate package all items loosely in your delivery box.
Inside a Dinnerly box
Both services also offer packaging materials that are either recyclable or reusable. Their minimal packaging results in using less plastic or paper than other services.
Inside an EveryPlate box
Winner: Tie
EveryPlate vs. Dinnerly: Preparation Ease
In my experience, EveryPlate and Dinnerly meals took about 30 minutes of meal prep from start to finish.
Generally, each recipe contained a starch, a vegetable side, and a protein source.
However, I found that Dinnerly offered more simple dishes, while EveryPlate's meals were a bit more involved. For this reason, Dinnerly wins when it comes to ease of preparation.
Winner: Dinnerly
Dinnerly vs. EveryPlate: Supporting Materials
Most meal kit services send large, full-color recipe cards or other supporting materials along with their pre-portioned ingredients. This makes it easier to follow the recipe.
EveryPlate is one of these services. Their recipe cards feature easy-to-follow instructions and full-color, step-by-step photos.
EveryPlate recipe card
Dinnerly, on the other hand, does not include recipe cards in their shipments. You can access the step-by-step instructions for each recipe on the Dinnerly website or app.
Recipe instructions on the Dinnerly app
This helps them keep costs low. However, for the customer, it's less convenient to check a phone repeatedly than to glance at a recipe card.
Winner: EveryPlate
EveryPlate vs. Dinnerly: Taste
EveryPlate and Dinnerly both offer tasty meals, but they have different strengths.
You can choose from 25 different weekly meal options with EveryPlate. Their specialty is American dishes.
The service offers several kid-friendly meals and homestyle meals that would appeal to most households without specific diets.
Their meals also tend to be heavier comfort foods with larger portion sizes. Some of their recent meal options include:
Crispy Buffalo Ranch Chicken with Honey Roasted Carrots & Mashed Potatoes
Sweet Potato & Broccoli Donburi Over Scallion Lime Rice with Pickled Cucumber & Sriracha Mayo
Lemony Greek Pork Hash with Bell Pepper & a Fried Egg
Creamy Dijon Chicken (EveryPlate)
On the other hand, Dinnerly offers over 45 different meal options each week. They also provide a wider range of lighter options, like entree salads, with a larger variety of fresh ingredients.
Some of their recent meal options include:
Teriyaki Broccoli and Mushroom Stir Fry
Herby Pecan-Crusted Salmon
Grilled Caprese Flatbread
Chicken Parm with Roasted Broccoli and Garlic Bread (Dinnerly)
Based solely on the taste of the meals that I tried from each service, Dinnerly is the winner. However, it's a very close race.
Read our review of EveryPlate to learn more.
Read our review of Dinnerly to learn more.
Winner: Dinnerly
Dinnerly vs. EveryPlate: Customer Service
It's also important to evaluate Dinnerly and EveryPlate in terms of customer service. When I was trying these services, I did not need to contact customer service for help.
With both options, I found it easy to edit my meal selections, adjust my meal plan, and cancel my subscription.
They also have fairly similar customer ratings. On Trustpilot, Dinnerly has a 4.0 out of 5 star rating with over 4,000 reviews. EveryPlate has a rating of 4.0 out of 5 with over 19,000 reviews.
If you need a meal delivery service that's a better fit for your needs, take our free quiz to learn which is best for you.
Winner: Tie
What's the Difference Between Dinnerly and EveryPlate?
Both meal kit companies are good, so we assessed them based on our chosen criteria.
| Category | Winner |
| --- | --- |
| Best Price | Tie |
| Best for specialty diets | Dinnerly |
| Best add-ons | EveryPlate |
| Best packaging | Tie |
| Best prep | Dinnerly |
| Best supporting materials | EveryPlate |
| Best taste | Dinnerly |
| Best customer service | Tie |
Overall, Dinnerly was our winner.
However, the best fit for you depends on your household's needs and preferences. Dinnerly and EveryPlate are the same price, but they are very different.
EveryPlate is the better pick for families with kids, picky eaters, or people who prefer filling, homestyle meals. They also are better if you don't want to use your phone to look at recipes.
Dinnerly is a better choice for people who want a large variety of meals to choose from each week. It's also better for people on special diets, including vegetarian or low-carb.
Bottom Line
Are you looking for a less expensive HelloFresh alternative? EveryPlate or Dinnerly are the best and most affordable options. Both offer meal kits starting at just under $5 per serving.
Nevertheless, there are some big differences between each service. Dinnerly is a great fit if you value variety and healthy meals, while EveryPlate could be a better choice for picky eaters or big appetites.
Whichever one you choose, these services can provide the right balance of convenience and affordability.
What do you look for when choosing a meal kit company?
SaVanna is a registered dietitian, freelance writer, and recipe developer. She's a regular contributor for Healthline Nutrition and Greatist, and she blogs about low carb meal planning at SaVannaShoemaker.com. When she's not writing about food and nutrition, she's brainstorming ways to make meals that are inexpensive, kid friendly, tasty, and healthy.