If you're looking for an easier way to get dinner on the table every night, you might be considering a meal kit service. However, the fact that they can be expensive may be keeping you from signing up.
Fortunately, Dinnerly is an affordable meal kit that can fit into almost any household grocery budget. Each week, they offer a wide variety of recipes that are simple and family-friendly.
Our comprehensive Dinnerly review will tell you everything you need to know about the service.
What is Dinnerly?
Dinnerly is a meal kit delivery service that stands out from the competition because of its affordable pricing.
Despite being a cheap meal delivery service, the ingredients are high quality, and the simple recipes have major family appeal.
Each week, they send subscribers a box of fresh ingredients for three to six easy-to-prepare meals. Customers can choose from a list of about 20 weekly menu options.
It's easy to follow along and prepare the recipes using the app.
Dinnerly is owned by Marley Spoon, another meal kit company, so they may share some ingredients or have similar recipes.
Read our review of the Marley Spoon menu to learn more about that service.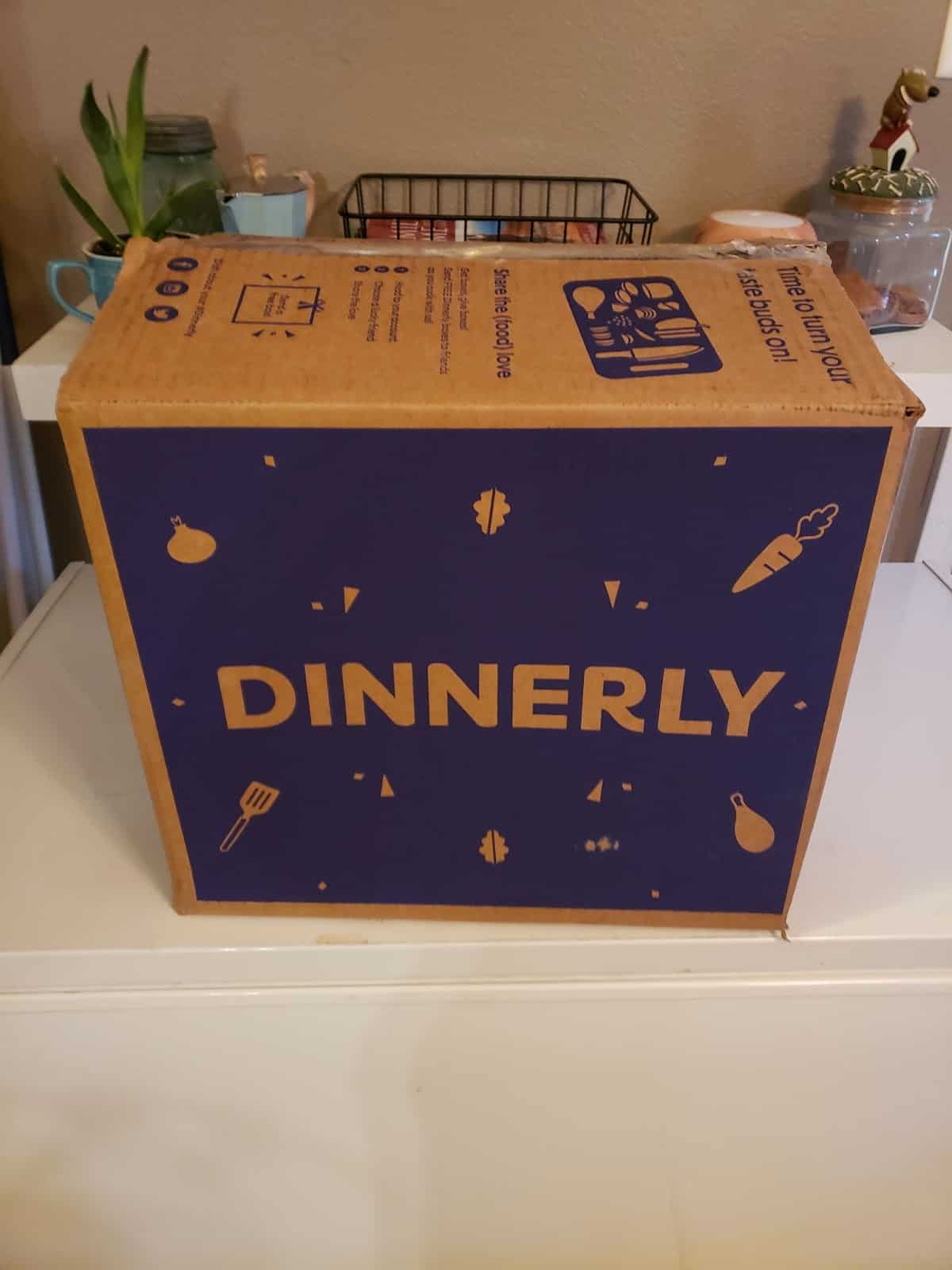 How Does the Service Work?
Getting started with Dinnerly is simple. Before signing up, you can look at their menu for the upcoming weeks to make sure the meals appeal to you and your household.
Once you've reviewed the menu, click "Choose meal kit" to start the ordering process. This brings you to a page where you can choose how many meals you'd like each week.
You can select between the Two-Person Box for two servings of each meal or the Family Box, which provides four servings with each meal.
If you're looking for a single-serving meal delivery service, Dinnerly is a good choice as you can eat leftovers.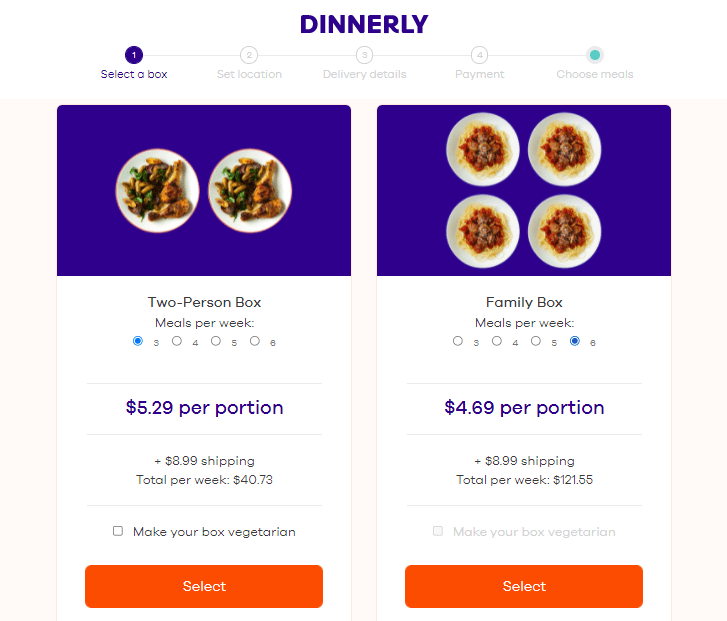 Then, you choose how many recipes you'd like per week, between three and six. Dinnerly offers five vegetarian meal options per week, so you can make your box totally vegetarian if you choose five meals or less.
However, they don't offer other specialty diet plans, like vegan, gluten-free, or keto. If you need all of your meals to meet these requirements, check out services like Sunbasket or Green Chef.
As you move through the checkout process, you'll be able to choose what day you'd like to receive your deliveries.
After payment, you can choose your meals from the Dinnerly menu. They offer 20 meals per week, and some of the options you can expect include:
Seared Steak & Ranch Butter with BBQ-Spiced Potatoes
Shrimp Pesto Risotto with Peas
Thai-Style Basil Ground Turkey Stir-Fry with Red Peppers & Rice
Black Bean & Corn Chimichangas with Guacamole
Low-Cal Oven-Fried Popcorn Chicken with Creamy Avocado Dipping Sauce
You can also add extra meat portions, which is great if your family likes their meals to be substantial and extra-filling.
When your box arrives, you can start the cooking process. Unlike other services, Dinnerly doesn't offer recipe cards or step-by-step photos.
You'll need to view the recipes on the Dinnerly website or app. This is one of many cost-saving measures that helps them keep prices low.
Remember that this is a subscription-based service. When you sign up, you're committing to weekly boxes.
Fortunately, you can skip weeks or cancel anytime online.
Be sure to make a note of the last day for meal selection each week. Otherwise, you'll receive meals of Dinnerly's choosing.
How Much Does Dinnerly Cost?
Dinnerly is among the most affordable meal kit delivery services available.
They accomplish this by keeping meals simple, using minimal packaging, and making recipes available on their app and website rather than on printed recipe cards.
Their prices range from $4.69 to $5.29 per serving, with larger orders unlocking lower per-meal pricing.
Shipping is a flat $8.99 per box. Here's what you can expect to pay:
| Servings Per Week | Total Cost with Shipping |
| --- | --- |
| 2 people, 3 dinners | $40.73 |
| 2 people, 4 dinners | $48.91 |
| 2 people, 5 dinners | $58.89 |
| 2 people, 6 dinners | $67.67 |
| 4 people, 3 dinners | $68.87 |
| 4 people, 4 dinners | $88.83 |
| 4 people, 5 dinners | $106.79 |
| 4 people, 6 dinners | $121.55 |
New users can often get a great deal on their first few boxes, so be on the lookout for a promo code or deal if you decide to sign up.
*Related: Are you looking for a more expansive meal delivery service? Take our free quiz to identify the best option for your needs.
My Experience Using the Service
I really enjoy Dinnerly. It's actually my go-to meal kit service when I get too busy to plan meals and shop for the whole week.
This is because it's inexpensive, and it offers many choices that strike a good balance between healthy and family-friendly.
The box arrives with everything loose inside. Meats and ice packs are at the very bottom of the box.
This isn't a huge problem unless your box doesn't stay upright during shipping. Nevertheless, it would be nicer if there were an extra barrier between the raw meats and the other ingredients.
One benefit of the minimal packaging is that it's pretty eco-friendly. There's very little waste that's not recyclable or reusable.
I've also been consistently impressed with the quality of the ingredients. We've even had some meals that were spectacular but still really easy to prepare.
Some of my family's favorite Dinnerly recipes have included:
Keto-Friendly Roasted Pork Tenderloin with Green Beans, Carrots, and Sriracha Butter
Low-Carb Seared Steak & Spinach Salad
Chicken Parm with Roasted Broccoli & Garlic Bread
Low-Cal Pulled Pork Banh Mi Tacos
My husband raved about the banh mi tacos. We'll be making them again.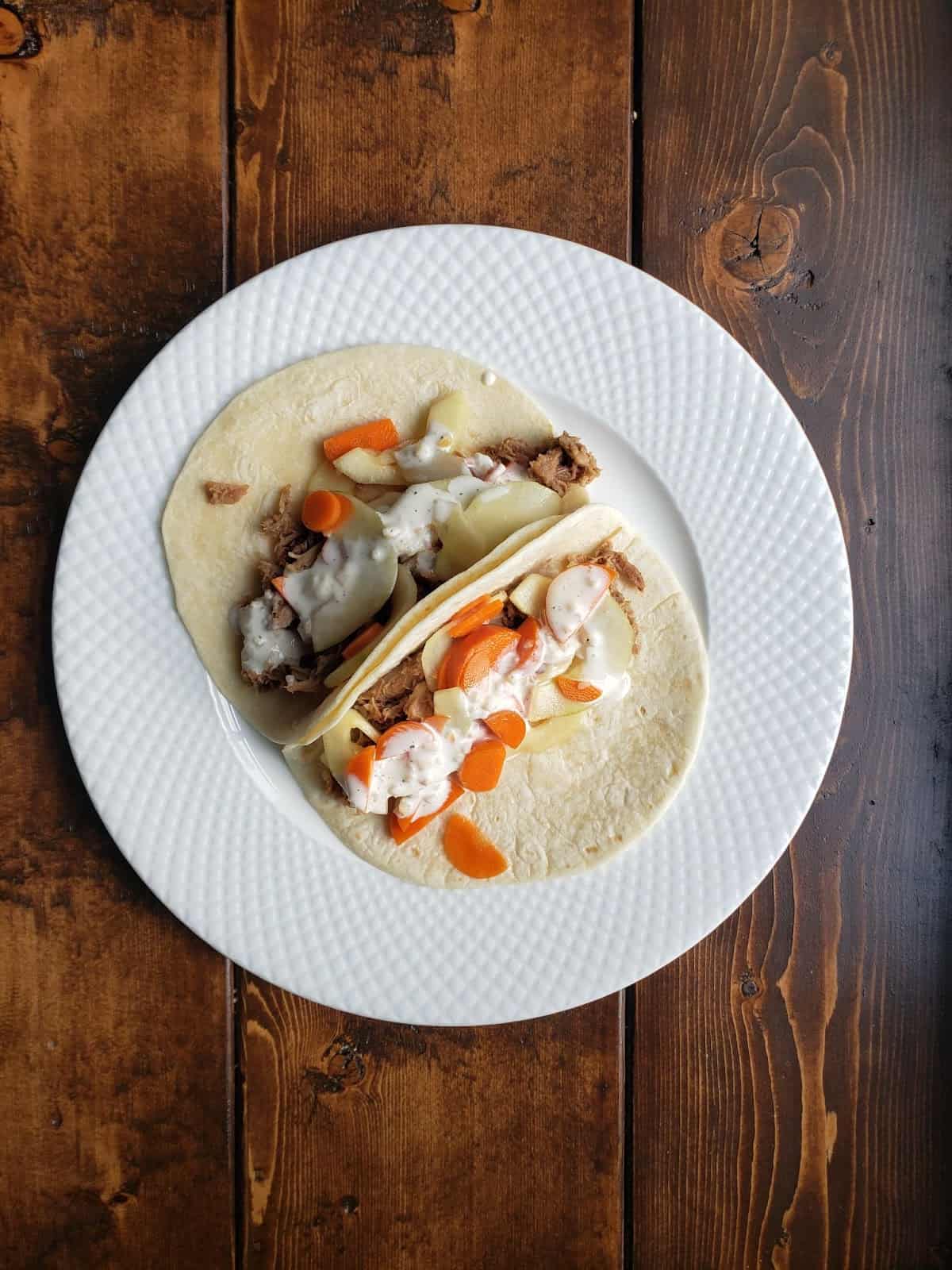 I like that Dinnerly offers several healthy options each week, like low calorie, low carb, and keto meals. It's also great that they offer several different types of meals (Asian, Mexican, Italian, American, etc.) that are still kid-friendly.
They even offer a wider variety of proteins (like fish and shrimp) than you'd expect from an inexpensive meal kit service.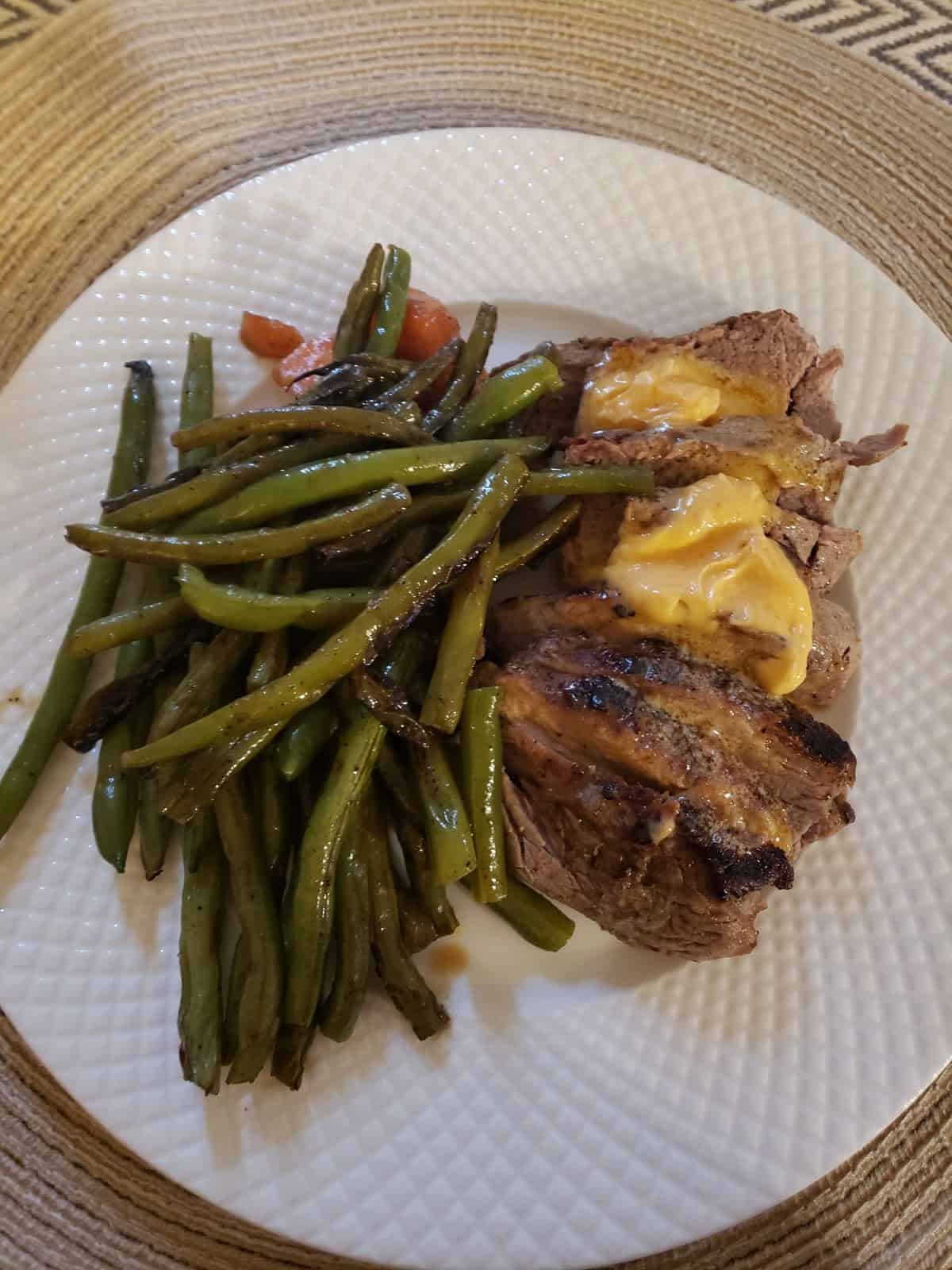 The portion sizes are generous, and it's easy to add an extra veggie side to make the meal stretch a little bit more without too much extra expense.
I'd say the major downside is that there aren't recipe cards. This is because it's a little easier to cook from a recipe card than to constantly need to unlock a phone to check the next steps.
How Easy is to Prepare Meals on the Dinnerly Menu?
Dinnerly meal kits are easy to put together. They keep it simple with basic, family-friendly meals that typically take 30-40 minutes to make.
Most of the produce you receive from the company will need to be washed and prepped. This can sometimes be the most time-consuming part of preparing your meal, especially if your recipe features lots of produce.
Fortunately, their recipes usually don't have more than five or six steps, they are also very detailed and easy to follow.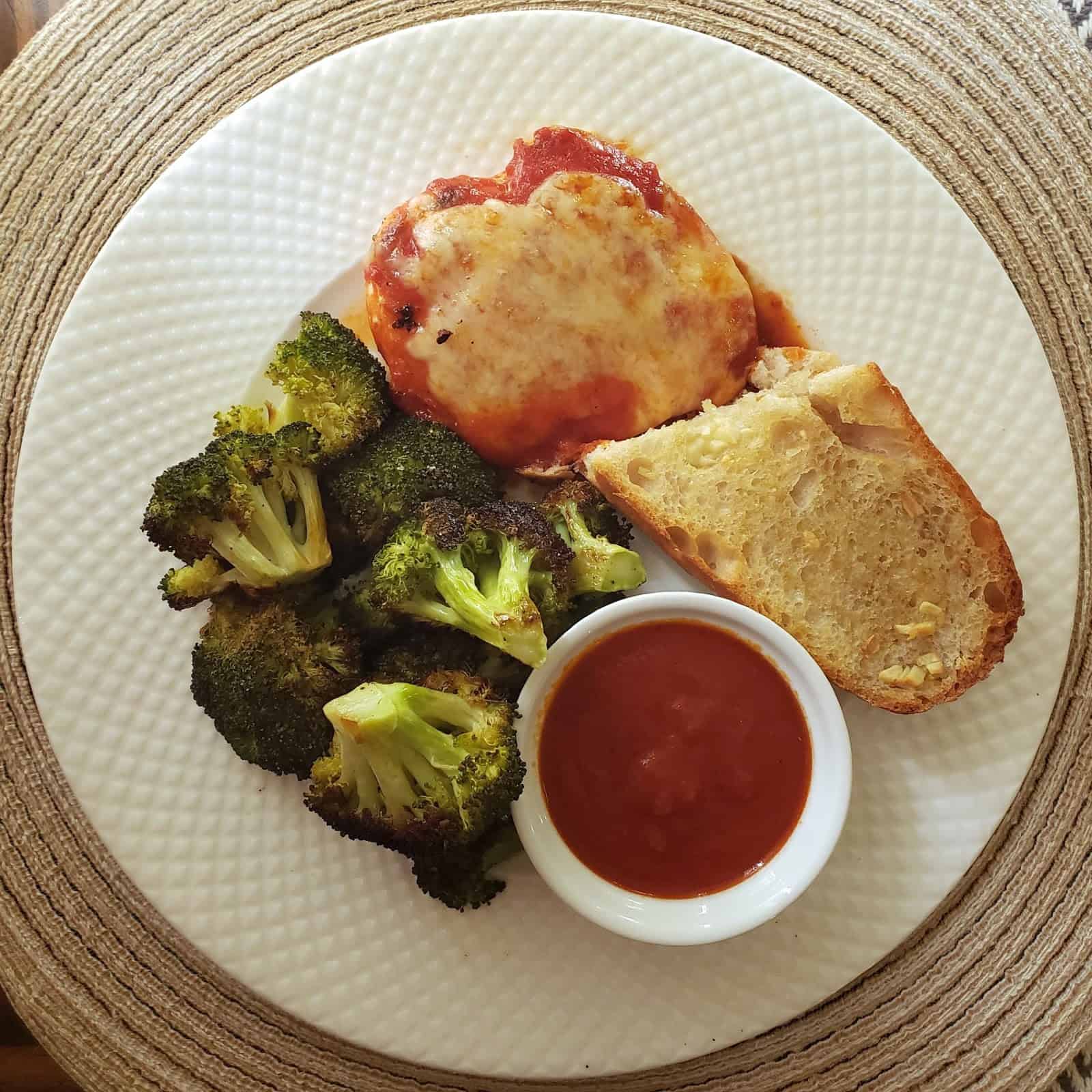 However, they don't provide step-by-step photos like some other subscription box companies.
If you're a beginner cook or you're not confident in your cooking skills, you may feel like there's not enough guidance from Dinnerly.
Who Should Use Dinnerly?
Here's who Dinnerly is a great fit for.
People on a Tight Budget
With a top-out price of $5.29 per serving, Dinnerly is a great option for people on a tight budget.
While it's more expensive than doing your own grocery shopping and meal planning, its low price makes it an option that could still fit within even the tightest of grocery budgets.
If you're busy and struggling to get meals on the table without resorting to eating out, it's a good low-cost option.
Large Families
Dinnerly's family plan provides four servings per recipe, but they make it easy to add extra servings as needed.
Each box can contain up to 24 servings divided across three to six different recipes.
You can also add extra proteins to each box for an additional fee to make meals stretch further for larger families. Read our analysis of other top meal delivery services for families to see how Dinnerly compares.
People Who Want to Avoid Takeout
Compared to the prices of even the cheapest takeout or fast food restaurants, Dinnerly still wins. That makes it an easy choice if you're trying to save money on dining out.
With Dinnerly, a meal for a family of four would cost about $20. This is much healthier and more affordable than eating out.
Who Shouldn't Use the Service?
Dinnerly is not a good fit for everyone. Here's who should pass on the service.
People Following Specialty Diets
Although they offer some specialty diet options, like keto and vegetarian, these options are pretty limited.
If you have stricter dietary needs, like vegan or gluten-free, you'll want to choose a different meal kit service that can cater to these dietary restrictions specifically.
Some choices you may want to consider include Gobble and Green Chef. Read our Gobble review to learn more about that service.
*Related: Are you interested in a meal delivery service that focuses on specialty diets? Read our Green Chef review to learn how they might be a good fit for your needs.
Adventurous Cooks
Dinnerly offers a pretty wide variety of selections each week from different types of cuisines, but nothing really daring. It all involves familiar ingredients and flavors that have mass appeal.
If you're looking for new flavor experiences or if you want to use unique, new-to-you ingredients, then Dinnerly's not a good choice.
However, HelloFresh or Sunbasket may be right up your alley.
Pros and Cons
Like any service, Dinnerly has its benefits and drawbacks. But, on the whole, it's an excellent affordable meal kit option.
Pros:
One of the most inexpensive meal delivery kits
Offers 20 different meals each week
Variety of cuisines, proteins, healthy meals
Easy to follow recipes
Cons:
Packaging could be improved
No recipe cards
Not a good fit for special diets
Overall, the company is worth trying, especially if you need an affordable meal delivery service.
The Competition
Here's how Dinnerly measures up against some other affordable meal delivery subscription services:
| Company | Cost | # of Meals | Best For | Servings | Sign Up |
| --- | --- | --- | --- | --- | --- |
| Dinnerly | $4.69+/serving | 3-6/wk | Budget dinners | 2 or 4 | Try |
| EveryPlate | $4.99+/serving | 2-5/wk | Family-friendly | 2 or 4 | Try |
| Home Chef | $6.99+/serving | 2-6/wk | Quick meals | 2, 4, or 6 | Try |
| HelloFresh | $8.99+/servving | 2-5/wk | Unique recipes | 2 or 4 | Try |
EveryPlate
Dinnerly and EveryPlate have similar pricing, with EveryPlate costing a flat $4.99 per serving regardless of your box size.
While Dinnerly offers a wider variety of meals along with some healthier options, EveryPlate is more "meat and potatoes." It's important to note that they provide recipe cards with step-by-step photos.
You can read our Dinnerly vs. EveryPlate analysis to learn more about how they compare.
EveryPlate's boxes also arrive more neatly packaged, with non-meat ingredients in a small box to keep them from coming in contact with the packages of raw meat.
The company is owned by HelloFresh, so you may even get some HelloFresh ingredients in a box. Read our comparison of HelloFresh and EveryPlate to learn more about how they differ.
*For a limited time, Frugal Rules readers can get $1.49/meal on their first EveryPlate order.
Read our review of EveryPlate to learn more.
Home Chef
Home Chef is slightly more expensive, with meals starting at $6.99 per serving.
The service offers several weekly meal options, including 15-minute ready-to-make meals and oven-ready kits that significantly cut down on prep time.
They also provide detailed recipe cards with each meal.
Additionally, you can add on extras like breakfast bites, garlic bread, and desserts.
Read our review of the Home Chef menu to learn more.
HelloFresh
HelloFresh meals start at $8.99 per serving, making them significantly more expensive than Dinnerly.
*For a limited time only, Frugal Rules readers can get 16 Free Meals, and your first box ships free. You'll also get 3 surprise gifts with your order!
However, they offer 27 different recipes per week from a wider range of cuisines, making HelloFresh a better choice if you're looking for variety and unique meal ideas.
You can read our comparison of HelloFresh vs. Dinnerly to learn more about how the two services stack up.
HelloFresh also offers a more high-end subscription box experience. Each shipment arrives with all of the ingredients for each meal separated into their own recyclable paper bag and large, detailed recipe cards.
Read our HelloFresh review to learn more about the service.
Dinnerly Review
Price

Menu Variety

Recipe Cards

Speciality Diets

Preparation Ease
Summary
Dinnerly is an inexpensive meal kit delivery service that offers a wide variety of healthy and family friendly dinners each week.
Pros
✔️ Very affordable
✔️ Meals are easy to prepare
✔️ Variety of new options each week
✔️ Can order up to six meals a week
Cons
❌ Not a good fit for special dietary needs
❌ Boxes are disorganized
❌ Shipping costs extra
❌ No recipe cards or step-by-step photos
Bottom Line
Dinnerly is a meal delivery service that makes it easy to get home-cooked meals on the table each night without busting your grocery budget.
Although Dinnerly isn't a good fit for people with specific dietary needs or those who want to try new things, it's a perfect fit for busy families who struggle with meal planning, grocery shopping, and making dinner each night.
It's also one of the most affordable options, costing less than fast food or takeout. This makes it a no-brainer if you're trying to save both time and money.
What do you look for in a meal delivery service?
SaVanna is a registered dietitian, freelance writer, and recipe developer. She's a regular contributor for Healthline Nutrition and Greatist, and she blogs about low carb meal planning at SaVannaShoemaker.com. When she's not writing about food and nutrition, she's brainstorming ways to make meals that are inexpensive, kid friendly, tasty, and healthy.