9 Best Places to Watch Free Movies Online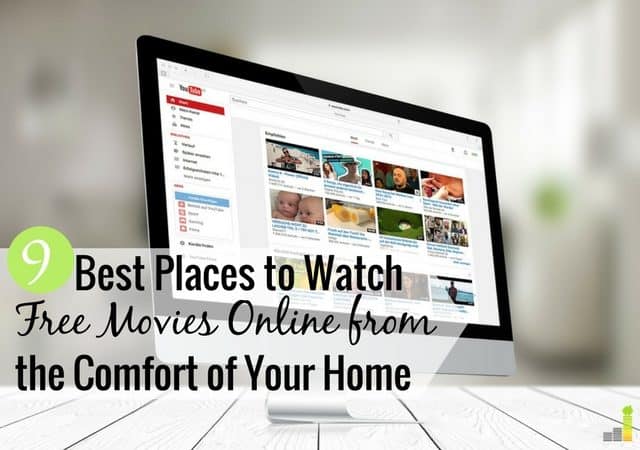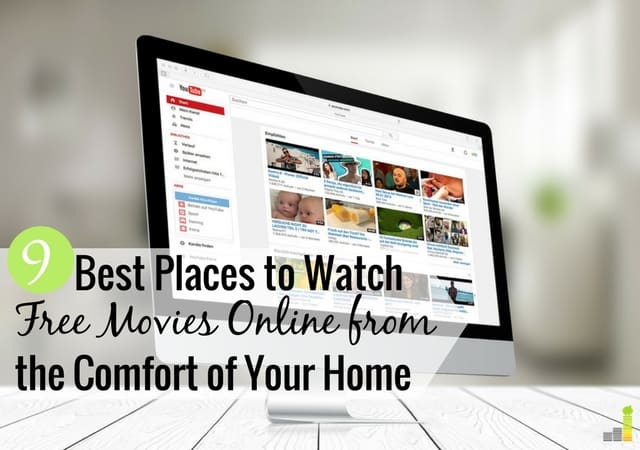 Watching movies at home is something I love to do with my family when we want to relax. We often watch free movies online as a form of frugal entertainment that lets us enjoy a film without spending a lot of money.
My husband used to collect DVDs. He frequented used stores to pick up newer and classic films to add to his collection. With the growth in online platforms, there's no longer the need to clutter your house as you can often streaming movies – both newer and classic – and spend nothing.
Last year we started focusing on cutting back on clutter and one of the first culprits was DVDs. We realized we weren't watching most more than once. This led us to look for the best ways to watch movies so we could cut down on clutter and save money.
How to Watch Content Online
Many don't realize you can watch new movies online for free. In fact, it's fairly simple to stream content. All you need is an internet connection and a means to watch the film.
Here are some of devices that will let you watch free HD movies online:
The above simply scratches the surface. There are plenty of Fire Stick alternatives that help you stream content. If you have a smart TV, you may not even need a device.
Consult the directions on your specific TV to be sure. Read our Amazon Fire Stick review to see how we use the dongle to get all of our content.
Don't have a TV? You can still watch free streaming movies online through your computer. Again, all you need is internet access and you can watch most content.
Lastly, do you miss going to the theatre? FandangoNow is a terrific platform to consider to watch in-theatre movies at home. You can rent or buy movies through FandangoNow.
The service also has thousands of classic movies and TV shows you can view. Like any other service on our list, you can watch movies on your phone, or smart TV.
Best Free Movie Websites
There are countless streaming sites, but many are filled with ads or spam. That's the last thing you want.
Thankfully, there are numerous options that allow you to catch a flick without the hassle of spam. Here are the best places to watch free movies online and save money.
1. Popcornflix
Popcornflix is a terrific place to watch free HD movies online. The site has over 1,500 movies available thanks to their parent company Screen Media Ventures, LLC, and is one of the best YouTube alternatives to watch movies.
The site has newer and older films including comedy, drama, action, horror, romance, family as well as some documentaries. You can even find a few T.V. shows on this site.
What I like about Popcornflix is that it is super easy to start watching films. You can sign up as a user or simply click on a movie you like and stream it without having to sign up for an account or download any special programs.
If you're looking for a free movie website, Popcornflix is a must.
2. Hulu with Live TV
Hulu with Live TV is a popular option for those who have cut the cord and looking for a no-contract cable replacement service.
They have one base package, $54.99 per month (for 60+ channels), that replace many popular cable channels so you don't have to pay for an expensive cable contract.
One popular benefit to Hulu with Live TV is the ability to stream movies and TV shows on demand. You can stream either through a computer or TV.
Do keep in mind that for many TV shows you must wait 24 hours after air time to stream it.
If you aren't a Hulu Live customer, you can take advantage of a 7-day free trial and spend nothing out-of-pocket as long as you cancel the trial before the week is up.
There are other streaming services that let you watch content online. Below are other services to consider:
Like Hulu Live, both services offer free trials for you to test out their respective service.
3. YouTube
Unless you've been living under a rock, you've probably heard of YouTube. It's the top video sharing website in the world, and an excellent choice if you want free movie sites to use.
It's easy for me to fall down the rabbit hole and start watching random short YouTube videos about different topics.
*Related: Want to enjoy a free new release movie at home? Sign up for a Redbox account and receive a one-night free DVD rental!*
I only recently realized that YouTube has full-length movies that you can rent or even watch for free. When you go to YouTube, just scroll down and click on the movies tab.
New releases will usually cost money to rent but other options may be free.
4. Amazon Video
Amazon Video is another terrific option to watch movies and shows online. They offer a wide selection of films and television shows including some new releases.
If you are an Amazon Prime member, all the movies and T.V. shows Amazon offers should be included in your membership.
If you're not a member, you can start a 30-day free trial to try out the service and see how you like it.
You can also get a standalone subscription to Amazon Video for $12.99 per month but that might cause you to lose out on the other perks that come with being an Amazon Prime member.
You can stream movies on Amazon without paying anything but they typically are few and far between.
5. Crackle
Crackle is one my favorite sites to watch movies online.
It's also one of the best free Netflix alternatives that provides a lot of content. The site partners with Sony Pictures, allowing them to have tons of full-length HD quality movies you can watch.
Slash Your Cable Bill. Try Hulu with Live TV!
Are you paying too much for cable? Save big now by switching to Hulu With Live TV! Get 60+ channels, DVR, locals, ESPN, HGTV, Disney, CNN, Fox News and more for only $54.99/month.
Get your 7-day free trial now
!
You're bound to see some titles and actors you know while searching through the inventory. Like Popcornflix, you don't have to sign up or download anything to start watching. Just click on the movie you want and enjoy.
There are usually ads at the beginning of each movie and some may occur once or twice during the movie, but it only lasts a few seconds. If you want a way to get free cable TV legally, Crackle is worth considering.
6. Snagfilms
If you're looking to enjoy movies online you don't always see advertised on the big screen, Snagfilms is a site that shows philanthropic movies and T.V. shows.
*Related: Looking for the perfect cable replacement? Check out our Sling TV channels list to learn how the platform replaces much of cable at a fraction of the cost.*
They have over 2,000 movies including documentaries and exclusive original comedy shorts. There's also a Snagfilms app you can download for your iPhone, iPad, or Android device.
7. Netflix
Netflix is one of the best TV streaming services around. Most people know that Netflix costs $8.99 per month for the basic package.
This makes Netflix a popular choice, like traditional Hulu, for those wanting a cheap way to get their content needs.
What you may not know is that you can try Netflix free for an entire month. I've had Netflix for few years now and it's well worth the price. There are tons of shows and movies to select.
In my experience, Netflix does a great job with many of their original shows, but doesn't do a great job of adding updated seasons for shows that appear on other networks.
When it comes to movies, however, Netflix is the best place to watch movies online. They are always adding new films and even new releases that were just in theaters months ago.
With a 30-day no-obligation trial, you can watch several of your favorite movies for free.
Read our Hulu vs Netflix review if you're still on the fence about which platform will meet your needs.
8. Vimeo
Vimeo, like YouTube, is a popular video sharing website. Many don't realize that Vimeo is one of the top online streaming sites.
While you won't be able to watch the latest movies for free on Vimeo, it is a popular site for indie and user submitted movies.
If you're looking for something a little off the beaten path, Vimeo is a suitable choice to watch content online.
While you can watch free videos on Vimeo, they also offer four different paid plans, starting at $7 per month that are geared towards video hosting.
*Related: Have a lot of old DVDs? Here are the best places to sell used DVDs and turn them into cash.*
You can get a free 30-day trial to try out any plan or stick with Vimeo Basic (their free plan) and pay nothing. The latter allows you to watch content without signing up or downloading anything.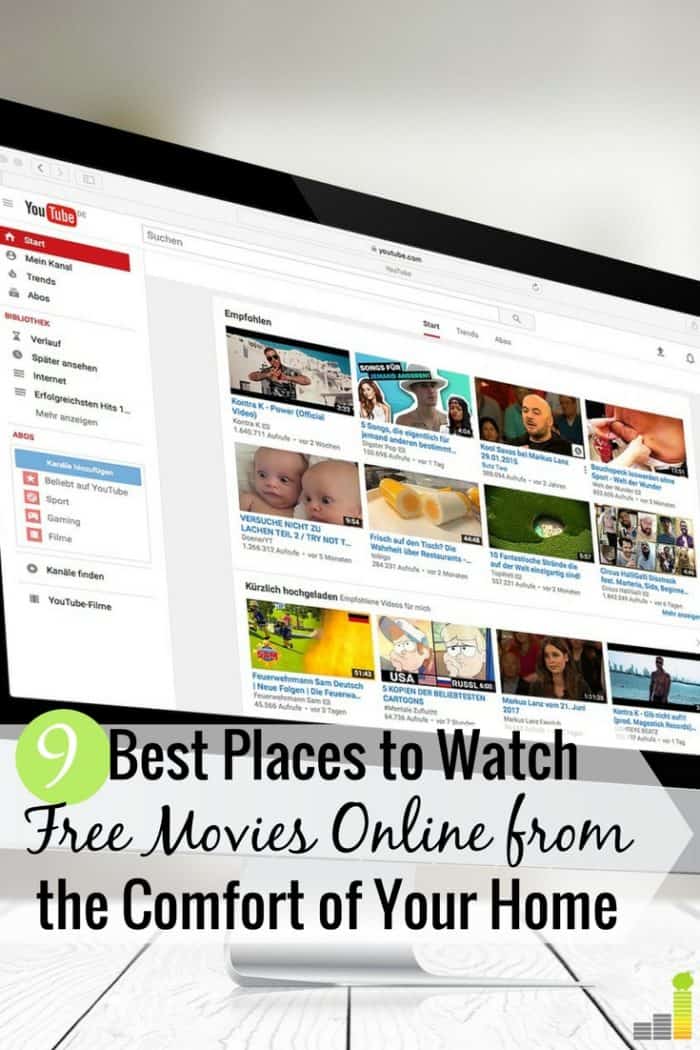 9. Yidio
Yidio is a little different from the other sites. It searches all free streaming apps and compiles a list of all your options so you'll have them in one place. You can also narrow down your search by choosing certain genres and ratings.
When you sign up for the site, you can even create a watchlist to receive updates on new TV show episodes and movies related your interests.
FAQs
Do you like to stream free movies online, but have questions? Here are a few common questions people ask when starting out.
Is it illegal to stream movies online?
Typically not, if you're simply streaming the content. The above sites all operate legally, and are merely a way to view content.
Once you start downloading or pirating anything is when it becomes a legal issue.
Where can I watch TV shows for free?
Many of the above sites allow you to watch TV shows for free. Just be mindful they may be limited in what they offer. You can also watch local TV without cable very simply – you just need a digital antenna.
What sites are safe?
Each of the above sites are legit and safe. You typically want to avoid sites that prompt you to download something, are filled with pop-ups, or ask you for personal information.
Is Popcornflix really free?
Yes, Popcornflix is free. Many of the other sites on our list are also free. The sites are ad-supported, so you will need to put up with ads. If you don't mind ads, the content is free.
Bottom Line
As you can see, it's possible to watch films online without a struggle and you don't have to feel dishonest for doing it. There are plenty of safe and reliable sites to use that provide a vast array of options.
If you're looking for entertainment options for your family, and open to a variety of genres, there's no need to keep a pricey cable contract.
What are some of your favorite sites to watch movies? What are some other frugal entertainment options you use? How do you watch your favorite shows and films?
The following two tabs change content below.
Choncé is a freelance writer who's obsessed with frugality and passionate about helping others increase their savings rate, eliminate debt, and work toward financial stability. She chronicles her journey with balancing motherhood, work, and finances on her blog, MyDebt Epiphany.com