7 Useful Last Minute Christmas Gift Ideas for Everyone on Your List
Posted on October 21, 2019 by Choncé in
Holidays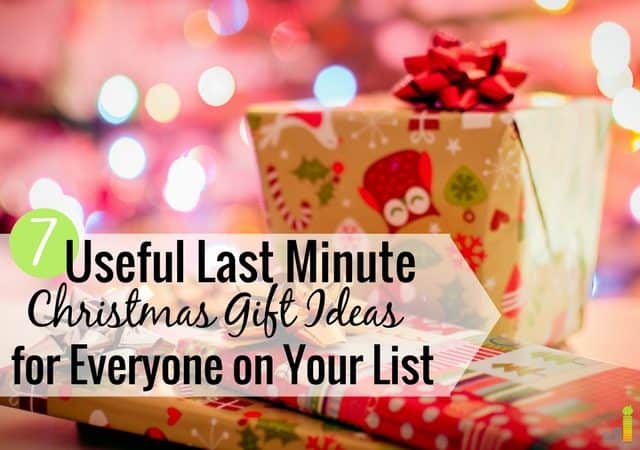 Christmas is coming up fast this year. Then again, this whole year really did fly by in my opinion. I personally love to shop early for Christmas gifts and get it out of the way but I know a ton of people who wind up scrambling for useful last minute Christmas gift ideas, either because life happened or because they purposely put off shopping in hopes of scoring a late deal.
To each his own, but if you think you'll end up doing some last minute Christmas shopping this year, don't feel that you have to settle for the short end of the stick.
Useful Last Minute Christmas Gift Ideas
You can still snag some budget friendly thoughtful and useful gifts for loved ones. If you're on a budget, or like to earn cash for your shopping, don't overlook Swagbucks as an option.
When you use the Swagbucks shopping portal you receive cash back from hundreds of online retailers. You also receive a $10 bonus when you make a purchase of $25 or more.
Here are seven awesome last minute Christmas gift ideas to consider.
1. Gift Cards For Experiences
Gift cards are a classic last minute Christmas gift idea but yours doesn't have to be so cliche this holiday season. Instead of picking up that same old iTunes or restaurant gift card, choose a gift card for someone on your list that will help them enjoy a new experience.
There are hundreds (maybe even thousands) of interesting gift card options available these days so you don't have to stick with the normal retail and restaurant options.
If a family member has mentioned wanting to go indoor skydiving before, grab them a gift card to the nearest place that offers that experience.
Living Social is a great option for those wanting to give an experience type gift if you want to pick from multiple options.
The other day, I was in the store and saw a Southwest Airlines gift card. This would be an awesome last minute Christmas gift idea for someone who likes to travel or has a few trips planned for the following year. Check out sites like Raise to score discounted gift cards.
2. Amazon Prime Subscription
Most people who don't have an Amazon Prime membership secretly want one or will once they learn about all the perks involved with having one.
An Amazon Prime membership is a great gift that includes free two-day shipping, instant access to millions of videos, songs, and books, plus unlimited photo storage in Amazon Drive.
For anyone who even shops on Amazon occasionally or is interested in streaming popular shows and movies or listening to audiobooks via Audible, Amazon Prime proves to be a great last minute Christmas gift idea.
If someone already has Amazon Prime, consider getting them a Fire TV Stick instead!
3. Framed Photo(s)
This is a creative last minute Christmas gift idea for anyone who loves to collect and display photos around their home or for someone who's recently celebrated a milestone.
I did this for my in-laws for Christmas last year because they love to collect and hang up photos around the house. You can print out images from a digital camera or your phone for just a few cents at stores like Walgreens, CVS and Walmart.
Then, you can easily find a reasonably priced frame on Amazon.
If you don't have any photos to print out, consider grabbing a scrapbook as an awesome last minute Christmas gift idea instead. I scrapbooked my son's entire first year when he was born so this would be a good idea for a new parent or just someone who likes to work on these creative projects in general.
4. Massage Kit
Know someone who needs to loosen up? Just kidding but seriously, we all may feel at times like we can use a good massage; the problem is that they can be so expensive.
That's where portable massagers come in. These little devices make great cheap last minute Christmas gift ideas. Amazon sells an array of handheld massagers that make great gifts.
They typically run anywhere from $15 – $35 and will definitely be useful to whoever receives the item as a Christmas gift.
LivingSocial is another great option if you want to truly treat the recipient with a moderately priced one-time massage.
5. Candles
We go through candles like crazy at our house. If you know someone similar, they will appreciate a tall scented candle, or five. Select a candle that smells great and will make the house warm and cozy for the holidays.
You can find candles in most stores so just select one that fits within your budget. Bath & Body Works, as well as Amazon tend to have some solid options and even better sales up until Christmas and even after the holiday.
6. Favorite Movie or T.V. Show
Know anyone who loves to watch and collect movies? With the best cable TV alternatives pretty much taking over, it's important to realize that these services don't offer every movie to T.V. show option ever made (especially most new releases).
Thus, DVDs and Blu-ray discs still make fun last minute Christmas gift ideas. If you know someone who's been dying to catch up on Game of Thrones and can't watch it on demand, you can purchase the whole season for them for Christmas.
Sites like SecondSpin are offering extreme discounts on movies this time of year so even if you only have $30 to spend, you still might be able to get multiple items.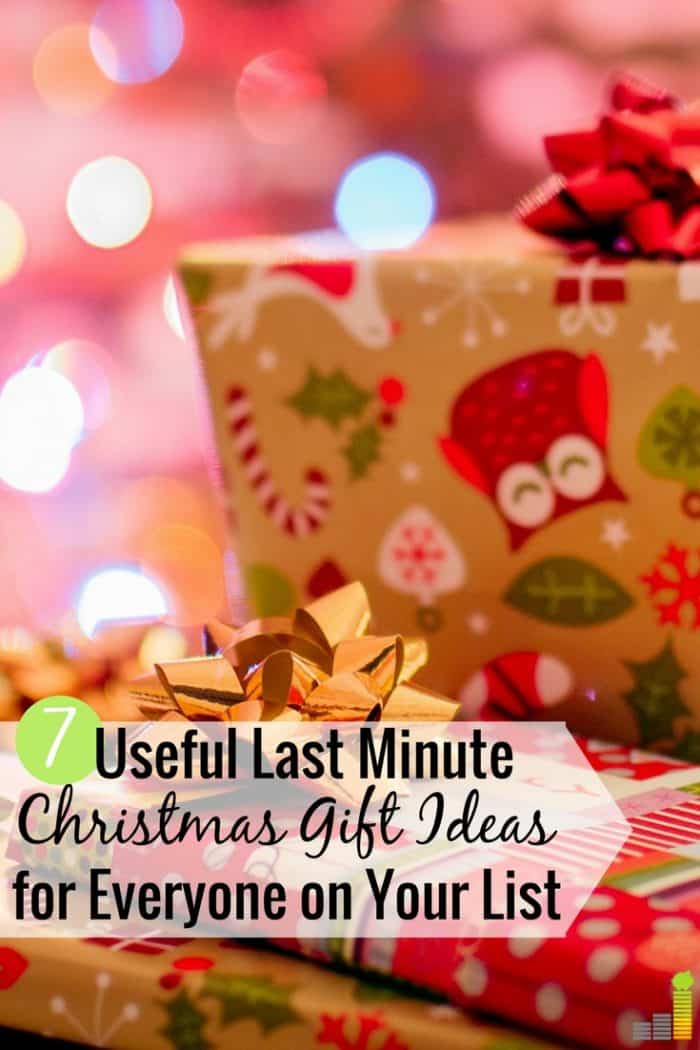 7. Portable Battery Pack
A portable battery pack is super handy especially for someone who travels a lot and constantly needs to keep charging their devices.
Some of these things even charge multiple devices at once. You can find some of the top portable battery packs on Amazon, with most of them being reasonably priced.
While the thought always counts, usability is another important factor when shopping for last minute Christmas gifts. If you're a last minute shopper, focus on choosing gifts that others will love and will be able to put to use right away.
Latecomers don't have to settle for slim pickings with any of these useful last minute Christmas gift ideas mentioned above.
Have you started Christmas shopping yet or are you more of a last minute shopper? Which one of these last minute Christmas gift ideas would be a perfect for someone on your list? What are some of your go-to gifts when shopping on a budget?
The following two tabs change content below.
Choncé is a freelance writer who's obsessed with frugality and passionate about helping others increase their savings rate, eliminate debt, and work toward financial stability. She chronicles her journey with balancing motherhood, work, and finances on her blog, MyDebt Epiphany.com