If you're married, you know the challenge it is at times to come up with Christmas gift ideas for your spouse. This is especially the case the longer you're married. At least that's what I always find. If you're a man, you have it doubly worse when thinking of good Christmas gift ideas for wives (of course, I'm not biased at all).
If you struggle to purchase Christmas gifts your wife will love, don't despair. We're all clueless, at times, at figuring out what to buy our wives. This post shares several of the best Christmas gift ideas for my wife I've used over the years.
If you hear that you're difficult to shop for, read our post on Christmas gift ideas for men.
Best Christmas Gift Ideas for Clueless Husbands
You may believe that it is necessary to spend a lot of money on your spouse, especially on Christmas presents. Don't fall for that myth.
It's the thought that counts and not the amount spent. If you look at the cost of the items on our list, you'll notice that everything on our Christmas gift ideas list is under $50.
*Looking for more gift ideas? Visit the Amazon's page for Christmas gift ideas for women to find more awesome ideas.*
Don't forget to use Capital One Shopping (formerly Wikibuy) if you're buying gifts for her online. The browser extension helps you valid active discount codes to help you save more on your purchases.
Benefits
Logo
Capital One Shopping
Save more when you shop!

Snag better prices automatically on the things you buy with valid discount codes.


The extension is free to use, and also helps you compare prices to find a better deal.
1. Bamboo Bathtub Caddy
One of the things my wife enjoys after a stressful week is taking a bath. One gift is a hit for Mrs. Frugal Rules is the Bamboo Bathtub Caddy.
The Caddy fits across the bathtub and allows her to not worry about dropping a book in the tub or having a place to put a glass of wine. The caddy allows a spot to put a TV remote and fits most baths.
If your wife enjoys taking a long bath this is one of the best Christmas gift ideas to purchase. It also sends a signal to your wife that you know she works hard and you want her to enjoy a little 'me' time.
2. Jewelry
Jewelry isn't the most of frugal Christmas gift ideas as it's often a hit or miss. I have bought a few smaller pieces of jewelry for Mrs. Frugal Rules that she has really liked.
Since I don't like to go shopping, I do most of my Christmas shopping on Amazon.
The key I've found with buying jewelry on Amazon is to read the reviews of the item you're considering.
I've bought one or two pieces that didn't have the greatest of reviews and I could tell why. The ones with good reviews have them for a reason.
If you're in a pinch and are looking for a last minute Christmas gift Amazon is an excellent option for jewelry as they run a lot of sales in the weeks leading up to Christmas.
3. Candelabra Wine Bottle Topper
This falls into the realm of unique Christmas gift ideas, and is a nice little accent piece to have for a romantic dinner.
The Candelabra wine bottle topper attaches, as you'd imagine, to the top of a wine bottle and when you put in some tea light candles it makes for a nice decorative piece.
Pair it with a bottle of your wife's favorite wine and you have the makings for a date night at home.
4. Coffee or Tea Kit
I have done this for my wife several times. She loves tea, and is one of the top Christmas gift ideas I've bought. There are pre-made kits available, but I like to purchase coffees or teas I know she'll like and make something myself.
The first part of the kit should be an electric coffee bean grinder. We use this one from Krups, and it works great. This allows you to buy beans and enables you to enjoy fresh coffee at home.
You can include a coffee mug and if you don't know what kind of coffee your spouse prefers you can always go with a favorite coffee.
If your wife prefers tea then you should look at things like a Stainless Mesh Tea Ball, Stovetop Whistling Kettle and a tea sampler to get her started.
5. Gift Cards
I know gift cards aren't always thought of as the best of Christmas gift ideas. But, they do work in a pinch. If you truly know your wife's style, size, etc. then buy something specific.
I don't, nor do I have the patience and would rather my wife have something she likes and enjoys. As opposed to going to different stores, I've found that Amazon is an excellent option to find gift cards.
*Related: Overwhelmed with buying for your kids? Check out our guide on the Four gift rule for Christmas to help manage your Christmas shopping*
You can either just buy a generic Amazon gift card or you can select from the various stores they have cards available for like American Eagle,Lord & Taylor and more.
You can even buy discounted gift cards to stretch your budget a little further. Read our guide on the best sites to buy discounted gift cards to identify some money-saving opportunities.
Summary
Remember, it's the thought that counts when buying a present. Expensive doesn't always mean good.
It's also important not to overlook potential savings on your Christmas shopping needs. You can take advantage in drops in prices from your online shopping with Capital One Shopping Price Protection, formerly Paribus, compares prices against what you paid to find rebate opportunities at over 25 major retailers.
I hope my list gets your creative juices flowing. Or, if you're sitting at home four days before Christmas with nothing bought yet for your wife, that it saves you from hours of agony at the mall.
Just remember to go with your gut and tell your wife you love her when she opens her presents. After all, as Mrs. Frugal Rules tells me – that's what really matters.
Do you set a budget on your Christmas shopping?
*Capital One Shopping compensates us when you sign up for Capital One Shopping using the links we provided.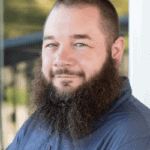 I'm John Schmoll, a former stockbroker, MBA-grad, published finance writer, and founder of Frugal Rules.
As a veteran of the financial services industry, I've worked as a mutual fund administrator, banker, and stockbroker and was Series 7 and 63-licensed, but I left all that behind in 2012 to help people learn how to manage their money.
My goal is to help you gain the knowledge you need to become financially independent with personally-tested financial tools and money-saving solutions.