3 Alternative Investment Options To Consider to Grow Your Wealth
Posted on February 20, 2015 by John Schmoll in
Investing
When it comes to growing wealth many just think of investing in stocks, bonds, mutual funds, etc. as the only way to do so. Yes, things like that should make up a good piece of the pie for many. However, there are alternative investment options out there that can add both diversification as well as opportunities for expanded growth, which is something we should all be interested in.
While working in the brokerage industry I saw many investors who wanted to be able to use alternative investments but didn't know where to look or what their options were. There are actually quite a few alternative investment options to consider and a number of them have relatively low barriers to entry. Some of those options are things like commodities, socially responsible investing, private stock offerings, and real estate.
While each have their own unique set of risks and opportunities they can be a good fit for some. That said, before I go on with my list of alternative investment options to consider to grow your wealth I want to give the disclaimer that before pursuing any investment, especially a non-traditional one, do your due diligence and make sure that it aligns with your appetite for risk.
Hedge Funds
I know what you're thinking – why on earth would I invest in a hedge fund? You might also think that hedge funds are bad or that they're only for the super wealthy. You'd be right, to a certain extent, in many cases hedge funds are limited to accredited investors and often require individuals to have $5 or $10 million in order to invest.
The hedge fund industry is beginning to change however in an attempt to bring greater access to others. While they do still require you to be an accredited investor – someone who has either $1 million in assets or has made $200,000 in income each of the past two years, it is becoming more accessible.
Companies like Sliced Investing allow investors to get into given hedge funds for as little as $20,000 as opposed to millions. Yes, the accreditation is going to hold many back but having the barrier lowered to $20,000 makes access much more manageable to achieve.
If you're wondering what exactly a hedge fund is, they're in theory investment vehicles meant to reduce risk (though admittedly their main focus is to maximize return as much as possible). In theory it sounds great, though it's not free of risk.
While I love lowering the barrier of entry for investment options, there are some inherent risks associated with hedge funds and a large part of that is due to the lack of regulation they face. This can impact a number of things from the lack of liquidity to abnormal tax consequences. That said, if you're fully aware of the risks and are fine with those risks, then there is now more opportunity than ever to use something like a hedge fund to grow your wealth.
Peer-to-Peer Lending as an Alternative Investment Option
Peer-to-peer lending is a relatively popular alternative investment option. In fact, there are some who invest a good amount of money through various P2P platforms like Lending Club or Prosper.
Personally speaking, I do not invest in Peer-to-peer lending as my home state, Nebraska, does not allow it and it's not really worth my time to go through a secondary source. That aside, I do like the idea of P2P lending as it provides a great way to help out those in need who might not be able to receive funds through more traditional resources. As an investor, the main platforms claim anywhere from a 7 to 12 percent return which is attractive.
While P2P lending does provide a good opportunity it is not free from risk. Just a few of the risks involved with P2P lending are:
Risk of default through poor note diversification
Platform bankruptcy
Rising interest rates
Poor national economic climate
As with the hedge fund investing option, while P2P lending could be a nice way to grow your wealth and add diversity, you want to make sure and do your due diligence prior to investing.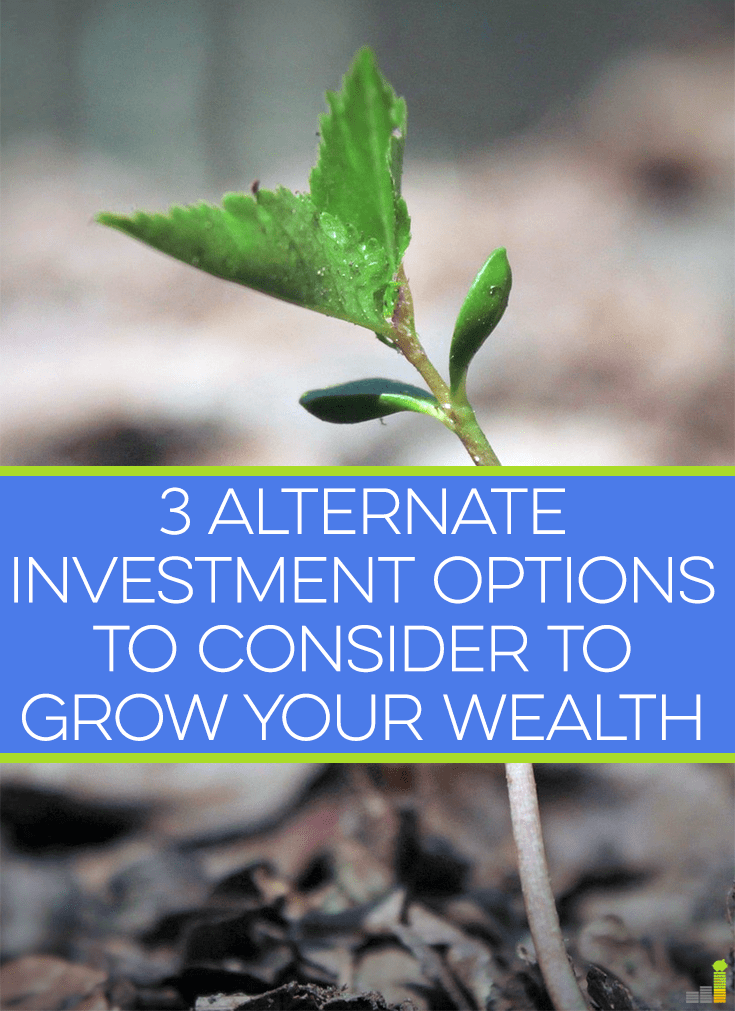 Something Real
Investing in the stock market isn't for everyone and in some cases people avoid it altogether. A popular alternative investment option in those cases is real estate. Real estate can be a great way to grow your wealth and would love to be able to do so myself in the future.
When many think of real estate as an investment option they usually think only of rental property. There are many other options to consider beyond the common rental property as an alternative investment option, such as:
Land
Industrial or retail properties
Timber
I know for many people it's going to be cost prohibitive to invest in real estate, but there is one main alternative to consider in REITs, or real estate investment trusts. Like with any other investment, they're not without risk especially when it comes to potential tax issues or a downturn in a certain industry. That's also not to mention that they trade like a stock so there is certainly potential for loss. Given that, REITs can be a relatively decent option to consider for some wanting access to real estate but not having the necessary funds to actually go out and buy it.
Other than investing in the stock market, what alternative investment options do you pursue? Would you ever invest in P2P lending or a hedge fund? What do you think holds people back from pursuing investing in something non-traditional?
Disclosure: This blog post was written for Sliced Investing, pursuant to a paid content arrangement I have with the company's representatives as part of an effort to raise awareness about alternative investment options. The views expressed are entirely my own, and were not influenced or directed by Sliced Investing.
The following two tabs change content below.
John is the founder of Frugal Rules, a dad, husband and veteran of the financial services industry whose writing has been featured in Forbes, CNBC, Yahoo Finance and more.
Passionate about helping people learn from his mistakes, John shares financial tools and tips to help you enjoy the freedom that comes from living frugally. One of his favorite tools is Personal Capital , which he used to plan for retirement and keep track of his finances in less than 15 minutes each month.
Another one of John's passions is helping people save $80 per month by axing their expensive cable subscriptions and replacing them with more affordable ones, like Hulu with Live TV.
Latest posts by John Schmoll (see all)