Raise your hand if you like overspending on your bills each month. Worse yet, do you enjoy paying for a subscription that you no longer use? It's easy to spend more than you should or have services you no longer use but still pay for monthly.
Even if you know what services you use, you may lack the desire to negotiate your monthly bills. Thanks to automation, companies like Billshark simplify the process for you.
Our review will show you whether this bill negotiation service is an effective way to put more money back in your wallet.
What is Billshark and What Does it Do?
Billshark is another player in the growing bill reduction service space. The goal of the money-saving app is simple – it works to help users lower their monthly bills.
It does this by acting on your behalf to negotiate bills and cancel unused subscriptions. Launched in 2015 by founder Steve McKean, Billshark successfully reduces bills for 90 percent of its users, according to their site. The site also cites savings of over $10 million since inception.
Billshark's claim to fame is it has Mark Cuban as one of its investors. This has brought more attention to the service.
Like other bill negotiation services, you must provide your account information for Billshark to work on your behalf. However, the service boasts 256-bit encryption, and it does not sell your data, so you know Billshark is safe and trustworthy.
How Does the App Work?
Signing up to use Billshark is an easy process. You merely need to provide your email address to sign up. You can also use your Facebook or Google profile to join.
The service offers a few key features to help you lower your monthly bills.
Estimate Your Savings
When you first launch the service, you want to use their savings calculator. To do this, you provide them the monthly amount, the service provider, and bill type.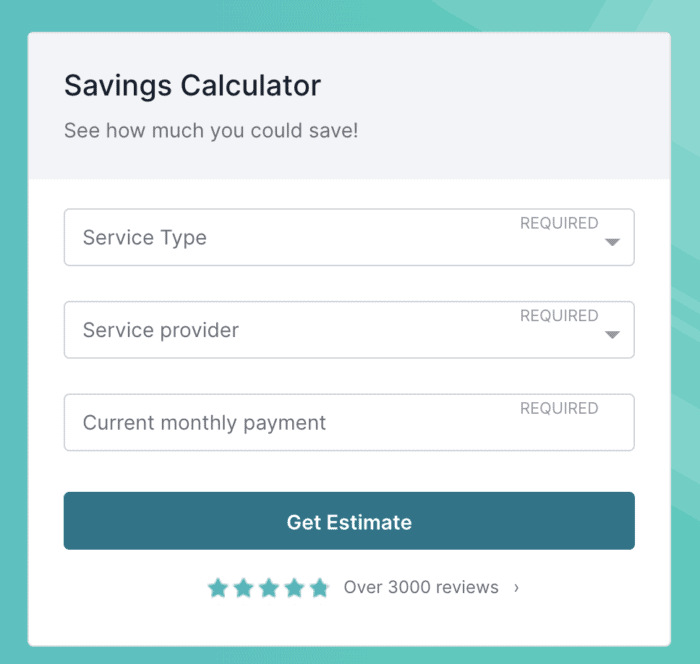 Upon providing the information, the service provides an estimate of how much money it can save you. There are a few things to know about this estimate.
First, the amount is exactly that: an estimate. They might save you more, but it's also possible they save you less. Second, the estimate is an annual amount.
Lastly, you must create an account or log in to an existing account to receive this estimate.
Bill Negotiation
Like other bill reduction tools, Billshark shines in negotiating your bills. If you're like many others, you have monthly subscriptions you no longer use or services you overpay for each month.
This includes any of the following bills:
Cell phone bills
Internet
Cable or streaming services
Home security
Satellite radio
Even if you intend to call to negotiate your bills, we often forget or would rather do something else. This is where Billshark works on your behalf.
You empower them to contact providers to lower your monthly bills by negotiating better prices.
Here's a list of just some of the companies they negotiate bills with:
Xfinity
SiriusXM
AT&T Wireline
Charter Spectrum
Dish
Frontier
ADT
Verizon
If you've ever tried to call a provider to negotiate a reduced price, you know it's not a fun experience. You'll spend a lot of time on hold, and they may even try to get you to upgrade your service and pay more.
Billshark takes over this tedious task and gets you the savings you want without any hassle. They can get savings for 90 percent of users, so there's a good chance your bills will get reduced.
This service is free of charge. However, if the company does secure savings for you, they retain 40 percent of the savings.
This fee may seem expensive, but ask yourself if you're going to take the time to do the work personally. If not, you pocket the 60 percent in savings that you would never realize on your own.
Cancel Subscriptions
Another service Billshark offers is canceling subscriptions you no longer use. I have a love-hate relationship with subscriptions because I like how convenient they are, but you also have to make sure you actually use it.
If you're no longer using a subscription or can find a cheaper product or service elsewhere, you should cancel it. It's easy to put the expense on autopilot and forget about it.
Doing so will ultimately cause you to waste money. Billshark estimates that 81 percent of Americans underestimate how much they're paying for subscriptions.
Billshark has another savings estimate form you can use to quickly calculate how much you could save by canceling your subscriptions.
They can help you cancel dozens of subscriptions, whether it's a gym membership, Amazon cloud subscription, or a monthly box. This service is a quick and easy way to cut ties with another monthly payment with little effort.
There is one drawback to this service as Billshark charges you $9 per canceled subscription. If they can't cancel it, there's no charge. Trim, on the other hand, charges just 33 percent of the savings.
Insurance Rates
How often do you shop for new home and auto insurance rates? You should compare quotes for insurance every six to 12 months as rates change regularly.
However, this is another task that's easy to forget. Billshark will not negotiate home or auto insurance rates for you, but they offer free estimates directly on their site.
You can use the savings tool to compare pricing for over 30 different top-rated insurance companies. There may not be available savings, but it never hurts to look at rates throughout the year.
How Much Does the Service Cost?
Billshark is free to use. The company makes money when they secure savings for you. They charge a 40 percent fee, based on the annual savings, if they can reduce your bills to a lower rate.
Remember, if you use the cancelation service successfully, you pay $9 per canceled subscription. Keep in mind that Billshark won't charge you if they can't find you savings or cancel your subscription.
Is Billshark Safe?
Security should always be a concern when you sign up for an online service, regardless of what they do for you.
Billshark takes security seriously, and they offer 256-bit encryption to protect your information. This is bank-level security that provides peace of mind.
Additionally, Billshark does not sell your data.
Billshark vs. Trim
Trim is another money-saving app that can help you lower your bills and manage subscriptions. However, they do have a few additional features.
Trim also helps you track where your money is going each month and organizes it into specific categories. They charge 33 percent of the savings they generate, making them a bit cheaper than Billshark.
Trim does also offer lower APR and bank fee negotiation. Lastly, the service also offers assistance to help you kill high-interest debt. However, Trim doesn't offer an insurance rate comparison tool like Billshark.
Both services are legitimate platforms that work to help you save money each month. While Trim charges slightly less than Billshark, both are free to use, so it doesn't hurt to try either to learn which one will save you more money.
Read our review of Trim to learn more about the service.
Pros and Cons
As with any service, Billshark has some terrific benefits but also some drawbacks. Keep these pros and cons in mind when considering whether Billshark is right for you.
Pros:
Estimate your savings online without having to before you submit a bill to negotiate
Easy and quick process to get your bills lowered
Cancel subscriptions automatically without your direct involvement and effort
Option to speak to a live person from the company about lowering your bills (Just call 1-800-957-1710 from Monday – Friday between 9:00 a.m. – 5:00 p.m. EST)
High success rate in saving you money
Insurance quote comparison feature is free
Billshark offers a rewards program that lets you earn discounts and coupon codes for online shopping
Cons:
Billshark takes 40 percent of the savings they help you generate when lowering your bills
While the savings calculators are convenient, it's not a guarantee how much savings they will be able to negotiate on your behalf
Before using any company like Billshark, take a look at what they offer, and what you must sacrifice to see if it's worth it.
Billshark Review: Summary
Negotiating your bills often seems like more work than it's worth. With Billshark, you can sit back and let them take care of it.
The only potential downside is that you could pay a fee on the savings you get, but this is money that you probably wouldn't add back to your budget Billshark's help. However, you have to ask if the savings is worth the time you retain by not doing the work yourself.
If you always intend to haggle with providers, but never follow through, Billshark is a good service to help you achieve savings with minimal effort.
How often do you try to negotiate your monthly bills? When was the last time you compared rates with other providers? Are you willing to sacrifice some of your savings to let someone else do the work for you?