Retiring doesn't mean you need to stop working. You may want to work in retirement for several reasons including filling your time, feeling productive, or making ends meet. Fortunately, there are ways to make money in retirement that don't require a typical job, and many of the best work-at-home jobs for retirees let you earn money on your schedule.
If you want to make money from a hobby in retirement, or just make extra income, this post is for you.
Best Work-at-Home Jobs for Retirees
Some of the best work-at-home jobs for seniors give you the flexibility to do what you want when you want and earn money at home.
You can work a job that requires a specialized skill, or one that requires little skill.
If you have an open mind, the possibilities are endless.
Below are ten of the best work-at-home jobs for retirees to make additional income.
1. Deliver Meals
The first on our list is not truly a work-from-home job. However, it provides a lucrative opportunity to earn additional income. The on-demand space has grown in recent years, and offers an excellent chance to earn money.
DoorDash is one of the top on-demand apps in the space. DoorDash specializes in meal delivery.
As long as you can pass a background check, have a reliable car, and a newer smartphone you can deliver for DoorDash. The best part of working for DoorDash is you can create your own schedule and work when you prefer.
The app is available nationwide and pay varies depending on numerous factors. Read our Doordash review to learn more about this opportunity.
Benefits
Logo
DoorDash
Earn cash and create your own schedule!

Deliver food with just a car or scooter. Get started today!


2. Professional Proofreader
If you love reading, one of the best work-at-home jobs for senior citizens is professional proofreading. Proofreading isn't the same as leisure reading.
You have to actively examine the text for spelling, grammar, and other mistakes throughout the works you're assigned to proofread.
However, this type of work can be very rewarding if you love looking for typos and errors. You can also work from home as proofreader on your own time.
It's a terrific way to make extra money on the side as many proofreaders earn $20+ per hour.
Proofread Anywhere is a great resource if you want to be a professional proofreader. Run by our friend Caitlyn Pile, she teaches you how to grow a business from her own experience as a proofreader.
The course is free to attend and is helpful for both general proofreading and for transcript proofreading.
Read our guide on other ways to make money on the side if proofreading isn't for you.
3. Freelance Writing
Do you love to write? You may want to consider freelance writing as one of the top work-at-home jobs for retirees. Traditionally, people think of freelance writers as those who write for magazines and newspapers.
However, there is a huge need for online content, too.
You can write for major news websites, blogs, and businesses. You'll have to build a portfolio, especially if you want some higher paying jobs, and it takes time to get started, but it is possible to earn a decent income as a freelance writer.
If this sounds overwhelming, consider taking the free webinar Earn More Writing by our friend Holly Johnson. Johnson earns six figures annually as a freelance writer.
In the free webinar, she shares tips that helped her grow a successful business, and how to get your foot in the door to find higher-paying gigs.
Read our guide on how to get paid to write online to learn more.
4. Blogger
If you like writing but want to write your own content rather than what other people tell you to write, blogging may be a good fit. Bloggers aren't guaranteed to earn money from their websites, but some bloggers end up making a comfortable living.
This offers an awesome way to make money from a hobby in retirement. You can work on your own time and write about something that interests you.
One important tip to keep in mind is that in order to have a successful blog, you need to write what people want to read.
If you want help launching a website, Bluehost is a great resource to use. They host the site for you, and they launch it for you with a few simple clicks.
Bluehost costs just $2.95 per month, and they give you a domain name for free for the first year.
Benefits
Logo
Bluehost - Free Domain for a Year
Cost: $2.95/month using our link!

Perfect for beginners. Launch your website in a few clicks and get 24/7 support.


5. Virtual Assistant
A virtual assistant (VA) is someone who helps other business owners complete tasks they're either not good at or tasks they don't want to spend their precious time on.
You can do a wide variety of tasks as a virtual assistant, such as:
Managing email for a client
Handling invoicing and bookkeeping
Social media management
Customer service
The best part of working as a virtual assistant is you get to work from home (or anywhere else!). You can expect to make anywhere from $15 to $25 per hour as a VA – more if you have a specialized skill.
To learn how to become a VA, check out Kayla Sloan's $10K VA webinar. In it, she shares the process she used to scale her virtual assistant business from $0 to over $10,000 per month.
You can also read our guide on how to make money as a virtual assistant to learn helpful tips to learn where to start with this opportunity.
6. Pet Sitter
Pets are often treated as another member of the family. Unfortunately, people can't always take their pets with them when they travel.
Sometimes hotels or airlines don't allow dogs while other times it doesn't make sense to bring a pet along on a family vacation. If you're looking for jobs for seniors at home, you can fill the need for pet care in your home or at a client's house.
Rover is an excellent platform to use to advertise your services. The platform vets each prospective client and dog walker as well as handle payment.
Rover claims you can earn up to $1,000 per month offering pet care services.
Read our guide on the top dog walking apps near me to learn more.
Benefits
Logo
Rover - earn up to $1,000/mo. walking dogs!

Rover offers $1,000,000 in protection, 24/7 support, and vet assistance.



7. Taking Surveys
You won't get rich taking surveys, but they're a legitimate way to monetize your free time. You can take surveys while watching TV, waiting at the doctor's office, or doing other mindless activities.
Companies love to receive feedback on products we use, television shows we watch, or our opinion on a political campaign. Most survey providers pay in cash, or you can redeem points for free gift cards.
Here are a few of the top paid online survey sites to make extra money:
Survey Junkie: This is our top survey site since they pay you cash straight to PayPal or let you redeem rewards for Amazon gift cards and other retailers.
Pinecone Research: This site pays $3 per survey and you can choose between virtual Mastercards or Amazon Gift Cards for payment.
However, if you've joined Pinecone in the last 30 days, your first redemption must be by bank transfer to verify your rewards account. They also pay you to do product testing.
InboxDollars: Earn money for taking surveys, watching TV, or making purchases online. Get $5 just for signing up.
Again, you won't get rich with surveys. However, you can pair it with other work-at-home jobs for seniors and make money in your spare time.
8. Teaching or Tutoring from Home
Teaching and tutoring students is an excellent way to earn money from home as a retiree. Thanks to the internet, you now have access to teach people across the globe.
In fact, there are a lot of opportunities to teach English online from home and earn at least $15 per hour.
Most platforms handle all administrative tasks, enabling you to focus on teaching.
Requirements vary from company to company, but here are the most common requirements to teach English online:
Have at least one year of teaching experience
Have an English as a Second Language (ESL) certification
A computer with reliable internet access and a camera
Here are some of the top companies to work for as an online teacher:
VIPKid: VIPKid is a popular teaching site that offers an American elementary education experience to Chinese students ranging from four to 12 years old.
You can set your own schedule, and VIPKid handles all of the administrative tasks.
EF Education First: EF Education First is the largest foreign language company in the world. You can set your own schedule. You can also teach children or adults with EF Education First.
*Related: Are you looking for a home-based job to supplement your income? Read our guide the top data entry jobs from home find the highest-paying gigs.
Teaching English as a second language is a rewarding way to help others and one of the top work-at-home jobs for retirees. However, others are relying on you to help them learn, so you may have to agree to a regular schedule for a fixed period until a class is complete.
Hours and the time of day you teach vary based on where your students live.
LearnWorlds: LearnWorlds isn't exactly a site for teaching English from home. Instead, it's a course creation app that allows you to create and teach content of your own design.
You get to decide what's covered in the online course and control how your product is promoted and sold. If you wish you can sell bundles and memberships as well as offer coupons and payment plans.
LearnWorlds makes course promotion easy by integrating with many popular marketing tools. In addition, you can work from home and set your own hours while creating courses based on your knowledge and experience.
9. Babysitter
Babysitting is a great way to make money as a senior citizen in retirement. You can either let friends know you're looking for work, or use the internet to advertise your service. There are several sites you can use to find work. Those are:
Babysits.com
Nextdoor
SitterCity.com
UrbanSitter.com
The benefit of using a platform is they make sure people are legitimate, you can receive testimonials from former clients, and they manage payment.
If you're babysitting at your house, you'll need to make sure your home is a safe environment for the children you're watching. You can do this by child-proofing your home or designating an area in your home that will just be for your clients.
You can also show clients you take babysitting seriously by getting CPR and first aid certified.
10. Bookkeeper
Last on our list of best work-at-home jobs for retirees is bookkeeping. This is a perfect job for someone that is detail-oriented person, or someone who was a CPA or bookkeeper during their career.
You can use a job platform like FlexJobs to find work or reach out to former colleagues to let them know you're in search of work. This is a job where you may need to meet with clients in person to learn requirements of the job and provide feedback.
*Related: Looking for other ways to make money? Check out our DoorDash vs. Postmates pay guide to see which is better for drivers.*
Your level of experience and ability to use programs like Microsoft Excel and QuickBooks help determine what you can charge for this type of work.
Read our FlexJobs jobs board review to learn how to use it to find good-paying work.
What to Know About Social Security Benefits
Before you consider working at home as a retiree, keep Social Security benefits in mind. You need to be careful if you're claiming Social Security and plan to earn income.
You should consult a financial professional to determine the impact for your particular situation. That said, here are the rules as we understand them from the Social Security Administration's website.
If you claim benefits prior to full retirement age, your Social Security benefits may be reduced if you earn more than a fixed amount of income.
In 2020, you can earn up to $18,240 without reducing your Social Security benefits if you're under full retirement age for the entire year.
For each dollar above that, your Social Security benefits will be reduced by $1 for every $2 you earn. In the year you turn full retirement age, the rules are slightly different.
In 2020, the limit in the year you turn full retirement age is $48,600 but they only count earnings before the month you reach your full retirement age.
Benefits are reduced by $1 for every $3 you earn above the limit.
Bottom Line
The best work-at-home jobs for retirees let you be productive while earning additional income. As you can see, there are no shortage of opportunities available to make extra money. Just make sure you're still taking the time to do the things you enjoy.
After all, that's what retirement is for.
What are other work-at-home jobs for retirees you've seen as opportunities? Do you have some favorite ways to make extra money?
*Earning more on certain types of orders (ex. alcohol): Earn more per order as compared to restaurant orders. Actual earnings may differ and depend on factors like number of deliveries you accept and complete, time of day, location, and any costs. Hourly pay is calculated using average Dasher payouts while on a delivery (from the time you accept an order until the time you drop it off) over a 90 day period and includes compensation from tips, peak pay, and other incentives.
*Get paid instantly (DasherDirect): Subject to approval
*Cash out daily (Fast Pay): Fees apply
*Start Dashing today: Subject to background check and availability
*Dash anytime: Subject to availability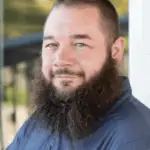 I'm John Schmoll, a former stockbroker, MBA-grad, published finance writer, and founder of Frugal Rules.
As a veteran of the financial services industry, I've worked as a mutual fund administrator, banker, and stockbroker and was Series 7 and 63-licensed, but I left all that behind in 2012 to help people learn how to manage their money.
My goal is to help you gain the knowledge you need to become financially independent with personally-tested financial tools and money-saving solutions.