Have you ever had one of those times where you can't believe the words you're hearing? I'm talking about something so crazy you wonder whether or not the person is telling the truth.
I had such a situation a couple of months ago. We were looking at replacing our roof thanks to some hail damage this past summer. Over the course of several conversations, the roofer and I built a rapport and I shared with him what I do for a living.
He then opened up by telling me that he and his wife needed help with their money. They knew they needed to make changes but had made excuse after excuse (his words, not mine). Then he lowered the boom… "My wife and I spent over $30,000 eating out last year…" The size of his family…his wife, their young daughter and himself.
Not believing him I asked if he was sure of that, to which he said, "Yes, my wife and I just finished going through our credit card statements last week." Worse yet, he admitted to spending $200 per month for two separate gym memberships that they don't use.
He ended the conversation by sharing that he and his wife make good money but don't seem to have much left at the end of the month, never mind saving for retirement.
Stopping the Insanity
This conversation, and many others like it have reinforced one thing in my mind – when you feel like you're spending too much or have too little left over at the end of the month, it's time to take a good, hard look at where you're spending your money.
In other words, you need to stop the insanity and get back on track. Insanity, by definition, is doing the same thing over and over, but expecting different results. Crazy spending is like hitting your hand with a hammer everyday hoping it won't hurt.
At some point, you need to wonder if hitting your hand with a hammer is worth the pain.
Back to my point…stopping the spending insanity means looking at your spending to see why you're in the same desperate situation each month. It means asking yourself some of the following questions:
Is the money I'm spending bringing me happiness?
Are these purchases in line with my long-term goals?
Am I not stopping because I simply don't know how?
Are there simple changes I can make that won't hurt much and will help me grow my money?
I'm sure there are many other questions to ask, but these provide a good place to start. The goal here is to get you thinking through the impact of your foolish spending and what it will mean in one, five and ten years down the road.
If that's a challenge, look at one, two or three weeks or months down the road. Assuming it means the same, if not worse situation, then changes need to be made.
Start Simple
When you want to change a bad behavior you've indulged in for months or years, it can be overwhelming to think of stopping. It becomes so ingrained that you think it's impossible to stop and it becomes a self-fulfilling prophecy, taking you further down the rabbit hole.
It's been said that it takes 21 days to establish a new habit. I can only imagine it's longer when we're changing a bad habit into a new, good habit. Going cold turkey to start a new habit will rarely be successful, but you exponentially increase your probability of success by taking small steps.
In this case, find one area you feel you can cut back and find ways to curb the spending. This is a key part of creating a budget, which will be much simpler once you identify a few areas to cut.
Going back to my roofer friend, he identified the one obvious area where they can cut back – eating out. He readily identified why they spend so much; they're tired at the end of the day, and it's easier to get takeout than to make a meal. Done occasionally is one thing, but $30,000 is not an occasional expense for most.
They won't stop eating out so much overnight, but what if they were to add in meals at home 2-3 nights per week? One small step will help them see it's possible to change and put more money back in their pockets. When paired with light meal planning, the change can be nearly painless.
If you don't know how to meal plan, or feel overwhelmed by the idea of it, a simple service like $5 Meal Plan may help you get started.
Meal planning is only one example. If you're not saving money each month, you can sign up for Digit to save small amounts. You can open an account with Betterment if you've not started investing because of lack of money, as they have no minimum balance requirement.
If you have high-interest credit card debt you can also consolidate them to reduce rates, and hopefully kill your debt quicker.
Using Fiona by Even Financial is a good choice if you want to slash your rates. Fiona lets you compare up to 17 lenders in under two minutes.
After completing a brief application, they provide you with quotes for the best matching lenders.
There are many other things you can do, but know that by breaking down something big into smaller steps you'll increase your rate of success.
Finding Balance
Let's take a step back. We know, or at least we should know, that out of control spending will get us nowhere. Should we swing to the other extreme and not spend at all on anything fun in our lives? No!
Life is meant to be enjoyed. Regardless of whether you're trying to cut out of control spending, pay off debt or some other challenge, you need balance. Without it, you increase the likelihood of failure. I was taught this when I first started paying off debt years ago. I was told to set aside something for myself each month so I could spend on something I enjoy.
Looking back, I know there were many times that's what got me through some months. It provided a brief light in the tunnel of working to achieve debt freedom.
It gave me a brief glimpse of what financial freedom was – the ability to do what I want, when I want because I was in control of my money, not living paycheck to paycheck with no idea how I was going to make ends meet.
If you're currently trying to cut out of control spending, find one way you can cut it back. Don't give into the lie that it's impossible. Don't look for excuses. Don't think it'll get you nowhere. Instead, look for opportunities.
Look for reasons why you should do it. Look for what can happen if you start cutting back $100, $500 or more each month. That's life-changing kind of money if you manage it wisely.
What's one area you want to cut back on spending, but don't seem to be able to? How do you find balance between spending and saving for the future? Why do you think so many give in to excuses rather than change?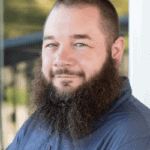 I'm John Schmoll, a former stockbroker, MBA-grad, published finance writer, and founder of Frugal Rules.
As a veteran of the financial services industry, I've worked as a mutual fund administrator, banker, and stockbroker and was Series 7 and 63-licensed, but I left all that behind in 2012 to help people learn how to manage their money.
My goal is to help you gain the knowledge you need to become financially independent with personally-tested financial tools and money-saving solutions.