11 Best Places to Sell Used Furniture for Cash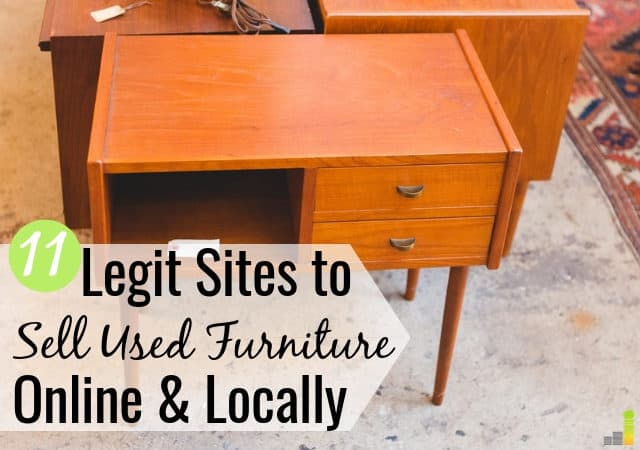 There comes a time when we have to let go of some furniture. Even your favorite pieces get worn or go out of style. Instead of putting your old couch on the curb, consider the idea that you can sell used furniture for cash.
A lot of people watch for furniture deals and don't mind shopping used. Furniture, in general, is pretty expensive – so much to the point that people often finance it.
If you have old furniture that is in decent condition, you can sell it for a marked-down price and make a profit. In some cases, you can sell used furniture online to increase the probability of selling it for a profit. You can use this profit to buy new-to-you furniture, or use it for other goals like paying off debt or saving for a large expense.
Best Places to Sell Used Furniture for Cash
It's easy to think the only option for used furniture is to throw it away or give it away for free. You may not believe it has value, or that it's a hassle to sell. That is often not the case.
Here are the 11 best places to sell used furniture.
1. Consignment Stores
Do you often ask yourself 'where can I sell used furniture near me?' If so, a consignment store is often your best option.
Furniture consignment stores are similar to secondhand or thrift stores, only some of them may actually buy used items from you to resell.
The best consignment shops have regular turnover, providing increased opportunity to sell your furniture.
Some shops will buy the item from you for a flat rate, while others offer to display the item for a specific time frame and pay you a percentage of the sale price when it sells.
They may give you a few weeks to sell your item. or some may give you as much as 90 days. It all depends on the owner and their rules.
The consignment shops that give you a percentage of the sale price are often tricky to work with. I recommend finding local shops that will buy your used furniture from you.
A few years back, my husband and I received a free used coffee table from a relative. We used it for a few months then decided it was too big for our living room and didn't match the rest of our furniture.
We decided to find a local shop to sell the item.
Search for local shops in your area that may be interested in your furniture and gather quotes if you can before coming in.
2. Facebook Marketplace
Facebook Marketplace is a terrific resource for people to purchase used or new items. The platform is a good option to sell used furniture online while balancing it with selling to local individuals.
This lets you amplify your sales efforts without having to deal with shipping.
Furniture tends to sell well on the Marketplace. To sell your used furniture fast on Facebook Marketplace, include the following:
Brand name
Condition
Good pictures
Honest, detailed description
Size and measurements
Adding this information to your description will eliminate numerous back and forth messages with potential buyers.
You will have to be near your phone or computer to answer people's questions and arrange a pickup day and time. However, it's worth it in order for you to secure the sale.
When you find a buyer, make sure they pay you in cash. The Facebook Marketplace may have other payment options, but it's best and safest to only accept cash.
3. Craigslist
Craigslist is one of the best choices to sell used furniture locally. The site is an excellent resource to sell your stuff online as so many people use the platform.
When you create a listing, potential buyers can email questions to a temporary email address that is used to protect your personal email.
From there, you can answer their questions and arrange a pickup time and date if the buyer is ready to purchase the furniture from you.
Make Extra Money by Taking Short Surveys
Taking short surveys in your free time can be an awesome way to earn extra money fast! The instant you finish a survey,
Survey Junkie pays you in cash via PayPal
. 6 Million users and an 8.9/10 Trust Pilot rating prove you can trust them.
Again, make sure you accept a cash payment to avoid any confusion or issues.
4. Chairish
If you want to increase your sales potential, it's often best to try to sell used furniture online. Chairish is a top option if you want to use an online consignment store.
The site does charge a rate of 20 percent of the sales price of the item to list it.
In addition to furniture, you can sell any of the following items on Chairish:
Art
Decor
Lighting
Mirrors
Outdoor furniture
Rugs
The items sold on Chairish are primarily antique so it can be a good site to sell vintage items. Once an item sells on Chairish, the company is involved with the whole shipping process.
Chairish will not pay you until a buyer receives their item and reviews it. They have two days to decide if they want to return something or not.
As long as you were accurate and honest in describing the item, you will be fine. The return rate with Chairish is only two percent compared to the industry average of ten percent, according to the site.
5. Letgo
Are you looking for sites like Craigslist to sell your used furniture for cash? Letgo is a popular Craigslist alternative that lets you sell items locally with no listing fees. The site allows you to share up to ten photos of each item you want to sell.
It's encouraged that you provide images showing every detail and angle of the item.
If you're not sure on what price to sell an item, you can set it as "negotiable" to start. If you receive a lot of inquiries, then you should have a better idea of what your used furniture is worth.
Opening with a negotiable rate may be helpful if you don't have a good idea of value and encourage more responses.
If you set it as negotiable, you can sell it for more money than if you set a fixed price. Try to be as descriptive as possible with your listing that way you'll avoid any questions that may result in you taking longer to sell an item.
6. OfferUp
OfferUp is another free online classified site that lets you sell old furniture. The site operates much like Craigslist or Letgo, and allows you to sell items locally.
OfferUp provides a twist, allowing potential buyers to provide a counteroffer directly on the site.
The sign-up and listing process is straightforward, and the site claims you can list an item in 30 seconds or less. You can scope out what amount other similar items are priced at to get a better idea of what you should price yours.
OfferUp allows you to promote items for a certain timeframe. A typical amount three to seven days. If you use this feature, your listing stays within the top 50 of the search results of that specific item.
This allows more buyers to see your item, and cost depends on the value of the item.
Like Craigslist and Facebook Marketplace, OfferUp promotes local purchase transactions. Since you're selling your used furniture for cash, that is to be expected.
The site encourages people to make an offer and you can then choose the best one.
Do you have a used appliance you want to sell? OfferUp is a great option to recycle old appliances for cash.
7. Sotheby's Home
Sotheby's Home, formerly known as Viyet, is a higher-end option to sell furniture online for cash. If you have antique, vintage, or items with valuations of at least $1,000, Sotheby's Home is an excellent choice to sell your items.
*Related: Want to sell your car via private party? Read our guide on how to sell your car on Craigslist quickly to learn how to get top dollar.*
The platform is more involved in the selling process, working to match items with prospective buyers. As a result, they actively promote your items through social media and email efforts.
Sotheby's Home is not free to use. The platform charges 50 percent of the item sold if you sell 20 items or less. If you have more than 20 items, the fee is 40 percent.
This may seem steep, but if you have higher end items and want help selling, Sotheby's Home can be a good option.
8. AptDeco
Do you live in New York City or a surrounding area? Aptdeco is a good option to sell gently used furniture. You can also sell items if you live in Philadelphia, Washington D.C., or Boston.
You can list any of the following items on Aptdeco:
Decor
Furniture
Lighting
Rugs
The site specializes in name brand items from retailers like Crate & Barrel, Pottery Barn, and Restoration Hardware.
You can list your items for free on Aptdeco, but they charge a fee of 19 to 29 percent to sell your furniture. AptDeco has a curation team in place that will give you feedback on your listing if they feel it's warranted.
9. Trove
Do you have art to sell in addition to furniture? Trove is a good platform to sell either of those items. Opening an account is easy and can be done through connecting to either your Facebook or Google account.
*Related: Sitting on an old cell phone? Read our guide on the best places to sell old cell phones for cash and turn it into found money.*
Similar to other used furniture stores, it's free to list items on Trove. The site does charge a commission of ten percent to sell your items.
One bonus is you can accept credit cards for payment, though you must pay the credit card fees upon sale.
Trove also doesn't limit you to just online sales. If the buyer lives close enough, you can sell within your town or surrounding area as well. Buyers can make counter offers, but you're under no obligation to accept a rate lower than you want.
You don't need to exchange personal contact information, because you can chat with one another right in the app.
10. Bonanza
Bonanza is another online marketplace to sell furniture. The site claims to be the place to find anything but the ordinary to outfit a home. Think of Bonanza as one of the best sites like eBay to sell items.
The site allows you to create a personal online marketplace to sell your items. Bonanza incorporates your online storefront with Google to attract more customers to your items.
Listing your items is free on Bonanza. Additionally, there is no cost to set up a storefront. Fees to sell your items vary on the asking price and the advertising options you choose.
11. 1stdibs
The final option to sell second-hand furniture is 1stdibs. Similar to other sites on our list, you can sell items besides furniture on 1stdibs including:
Antiques
Art
Fashion
Jewelry
1stdibs is a solid option to sell items online. However, if you live in New York City, they also have a showroom offering displays from various gently-used designer items.
1stdibs offers fraud and chargeback protection that helps make transactions with buyers less risk-free for your business. Listing your items is free on 1stdibs, and they charge a commission of up to 15 percent to sell your items.
*Related: Need to furnish your home for less? Read our guide on the best cheap furniture stores near me to score the best deals.*
You have access to an account manager that helps simplify the process of listing and selling. Sellers do have to go through an application process with 1stdibs.
You even have to list references on your application and one has to be someone currently selling on 1stdibs. You also have to list a trade designer.
Top Tips to Sell Your Used Furniture Fast
You obviously want to receive the most money for any item you sell. By following a few simple practices you can increase earnings. Below are a few of the best ways to maximize your return.
Take Good Pictures
Good, clear pictures are essential to selling your furniture fast. They don't have to be taken by a professional, but they must look good.
A clear picture is the best way to put your piece of furniture in the best light possible. It also ensures a quick sale.
Be Willing to Negotiate
Negotiation is key when trying to sell used furniture. You want to have some wiggle room in your asking price to guarantee a quick sale.
You may not always get the price you want, but it's better to receive 85 percent of your asking price than nothing at all.
List on Multiple Platforms
There are multiple free options to sell used furniture online. Take advantage of as many free options as possible to ensure a quick sale.
Not everyone uses the same platform, so listing on multiple sites results in more eyes to your future.
Have A Good Description
A good description is second only to a clear picture when trying to sell used furniture fast. This is your opportunity to truly highlight the value of the item.
Put yourself in the shoes of the prospective buyer. Consider what you would like to know about the item. List the name brand, how long you've owned it, and possibilities of how to use it.
Summary
There's no reason to let bulky furniture you no longer want to take up space in your home. Instead of tossing it to the curb or dropping it off at a donation center, you can sell used furniture online with any of these sites.
Furniture that is in decent condition usually sells well and the more you sell, the more you can earn. Plus, you'll declutter your home and add extra money to your budget.
What is your favorite way to sell used items? What process do you follow to maximize your earnings?
The following two tabs change content below.
Choncé is a freelance writer who's obsessed with frugality and passionate about helping others increase their savings rate, eliminate debt, and work toward financial stability. She chronicles her journey with balancing motherhood, work, and finances on her blog, MyDebt Epiphany.com