27 Ways to Save Money in College and Still Have Fun
It's been nearly 20 years since I was in college. I loved the freedom and was excited to see what the next chapter of my life would bring. The last thing on my mind was trying to save money in college. Heck, I had student loans, a little bit of money from my parents and credit cards. I was going to be good, right?
Unfortunately, that wasn't the case. I graduated college with close to $50,000 in total debt that took me years to pay off. College is no doubt expensive, and you want to have fun while in school. Thankfully, there are ways to cut down the cost without cutting down the experience. Whether you're just starting college or have a few years under your belt, here are some ways to save money that I wish I would have known about when I was in school.
Simple Ways to Save Money in College
Ditch the car. Walk, bike or use public transportation. Not only are they healthier options, but they'll save you a big chunk of money.
Apply for scholarships. This one is a given. Even if they're in small amounts, that's less money you need to pay out of pocket.
Fill out your FAFSA. You're too late for the 2016 school year, but you can start on 2017 as soon as October 1. It never hurts to see what kind of aid you qualify for.
Don't buy high priced books. I worked at the bookstore in college, and it's crazy how much textbooks are marked up. You can rent textbooks through eCampus, buy used textbooks on Amazon or borrow them from a friend. Don't forget to keep them in good condition so you can resell them at the end of the semester.
Use the library. Speaking of textbooks, if you only need it for a short period of time, check it out at the local library and spend nothing!
Avoid cable. Really, how much time will you have to watch TV? Not only are there many things to do besides watch TV, but you'll also be busy with classes and other activities. Staying away from cable will save you easily $50-$100 per month. If you want to watch TV, buy the Amazon Fire TV Stick and forget the monthly bill. If you must have cable, you can use Trim to negotiate your bill. Trim can not only cancel unused subscriptions, but they also negotiate bills so you can lower your monthly cost. Not bad for a free app!
Watch the binge drinking. It's college, I know, but binge drinking is a huge drag on a budget, not to mention unhealthy.
Pay your bills on time. This is another no-brainer. Pay your bills on time to avoid interest or late fees.
Get a credit card. I know this one is controversial. Credit cards accounted for half my debt when I graduated from college. That being said, get a credit card with a small limit and use it once a month and pay it off in full each month. Not only will it help build discipline, but it will build your credit, which will save you money in the long run. If you haven't built up your credit yet, a secured credit card may be your best option, here are some of the best available to get you started.
Get a student bank account. Banks love to charge fees. Many local banks offer student accounts that require lower minimum balances that help you avoid fees.
Ask for student discounts when you buy anything. Many local businesses offer discounts to students. It may not be much, but if you have to buy something it doesn't hurt to save a little money.
Learn how to cook. I know cooking seems difficult; it really isn't. You can find many recipes online, many of which only require a handful of ingredients. Buy a crockpot – it'll be your best friend and provide several meals instead of one.
Find a part-time job. Working in college is not only a great way to make extra money, but it can also help you offset costs. You might also pick up valuable skills that you can put to use later in life.
Live with others. If you live off campus, this is a great way to save money so you can split housing expenses.
Attend campus events. Why pay to see a movie if you can see one for free, or greatly reduced, on campus? The same goes for concerts and other social events.
Don't put spring break on the credit card. This is one of the stupidest money mistakes I ever made. It sounded great at the time, but paying for the trip for months after wasn't any fun. There are many cheap options out there if you do a little homework.
Go to class. No-brainer, I know. But, every class you skip is money out the window.
Start a budget. Budgets aren't for everyone, but you won't know until you try one. Start a simple budget by tracking what you make and how much you're spending. It'll help you control your spending, so you're not always out of money.
Go to happy hour instead of going out for dinner. The menu is usually cheaper, but you still get the fun of going out.
Become a Resident Advisor. If you live on campus, this can be a great way to get free room and board and maybe even a paycheck.
Make your own coffee. Coffee shops are fun to hang out in, but the costs can add up.
Buy a cheap coffee maker
.
Invite some friends over and save yourself money.
Skip the gym membership. Your campus likely has one you can use for free (well, it's likely part of your fees and therefore you're already paying for it) so you might as well use it.
Take as many classes as you can. I'm not saying you should burn yourself out because that's the last thing you want. However, every extra class you take each semester accelerates your time to graduation – thus saving you money.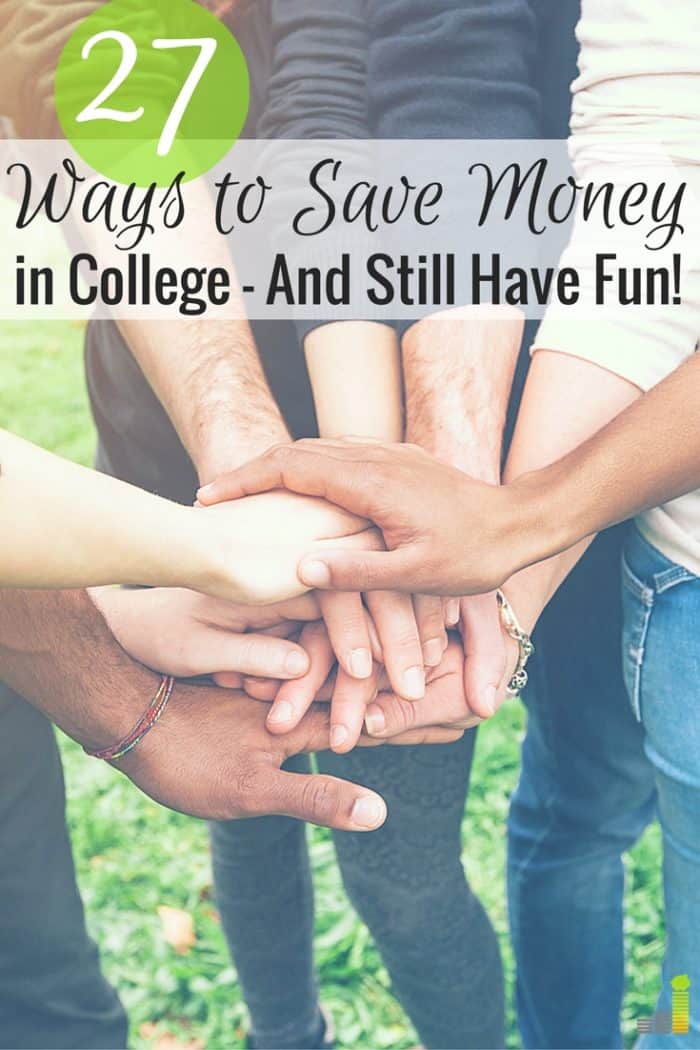 Consider community college. If you're not certain what you want to major in, or you simply want to knock out a few basic courses, community college can save you thousands of dollars.
Save money every paycheck. Assuming you have a job, take a portion out of it each month and put it in a savings account. It doesn't matter how much it is, just get in the habit of saving regularly. Many banks, like Synchrony allow you to open an account with no minimum balance and pay at least 1.75% in interest.
Use a coupon whenever you go out. You may not always find a discount, but use sites like Groupon, Living Social or even restaurants' websites/social media channels for deals and discounts.
Don't buy new. This is especially the case with decorating your apartment or dorm room. You pay a premium when you buy new. Buy used or even borrow from your parents or other family members to save money.
There are many other ways to save money in college; you just have to be creative and look for savings opportunities. Yes, you do want to enjoy your time in college, but you don't need to spend a lot to do that.
What are some other ways to save money in college? What's one thing you can't believe you spent/bought in college? Do you think it's important to work while in college?
The following two tabs change content below.
I'm the founder of Frugal Rules, a Dad, husband and veteran of the financial services industry. I'm passionate about helping people learn from my mistakes so that they can enjoy the freedom that comes from living frugally. I'm also a
freelance writer
, and regularly contribute to GoBankingRates, Investopedia, Lending Tree and more.
Latest posts by John Schmoll (see all)