How to Get Paid to Watch Videos: 11 Legit Ways to Make Extra Money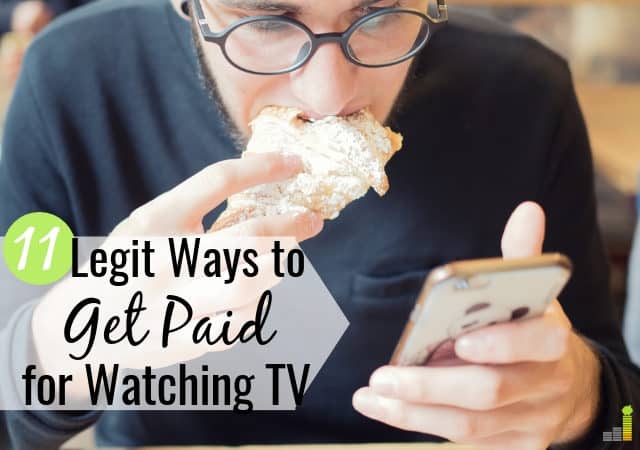 Some side hustles require extra skill. However, there are many gigs you can perform with minimal experience. Watching videos online is one example.
You won't become wealthy but you can make a few dollars per hour by watching ads, TV shows, or movie trailers on your device.
This extra money is a terrific way to supplement funds to pay off debt, or save for a vacation. Not only is it a legitimate choice to make money, but you can do it in your free time.
How to Get Paid to Watch Videos
The first step to earning is finding sites or apps that offer videos for you to watch. Use free platforms, and never pay to watch sponsored videos. All of the sites on our list are free.
After joining a service, start watching videos for money. Some sites offer additional ways to earn, including paid surveys and games. If you want to increase your earnings, participate in any other offerings that interest you.
Each site handles payment differently. Some allow you to redeem earnings via PayPal, while others pay you via gift cards, including free Amazon gift cards.
How much money can you make watching videos?
As with any side hustle, it's important to be realistic with potential earnings. If you watch videos daily, you can potentially earn up to $200 per month. You will need to use multiple apps to reach that amount.
However, if you aren't diligent to watch videos online you will not earn as much.
This amount may not seem worth your efforts. You must remember that you can do this side hustle while doing something else, such as watching T.V. You can let the videos play on your device for that time and earn upwards of $10.
If you do that ten to twelve times a month you can earn up to $200. While it's not the most lucrative side hustle, you can use the funds to supplement various needs.
Earn Money Watching Videos Online
Do you want to make money on your phone or tablet? Here are 11 real sites that pay you to watch videos for money.
1. Swagbucks
Swagbucks is a loyalty rewards site that allows you to earn money by doing a variety of tasks online. The site has a section that allows you to get paid to watch videos.

Swagbucks normally asks you watch a single video or a batch of videos in exchange for points. The most common videos on Swagbucks are:
Sports highlights
News from around the world
Other themed videos
Sponsored videos
Make sure to rate each video after you watch it. Between each video, you may have to watch an ad before the next one starts. Some of the ads can be up to 75 seconds long, so make sure you have some time set aside for that.
As your points add up, you can redeem them for gift cards or cash via PayPal. You can start redeeming points for gift cards as low as $1, but you need at least $25 to redeem for cash.
Watching videos isn't the only way to earn money with Swagbucks. You can also make money in the following ways:
Answering surveys
Using their online shopping portal
Using their search engine
Testing new products
Playing online games
Completing various online tasks
Referring friends
You can join Swagbucks at 13, making them a good way to make money fast as a kid.
The service also gives you a $10 bonus when you open an account.
Read our Swagbucks review to learn more and how you can use it to earn money watching videos.
2. InboxDollars
InboxDollars works very similarly to Swagbucks and is one of the best paid survey sites to make extra money.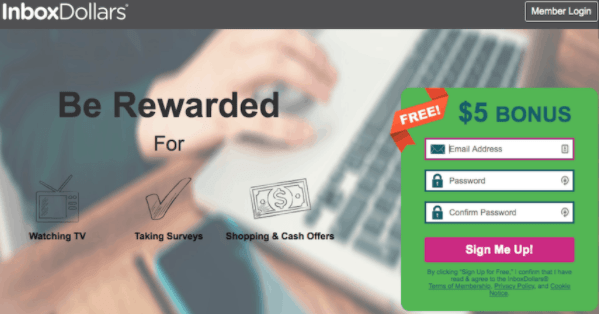 You can make money watching videos on InboxDollars by watching short clips of TV shows and movies. Categories including food and recipes, entertainment, and celebrities.
Not only can you get paid to watch videos with InboxDollars, you can also earn money by doing the following:
Playing games online
Downloading coupons
Reading sponsored emails
InboxDollars lets you redeem points for gift cards, or you can have cash sent directly to your PayPal account. They do have a $30 minimum redemption amount for cash but they also offer a $5 bonus when you open an account.
Since 2000, InboxDollars has paid out over $60 million in cash rewards for simple tasks like watching videos.
Read our InboxDollars review to learn more about the site.
3. MyPoints
MyPoints is another get-paid-to (GPT) site that pays you to perform tasks online. You can earn rewards on MyPoints in one of the following ways:
Taking surveys
Watching sponsored videos
Downloading apps and games
Reading sponsored emails
MyPoints is free to join, and you can join as young as 13 years old, making it one of the better online jobs for students.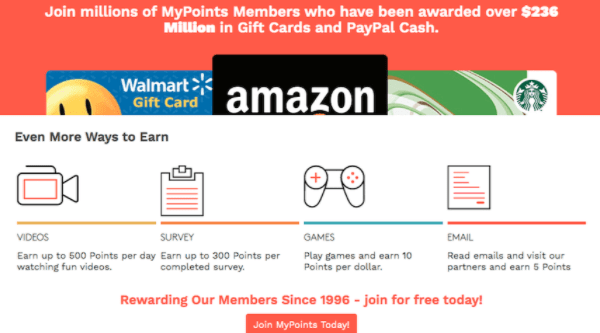 You earn points for each task you complete, and convert them to cash, gift cards, or travel rewards. The one drawback to MyPoints is they cap points to 500 per day for watching videos. However, you can earn in any of the other ways to increase earnings.
MyPoints lets you watch videos both on your device or desktop computer. The site also gives you a free $10 Visa cash card or Amazon gift card after opening an account.
4. FusionCash
FusionCash operates a lot like Swagbucks; you can earn money watching videos online and in multiple other ways. The primary way FusionCash pays users is to test products.
Each product is different, sometimes you must test an app and other instances it is something physical.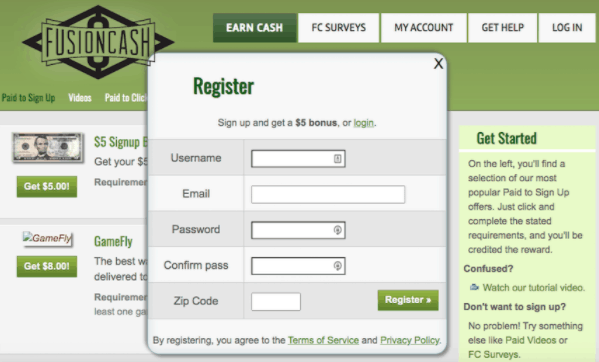 You may have to purchase a product, or cancel before a free trial offer ends. In the latter case you may want to set a calendar reminder to cancel it so you don't have to pay for the item. FusionCash pays you at the end of testing the product or app.
In addition to product testing and watching videos, you can earn money in the following ways with FusionCash:
Taking surveys
Using their shopping portal
Reading sponsored emails
Using their search engine
The minimum redemption amount for FusionCash is $25. They give you a $5 bonus for opening account to help you reach the initial amount.
5. Vindale Research
Vindale Research is a popular paid survey site. The site also pays users to watch sponsored videos online.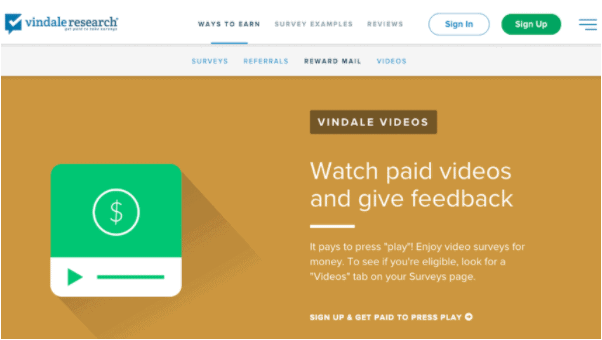 The one catch with Vindale is you must qualify to watch videos. Upon qualifying, you will find a "Videos" tab in your account, once you get to the Surveys section.
The videos normally run a minute or less and you receive $.05 per video you watch. Vindale Research does offer a $1 bonus when you open an account.
Read our Vindale Research review to learn more about the app.
6. Nielsen Computer & Mobile Panel
You may recognize Nielsen Computer from the Nielsen TV ratings family of companies. Nielsen pays users $50 per year to watch anything you want online.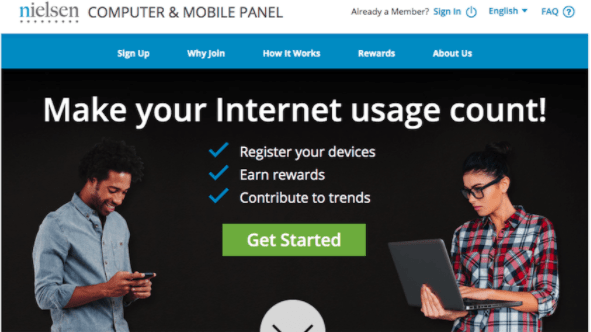 The opportunity with Nielsen is a bit different than other ways to get paid to watch videos. You don't watch sponsored videos or ads. Instead, you download the app, create an account, and start watching anything you wish.
In exchange for the $50 annual payment, the app collects some of your browsing data, and how long you spent at each site.
It's possible to register multiple devices to increase earnings, but it's not clear how much you receive with multiple accounts.
7. Slidejoy
Slidejoy is an app that allows you to earn money by watching ads on your phone. Once you download and activate the app, you receive a prompt to view a quick ad or news story from Slidejoy.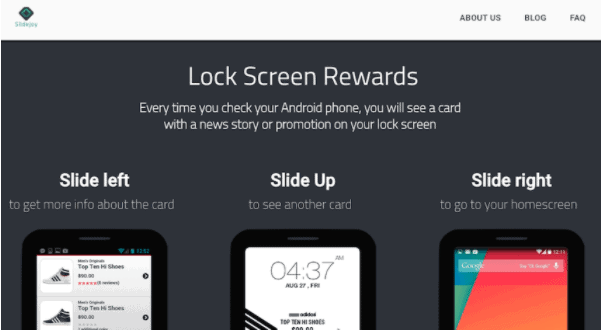 To see the ad or news story, just swipe left. You can also ignore the ad and unlock your phone for your normal use.
However, the more content you watch through Slidejoy, the more extra money you can earn. It rewards you in cash or gift cards to popular retailers and brands.
You can also donate your earnings to your favorite charity. The app is available to download for Android users in the Google Play Store.
8. Watch Netflix for Money
Believe it or not, you can make money from home watching Netflix. These jobs don't come up that regularly, but there are occasionally opportunities to get paid to watch movies.
The goal with this job is to ensure videos are correctly categorized. Netflix refers to people in this role as "taggers." If you watch Netflix on a regular basis, this can be a good way to earn money while watching movies and shows.
Check out the Netflix jobs board to look for opportunities.
9. AppNana
AppNana is a service that pays you to test and use different apps on your phone. The platform doesn't only focus on testing apps; you can also get paid to watch videos on your phone or device.
With each task you perform or video you watch you earn a "Nana." which you can redeem Nanas for gift cards to a variety of online retailers.
The service does not pay out cash, but they can be a great way to earn free Google Play credits or other gift cards.
10. Make Money Watching YouTube Videos
How many hours do you spend on YouTube each week? With Paid2YouTube, you can get paid to watch videos instead of simply wasting time. If you're already spending time on the site, it makes sense to make money while doing it.
The one downside to the service is they only pay $.005 per video you watch. However, you can earn more by rating titles, leaving comments, and subscribing to different YouTube channels.
*Related: Want to donate plasma, but don't know how to start? Read our guide on how to donate plasma for money to learn the requirements and how much you can earn each month.*
Paid2YouTube has a relatively low minimum redemption amount of $10, which they pay via PayPal.
11. QuikRewards
The final service you can use to get paid to watch videos is QuikRewards. This service works for residents of the U.S., Canada, and the U.K.
QuikRewards works similar to Swagbucks and InboxDollars. You can make money watching sponsored videos but it's also possible to earn in the following ways:
Completing online surveys
Reading sponsored emails
Using their shopping portal
Playing online games
QuikRewards has a low minimum redemption amount of $5. You can redeem earnings for cash via PayPal or choose from a variety of gift cards.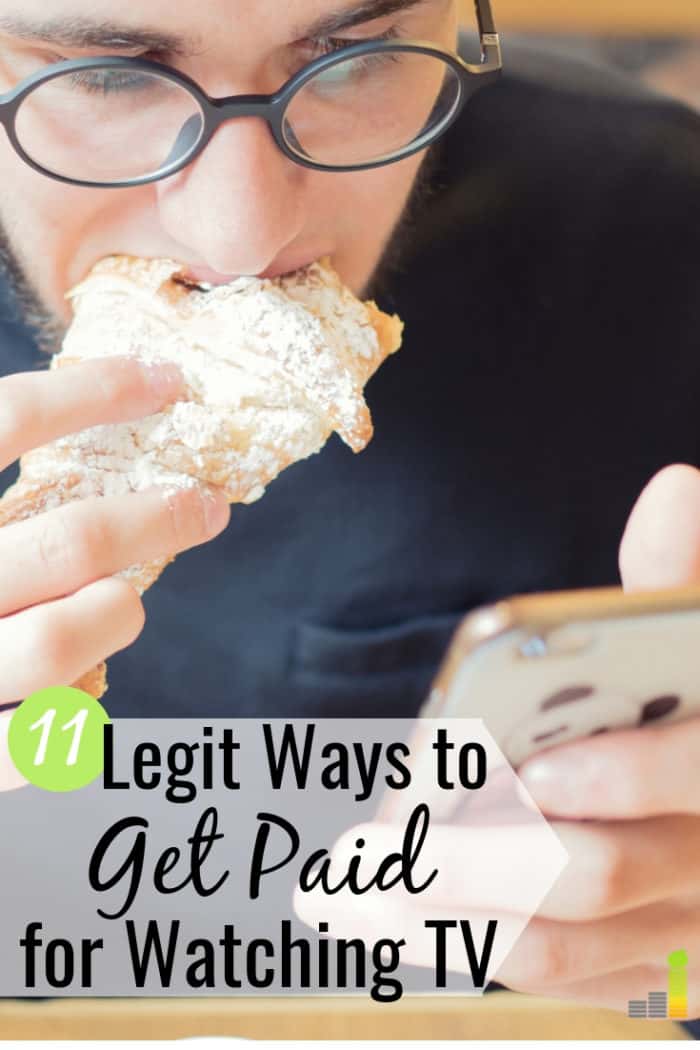 Summary
You can get paid to watch videos in many ways. If you want a side hustle that doesn't require a specialized skill and that can be done from wherever you wish, earning money watching videos is a great option to consider.
Not only can this be a fun side hustle, but it's one that requires little effort.
What are some other services you've used to earn money by watching videos? What are some other overlooked ways you've used to make extra money?
The following two tabs change content below.
Choncé is a freelance writer who's obsessed with frugality and passionate about helping others increase their savings rate, eliminate debt, and work toward financial stability. She chronicles her journey with balancing motherhood, work, and finances on her blog, MyDebt Epiphany.com