Walking is something that everyone does daily. However, you probably didn't know that you can get paid to walk.
The short-term gig economy offers many opportunities to make money through a side job that requires you to get your steps in. Some apps even pay you to complete light exercise in your free time.
If you want to put some extra cash in your pocket, we've found the best ways to make money walking.
Top Apps That Pay You to Walk
Walking is a terrific way to stay fit. It's also a legit way to get paid to exercise since numerous platforms give you rewards for your physical activities.
You won't get rich, but earning extra cash could be the motivation you need to get fit and improve your health.
Whether you're exercising to lose weight through a service like Nutrisystem or you love to stay active, these apps help encourage your efforts.
1. Evidation
Evidation (formerly Achievement) lets users earn money by walking and participating in other physical activities. These include:
Cooking healthy meals
Cycling
Meditating
Running
Sleep tracking
Swimming
Weighing yourself
The fitness app also offers health studies and surveys on topics like heart health, migraines, and flu monitoring.
When you sync this service with your fitness tracker, you receive $10 for every 10,000 points you earn.
Earnings vary, but you can earn six points for logging the food you eat, weight gains or losses, and your sleep schedule.
You can earn up to 80 points daily for logging your exercise.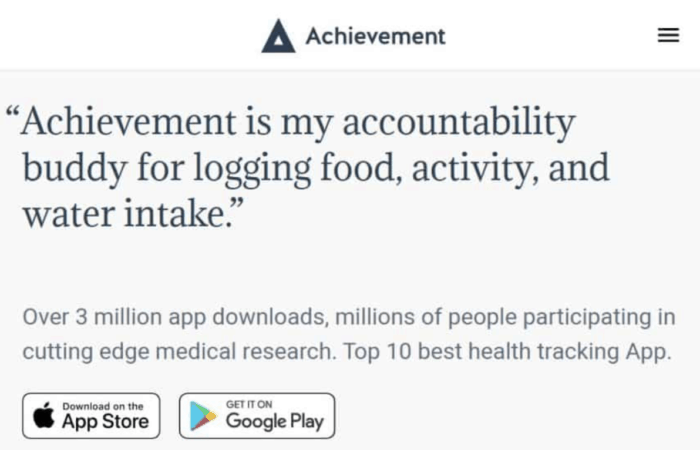 If you reach the maximum number of points each day, it will take four months to earn $10. While it's not earth-shattering, you can make money for activities you're already doing.
Users can choose between four redemption options. Points are redeemable via PayPal, gift cards, a prepaid Visa card, or charitable donations. It takes seven days to receive payouts.
Read our guide on how to get free money on PayPal to identify other ways to earn cash.
According to the Evidation website, the app has over five million active members. You can download the app from the Apple and Google stores.
2. StepBet
StepBet is a platform that lets you bet on yourself to reach a daily step count over the course of six weeks. Like Evidation, StepBet uses data from your fitness tracker to help manage your steps.
The app challenges you by adding additional steps each day.
Compatible activity trackers include:
Apple Health
Garmin trackers
Google Fit
Samsung Health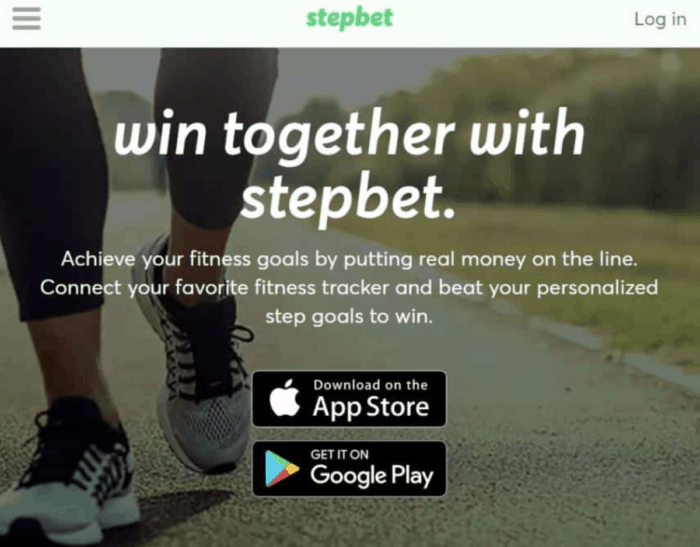 This walking app has a simple betting strategy. You place a $40 bet that you will achieve your goal within six weeks.
If you reach your goal, you receive the $40 back as well as a share of winnings from other users. This is typically around $10. If you don't reach your goal, you sacrifice the $40.
Users can only place one bet at a time. However, the platform has a paid membership option that's $50 annually. You can simultaneously play up to three games if you pay that fee.
3. Higi
Higi is a free app that promotes healthy behaviors and lifestyle change efforts by checking your vitals at a self-service station.
These kiosks are typically in grocery stores across the United States. They track the following:
Blood pressure
Body Mass Index (BMI)
Pulse
Weight
*Related: Looking for other ways to earn extra cash? Read our guide on how to make money from home for 27 legit opportunities to make money on the side.*
You won't automatically earn rewards for walking or completing exercise goals. Instead, you must complete two Higi Station check-ins each month to enter the cash sweepstakes.
The platform gives away five $50 gift cards per month.
Several health programs in the app can improve your fitness habits between check-ins. These programs can include discounts or perks from health providers and retailers.
4. Charity Miles
Charity Miles is one of the more unique apps that pay you to walk. You don't receive cash with this platform. Instead, the app donates to a charity of your choice.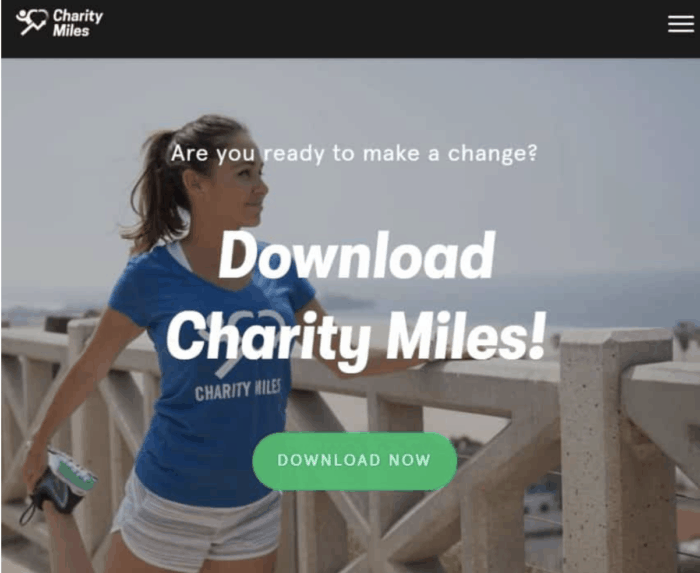 Users can select from 40+ charities. Some of the options include:
ASPCA
Feeding America
Habitat for Humanity
March of Dimes
Pencils of Promise
World Wildlife Fund
The app pays out $0.25 for every mile you walk or run. It also pays $0.10 for biking.
It's not just charities that can get sponsored. Friends and family sponsor you as well.
Fortunately, you don't need a separate fitness tracker since the platform uses your phone's built-in step counter. This means you must have your phone with you when you use the service.
5. Sweatcoin
Sweatcoin is another unique pedometer app that offers rewards for physical activity.
You don't receive extra cash for walking as the platform pays in its proprietary virtual currency.
Users can redeem this currency, called Sweatcoin, for discounts on in-app purchases. Sadly, the app doesn't offer PayPal or bank account withdrawals.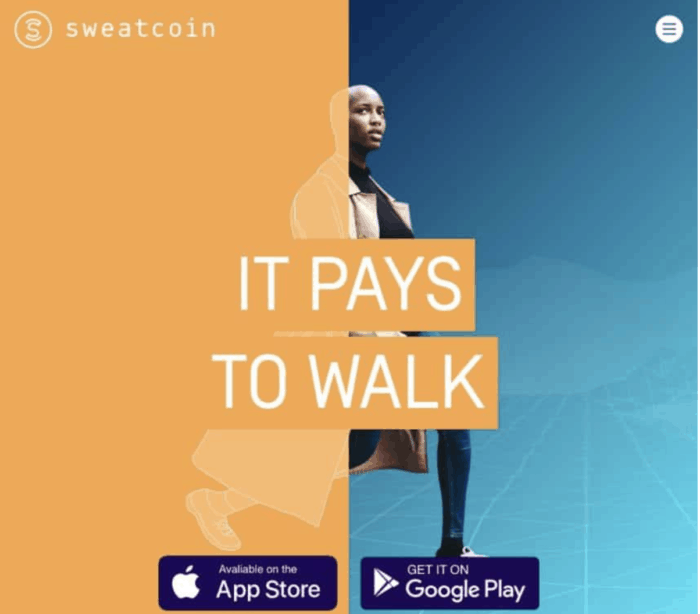 You earn one coin per 1,052 steps with a free membership. The service does offer an upgraded membership to double your earnings.
Payment via Sweatcoin is required to access this membership.
The free plan is usually better if you only walk up to 10,000 steps per day. Free users can only earn up to ten coins per day, but premium members can receive an unlimited number of Sweatcoin.
The app offers drawings to earn $1,000 via PayPal. You must have 20,000 Sweatcoins to be eligible.
Similar to other apps to earn money walking, this service uses your phone's GPS to track activity. In fact, Sweatcoin currently doesn't work with wearables like Fitbit.
Other Ways to Get Paid to Walk
Fitness apps aren't the only resource that will pay you for steps. A side hustle app can be a more productive way to supplement your income while you stay active.
Here are a few of the best choices to make money while you stretch your legs.
6. DoorDash
DoorDash is a well-known food delivery service that is available in over 6,000 cities. Contractors, known as Dashers, deliver meals by car from local restaurants.
They can also deliver food on foot or bike in certain locations.
Unless you live in a densely populated area, delivering by foot will limit the number of deliveries you can make.
Dashers can select their own schedule. They also keep 100 percent of the tips they earn.
You must pass an initial background check to start delivering.
DoorDash driver pay varies depending on numerous factors. Your earnings deposit directly into your bank account weekly. Same-day payments are also available for a minor fee.
Read our DoorDash driver review to learn more.
Benefits
Logo
DoorDash
Earn cash and create your own schedule!

Deliver food with just a car or scooter. Get started today!


7. Rover
If you want to walk and earn money, Rover is an excellent option. The platform claims that you can earn up to $1,000 per month as a dog walker.
Pet owners pay for dog boarding, doggy daycare, house sitting, and dog walking. It's free to create a profile on the dog walking platform.
You can use your profile to highlight your services, experience, reviews, and prices.
Sitters and walkers can choose which dog size they prefer to work with. There are four size categories:
Small – up to 15 pounds
Medium – 16 – 40 pounds
Large – 41 – 100 pounds
Giant – over 100 pounds
This dog walking job is available in most major cities and pays you to walk outside. If a sitter can handle more than one dog, they can care for multiple dogs at once to increase their earnings.
A background check is necessary, but the site is free to join. You can receive payment by direct deposit within 48 hours after finishing a gig.
Read our review of the top dog walking apps to learn more.
Benefits
Logo
Rover - earn up to $1,000/mo. walking dogs!

Rover offers $1,000,000 in protection, 24/7 support, and vet assistance.



8. HealthyWage
You can make money by losing weight with HealthyWage. The platform lets you bet as little as $5 per month, and the minimum weight loss goal is ten percent of your current weight.
Your potential prize amount depends on your results and your wager amount. There are periodic check-ins to track your progress. The top prize amount is $10,000.
When placing your bet, you will see a prize range. However, you won't see your exact winnings until your final weigh-in.
Additionally, earning money isn't guaranteed if you don't achieve your goal.
It doesn't matter which physical activity you practice as long as you meet your goal.
You will receive your payment by PayPal or paper check. Unfortunately, check payments incur a processing fee of $7, and PayPal processing fees are $0.30 plus 2.9 percent.
Benefits
Logo
HealthyWage - Win up to $10,000!
Cost: Varies

Bet on yourself. Choose how much weight you want to lose and how much money you want to wager.


9. GigWalk
Gigwalk allows you to earn cash rewards for completing short tasks or gigs.
There are various types of gigs. Each one can take anywhere from five minutes to a few hours to complete.
It's possible to earn between $3 to $100 per task, which can make walking more fun.
Gigs are typically posted by retailers and consumer brands that want someone to look at how their products are displayed in a certain location.
Brands may ask walkers to verify if a marketing event is running. They might also send someone to verify their product is available on a store's shelves and is priced correctly.
This platform offers several exciting ways to get paid for walking around town and stores.
Payments for completed gigs are processed through PayPal.
Bottom Line
Since you already walk daily, you might as well get paid for it. Use some of these sites to motivate yourself to walk more, achieve your fitness goals, and make money.
When it comes to earning money for steps with these apps, don't overthink it. Simply walk and have fun with the tasks.
What are some other options you've seen to get paid to walk?
*Earning more on certain types of orders (ex. alcohol): Earn more per order as compared to restaurant orders. Actual earnings may differ and depend on factors like number of deliveries you accept and complete, time of day, location, and any costs. Hourly pay is calculated using average Dasher payouts while on a delivery (from the time you accept an order until the time you drop it off) over a 90 day period and includes compensation from tips, peak pay, and other incentives.
*Get paid instantly (DasherDirect): Subject to approval
*Cash out daily (Fast Pay): Fees apply
*Start Dashing today: Subject to background check and availability
*Dash anytime: Subject to availability
Choncé is a Certified Financial Education Instructor (CFEI), personal finance freelance writer, and blogger who focuses on helping others manage their money better in order to live a life with more possibilities and fewer limitations. Her work has been featured on Business Insider, LendingTree, Credit Sesame, and Barclaycard.