This is a sponsored post written by me on behalf of Credit Strong. The opinions and text are all mine.
A good credit history is key to many facets of our financial lives. Good credit helps you buy a car or home, and pursue financial independence. If you've encountered trials and need to rebuild your credit, you know it can be difficult. I faced that situation after paying off $50,000 in debt. My credit eventually rebounded, helping me accomplish various financial goals. If you're in a similar situation, Credit Strong, a division of Austin Capital Bank, helps you rebuild credit so you can pursue your financial goals.
There are various ways to rebuild or grow your credit. Our Credit Strong review shows how a credit builder loan helps restore your credit to good standing.
What is a Credit Builder Loan?
Before we dive into the review of Credit Strong, you may wonder, 'what is a credit builder loan?' You may ask if it's a legit way to boost your credit.
Here is how a credit builder loan works:
A financial institution loans you a small amount of money that's held in an account.
You make on-time payments to repay the loan over a specified period of time.
You collect the loan proceeds, plus any interest at the end of the term.
There are several benefits to a credit builder loan. The key benefit is having lenders report your on-time payments to the three credit reporting agencies.
This directly helps improve your credit history and score. If you want to build credit without a credit card, the tool is a suitable option to help you accomplish goals like buying a home.
Credit Strong Review
There are various options to get a credit builder loan. Your local bank may offer them, or you may see them advertised online. Credit Strong has a unique value proposition, which makes them a legit way to rebuild your credit.
I share a few of the value propositions of the institution below, and why you should consider them if you need to improve your credit.
How Does the Platform Work?
Credit Strong is an online product and a division of Austin Capital Bank, a 5 star rated, FDIC insured bank. Credit Strong issues you an installment loan, and the funds are deposited into a savings account with the institution.
They do not perform a hard credit pull, so applying for a loan does not impact your credit. Upon approval, the funds are placed into a locked savings account, and you make monthly payments until the loan is paid off.
At that point, you can receive the funds plus interest, or allow the funds to stay in the savings account.
Making full and on-time payments is the crux to taking advantage of a loan through Credit Strong. They report your monthly payments to the credit reporting agencies, helping to improve your credit.
You can view your credit score in your Credit Strong dashboard, providing the encouragement you need to continue repayment. Credit Strong provides the FICO 8 Score to track your progress each month. This is the score that 90 percent of the top lenders use.
While Credit Strong does not require you to set up auto-pay to make payments, they strongly encourage it. This ensures payments are made on time and boosts your credit.
Everything with Credit Strong is done online, and they claim you can open an account in less than five minutes. You need the following to open an account with Credit Strong:
Be at least 18 years old and a permanent U.S. resident with a physical address
A valid social security number or individual taxpayer identification number
A checking account, or an open debit card or prepaid card
A mobile phone number
An email address
Nothing is outsourced with Credit Strong. They manage customer service, handle loans and process all paperwork.
You may wonder 'is Credit Strong legit?'. The bank is a 5-star rated FDIC-insured institution, which means they're subject to direct FDIC oversight and thus are a legit institution to manage your financial needs.
Credit Strong issues loans in all states, excluding North Carolina, Vermont, and Wisconsin.
How Much Does it Cost?
Credit builder loans aren't free, so it's essential to know the cost before working with an institution like Credit Strong. Based on your needs and score, you can receive a loan for up to $2,000 and a repayment schedule of up to 24 months.
Credit Strong charges a one-time administrative fee of $8.95, plus an interest rate on the loan. The institution has six basic account types depending on the amount and repayment terms.
You can see the cost of all account types in the chart below from the Credit Strong site. As an example, if you receive a $1,000 loan and repay it in 12 months, the cost is $1,076.95. Upon repayment, you receive the $1,000, plus interest, so your total cost is about $86 including the admin fee.
Cost is always an important factor to consider when it comes to financial services. Relative to credit repair companies, you save significant money with Credit Strong. Most credit repair companies typically charge several hundred dollars per month for their services.
Alternately, secured credit cards are also more expensive than Credit Strong, typically charging higher interest rates as well as an upfront deposit.

There is no pre-payment penalty if you choose to pay off the loan early. If you're tempted to pay off the loan early, consider that payment length comprises 15 percent of your FICO score.
Credit Strong vs. Secured Credit Card
Credit builder loans aren't the only way to rebuild your credit. You can do the same with a secured credit card. While a legit way to boost your credit, there are several things to keep in mind with a secured credit card:
You may be tempted to spend with a credit card
They often carry higher fees than working with an institution like Credit Strong
It limits you to one way to build your credit
They often require an upfront security deposit of several hundred dollars to get started.
While not bad, per se, a secured credit card doesn't offer the variety of a loan that Credit Strong does to boost your credit, and Credit Strong does not require any upfront deposit, only the $8.95 non-refundable admin fee. Type of credit is a critical factor in improving your credit score, and working with Credit Strong is a good way to compliment other reporting sources.
Plus, you also have a savings account when you've paid off your loan with Credit Strong.
Pros
Working with any financial institution requires due diligence. Below are a few of the pros to working with Credit Strong:
They help you rebuild your credit and pursue financial goals
You have a savings account once done
Everything is done in house
No hidden fees
Working with Credit Strong offers a good credit mix vs. secured credit cards
Bank level security
As you can see, there are many benefits to working with Credit Strong.
Cons
No service is perfect. Below are a few things to know before opening a Credit Strong account:
The savings account is locked, providing no access to funds until loan repayment is finished.
Late or missed payments may be reported to credit reporting agencies
It's important to keep in mind the above cons are not unique to Credit Strong. You will encounter them with any institution.
Bottom Line
Rebuilding credit takes work, but it's well worth the effort. There are various institutions you can work with, but Credit Strong simplifies the process, helping you find success sooner.
If you need to boost your credit, see how Credit Strong can help you realize your financial goals and build the kind of life you want.
What are you doing to rebuild your credit? What's one big financial goal you want to accomplish in the near future?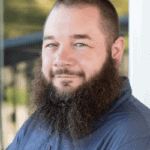 I'm John Schmoll, a former stockbroker, MBA-grad, published finance writer, and founder of Frugal Rules.
As a veteran of the financial services industry, I've worked as a mutual fund administrator, banker, and stockbroker and was Series 7 and 63-licensed, but I left all that behind in 2012 to help people learn how to manage their money.
My goal is to help you gain the knowledge you need to become financially independent with personally-tested financial tools and money-saving solutions.