Fighting the crowds at the mall is never fun, especially during the holidays. When you factor in trying not to break your budget and navigating the stresses of the season, it can make shopping even more of a hassle. Fortunately, Amazon makes Christmas shopping easier, safer, and more affordable.
With the holidays upon us, there's no better time to start thinking about ways to save money on Amazon this Christmas.
Getting a good Amazon deal doesn't take too much work. If you are willing to put in a little extra effort, you can increase your savings.
Top Ways to Save Money on Amazon This Christmas
Shopping for Christmas gifts is expensive, but there are ways to save money. If you love to shop on Amazon, here are 15 simple hacks to save money this holiday season.
1. Use Capital One Shopping
It is frustrating to spend time searching for discount codes only to discover that none of the codes you found work. Capital One Shopping can help you with that.
Capital One Shopping is a free browser extension that works in the background as you shop.
When you select an item, the service searches other retailers to look for a better price, including shipping, sales tax, and more.
If you like what it shows, click the "Continue to Capital One Shopping" button that shows up automatically on Amazon to place your order.
Benefits
Logo
Capital One Shopping
Save more when you shop!

Snag better prices automatically on the things you buy with valid discount codes.


2. Discounted Gift Cards
Discounted gift cards can be a good way to cut costs on shopping. You can buy discounted gift cards online for sites like Amazon to save money on your shopping.
There isn't a lot of opportunity for big savings since the retailer is so popular, but every little bit helps when shopping for Christmas gifts.
You can also get free Amazon gift card codes to use when you shop.
The best way to score free gift cards is to take online surveys in your downtime. Survey Junkie is our favorite survey site. They pay cash via PayPal or let you redeem rewards for gift cards.
Benefits
Logo
Survey Junkie
Earn $50+ per month

$1 per survey. Cash out fast with low redemption minimums.


3. Shop Through Swagbucks
Amazon is usually good on prices. However, you can double your savings by earning cash back on your purchases.
Swagbucks is an affiliate site that gives you a rebate when you make certain purchases. In some cases, you can earn up to seven percent back.
Instead of going to Amazon.com directly, shop through Swagbucks.
Not every category qualifies to earn cash back, but it pays to check before you shop. Just use the Swagbucks portal to do your shopping on Amazon.
With each purchase, you earn points you can convert into cash back.
**Looking for deals on Amazon devices? Visit the Amazon device deals page to see how much you can save on all their devices this holiday season.**
Swagbucks pays out in gift cards that you can use for free money on Amazon. If you don't want gift cards, you can redeem points for cash instead.
Benefits
Logo
Swagbucks
Get $10 when you sign up now!

Earn free gift cards and cash rewards taking surveys, shopping and more.


4. Two Browser Trick
Amazon has been known to charge Prime members a bit more than non-Prime members on certain items. If you're a Prime member and want to compare prices, you can use the Amazon two-browser trick.
**Related – check out Amazon's Holiday Gifting Hub for deals on gifts for your family!**
This method isn't perfect since Amazon has started hiding prices until you add items to your cart. However, it's still a money-saving option worth trying.
To try this strategy, start by opening one browser, such as Chrome. Then, go to Amazon.com to find your item. Do not add the item to your cart.
Next, open another non-Chrome browser (after having cleared cookies and cache) and find the item.
If the item is cheaper, add it to your cart, sign in, and make your purchase.
You can also accomplish this comparison by using the "Incognito" setting in Chrome.
5. Find the Best Price
If you want to find the best price when buying a gift, Honey is a helpful tool to use.
This free Chrome extension to save money has two key features that help you reduce costs First, it shows you the price history of any item you want to purchase.
Second, it shows you who has the best price on what you want to buy.
According to the Honey website, the average user saves $126 per year. While this isn't significant savings, it is a painless way to keep more of your money.
Benefits
Logo
Honey - find active rebate codes
Earn free gift cards!

This popular browser extension finds active discount codes to help you save money shopping online.


6. CamelCamelCamel
Knowing the historical pricing information on a certain item can be helpful as you shop for Christmas gifts. Thankfully, there is a free service called CamelCamelCamel that provides this information.
You can set up price alerts to send you an email or message on Twitter when there's a price change on an item you want to buy.
*Related: Looking for more deals? Visit Amazon's Black Friday Deals site to find awesome savings.*
CamelCamelCamel also has a browser extension to provide price history charts as you do your searching on Amazon.
7. Deal of the Day
Amazon makes it relatively easy to find deals, especially during the Christmas season. One way they do this is through the "Daily Deal" section of their site.
Go to Amazon.com and at the top of the screen, right in the middle, you should see "Today's Deals." Click on that to see their deals for the day.
You can also sign up for emails about daily deals if you'd prefer to receive deals via email.
8. Amazon Price Protection
Amazon used to offer price protection on many items. Officially, they still offer it on televisions. If you buy a television and find it cheaper within 30 days, you may qualify for a refund of the price difference.
Here's a list of the vendors that qualify for TV price protection from Amazon. A few things to keep in mind:
The seller will refund the difference as a gift card
Third-party sales do not qualify, only those sold or fulfilled by Amazon
This does not apply to TVs purchased on Black Friday or Cyber Monday
This hack may not work for everyone, but it's worth looking into if you buy a new TV.
9. Shop Through the Rakuten Portal
Swagbucks isn't the only cash back site you can use to save money shopping on Amazon this Christmas. You can also get cash back on your purchase with Rakuten, formerly known as Ebates.
You use the Rakuten portal to do your shopping on Amazon. With each purchase, you earn points that are redeemable for cash.
Rakuten is similar to Swagbucks and gives you cash back when you make certain purchases.
Not every category qualifies, but it pays to check before you shop. You can also use coupon codes or discounts to double your savings.
Read our Rakuten app review to learn more about the platform.
10. Trade it in
Getting rid of clutter around the house feels terrific. When you can make money on your clutter, it's even better.
If you have old electronics, tablets, wearables, books, etc., you can send them to the retailer for free money to spend on Amazon.
You can't send in junk, so keep the following in mind:
Items must be in working condition
If they don't list your item in the trade-in store, then they won't accept it
It takes up to ten days to receive payment
There is no cost to ship items
A simple way to see if Amazon is accepting items as trade-ins is to look up the product. Look for the "Sell for a Gift Card" link on the right side of the screen and click on it for details about the selling process.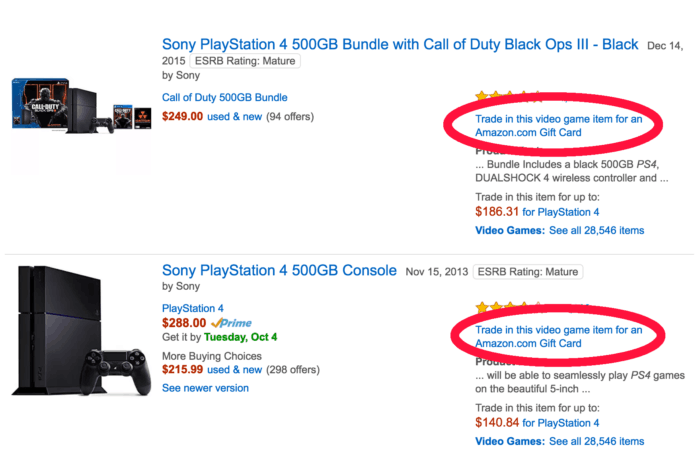 11. Lightning Deals
Amazon offers deals, known as "Lightning Deals," to save money. These deals are usually only available for a short amount of time.
You can find these deals in the same area as the "Daily Deals" section. Amazon usually promotes them heavily on the front page as well.
What to Know About Lightning Deals
There are a few ways Lightning Deals differ from Daily Deals, including:
Lightning Deals are more limited in quantity
Amazon allows you 15 minutes to purchase the deal
If the item is unavailable, join the waitlist as soon as you can – you might get lucky
Lightning Deals can be a great way to save money on Amazon if you find an item you want and act fast.
12. Shop Amazon's Outlet Department
Amazon's Outlet section can be hit or miss. However, it can be a great way to save money if you find the right gift.
The items vary on Amazon Outlet. They may have overstocked items, markdowns, or clearance items the retailer is trying to get rid of at a discounted rate.
13. Amazon Warehouse Deals
Similar to Amazon Outlet, the retailer also has a warehouse deals section. Amazon Warehouse offers deals on used items.
While you may not want to buy a previously used item as a Christmas gift, this can be a great way to save money.
You can find the Warehouse Deals section in one of two places. First, you can head to this page to go directly to their Warehouse section.
You can also get there when looking at a specific product page. When viewing the prices, click on "Used" near the top of the page to go to the Warehouse section.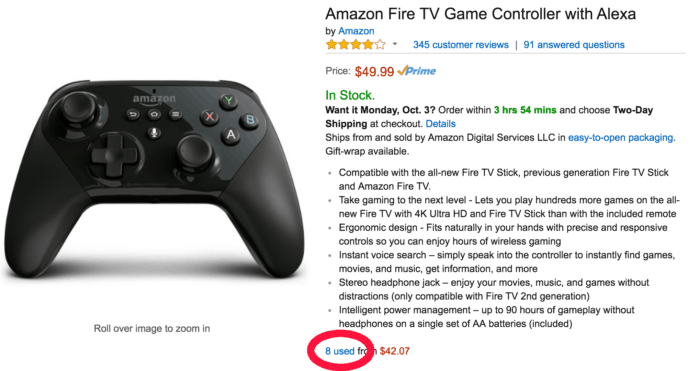 Make sure you read the descriptions and seller reviews in full to make sure you're comfortable with the item.
14. Join Amazon Family
Amazon Family is for Prime members who have young children. Not only does Amazon Family offer 20 percent off diapers and discounts on other family needs, but they also offer a discount on children's toys.
*Related: Read our guide on ways to get free baby diapers to stretch your budget.
Amazon allows you to add grandparents to your Amazon Family account. This can be a nice way for your parents to save on gifts for your little ones.
15. Kindle Matchbook
Are you a book lover or know someone who is? Have you bought any hard copy books on Amazon? You may be able to receive the Kindle version for free or a maximum of $2.99 through Kindle Matchbook.
If you hate having clutter around your house and like to read on your Kindle, moving your books to your Kindle can be a great solution.
Amazon offers the Kindle Matchbook service on thousands of different books. It regularly adds new ones as well. Just keep in mind you must have purchased the print book on Amazon to qualify for this deal.
Bottom Line
If you love to save money when shopping, especially during the holidays, you are in luck. There are many ways to save money on Amazon this Christmas.
The best part is you can often combine deals to increase your savings. With a little work, it's possible to stretch your budget and not overspend this Christmas.
What are some of your favorite ways to save money on Amazon? Do you set a budget for Christmas shopping?
*Capital One Shopping compensates us when you sign up for Capital One Shopping using the links provided.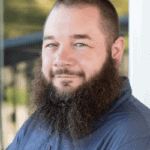 I'm John Schmoll, a former stockbroker, MBA-grad, published finance writer, and founder of Frugal Rules.
As a veteran of the financial services industry, I've worked as a mutual fund administrator, banker, and stockbroker and was Series 7 and 63-licensed, but I left all that behind in 2012 to help people learn how to manage their money.
My goal is to help you gain the knowledge you need to become financially independent with personally-tested financial tools and money-saving solutions.