Meat delivery is the newest and most convenient way to shop for meat, offering options that are superior to store-bought meat. Plus, it makes meal planning and grocery shopping easier than ever.
There are many different meat delivery services and meat subscription boxes available. As a result, it can be difficult to choose the one that's the best fit for you.
However, if you're looking for premium meats that are restaurant quality, the Stock Yards home delivery service might be the perfect meat delivery box for you.
Our Stock Yards review will help you decide if this subscription service is right for your meat delivery needs.
What Is Stock Yards?
Stock Yards is an online meat delivery service that offers a wide selection of meat and seafood from family farms as well as appetizers, sides, and desserts.
They began as a local butcher in the Chicago area in 1893 but were acquired by US Foods in 2000. The company is currently under the 1-800-FLOWERS.COM, Inc. family of brands.
With over 125 years in business, they have a long history of providing quality farm-fresh meats directly to customers.
Stock Yards currently delivers their own branded meats as well as other 1-800-FLOWERS.COM branded foods, including Harry & David and Vital Choice.
How Does the Service Work?
Stock Yards operates like most other online retailers. You can view their selections and place an order directly on their website.
They sell a number of individual items and curated meat packages. Their offers are similar to Omaha Steaks.
You can place a one-time order or join a Stock Yards Club for recurring shipments.
The basic Stock Yards Club includes deliveries of steaks, pork or lamb chops, ribs, and more. Alternately, the Steakhouse Club offers premium cuts of steak and chops.
Each Club membership delivers a single meat item monthly, but you must prepay for either three months, six months, or 12 months at a time.
You can also choose which month the deliveries begin.
The item of the month for the Stock Yards Club at the time of testing was 12 USDA Prime Steak Burgers. For the Steakhouse Club, it was four USDA Prime filet mignon steaks.
Since you must prepay for multiple months at once, you can't cancel your Stock Yards Club membership at any time as you can with other meat delivery services.
However, the customer service assurance on their website states that they will provide "an appropriate replacement or refund" if you are not satisfied with your order.
What Comes in a Stock Yards Box?
Stock Yards offers a variety of different types of proteins and cuts, including:
Beef: Complete-Trim Filet Mignon, New York Strip Steak, Barrel-Cut Filet Mignon, Chicago-Cut Bone-In Ribeye, Porterhouse, Boneless Ribeye, Tenderloin Tips, Filet of Top Sirloin, Center-Cut Skirt Steak, London Broil, Steak Burgers, Chicago Beef Franks, Mini Steak Burgers, Barrel Cut Chateaubriand, Bone-In Prime Rib Roast, Boneless Ribeye Roast, USDA Prime steaks
Veal: Frenched Veal Rib Chops
Lamb: Frenched Lamb Rib Chops, Lamb Porterhouse Chops, Rack of Lamb
Pork: Baby Back Pork Ribs, Five-Bone Natural Pork Roast, Spiral-Sliced Ham, Uncooked Pork Ribs, Center-Cut Pork Chops, Pork Pot Pie, Mini Pork Pot Pie, Pork Wellington, Boneless Glazed Carving Ham
Poultry: Oven-Roasted Turkey, Smoked Turkey, Diestel Naturally Smoked Turkey, Diestel Oven-Roasted Turkey, Chicken Pot Pie, Bacon and Cheese Stuffed Chicken Breast, Mini Chicken Pot Pie, Chicken Wellington
Seafood: Jumbo Shrimp, Atlantic Salmon Filets, Cold-Water Lobster Tails, Alaskan Halibut Filets, Crab Cakes, Salmon Wellington, Lobster Pot Pie, Maine Shore Seafood Bake, Northwest Smoked Salmon, Salmon en Croute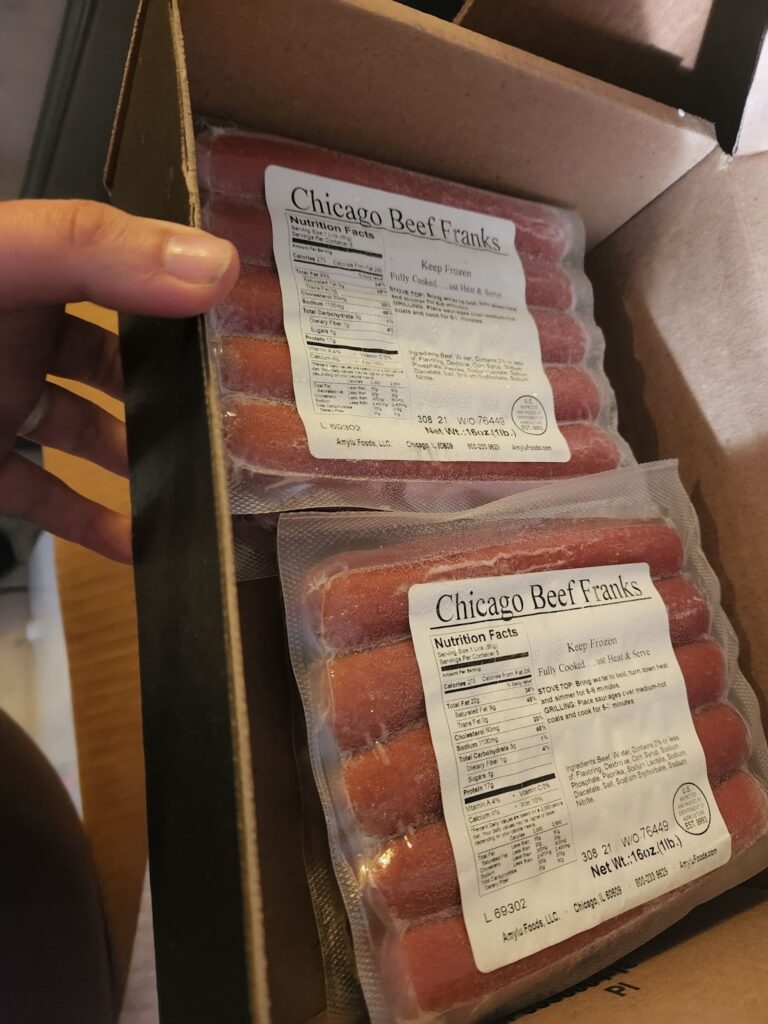 They also sell add-on meal bundles, gift sets, sides, appetizers, and desserts.
However, they don't offer basics like ground beef or bacon. If you're looking for basics, Porter Road could be a better choice.
How Much Does Stock Yards Cost?
Prices on Stock Yards items vary based on what you order, how much you order, and the quality of the cut (USDA Choice is less expensive than USDA Prime).
Prices for meat items range from $44.99-$399.99. Shipping is based on your purchase price.
For orders of $150 or more, shipping costs 17 percent of your order subtotal.
Here is the pricing for Stock Yards Clubs:
| Subscription Type | 3 Months | 6 Months | 12 Months |
| --- | --- | --- | --- |
| Stock Yards Club | $199.99 | $389.99 | $749.99 |
| Steakhouse Club | $349.99 | $649.99 | $1,299.99 |
Shipping for Club orders is $9.99. Occasionally, Stock Yards may offer sales or cost-saving promo codes.
*Related: Are you interested in trying a meal or meat delivery service but aren't sure which is best for you? Take our free quiz to receive a customized recommendation.
Where Does Stock Yards Get Their Meat?
According to their website, Stock Yards sources only grain-fed beef from the Midwest region of the United States. They feature USDA Choice, USDA Prime, and certified Angus Beef.
The company works with partner brands to provide their other meats, but it appears that most of those brands source their meats from the U.S. as well.
For example, they work with the Hancock Gourmet Lobster Company to source Maine lobster for their Maine Shore Seafood Bakes.
Is Stock Yards Meat Grass Fed?
Stock Yards meat is not grass fed. They only provide meat from fully grain-fed cows.
Grain-fed and grain-finished cows tend to have a higher fat content and taste better than 100 percent grass-fed (pasture-fed) beef. However, many people prefer grass-fed beef for health reasons.
Stock Yards beef undergoes wet aging. This means it is marinated in its own juices to improve the taste and texture. Most other meat services use dry aging for their beef.
My Experience Using the Service
I was mostly pleased with my Stock Yards experience. I ended up ordering:
Lamb Porterhouse
Game Time Bundle (included Steak Burgers and Chicago Beef Hot Dogs)
The meat arrived packaged well with dry ice. It came in two separate boxes. Other than the hot dogs (which were five per package), the burgers and lamb Porterhouses were individually wrapped.
Better yet, a lot of the packaging was eco-friendly and recyclable.
I was excited to try the lamb and cooked the pieces on a cast iron griddle. They were extremely tender and flavorful. Plus, they looked like cute little miniature T-bone steaks.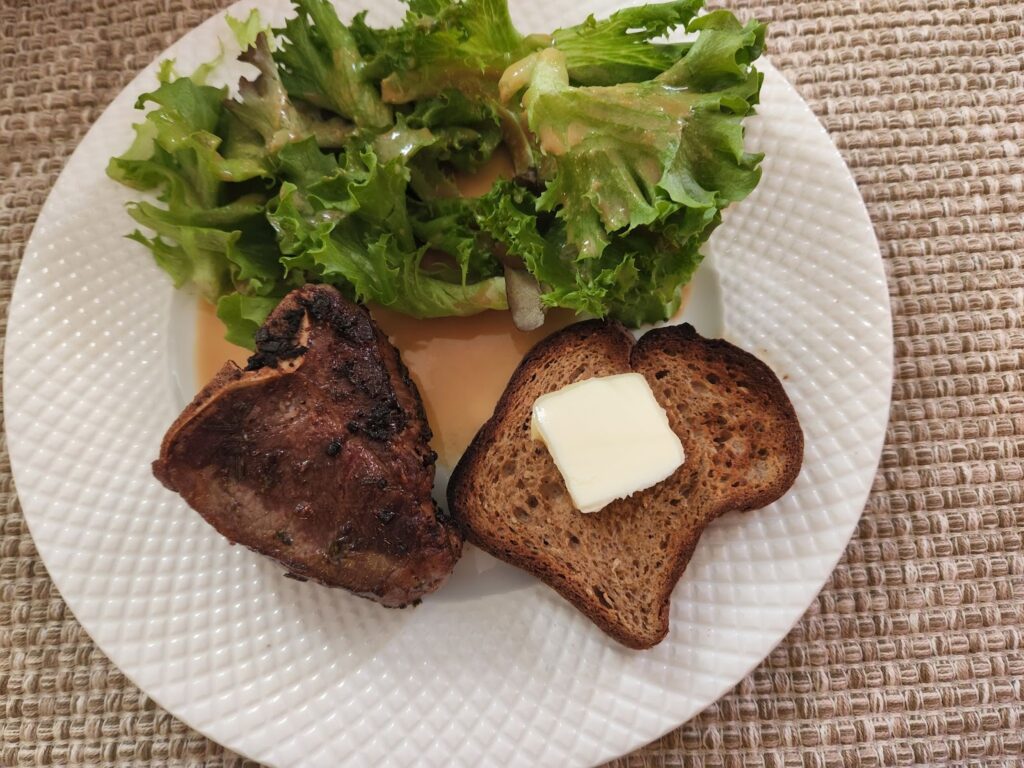 Next, we used the hot dogs for a quick meal for the kids. The dogs were juicy and flavorful. They were larger than a standard dog you'd pick up at the grocery store and had a thicker, tougher skin.
Finally, I made the burgers in my air fryer using the grill setting. I seasoned them with a little bit of Worcestershire sauce, salt, and pepper. They were tasty and didn't dry out at all.
Overall, I was happy with the quality and taste of the meat I received.
Unfortunately, I found the prices to be expensive. Although the food was great, $99.99 (the cost of the Game Time Bundle) is a price that I wouldn't normally pay for burgers and hot dogs.
I think Stock Yards is great for one-time orders and gifts or special occasions — especially for hard-to-find items like lamb and veal. However, I can't see myself signing up for the Clubs or placing regular orders.
Who Should Use Stock Yards?
Here's who might like using Stock Yards.
People Who Want Restaurant-Quality Meat
After tasting it myself, there's no question that the meat from Stock Yards is very high in quality. In fact, it's much like what you might expect to eat at a nice restaurant.
If you're looking for meat of that caliber, then Stock Yards is a great choice. It may also be a good choice for people on the carnivore diet who want meat that has an excellent taste.
Seafood Lovers
Stock Yards is a good fit for people who like seafood. They offer a number of different seafood options, including raw, cooked, and even fully prepared seafood entrees like Salmon Wellington.
Seafood is not always offered by meat delivery companies, so this is a nice feature.
People Who Want Add-Ons
Additionally, Stock Yards is a great fit for people who want add-on items to their meat orders.
Stock Yards carries a wide variety of entrees (like pot pies and Wellingtons), side dishes, appetizers, and desserts.
Who Shouldn't Use the Service?
On the other hand, Stock Yards won't be a good fit for you if you fall into one of these categories.
Non-Meat Eaters
If you are a plant-based eater, you may find that there's not much you can order from Stock Yards other than a few side dishes.
A meal delivery kit service like Purple Carrot or Daily Harvest could be a better fit if you are a vegan or vegetarian.
People Who Want Grass-Fed Beef
Likewise, Stock Yards doesn't offer grass-fed beef. If that's a must for you, you'll need to look elsewhere.
Meat delivery services like ButcherBox and Crowd Cow may have what you're looking for.
Pros and Cons
Here are the pros and cons of Stock Yards to help you further evaluate if this meat delivery service is right for you.
Pros:
Wide variety of meats and cuts
Subscription options with Stock Yards Clubs
Add-on sides, appetizers, and desserts
Cons:
Shipping fees can be expensive
Club memberships are prepaid, so you can't cancel anytime
Meat prices are higher than grocery store prices
If you want restaurant-quality meat, Stock Yards is worth trying.
The Competition
Here's how Stock Yards compares to some of the other monthly subscription services for meat.
| Company | Cost | # of Cuts | Best For | Sign Up |
| --- | --- | --- | --- | --- |
| Stock Yards | $66+/mo. | 1 | USDA Prime steaks | Try |
| Good Chop | $149+/box | 6-12 | Custom boxes | Try |
| Crowd Cow | $99+/box | Varies | Wagyu beef | Try |
| ButcherBox | $99+/box | 6-12 | Families | Try |
Good Chop
Good Chop is a subscription meat service that offers monthly shipments of meat and seafood without antibiotics or added hormones. Their products come from American family farms and fisheries.
However, Good Chop allows you to choose six to 12 items per month in your subscription rather than just one like Stock Yards Club. They also offer free shipping.
This service might be a better fit if you want more choices and free shipping.
Read our Good Chop review to learn more.
Crowd Cow
Crowd Cow is an online butcher shop that offers a wide selection of different pasture-raised meats and cuts. It has a huge focus on animal welfare and partners with small-scale farms.
They offer one-time orders and subscriptions, similar to Stock Yards.
However, Crowd Cow could be a better fit if you want access to a wider variety of meats, including more types of fish, wild game, and Wagyu beef (high-fat with lots of marbling).
Read our review of Crowd Cow to learn more.
ButcherBox
ButcherBox is a well-known meat delivery service that specializes in responsibly raised, high-quality meats that are all-natural with no artificial ingredients.
These meats include 100 percent grass-fed beef, heritage pork, bison, organic free-range chicken, and wild-caught, sustainably sourced seafood.
They offer many different sizes of subscription boxes and multiple cuts of meat each month.
ButcherBox might be a good fit for you if you want the highest quality meat possible.
Read our ButcherBox review to learn more.
Stock Yards Review
Price

Selection

Quality of Meat

Shipping

Membership Options
Stock Yards Review
Stock Yards is a good option if you want restaurant quality meat and hard-to-find cuts. However, its subscription offers are inflexible and the service is fairly expensive.
Pros
✔️ Large selection of products
✔️ Sides and desserts available
✔️ Restaurant quality meat
✔️ Seafood is included
✔️ Great for gifts
Cons
❌ More expensive than store-bought meat
❌ Shipping can be expensive
❌ Subscription only includes one meat item per month
Bottom Line
Stock Yards is a premium meat delivery company that offers one-time purchases and a monthly subscription meat service. They provide restaurant-quality steaks, roasts, and more as well as sides and desserts.
However, it can be expensive, and their subscription service isn't a good fit for buying in bulk.
Regardless, Stock Yards is a great source for gifts and special occasions if you want to order meat online.
What's most important to you when choosing a meat delivery service?