Unless you are on a plant-based diet, you might be interested in meat delivery services for a number of reasons.
For example, maybe you follow the all-meat carnivore diet, need to stock your freezer by buying in bulk or want options other than the store-bought meats available at your local butcher.
Whatever your reason is for wanting to use this type of service, these companies allow you to order meat online and give you access to a greater selection of high-quality products.
Which Online Meat Delivery Is Best?
Using subscription meat services is easier than you might think and is similar to buying meal delivery kits.
Services send items with dry ice, and you can purchase anything from chicken to wagyu steak.
We tested a variety of cuts from different companies and were generally pleased with the quality of the products.
As a preview, here's a quick look at the best meat subscription boxes.
| Company | Price Per Box | Best For | Try |
| --- | --- | --- | --- |
| Good Chop | $149+ | Custom boxes | Try |
| Crowd Cow | $99+ | Variety | Try |
| ButcherBox | $137+ | Families | Try |
| Porter Road | $115+ | Pasture-raised meat | Try |
| Stock Yards | $66+/mo. | USDA Prime Steaks | Try |
| Moink | $159+ | Subscription offerings | Try |
| Snake River Farms | $104+ | Wagyu beef | Try |
These are the best meat delivery services for 2023.
1. Good Chop
Good Chop is a meat-by-mail delivery service that sells monthly boxes of Angus beef, chicken, pork, and other cuts of meat from American family farms.
Ribeye
Overview
Good Chop offers monthly shipments of a variety of types of proteins, including Angus beef, poultry, pork, and seafood.
All of their meats have no antibiotics, added hormones, or artificial ingredients.
You can choose a Medium Box (with six cuts) or a Large Box (with 12 cuts). Additionally, they offer premium cuts for an extra fee.
*Related: Are you interested in trying a meal or meat delivery service but aren't sure which is best for you? Take our free quiz to receive a customized recommendation.
Pricing
Good Chop's prices are based on the box size you select. Plus, they offer free shipping with all orders.
| Box Size | Number of Items | Price |
| --- | --- | --- |
| Medium | 6 | $149 |
| Large | 12 | $269 |
Currently, new customers can get up to $100 off of their first three boxes.
Best For
Good Chop is the best meat delivery box if you prefer American-raised meats. However, some of their cuts can be on the smaller side.
Additionally, if you want to include sustainable seafood in your diet, the service is a good choice.
Read our Good Chop review to learn more.
2. Crowd Cow
Crowd Cow is an online meat marketplace that offers a wide selection of meat without antibiotics, including Wagyu beef. It also sells meat subscription boxes.
Boneless, skinless chicken breast
Overview
Crowd Cow is an online butcher shop that allows you to place one-time or subscription orders for a variety of meats.
The service partners with trusted farms that offer all-natural, pasture-raised meat, including beef, pork, and chicken. It also sells a variety of other meats, side dishes, and desserts.
Some of the company's more unique offerings include bison, wild game, and American and Japanese Wagyu beef (known for its high-fat content and heavy marbling).
Pricing
Crowd Cow prices all of its items individually. You can make any order a subscription order.
Doing this unlocks free shipping on orders over $125 and gives you five percent off of your order total.
It also offers two curated boxes (Best of Crowd Cow and Best of Beef), which are each $150.
Currently, you can get two pounds of Wagyu ground beef free with your first order.
Best For
Crowd Cow is a great fit for people who want access to a wide variety of humanely-raised meats, including game, Wagyu beef, and duck.
Furthermore, if you have a large family, Crowd Cow is a fantastic choice. It's easy to earn free shipping, and you can customize your box.
Read our Crowd Cow review to learn more.
3. ButcherBox
ButcherBox is a meat subscription box that provides high-quality meats, including grass-fed beef, free-range chicken, heritage pork, and sustainably-sourced seafood.
Cod filet
Overview
ButcherBox is one of the best online meat delivery services. It focuses on meat quality, animal welfare, and product sourcing.
Their beef is 100 percent grass-fed, while all pork, chicken, and other land animals are pasture-raised on a natural diet. Better yet, their seafood is 100 percent wild-caught.
ButcherBox offers a variety of different meats, including ground beef, bacon, bison, and lamb.
Customers can choose between three different types of boxes in two sizes, including Classic or Big.
Here are the three types:
Custom: any cuts you choose
Curated: any type of meat, cuts chosen by ButcherBox
Basic: fully curated beef, pork, and chicken box
This variety makes ButcherBox one of the better choices on our list.
Pricing
ButcherBox always offers free shipping, and pricing is set for each box.
*Now until June 30th, Frugal Rules readers can get 2 packs of ground beef FREE in every box for a year with your new membership!
Here is how much it costs to order meat from ButcherBox.
| Box Type and Size | Price |
| --- | --- |
| Custom Classic Box | $159 |
| Custom Big Box | $288 |
| Classic Box (Mix of beef, pork, and chicken) | $137 |
| Big Box Classic Box (Mix of beef, pork, and chicken) | $253 |
Best For
ButcherBox is ideal if you want the highest-quality meat available. However, customers who want a la carte options may need to look elsewhere since they only offer subscription boxes.
None of their meat is grain-finished. It's all 100 percent grass-fed. This makes the company an excellent choice if you want healthier cuts of meat.
Read our ButcherBox review to learn more.
4. Porter Road
Porter Road is an online butcher shop that has a nose-to-tail approach. They offer farm-fresh meat from small-scale farms in addition to stocks, soup bones, charcuterie, and more.
New York strip
Overview
Porter Road began as a small local butcher shop in Tennessee, but they now operate as a nationwide online meat delivery service.
Fortunately, they still pride themselves on offering the customer service experience of a smaller shop.
They also take an eco-friendly nose-to-tail approach, utilizing many different parts of the animals they butcher.
All of their beef is dry-aged, making it extremely tender and flavorful. They even offer products like Italian sausage, chicken stock, beef stock, and jerky.
With Porter Road, you can make one-time orders or subscribe to curated boxes.
Pricing
Porter Road's subscription boxes start at $115, and shipping is free on orders over $100.
| Box Type | Price |
| --- | --- |
| Butcher's Choice Box | $165 |
| Weeknight Heroes | $120 |
| Best of Porter Road | $115 |
| Beef Box | $140 |
| Beef and Pork Basics | $120 |
Right now, new users can get ten percent off their first order.
Best For
Porter Road is a good choice if you want to purchase items like sausages, stocks, or jerky in addition to raw meats.
However, they don't currently offer custom subscription boxes.
Porter Road also partners with local family farms, making it a great choice for those who want to know where the products are coming from.
Read our Porter Road review to learn more.
5. Stock Yards
Stock Yards offers premium meats, side dishes, desserts, and meal bundles made for gift giving. It also has an optional monthly subscription service.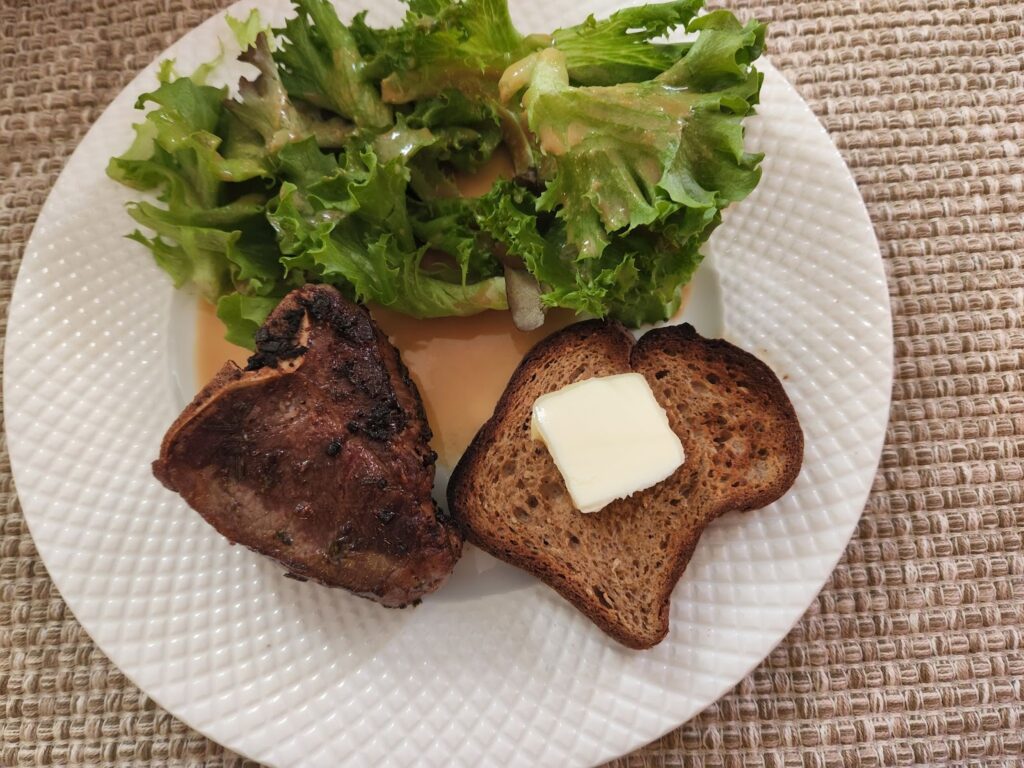 Lamb porterhouse
Overview
Stock Yards provides an easy way to order meat online for gifts and special occasions. The packaging features individually vacuum-sealed portions.
Some examples of their offerings include lamb chops, surf-and-turf, and smoked hams and turkeys. In addition to meats, they offer side dishes, appetizers, and meal bundles.
They also offer the Stock Yards Club, which is a monthly subscription program, and the Steakhouse Club, which is similar but offers only steaks.
Keep in mind that you must prepay for multiple months at a time, and the programs only offer one item per month.
Pricing
While prices vary for individual items or boxes, Stock Yards is one of the more expensive companies on our list.
Here is how much the service costs.
| Subscription Type | 3 Months | 6 Months | 12 Months |
| --- | --- | --- | --- |
| Stock Yards Club | $199.99 | $389.99 | $749.99 |
| Steakhouse Club | $349.99 | $649.99 | $1,299.99 |
Shipping is $9.99 for Club orders. However, for other orders, shipping is based on your purchase price.
For example, an order of $150 or more would pay 17 percent of the purchase price as an added shipping fee.
Best For
Stock Yards is best suited for gift-giving, meats for special occasions, and meal bundles. In addition, if you like the flexibility of purchasing add-ons, the service can be worth trying.
However, their subscription service offers only one item per month, unlike others that offer multiple items each month.
Read our Stock Yards review to learn more.
6. Moink
Moink is an online meat delivery kit offering curated boxes of responsibly raised meat from family farms.
Moink subscription box
Overview
Moink is a meat delivery service that sells high-quality meats from small farms.
Its selections include 100 percent grass-fed (never grain-finished) beef, pastured pork and chicken, and wild-caught seafood.
The service currently offers two curated subscription boxes, including Standard (containing beef, pork, and chicken) and Standard No Pork (containing only beef and chicken).
Pricing
Both Moink bundles cost $159 each, and shipping is always free.
Right now, you can get a free filet mignon with every order for one year when you create a new Moink Box subscription.
Best For
Moink is a good fit for families who are looking for a straightforward, monthly delivery box of humanely-raised meats.
However, they currently only offer two box options, which may not be a good solution for those who want more choices.
7. Snake River Farms
Snake River Farms specializes in American-grown, Japanese-style cuts of premium beef and pork. These include Wagyu beef and Kurobuta pork.
Bone-in New York Strip
Overview
Snake River Farms is a meat delivery service that offers high-quality, American-raised Wagyu beef and Kurobuta pork.
These premium meats are high in fat, making them extra tender and flavorful. However, they also command a higher price point.
This service offers one-time orders, individual items, and curated bundles. Unfortunately, it currently doesn't offer any subscription meat boxes.
Pricing
Snake River Farms prices begin at $12 for single items but can go as high as $1,800 for an American Wagyu Gold Grade 7-Bone Tomahawk Roast.
Prices for curated bundles range from $104 to $503, and shipping costs $9.99 per order.
Best For
If you're looking for American Wagyu beef or Kurobuta pork, Snake River Farms is the best option.
Keep in mind that these meats can be extremely expensive and may only be suitable for special occasions.
Bottom Line
If your household eats meat regularly, it might be worthwhile to look into a meat delivery service.
Having meat arrive at your door can make meal planning and grocery shopping much easier. Plus, it will help you stock your freezer with high-quality meat.
If you want healthy, high-quality products, meat delivery boxes can be a terrific solution.
What's your favorite route to get restaurant-quality meat for your home?
SaVanna is a registered dietitian, freelance writer, and recipe developer. She's a regular contributor for Healthline Nutrition and Greatist, and she blogs about low carb meal planning at SaVannaShoemaker.com. When she's not writing about food and nutrition, she's brainstorming ways to make meals that are inexpensive, kid friendly, tasty, and healthy.