How to Make Money Selling Furniture This Spring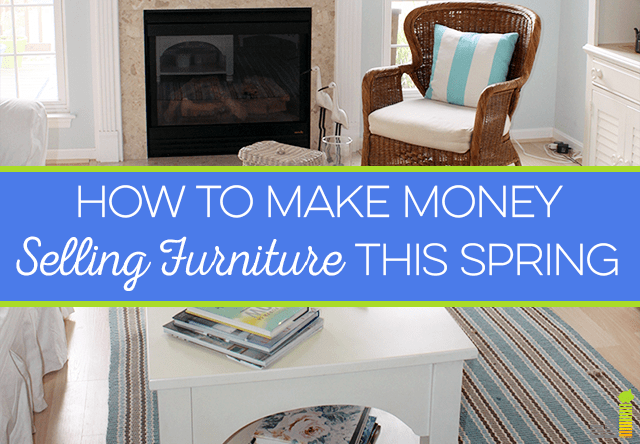 Ah, the birds are chirping, the snow is melting, and spring is in the air. And do you know what that means? It's good weather to refinish and start selling furniture, people. That's right. When it's bright and sunny outside, it's the perfect time to bust out the spray paint or the stain and start selling used furniture.
I've always loved a great spring furniture project. One of my favorites was finding two separate wrought iron patio sets on Craigslist for a total of $40. I bought happy, yellow spray paint and some cheap IKEA pillows, and once I fixed them up and enjoyed them a bit, I re-sold them on Craigslist for a $90 profit which I promptly used to pay for my groceries in cash that week. It was a powerful lesson in how easy it is to sell furniture online (it helped that I enjoyed doing the refinishing work as well).
There's really nothing quite like the excitement of seeing something on Craigslist, pouncing on it first, begging your husband to come help you haul it home, and then busting out that paint to make a great profit.
If selling furniture sounds like a side hustle you might enjoy, here are my tips.
1. when selling furniture Go for Quality
Quality is really important. You don't want to get some gross, plastic furniture hoping you can resell it and make a fortune. What you're really looking for if you want to resell a piece of furniture is solid wood pieces or just about anything that has stood the test of time. Go for quality products too.
Buying higher quality brushes, paint, and primer will make the re-finishing process enjoyable and not frustrating. Try to go to thrift stores on their sale days, look on the side of the road in trash piles, or change up something you already own. Whatever you do, don't skimp on the process.
2. Price it Right
You have to decide if you're doing this for enjoyment and to make extra money, or if selling furniture is going to be a real, viable side business for you during the warmer months. I always took my time and enjoyed the creativity of the whole process, but now that I have kids, I put a higher price on my time. So I would only sell used furniture if it was a quick project and I got the furniture for absolutely nothing.
*Related: Need to furnish your home for less? Read our guide on the best cheap furniture stores near me to score the best deals.*
When my kids are older, I might be able to enlist their help but for now, I will probably only work on smaller craft projects. When you spend a lot of time on something, the tendency is to price it high, but look on Craigslist and price compare to make sure you aren't being unreasonable.
3. Make the Ad Compelling
Craigslist, just like any other ad, needs to be compelling. Put bright, clear pictures on your listing. Describe it well. Put measurements of your furniture in the ad, and respond to questions quickly. If you really want to sell it quickly, offer to deliver it. Say you're flexible in price.
Really, the more customer service you offer, the more you will sell. People often view selling on Craigslist as a bother or something to do just once, but if you're really in it to make money, then treat the whole process like a professional and you'll get a higher price for your furniture.
Ultimately, selling furniture is a great side hustle. Not only is it fun to find diamonds in the rough, but it's enjoyable to restore them to their former beauty. You can also make great profits and if you like the process, then it doesn't feel like work at all. Now that the weather is getting better, it's time to break out the sanders and get ready for some good old fashioned hard work.
Have you ever re-finished furniture and sold it for profit? What have you sold on Craigslist in the past that has done well? What are some creative type projects you take on to make a little extra money?
The following two tabs change content below.
Catherine Alford is the go to personal finance expert for parents who want to better their finances and take on a more active financial role in their families.