"I can't start saving for retirement!" This was a common statement I heard in my stockbroker days, and one I still hear regularly today. In nearly every instance when I dug beneath the surface the answer is the same – the person believes they can't afford to start investing money for retirement.
They either see the "small" amount they have to start with, or they believe they don't have the money to spare. I get it. I used to be there myself and it is one of the worst money mistakes I ever made. I believed I couldn't afford to put money in a retirement account. I thought there was no simple way to save for retirement and allowed inaction to grip me. In reality, it was a behavioral problem and not the amount I was starting with.
The Math Behind Why You Need to Start Now
We all know we need and should be saving for retirement. It's a universally accepted fact, unless you plan to work 'til you drop. It takes one look at the math to see the need to start now rather than later.
You may have seen this statistic on the site before, but according to the Center for Retirement Research, if you wait until age 45 to start saving for retirement you will need to put away three times the amount as someone who starts at age 25.
Don't believe me? Take a look at the graph below. If I plan to retire at 62, then I must put away at least 15 percent of my earnings if I start at age 25. What if you wait until age 45? You must then put away 44 percent of your earnings.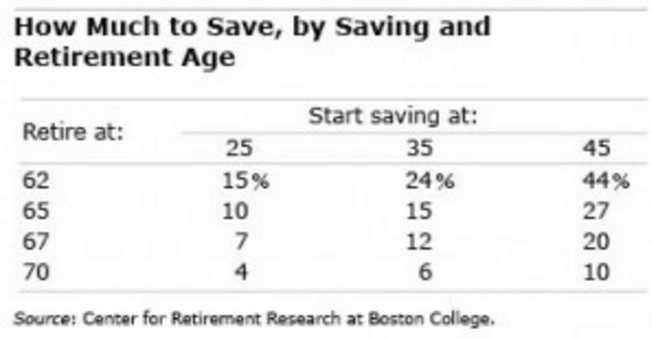 However you slice it, that's a significant chunk of your earnings. Not to mention the fact that you might not even be able to stash away such an amount at age 45 if you've not dealt with the underlying behavioral issues that kept you from saving for retirement in the first place. I know 15 percent of your income seems impossible. You see a variety of other areas your money needs to go and give up as a result.
This misses two key aspects of investing in the stock market. The first, and most important, is compound interest. You need to give your money time to grow so it can create more money.
The second is that you simply need to get started. If that 15 percent amount is overwhelming, start with what you can and build up to a "good" amount. It's far more important to start investing with little than to hold off until you have more.
That being said, don't allow what you think you don't have hold you back from saving for retirement. Saving for retirement can be simple, if you manage it wisely. Below are some ways to overcome the fallacy that you don't have money to save for retirement and simplify it altogether.
7 Simple Ways to Start Saving for Retirement
Your 401(k)
According to the Investment Company Institute, 52 million Americans have access to a 401(k) plan. If you have access to a 401(k) plan you're in luck as this is likely the best way to save for retirement. Put away at least enough to get your 401(k) match as that's free money.
Trust me, that $50 per paycheck will serve you much better in the long run instead of being spent on more stuff.
If you don't know what investments to select, or think you could do better with what you've selected, Blooom is a great resource to help better manage your 401(k) investments.
Blooom is a service that will analyze your plan to see if you're overlooking lower cost or better performing funds within the plan.
Blooom will give you a free analysis of the investments in your plan to lower fees so more of your money will work for you. Blooom does charge $10 per month, but offers a 30-day free trial to help get your 401(k) plan in shape.
An Online Brokerage Account
Not everyone has access to a 401(k) plan. In that instance, you will want to research an online broker for your retirement planning needs. There are a number of online brokers out there, such as Betterment that allow you to open a retirement account as little as you want. Open an account and put a few hundred dollars in and start investing.
Cut Out One Thing
What do you spend money on each month? I'm not even saying you have to budget, but you do need to know where your money is going. Find one thing to cut out completely for one month and see if you truly feel it.
It can be eating out. It can be going out for drinks less regularly. Whatever it is cut it out for one month. If you don't miss it that's instant money you can divert to saving for retirement.
Sell Your Stuff
How many things do you have laying around your house going unused? If you've not used something in the past year I doubt you'll miss it when it's gone. Sell your unused stuff and open a brokerage account with the proceeds.
Make Extra Money
Anyone can make extra money. Many believe they don't have the skill to earn extra money – don't give into that myth! There are many ways to bring in more money. You can pick up overtime or volunteer for new duties at your day job. You can get a part-time job.
You can start a side hustle from driving for Uber, to walking dogs in your neighborhood to cleaning houses. However you earn it, take that extra money and use it to save for retirement.
Leave Your Credit Card at Home
This is what held me back from saving for retirement. I liked to spend money I didn't have and it often was on a credit card I had no business using. Think of it this way – each time you swipe your credit card (and you don't know how you'll pay for that purchase) you hold yourself back that much more from saving for retirement.
Instead, leave the credit card at home…better yet, stay home. You'll appreciate the freedom later in life far more than that trinket – trust me.
Learn How to Cook
What does cooking have to do with saving for retirement? A lot in fact. A recent Marketwatch article reveals that 24 percent of Americans overspend on going out to eat. Worse yet, we have $520 of food waste each year per person. Teach yourself how to cook and you'll be amazed at how much money you can save. Take those savings and invest it for retirement.
Our Behavior is the Issue
The above list barely scratches the surface. There are many ways to save for retirement, but you won't find them if your behavior doesn't change. That's the underlying issue in nearly every instance.
When you change that behavior you'll be amazed at the opportunities to start saving for retirement. I know it likely means less new stuff. But, last I checked, more stuff will do little to provide financial security.
Why else do you think people think they can't save for retirement? What's one thing that held you back from starting to invest for retirement? When did you first start saving for the future?