I recently left my former employer (more on that later) and one of the first calls I made after making the decision was finding out what I needed to do in order to rollover my old 401(k). I wanted to make sure that I had control over my retirement money and my 401(k) makes up a substantial portion of that. Unfortunately, I am in the minority when it comes to rolling over my old 401(k).
Statistics show, as of 2010, that 15 million Americans have left behind an old 401(k) with former employers. I've spoken with enough people over the years to know that most are confused by what to do with their old 401(k) and are surprised to learn that it's not that difficult to perform a 401k rollover.
A 401(k) Rollover Can Be an Easy Process
The most common thing I've seen with individuals who have left behind an old 401(k) is that they don't know what to do. They think they might be taxed, or that a ton of paperwork is required, or that it simply can't be done. Generally, none of those beliefs are true. As long as the old 401(k) is going to the 401(k) at your new employer, or into a Rollover IRA, then it's generally tax-free.
In terms of paperwork, usually a form or two is all that's required. After you fill out the paperwork, then your work is usually done and the rest of the legwork will take place between your old employer and the final destination of the funds. Another thing to keep in mind is that many 401k plans will require you to move the funds if they're under $5,000 in value.
Don't Give Up Control of Your 401(k)
Each 401(k) is different, but in general most plans will switch the investments you can be in once you leave the plan. This resulting change can further limit your choices, which gives you as the investor lack of control over that money.
Why would I want to leave my money somewhere that won't allow me to invest it as I see fit, or severely limit what I can invest in? When you look at the possibilities of what you can do elsewhere it does not add up to leave your old 401(k) with a former employer.
Go on Take the Money and Run
For those who like Classic Rock, like I do, you'll recognize this line from the popular Steve Miller Band song. This is how we should view our old 401(k). I like to think of it as I did not want to be with my former employer any longer, so why should my money be there?
The money is yours and you should take control over how it's invested. As a frugal person, I want to have say over where my money is and how it's being used.
A 401(k) Rollover Can Save You Money and Give You More Choices
Like mentioned previously, many plans will change your investment options once you leave the plan. Often those can be mutual funds than can have high fees. By rolling over your old 401(k) into a self-directed IRA, you can significantly lower your investment costs by investing in index funds or solid, dividend-paying stocks.
Another nice benefit of rolling over that old 401(k) is that many brokerages offer a cash incentive based off of the dollar amount you bring over. You also get to benefit from having a broadened selection by which to invest your money, which can also help you further diversify your retirement investing.
If putting it in into a self-directed IRA is not an option for you, then look to roll the 401(k) into your current 401(k) plan so you can keep the plans together.
If You Can Help it, Don't Cash Out of Your 401(k)
Too many times I see people simply cash out their 401(k) plan. Of course, if you're in dire need of money you may have no other choice. But, if at all possible, you should try to avoid cashing out of the plan. When you cash out of a 401(k), you're usually going to run into at least a 10-20% (especially if you're younger than 59 ½) tax hit that will be owed to Uncle Sam.
As a frugal person, I hate giving up my money to the government, especially money that I've worked hard to save. If retirement is a goal of yours, then it starts by not cashing out of a 401(k) when you leave a job.
Do you have an old 401(k) out there? If so, how many? I've spoken to some who have two or three old 401k's they have not moved.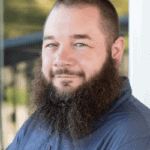 I'm John Schmoll, a former stockbroker, MBA-grad, published finance writer, and founder of Frugal Rules.
As a veteran of the financial services industry, I've worked as a mutual fund administrator, banker, and stockbroker and was Series 7 and 63-licensed, but I left all that behind in 2012 to help people learn how to manage their money.
My goal is to help you gain the knowledge you need to become financially independent with personally-tested financial tools and money-saving solutions.