Here's a newsflash for men out there looking for Valentine gift ideas for your wife or girlfriend…they day is not that far away. In fact, it's in a few short weeks and let's face it, it's a holiday for the ladies.
The first few years Mrs. Frugal Rules and I were married I was always looking for last minute Valentine gift ideas leading up to the day and have learned my lesson over the years that the amount of money spent doesn't always equal a better gift.
What this wisdom has taught me is that you don't really need to go all out and buy some lavish Valentine's Day gift.
Great Valentine Gifts For Your Wife
My wife and I haven't exchanged gifts for years. However, I realize that not everyone feels that way and like to exchange gifts for Valentine's Day.
With that in mind here are some of the best Valentine gift ideas I've used over the years. They're both practical and relatively frugal.
1. Bamboo Bath Caddy
If your wife enjoys a hot bath at the end of a long day, and most do, the Bamboo Bath Caddy is one of the best valentine gifts for her to buy.
I didn't give this to my wife as a gift for Valentine's Day as I got it for another holiday, but she loves using it.
How the Caddy works is that it spans across your tub to act as a table or tray to put a variety of things on. It can be used to place things like a book, TV remote or drink on it without fear of dropping it in the tub.
*Related: If you're looking for jewelry at a great price, check out some of the deals on jewelry at Amazon!*
The construction is sturdy and lasted her a number of years so we've definitely got value out of it.
2. Coffee
You might think coffee does not belong on a list of Valentine's Day gift ideas, but this can be a great gift for a coffee lover. I've done this for Mrs. Frugal Rules in the past and she loves it.
She isn't really a huge fan of Starbucks, so I go with some of the smaller local chains and purchase her a handful of different coffees she hasn't tried before as she loves trying new to her brews.
One of the best Valentine gift ideas I've given though was making my own coffee basket. I gave one to my wife a few years ago and she loved it.
I started with a KitchenAid coffee grinder and included a coffee mug as well.
If you're looking for coffee options, you can always go with a pound of Starbucks Pike Place Roast as that is one of their more popular offerings.
If your wife prefers tea to coffee you can do a similar basket that includes a Stainless Mesh Tea Ball, a Stovetop Whistling Kettle and a tea sampler to start her out.
3. Gift Cards
Gift cards don't scream romance or at the top of your Valentine gift ideas. However, if you do it right then it can be a hit with the recipient.
I've found that Amazon is an excellent choice for gift cards.
You can always go the standby route of buying an Amazon gift card. What I've preferred to do in the past though is buy gift cards to different retailers on Amazon.
Amazon has a wide variety of retailer gift cards available you can select from depending on what your wife enjoys.
If you want to save even more money, buying a discounted gift card through Gift Card Outlets is a good option.
4. Give Her the Day Off
One of the best Valentine gift ideas I've used in the past, and use throughout the year, is giving my wife the gift of time.
She gets to take the day off and go do whatever she wants to do and I stay home with the kids so she can enjoy that time to herself.
When I give time as a gift to my wife she uses it for a number of things like going out to do a little shopping for herself, having lunch with a friend or just going out for coffee on her own.
This allows her time to herself to do something she enjoys and have time to recharge. The best thing is that it costs very little, but more importantly she feels appreciated.
5. Candelabra Wine Bottle Topper
If you're looking for Valentine gift ideas that both of you can enjoy, the Candelabra Wine Bottle Topper is a great way to do that.
We prefer to stay in for Valentine's as we'd rather not pay the increased prices for the evening as well as not having to fight the crowds.
If that describes you and your partner the wine bottle topper is a great way to make your meal at home a little more romantic.
That's also not to mention you can reuse it as much as you like. All you need is a few tea light candles and you're good to go.
If you throw in a favorite bottle of wine then it makes the gift that much better.
Bottom Line
It's easy to give into the idea that you need to spend a lot on gifts for Valentine's Day. That's not the case.
Pay attention to what she likes, and you'll likely find something you can buy her that won't break the bank.
Additional resource: Want to buy flowers for your wife, but don't know where to look? You can still get flowers for the holiday and avoid paying extra for rush charges through ProFlowers. I use ProFlowers when I want to get flowers for my wife as they always send beautiful flowers at a good price.
Check out the Valentine's Day specials at ProFlowers today!
Do you set a budget for how much you spend on a Valentine's Day present?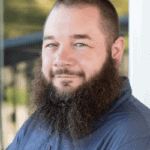 I'm John Schmoll, a former stockbroker, MBA-grad, published finance writer, and founder of Frugal Rules.
As a veteran of the financial services industry, I've worked as a mutual fund administrator, banker, and stockbroker and was Series 7 and 63-licensed, but I left all that behind in 2012 to help people learn how to manage their money.
My goal is to help you gain the knowledge you need to become financially independent with personally-tested financial tools and money-saving solutions.