TradeStation Review: Trade Free For 90 Days!
TradeStation is a online broker to consider if you're an extremely active trader. While I am not an active trader, this TradeStation review is for those who need a platform to manage their trading needs.
Before I start with the review, I want to provide a bit of a background on TradeStation. TradeStation began in 1982 and focuses solely on investors who actively trade stocks, options or futures/forex. They are also well-known for their EasyLanguage program which allows users to create a unique trading environment that allows them to enhance how they invest – based on their personal preferences.
TradeStation is not your average online brokerage but is geared towards a highly specific investing persona.
I dealt with TradeStation's customer service area extensively in my previous life as a stock broker as well as seeing their platform in action. They were always very professional, knowledgeable and willing to go the extra mile to serve the customer. With that said, let's get on with the TradeStation review.
TradeStation Features
Active Community: One of my favorite TradeStation features is their active community. I'm not talking the social media aspect like Betterment or Motif Investing offers, but a fully functioning forum community. This allows investors to discuss trading strategies, methods and news in real-time. This sets TradeStation apart from other brokers as it allows traders to get real-time guidance and insight – which is invaluable given the active trader niche they serve.
Extensive Education Offerings: Most online brokerages offer some sort of educational offerings and TradeStation is no different. They offer the requisite free classes, live webinars and pretty much anything else in between. They also offer an academic program that is somewhat unique to what other brokerages offer. At a high level, the academic program allows universities access to trade in a real-time simulated environment. Anything that provides college students an opportunity to learn how invest is a winner in my book.
Forex and Futures: Like Etrade, TradeStation offers Futures and Forex trading. While I don't invest in Futures or Forex, this a great way to add more complex diversification – if you know what you're doing and want to take on the risk. TradeStation offers very competitive pricing, as low as $.25 per trade.
Stellar Platform: Many of TradeStation's clients are professional traders which means they need to offer a solid platform to keep their clients happy. TradeStation has been awarded by Barron's, among others, as having the best platform for active traders and platform technology.
Advantages of TradeStation
Good Commission: If you know any active traders, they'll tell you that a low commission price is essential and TradeStation does not disappoint. They have one of two commission options, in terms of stock trading.
You can go with a flat commission structure that gets you as low as $4.99 per stock trade, or the variable route which is $.01 per share, up to 500 shares, and $.006 thereafter.
The same goes with option trading as you can get as low as $4.99 + $.20 per contract or $1 per contract. Both of these are extremely competitive within the brokerage industry. You can see a diagram of their basic pricing structure below:
High Powered Platform: This is essential for TradeStation to offer with their niche. With the EasyLanguage program specifically, TradeStation has a stellar platform that should take care of most investing needs.
Strong Community: The aforementioned investing community that TradeStation offers is a huge benefit they can offer clients. As it's forum style, you can get real-time ideas and suggestions to manage your investing needs.
Direct Routing: Not all brokerages offer direct routing, and those that do don't advertise the feature. That is not the case with TradeStation as they actively promote and encourage you to use that feature. Direct routing allows you to bypass the broker and deal specifically with a market maker of your choice. This can be incredibly risky, to say the least, so make sure you know what you're doing prior to jumping in to direct routing.
Disadvantages of TradeStation
Monthly Fees: The one drawback I see with TradeStation is they charge a $99 monthly maintenance fee. Yeah, that is just a bit much. However, if you're their target client this will never be a worry for you as they waive it for those who trade over 5,000 shares, or 50 option contracts in one month.
While I don't really like it, if you're not their target market then you should be looking elsewhere to invest. Beyond that, they do have a $35 annual IRA fee, but you likely would not be actively trading this much in most IRAs anyway – which makes it a moot issue for most.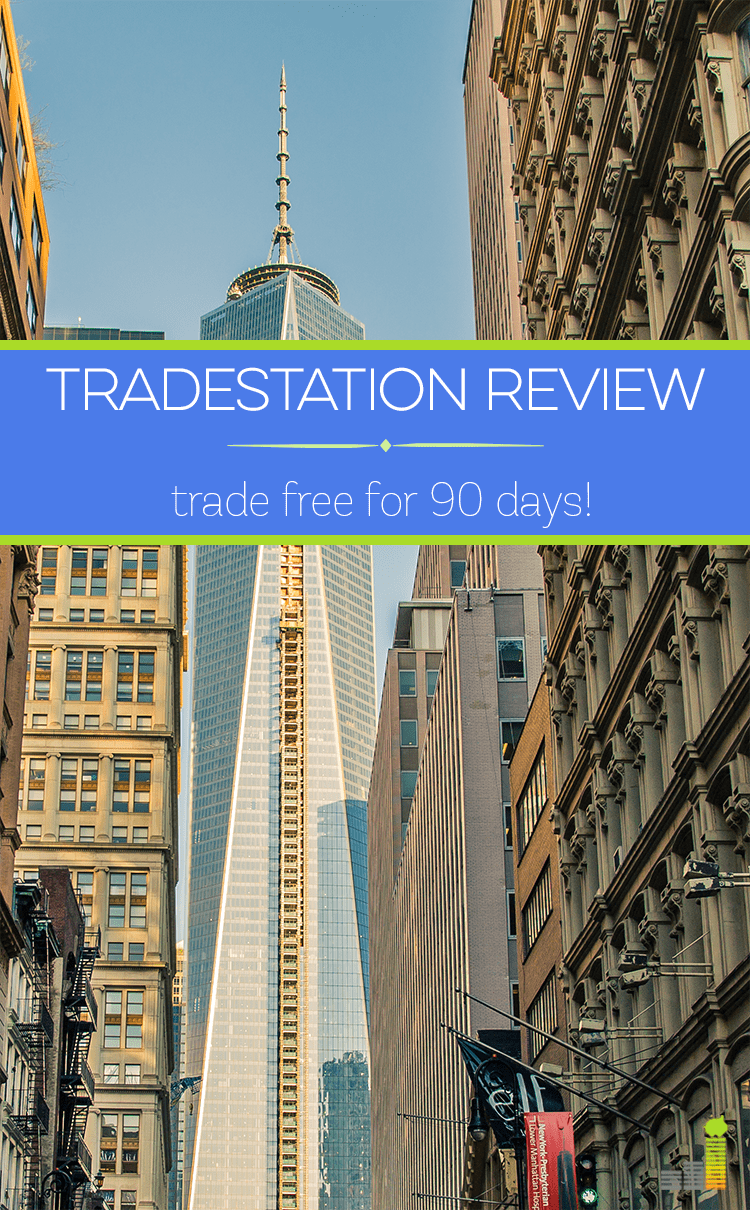 TradeStation review – my take
I think for the right investor, TradeStation is a great option to look at for your investing needs. If you're a buy and hold investor, you will be better served by looking elsewhere for your investment needs. I don't like the fees, as who really likes paying fees, but the major one will not be charged if you trade at a certain level.
There is also the point to consider that the platform does have a steeper than usual learning curve, going back to the customization behind it. However, most active traders you speak with will be used to this and again won't be an issue if you're in their target market.
As with most other brokerages, TradeStation does offer promotions occasionally in order to earn your business – with the current one being free trading for 90 days after account opening.
Just remember, as with any investing, make sure you know what you're getting yourself into before making decisions about how to invest your money and who to invest it with. If you're an active trader and considering a new brokerage you should take a look at TradeStation to see what they have to offer for your investing needs.
Are you an active trader? How much are you paying for your stock trades?
The following two tabs change content below.
John is the founder of Frugal Rules, a dad, husband and veteran of the financial services industry whose writing has been featured in Forbes, CNBC, Yahoo Finance and more.
Passionate about helping people learn from his mistakes, John shares financial tools and tips to help you enjoy the freedom that comes from living frugally. One of his favorite tools is Personal Capital , which he used to plan for retirement and keep track of his finances in less than 15 minutes each month.
Another one of John's passions is helping people save $80 per month by axing their expensive cable subscriptions and replacing them with more affordable ones, like Hulu with Live TV.
Latest posts by John Schmoll (see all)
Summary
Reviewer
John Schmoll
Review Date
Reviewed Item
TradeStation
Author Rating