Personal Capital Review: Manage Your Finances For Free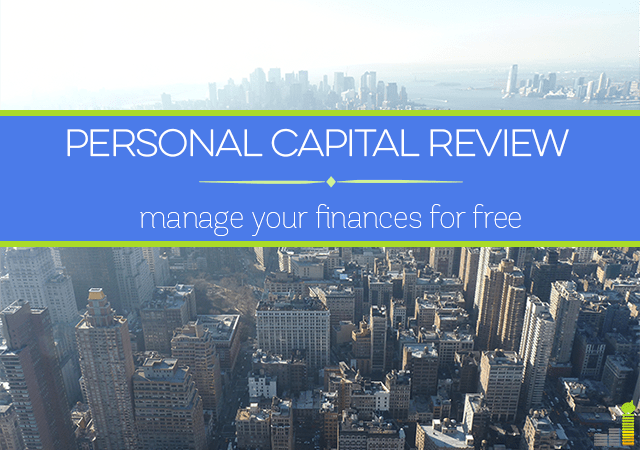 This Personal Capital review is a 2018 update as we've been using the platform for over three years. As my wife and I are busy managing our business I want a way to streamline management of our finances and Personal Capital provides a great way to do exactly that. If you've not heard of Personal Capital before think of them as Mint with a big investing component thrown into it.
While I've been fine managing our various investment and financial accounts, I like to find ways to simplify my life and this was an easy first choice to try and accomplish that. This Personal Capital review will help you determine if they're a justifiable option to simplify your life and stay on top of your finances.
Before I get into the review of Personal Capital, I'll give a brief background on the company. Personal Capital is run by former PayPal and Intuit CEO Bill Harris. He was key in raising $28 million to start the company and most of the higher ups within the organization have obtained the Certified Financial Planner (CFP) designation.
The Personal Capital site and app allows you to co-mingle all your financial accounts – from bank accounts, to online brokerage accounts, loans, mortgages, credit cards and more. This is all done as a way to help you have one location to go to that not only tracks all of your finances, but also analyzes your investments to make sure you're on track to reach your goals.
The beauty of Personal Capital is you can set it up to manage as much or as little of your finances as you want. You can use it to simply track all of your spending and expenses, or you can use it to view all of your investments in one place – or you can do both of course.
Who Can Use Personal Capital?
The beauty is anyone can use Personal Capital. Anyone can open an account with Personal Capital and use its platform as it's free!
You may wonder how they make money and that is a valid question.
How Personal Capital makes money is by offering full financial advisory services to those with at least $25,000 in investable assets. Those clients have the option of being paired with a financial planner who will go over their investment needs, though that's not required by any means.
This is where their income comes into play as Personal Capital earns a certain percentage of income, based on the assets they manage for you. The cost of that is as follows:
$1,000,000 or less is .89%
$1,000,0001 – $3,000,000 is .79%
$3,000,001 – $5,000,000 is .69%
$5,000,001 – $10,000,000 is .59%
$10,000,001+ is .49%
The key to remember is that these fees are on top to the fees you'd experience through being put into one of the investment funds, generally an ETF, so in some cases you might be looking in the neighborhood of 1%, or so, in expenses which is definitely in the competitive range of investment management fees. That being said, you can most definitely use the Personal Capital platform and not pay a dime to do so.
Features of Personal Capital
The Platform is free: Who doesn't like free? I've used Personal Capital for three years now and has cost me nothing. You can't argue with free.
Fee analyzer: I love this feature of Personal Capital! What this feature does is analyze the fees you're paying in things like your 401(k) or mutual funds to help you see where exactly your money is going. As an aside, knowing how much your investments cost you is an incredibly important thing to know as it can be a significant drag on your overall portfolio.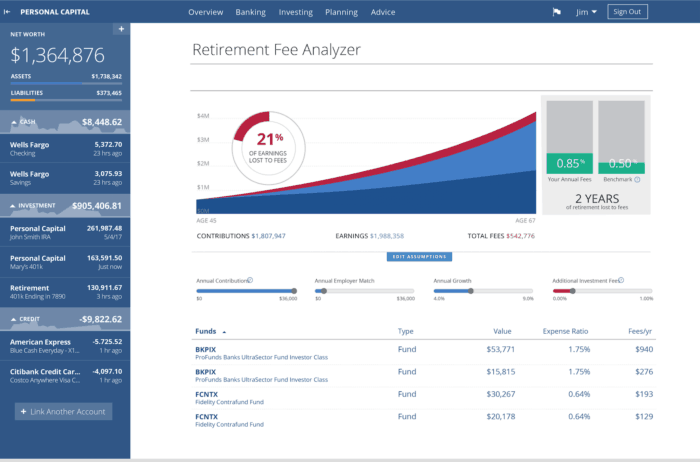 Easy to use App: I know this should be a given but not every app delivers on that. The Personal Capital app is different. It's intuitive and easy to use on a variety of devices. I've used it both on an iPad as well as my Android based phone and it has done great on both.
If security is a concern, Personal Capital requires a four digit code to be sent to you via either text or call to authorize the device. They also have an Apple Watch App, if that's something you want.
Investment checker: Do you know how your investment choices are comparing to their benchmarks? If you don't, this is a great feature Personal Capital offers and is free to use. After connecting your investment accounts with Personal Capital they tell you how your investments are allocated and how they're performing against their benchmarks.
The process of connecting your brokerage accounts took me less than ten minutes and was very simple and straightforward to follow. What this essentially breaks down to is an on-going free portfolio review. Additionally, Personal Capital doesn't manage 401(k) or 529 Plans, but they can be included in this portfolio review.
Personal Capital, manages over $6.5 billion in client assets and recently added the ability to invest in Socially Responsible Investing (SRI) funds. SRI is in more demand by investors, so it's great to see this offered by advisors from Personal Capital.
Asset allocation Target: Along the same lines as the fee planner and investment checker, Personal Capital analyzes your portfolio to make sure you're not over or under invested in a particular sector.
Free to send money: Through the Universal Checkbook feature Personal Capital allows you to send funds to anyone you wish or deposit funds directly into your personal banking account. I've not used the feature myself, yet, but they have easy to follow instructions to get it set up.
Reminders: I don't know about you, but life is hectic. It's easy to forget things. Personal Capital allows you to set reminders so you're notified when bills are due or sent and even updates to your net worth.
Net Worth tracker: As Personal Capital allows you to connect assets as well as loans, mortgages and credit cards, you can monitor your net worth. Not only this, but it also tracks your net worth and you can get reminders of when it's updated. I didn't connect everything, but did connect our bank accounts and mortgage which, like the investment checker was simple to follow.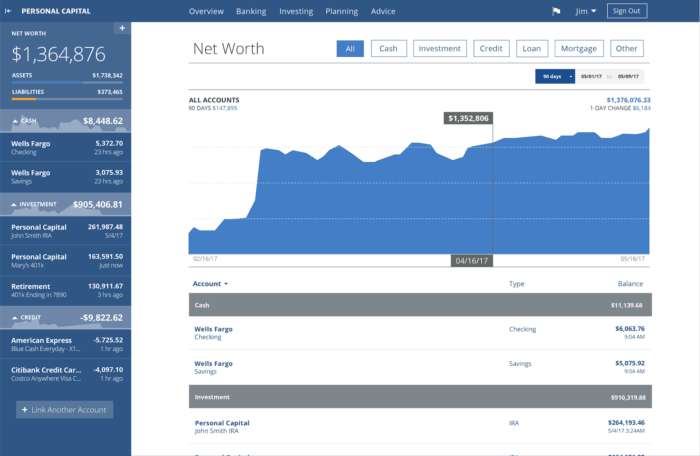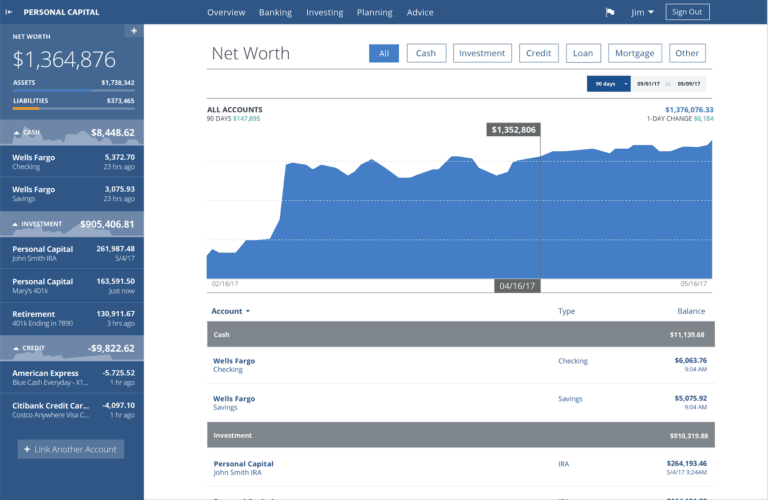 Investment education: As I've stated in many of my online brokerage reviews, education is key and Personal Capital doesn't fall short here. They offer numerous free investment courses on their site to help get you started investing in the stock market. I haven't used the education myself, but they stand up against what you'd find at any online brokerage.
Tax Analyzer: Personal Capital will not help you with your taxes but they will help you analyze ways to lower your overall taxable liability through tools like tax loss harvesting. This is an incredibly helpful tool to have if you're in a need to reduce your tax responsibility.
Retirement Planner: This is a newer tool added by Personal Capital. They look at your retirement assets to tell you if you're on track to meet your retirement goals.
Incredibly easy to use: Ok, this is not really a feature, per se, but I want to point it out. Having used the Personal Capital site over the past three years, I have found that it's incredibly easy to use. Their graphs and charts are simple to understand as are most of the features on the site.
Should You Be Concerned About Security With Personal Capital?
At first thought, I was a bit unsure of handing Personal Capital all of the login information to our bank and brokerage accounts. After doing a good bit of research on their practice, those fears went away.
Once I was fine handing over that information, the rest was a breeze. You can link any financially related accounts with as little as three clicks and from there they require you to be able to login to each account you're linking as well as requiring login upon each visit to your Personal Capital account.
What does this mean for you? It means you can link bank accounts. You can link credit card accounts. You can link brokerage accounts. You can even link your mortgage if you like.
Personal Capital uses a two-factor authentication system when you first sign up to use one of their free accounts. They first make you verify your password and identify the computer you're using. If you try logging in from another computer, they send a notification to your email or phone to make sure it really is you.
In addition to that they can send you daily recaps of account activity in all of your accounts so you can stay on top of everything that is going on. Personal Capital encrypts all of your account information just like any other site with integrity would as well as having photo and password protection required.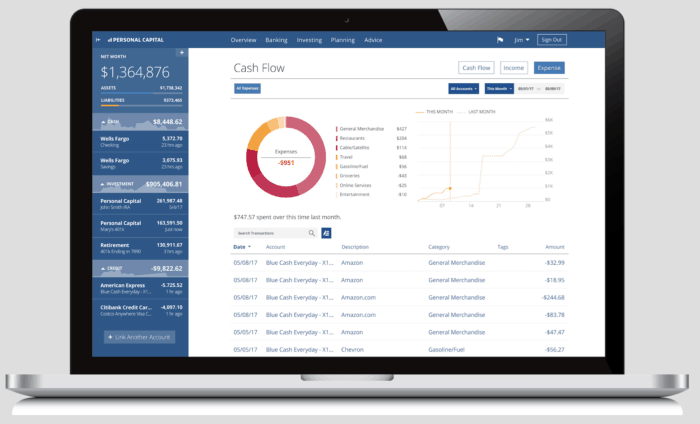 Personal Capital review – my take
If you want a completely free tool to use to manage your overall finances Personal Capital is a great option to try out. In fact, it's one of my favorite financial resources I use to manage our money. The platform allows you to co-mingle many of your financial accounts which enable you to have a snapshot view of how you're doing financially.
If you like to keep track of net worth or save time by getting a quick run down of where you stand then Personal Capital is a worthy consideration – especially considering that it's free.
The one knock against Personal Capital is the platform does not offer any budgeting help. In my opinion that doesn't knock Personal Capital out of consideration as there are so many budgeting tools out there, like Mint, You Need A Budget, etc., and many of them are free.
If you're looking for a budgeting platform there is no reason you couldn't use that in conjunction with Personal Capital. (6/30/15 Update – Personal Capital now has an expense tracking/budget feature to the site allowing them to offer the same budgeting pieces Mint does. This helps tip the Personal Capital vs. Mint scale towards Personal Capital, in my opinion.) 
I will also add that I'd like to see them offer wealth management services to those with under $25,000 in assets. Many other robo-advisor firms offer that with much lower minimum balance requirements. That being said, I imagine you'd lose the free aspect so there has to be a balance.
I think for the right person, using Personal Capital is a great option. At the very least, they offer a free service that allows you to keep track of your investments and see what changes might be beneficial to you. Beyond that, Personal Capital provides a great way to manage your finances holistically in order to help increase your net worth.
If you want or need a financial advisor, they do have trained advisers who are assigned to your account and they make it easy for you to sign up for a call or instant chat with an adviser from the site. When I signed up for my account, one reached out to me but it was not a service I took advantage of as I knew I'd not be paying for professional advice.
Managing your finances is important, to say the least. There are many tools you can use to do that and you need to find the one that fits you and your needs most. With that being said, I've had a great experience using Personal Capital – even more so because it's completely free to use!
Sign up for your free Personal Capital account today!
Do you use a service like this or Mint to help you co-mingle all of your financial data? If not, why not and if so what benefits do you get out of it?
The following two tabs change content below.
John is the founder of Frugal Rules, a dad, husband and veteran of the financial services industry whose writing has been featured in Forbes, CNBC, Yahoo Finance and more.
Passionate about helping people learn from his mistakes, John shares financial tools and tips to help you enjoy the freedom that comes from living frugally. One of his favorite tools is Personal Capital , which he used to plan for retirement and keep track of his finances in less than 15 minutes each month.
Another one of John's passions is helping people save $80 per month by axing their expensive cable subscriptions and replacing them with more affordable ones, like Hulu with Live TV.
Latest posts by John Schmoll (see all)
Summary
Reviewer
John Schmoll
Review Date
Reviewed Item
Personal Capital
Author Rating