The first time we logged onto our online mortgage account after we paid off the balance, it was great to see those three little words: PAID IN FULL. It was even in all caps, which seemed to make it that much sweeter. If you have been able to pay off your mortgage, you know the feeling.
It's gratifying, liberating and so many different things all rolled into one. It's ironic, but after working so many years in the banking industry helping people qualify for mortgages, I really had no idea what happens after you pay off your mortgage until I paid off my own.
However, it was something I was more than happy to learn through personal experience. Here's what happens after you pay off your house.
You Receive Some Documents
When you got your original mortgage, you had to sign a mortgage note and deed of trust, which stated the loan terms and allowed the lender to place a lien against your house. After you pay off your house, the lender may send that original note and deed back to you, although some don't.
If you don't receive yours back, at the very least your lender should send you a payoff notice to show you now have a zero balance on your home and a notice of your lien being released.
If you're worried about it, after a couple of months, you can check with a title company to ensure that their lien has been removed from county records or pull your credit report to make sure your mortgage account shows a zero balance.
You Update Your Taxes and Insurance
Because most people escrow the taxes and homeowner's insurance associated with their property, it's important to update your mortgagee after you pay off your mortgage. There should be no mortgagee associated with either entity once you own your house free and clear, and all it takes is a simple phone call to your insurance agent.
If your house burned down and your lender was still the mortgagee listed on your homeowner's policy, you'd have to deal with them before you could even get your insurance check, and that would certainly delay the process.
For tax purposes, since you are now responsible for paying your annual property tax bill, you want to make sure you receive the invoice instead of your old lender. If you forget and miss the invoice, you will face a pretty hefty late penalty.
You Gain a Sense of Freedom After Paying it Off
Although I'm not exactly primed for retirement just yet, I do feel a sense of freedom now that I don't owe anyone any money. For instance, I quit my banking job a year and a half ago because I didn't like working at a job that felt monotonous, and now I feel like I can do whatever it is I want to do, like freelance writing.
I make less money at freelancing than I did with my day job, but because I no longer have debt, that's okay. I'm not chasing that dollar anymore. Instead, I'm doing something that I enjoy while making money at it, and I couldn't be happier.
Allocate Your Mortgage Payment Elsewhere
Typically, a mortgage is the last debt that you pay off, due in part to the fact that it's probably your largest debt. Making that last debt payment is a surefire way to commit yourself to staying debt free for the rest of your life. After that last payment is made, you can kiss debt goodbye for good (or kick it out the door if you prefer.)
When you pay off your mortgage, you can put that money that you were using to pay it down each month toward other things. While you could just spend the money, a much wiser move would be to allocate it toward other financial goals.
For example, you could put half of it toward college saving for a child and half in a brokerage account – here's a list of the top online brokerages in the space to invest. Or, you could put it toward any other number of concrete goals you are working toward (saving for a car or other purchase, for example.)
It can be difficult to know how to allocate those extra funds and manage all your financial accounts. It's easy to let something go unnoticed or simply not recognize money making opportunities.
Once you pay off your mortgage you have even more money you can put to work for you so it's important not to miss those opportunities. One good way to manage the extra cash flow is to put the funds in a high yield savings account until you decide what to do.
Banks like CIT Bank pay 1.55 percent in their money market with a minimum $100 balance, let you stay liquid for the time being and earn something on the cash until you decide what to do.
Betterment is an excellent option if you want to invest your additional funds. The robo-advisor has no minimum balance requirement and manages your investments for you.
Investing in the stock market isn't the only investment option out there. You can invest in commercial real estate through Fundrise with as little as $10.
RealtyMogul is another good option to invest in real estate. You need to have $1,000 to start, but has lower fees than Fundrise.
If you currently have credit card debt, you can transfer to 0% APR credit cards to avoid paying interest. This also works if you have home updates you'd like to make and want to take advantage of no-interest options.
You can also take advantage of travel options with travel rewards credit cards if you've spent most of your disposable income the past few years to pay off your mortgage. Using travel rewards cards is a great way to help reduce the overall cost of travel and something we take advantage of on a regular basis.
All that being said, the best way I've found to find opportunities and manage our finances holistically is Personal Capital. Personal Capital is a free to use platform that connects all your financial accounts in one place.
You can combine banking accounts, brokerage accounts, credit cards, mortgages but, that's paid off, monthly bills and more. Our personal favorite is to start investing those funds.
As you can see in the screenshots below, Personal Capital allows you to track your spending, analyze investments against their benchmarks, provide a tax analyzer, monitor your net worth and much more.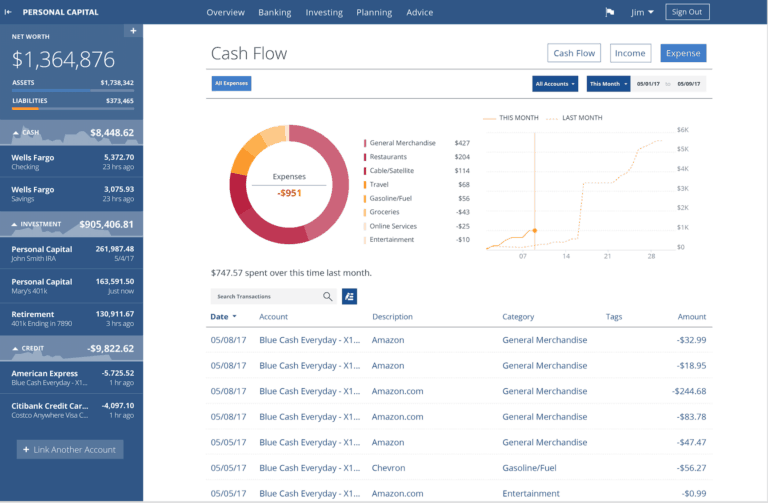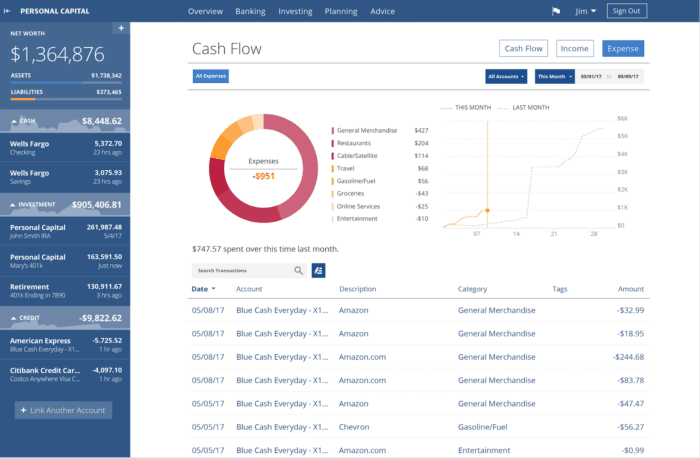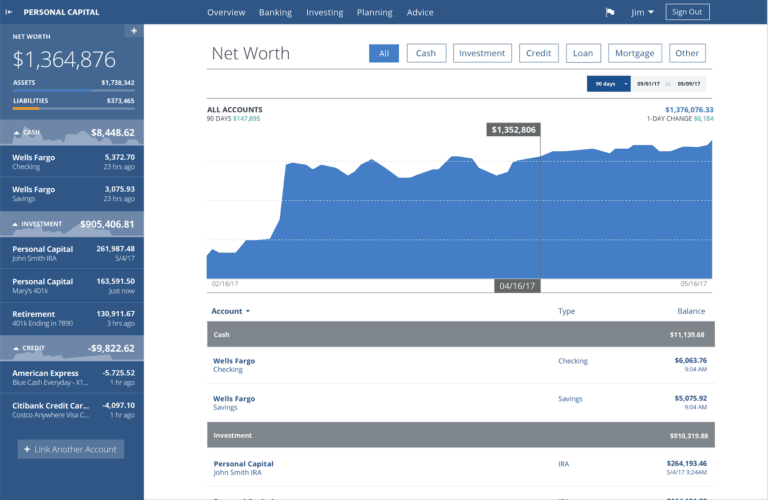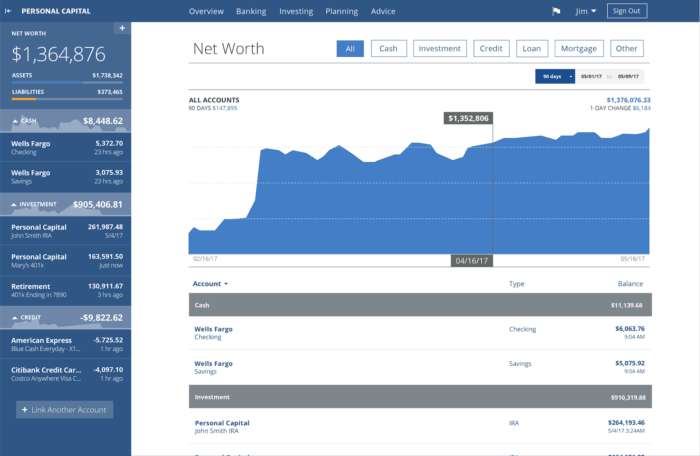 Obviously, after you pay off your mortgage you will have quite a bit in excess funds to use for other long-term goals. By using a free tool like Personal Capital you can stay on top of your entire financial picture, directing it on the course you choose.
Bottom Line
Once you do finally make that final payment, I think it's entirely appropriate to treat yourself to something nice to celebrate. I don't normally like to say, "You deserve it," but if you've officially reached debt free status then I do think you deserve to take a break and enjoy something you had to do without while paying off your debt.
Enjoy a fancy dinner out with your significant other and drink too much wine. Take a day or two off work and travel to a bed and breakfast for a long weekend. Go to an expensive amusement park if that's what floats your boat. You've reached the end of your goal, so now it's time to breathe a sigh of relief and celebrate a little.
Additional resource: If you're in a similar situation and want to invest some of your excess funds but don't know where to look, check out one of my favorite brokerages – Betterment. Betterment is the top robo-advisor in the space. They manage your investments for you in low-cost index funds and have proprietary tools that help you maximize your specific tax situation and longer-term retirement goals. The best part – they offer this at a fraction of the cost you'd pay a traditional financial advisor!
Open your Betterment account today!
Have you paid off any huge debt recently? How did you celebrate? Have you paid off your mortgage? If you still have debt, are you planning on doing something special once you're debt free?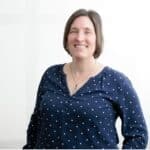 I'm Nicole Schmoll – a master's-educated professional writer, mompreneur, and co-founder of Frugal Rules.
As a freelance copywriter in Omaha, I still believe that writing is an artistic expression. Every time I strike the keys, I intend to evoke a response from my listeners. I left my full-time career as a senior copywriter for an insurance agency to start my own freelance writing business.
I love watching and writing about TV (and how to stream it!)