Some of you will remember me sharing about the loss of our dear son Isaac four years ago in 4 Minutes That Changed My Life Forever.That post was from my perspective and have been asked over the last few months, by numerous readers, to have my wife share her side of the story. Make sure you have a Kleenex handy.
I still remember the day I learned my son would die like it was yesterday. It was an unusually cold and rainy day in late August. After ten years of life in the Midwest, I should have known that you never know what to expect with the weather here. Mr. Frugal Rules and I had just said goodbye to the sitter who was staying at home with our nearly one-year old daughter while we were going to find out the gender of our second baby at my 20-week ultrasound.
My first pregnancy had been a breeze with no complications so we had no reason to expect that my second pregnancy would be any different.
An Unexpected Appointment
The timing of the pregnancy was unexpected. Suffice it to say that we learned the hard way that nursing doesn't always prevent you from becoming pregnant. We were both a little shocked to be pregnant again so quickly. After the initial disbelief, we were both excited to be parents again and were eagerly anticipating our newest little one's arrival.
We were already jockeying back and forth with our favorite boy and girl names. While I knew in the back of my mind that anything could happen, the only thing I was expecting to discover at this ultrasound was the gender of the my baby and whether or not the early January due date was correct. I have never been so wrong in my life.
Unwelcome News
When we got to the clinic for my appointment, we were ushered into ultrasound room #2 where the tech took an unusually long time looking at our baby. When she suddenly rose and left the room without a word, we began to get a sick feeling in our guts that something unexpected was about to happen.
Minutes later an older doctor with a kind face and beleaguered smile entered the room and took the ultrasound wand in his hand. After exchanging pleasantries, he turned the lights on and delivered the news – our baby appeared to have severe genetic abnormalities. He saw numerous disfigurements and was recommending an amniocentesis.
I'm not a public crier. I often do whatever I can to avoid crying in front of others. On that day, I felt my body begin to shake uncontrollably. The tears just began to flow. We scheduled the amnio for the next day and drove home in silence.
Stunned, we didn't know what to say. Even as we waited for the amniocentesis to tell us exactly what was wrong with our baby, we were struggling to process the information we'd already received. The thought of finding out more was both comforting and foreboding. A few days later, the results of the test returned. Our worst fears had been confirmed.
Our baby, a little boy, had an extremely rare genetic disorder called Trisomy 18. If you follow politics, you may recognize it as the disease that Senator and Presidential candidate Rick Santorum's daughter Bella has. She is one of the truly rare few who are able to live a few moments past birth with the disease.
We met with a kind genetic specialist who explained that the disease has nothing to do with our genetics and is likely not repeatable but had resulted in our son having an extra copy of the 18th chromosome in every cell of his body. With all that extra genetic information floating around, abnormalities were developing.
Some of those included a cleft palate, his stomach developing outside of his skin, club feet, and a heart with reversed chambers which the doctors saw as his greatest threat to survival. There was no way of knowing how much longer he'd live. I was 21 weeks along at this point in my pregnancy. Having all that information did not make the burden easier to bear.
I am a person of faith, and have been for quite some time now. I was surprised to discover that having faith did not make the pain easier to bear. I believed God was good and in control of what was going on with my baby and I believed He could heal him if He so chose. In fact, I prayed for that daily.
However, the heaviness of impending loss did not lift. The tears kept coming and the pain felt like a slowing twisting dagger had penetrated my heart. It has been almost four and a half years since the events which I am describing took place. I am thankful, looking back that the Lord sustained Mr. Frugal Rules and I during the 12 hard weeks which I carried our son, after learning of his condition. While He didn't take away the pain, He confirmed His goodness and love to me in the midst of it.
An Untimely Death
Isaac Joseph Schmoll was born on November 10, 2008 – just four days before my own birthday. He was a strong, courageous little boy whose identity and personality are shrouded in darkness. He lived four minutes but we were able to spend the day with him at the hospital, washing and holding him before saying goodbye. I was the only one to feel him kick, to know his warmth.
To hold his ashes in the palm of my hand. Writing about it still brings a lump to the middle of my throat. I suspect to some extent it always will. If you've made it this far in this long and painful post, I'd like to share a few of my thoughts on some of the good things that came out of that most difficult time.
I suppose it's my way of trying to find the silver lining in every cloud – something Mr. Frugal Rules says I often do since I am just naturally optimistic.
Life is Precious, Regardless of Length
Isaac lived four minutes but the impact he made in that time is palpable. God has given me 35 years. It makes me want to make the most of it. I rise each day now and thank the Lord for giving me another day to enjoy my family, my work, my church, my city, and most of all my relationship with Him.
People, Not Things Matter Most
There was no toy, no gadget, no trip, no drink, no show, no thing that could deaden the pain I felt both before and immediately after losing my son. I remember distinctly watching TV absent mindedly, not at all engaged in the usually entertaining story lines. Even Seinfeld couldn't make me laugh most nights.
All I could think about was Isaac. While part of me wanted to avoid the pain, it was too great. Instead, I embraced it. I wrapped my arms around every sting and every dull ache because I knew it was evidence that my son mattered. I came to realize that the pain was so intense precisely because my love for him could match, if not exceed it.
Time Does Not Heal All Wounds
People don't know what to say when you're going through something like this so they will often tell you that in time, you'll feel better. That's not true. I know of couples whose marriages, lives and sobriety have fallen apart in the wake of the death of a child. Time doesn't put distance between you and the broken heart you carry inside of you.
But, the Maker of time does heal broken hearts. I struggled to share the following with you because I don't want to offend you or make you feel like you are being preached at. However, I would be denying reality to leave out some mention of the God who sustained me during the hardest time of my life and who carries me still. Like Job's wife, we have relatives that told us to curse God and die.
But thanks to the Lord, as we looked up on what He has done for us, we were able to say with Job, "The Lord gives and the Lord takes away. Blessed be the name of the Lord" (Job 1:21).
We Don't Suffer Only for Ourselves
Most pain is meant to be shared. We had friends come alongside us during that time who cried with us, prayed with us, laughed with us, made meals for us, cleaned our home and thanked us for letting them bear our burden with us.
In time, we have been able to help other parents dealing with similar diagnoses or who are also facing the gut-wrenching pain of losing a child. It's not something people really talk about and we want to be different because we don't want parents to despair. We want them to know that there is light at the end of the tunnel.
Life is Beautiful
Even with all of its disappointments, disillusionments and destruction, life is still a beautiful gift that goes by far too quickly. While many have had a harder life than I, I am grateful for the breath I draw and for everything – good and bad, pleasant and painful that I have experienced.
Even the pain I still experience when I see Isaac's picture up around our house (yes, that is his foot by the way in Mr. Frugal Rules' hand in the picture associated with this post) is welcomed because it is evidence that he was here and that he impacted me.
Thank you for reading this lengthy post. If you are dealing with the loss of a child or any other loss and want to talk with either John or I about it, we welcome your comments. If you have a question, we'll do our best to try to answer it. If you want to talk more privately, feel free to email us through the contact link on this site.
I've included a link to more information about Trisomy 18, if that is what has brought you to this post and you are looking for more information. There's also a link below to a blog that I maintained about Isaac for awhile where you can read more about his life and death.
Trisomy 18 Foundation
Losing Isaac
Photo courtesy of: Nicole Schmoll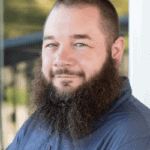 I'm John Schmoll, a former stockbroker, MBA-grad, published finance writer, and founder of Frugal Rules.
As a veteran of the financial services industry, I've worked as a mutual fund administrator, banker, and stockbroker and was Series 7 and 63-licensed, but I left all that behind in 2012 to help people learn how to manage their money.
My goal is to help you gain the knowledge you need to become financially independent with personally-tested financial tools and money-saving solutions.