It's hard to believe it, but it's time to start thinking of buying Father's Day gifts. The challenge with many gift ideas is finding one that doesn't cost you an arm and a leg, but is also something your Dad will enjoy.
The National Retail Federation reports that near $21 billion was spent on presents in 2021 – or over $180 per person, which can be difficult to do if you live on a budget.
I believe you can still buy a thoughtful gift and spend a fraction of that.
What Are the Best Gifts to Buy for Father's Day?
The best Father's Day gift ideas are those that match what your Dad likes. We, or so I'm told, are difficult to shop for at times.
With that in mind, our list of some of the top ideas will help get your juices flowing as to some possibilities to buy your Dad for Father's Day.
1. Anything Grill Related
What Dad doesn't like to grill? I have been grilling for years and am a gas grill (you can find some of the best ones on Amazon here) fan myself as I love being able to grill up steaks when it's snowing outside.
Buying a grill may not be the cheapest Father's Day gift idea, but that doesn't mean the whole area of grilling is out.
I believe one of the best Father's Day gifts is one that complements what your father already loves to do. That is very simple to do with grilling.
Does your Dad need some new grilling accessories? He might even like a grill set like this BBQ Grill Tool Set from Home Complete.
Personally speaking, that would be a great gift. If your Dad is already covered with that, other Father's Day gift ideas could include either a BBQ sauce gift set or a grill cover.
2. An E-Reader
This might not fit for all Dads, but I love to read. The problem with reading, other than finding time to do it, is that books clutter up the house.
That clutter can be cut down significantly with an E-Reader. I know they may not be the cheapest of Father's Day presents, but would definitely be a hit.
One of the big keys with this is finding one in your price range that your Dad would like. The Amazon Fire Tablet is one of the best options and is often at a great price.
Not only does it allow you to read, but get access to movies, music and so much more for a fraction of the price of an iPad.
If you're looking for one of those Father's Day gifts that can be enjoyed in a variety of ways, the Amazon Fire Tablet could be a hit!
You could also combine this with the Amazon Fire TV if your family is thinking of cutting the cord.
3. Gift Cards
Some don't like to give gift cards for a holiday, but I think they can be one of the top Father's Day gifts you can give. This is especially if your Dad is hard to shop for.
I've received them as a Father's Day gift before and always like them as I can get something I know I will enjoy.
If a gift card is one of the gifts you're considering, but don't know what store to get it from then GiftCertificates.com is a terrific option to consider.
Their SuperCertificate allows you to just select the dollar amount and the recipient can select what store they want to use it at.
Gift Cards Outlets is also a good option if you want to go the discounted gift card route and save a little money.
4. The Gift of Golf
I'm not a golf fan myself, but my Father-in-Law loves to golf and something golfing related is one of our go-to Father's Day gifts for him.
We've bought him everything golf related from a round at his favorite local course to buying him a new golf shirt.
He's actually told us that one of the best Father's Day gifts we've given him was this golf locker from Jef World.
A golf locker is something that essentially allows you to store your shoes, golf balls, golf tees, and a number of other things in one convenient place.
The one we bought my father-in-law is fairly small, basically not much bigger than the shoes and is a good way to haul around all his smaller golfing equipment.
5. Tools
The final item on our list of best Father's Day gift ideas is tools. This was a popular gift for my Dad when I was a kid and I know that many fathers enjoy having tools to use around the house.
Buying tools can get expensive, so keep that in mind as you're shopping for gifts.
If your budget is a little higher you can look for something he doesn't already have, or you can go as simple as this basic tool kit from Stanley that can be used around the house.
These can be fairly simple such as kits that include wrench sets as well as some other tools that he can use around the house.
I've received basic tool kits in the past as a Father's Day gift and they can be great for the DIY Dad.
Bottom Line
Remember, it's the thought that counts when you buy a gift. Don't break the bank as Dad will be happy with most any gift.
If your father is anything like me, time spent with the family is the best gift of all.
What do you buy for your Dad if he's hard to shop for?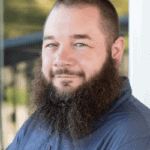 I'm John Schmoll, a former stockbroker, MBA-grad, published finance writer, and founder of Frugal Rules.
As a veteran of the financial services industry, I've worked as a mutual fund administrator, banker, and stockbroker and was Series 7 and 63-licensed, but I left all that behind in 2012 to help people learn how to manage their money.
My goal is to help you gain the knowledge you need to become financially independent with personally-tested financial tools and money-saving solutions.