Why "YOLO" Isn't Worth the Fun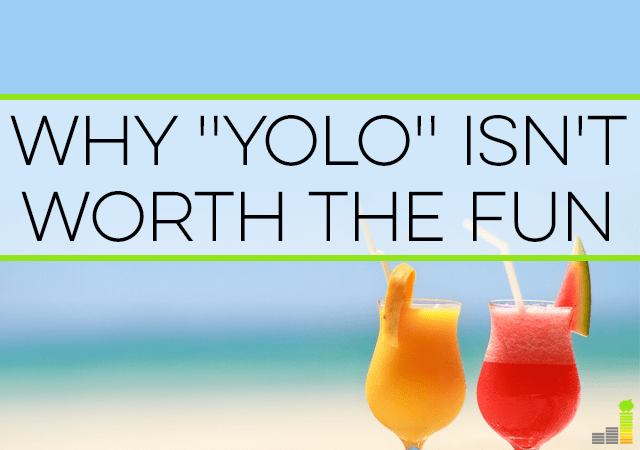 "YOLO" is a popular term that means "You Only Live Once," and many people use it to justify their spending. On one hand, I understand why so many people have grabbed on to this idea.
Sometimes, life seems short, and it can also get pretty sad. People pass away far before their time. Family members get sick. To a young person, it can make sense to live it up, even if you can't afford it. After all, when will you be able to see the world, go out to a nice dinner, or enjoy a live sporting event if you don't do it now? Why wait until you're older?
Unfortunately, although it sounds great to take exotic vacations and wear the most expensive clothes imaginable, I can tell you it's not worth the fun. You might enjoy it in the moment, but it can spell disaster for your future self.
YOLO = Debt
Right around the time I got married, I wanted everything: the nice townhouse with a ton of space, the honeymoon in a tropical location and the huge TV that I couldn't afford. I got it all, and I didn't even think about it. I was living on a small graduate school stipend and my husband had an entry level job in healthcare.
As I'm sure you can imagine, before I knew it, my husband and I were swimming in credit card debt with a very dismal amount of combined income. We were young and not very smart with our money. We were living it up YOLO style before there was even an actual term for it (something that came out in 2012 according to the Boston Globe.) In many ways, it wasn't conscious, but there was that societal pressure on us to have the best wedding and the best honeymoon and to have a nice home to start our lives together.
In reality, we really didn't need any of it, and it didn't define our marriage. In fact, it probably hurt it more than it helped. So, here's why I won't live the "YOLO" life again, and why you might want to second guess the decision as well:
It's Detrimental for Retirement
If you're spending all your  money when you're younger, you're missing out on prime retirement savings. I know saving for retirement doesn't sound as much fun as taking a trip with your friends to Vegas, but with the right amount of budgeting and discipline, you should be able to save a little and spend a little all at the same time. If budgeting sounds boring or impossible to do, you can use the free tool at Personal Capital, to help track your spending and find ways to save money.
The key to getting what you want out of life is to have goals, both long term and short term, and pay for them in cash whenever you can. Plus, Albert Einstein called compound interest the 8th wonder of the world for good reason. When you're young, it's the absolute best time to invest. According to Dave Ramsey, you can invest as little as $35 a week starting in your twenties to retire a very wealthy person.
IT's Not Good For Your Self Esteem
You would think that going on fabulous trips would help your self esteem especially now in our social media centered world. However, when you have the YOLO experience, it's just a temporary high. While you do have fun in the moment, in the end it comes crashing down. It's almost like someone going on a huge shopping spree and then instantly regretting it when they get home and look through their shopping bags.
If you do this often enough, it can give you a poor sense of self worth. If you borrow your way into life experiences and then have trouble paying them off, it hurts your confidence immediately and down the road if you feel the pressure to keep up appearances.
The best thing you can do in life to really make yourself feel accomplished is to work hard towards a specific goal and find a way to achieve it without going into debt and without the YOLO mentality. Sometimes, it's far better to reach a goal slower if it means the reward is better.
You Really Do Only Live Once
In many ways the meaning of YOLO rings true. You really do only live once. However, instead of treating this as an excuse to party and have a good time whenever you want, think of it as taking care of the one life you do have.
The best way to do this is to prepare for a financially successful life by starting to save when you're young. This doesn't mean you can't have fun ever; it just means that in addition to having a good time here and there, you're also thinking about your future self as well.
Why do you think so many have embraced the YOLO mentality? What's one thing you regret, financially speaking, that you did when you were younger? How could you save $35 a week now to set yourself up for future success?
The following two tabs change content below.
Catherine Alford is the go to personal finance expert for parents who want to better their finances and take on a more active financial role in their families. Check out her award winning blog,
CatherineAlford.com.