The Worst Financial Advice I've Ever Received
I'm sure she meant well, really. I was having a conversation with a woman in her 70s, and I don't exactly recall the reason behind our talk or how we got there, but it was clear that she wanted to give me some financial advice. I'm all ears to anything finance related, so I sat there ready for it. And then she laid it on me:
"Spend it all when you're young, because you won't want it when you're older."
Say what? That was the gem of financial knowledge that you wanted to bestow upon me? I kept my mouth shut, but in hindsight, there are so many things I could have said:
Don't you appreciate the security that having enough money offers you? What would you have spent it on in the past anyway? Why do you regret having a nest egg?
Don't get me wrong. I do understand the sentiment of an older person telling someone younger to live life in the present, because you never know what's going to happen and you only live once, but that's not what she was telling me. While it's never good to be a hoarder of money or to worry about it obsessively, no one really knows what life is going to bring, which is exactly why you should save up money for when you're older.
Here's why I'm not spending it all now:
The Desire for Security
Financial security is a big deal to me. I really don't like living from paycheck to paycheck or worrying about any kind of debt. It makes me uneasy. Saving my money provides me a huge sense of security, and it's what enabled me to quit my job in corporate finance a year and a half ago.
The thought of trading that sense of security so that I can spend money now makes me panic inside. I definitely want security for myself in old age as well, so I'm definitely not trading that in for a new car today.
Retirement, Obviously
I'm not one of those people who loves to work so much that I want to do it until the day I die. I'm sure there are people like that out there, but I'm definitely not one of them, and I'm absolutely okay with that. I do want to be able to enjoy my hobbies when I'm older (writing, sewing, and who knows what else by then), and the thought of working when I'm older does not appeal to me.
I'm also not entirely sure that social security is going to be available to me when I'm in my 70s, and I'm definitely not going to take a chance on it. I want to retire early enough that I have enough time to enjoy it, and if I do eventually have grandchildren of my own one day, I want to be able to spoil them and help them out with college.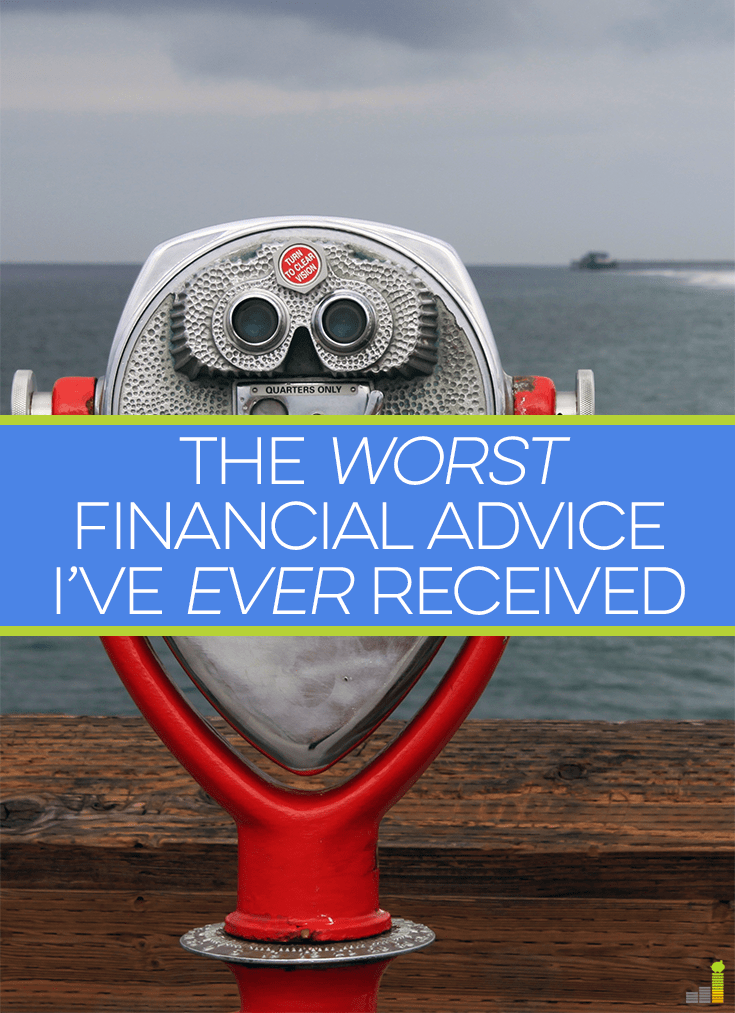 Spending Money Now Won't Make Me Any Happier
At this point, I'm thrilled with how my life has gone so far, and I couldn't be happier. I know that nothing I could buy right now — a new house, a shiny red car, or some fancy jewelry — will make me any happier than I already am.
The things that make me happy right now are things money can't buy, like splashing in rain puddles and baking cookies with my preschooler. They are simple and true moments, and I get to enjoy them a lot more because I'm not saddled with debt and working multiple jobs to pay it off. Saving my money is what allowed me to leave my conventional job to spend more time with my daughter, and these extra moments with her are worth more than anything money could buy.
What's the worst financial advice you've ever received? Why do you choose to save money over spending it in the present? What simple things do you treasure?
The following two tabs change content below.
Robin McDaniel
Robin is a freelance writer who chronicles her financial missteps and victories on her blog www.TheThriftyPeach.com.
Latest posts by Robin McDaniel (see all)