Advice for Students Worried About Student Loan Debt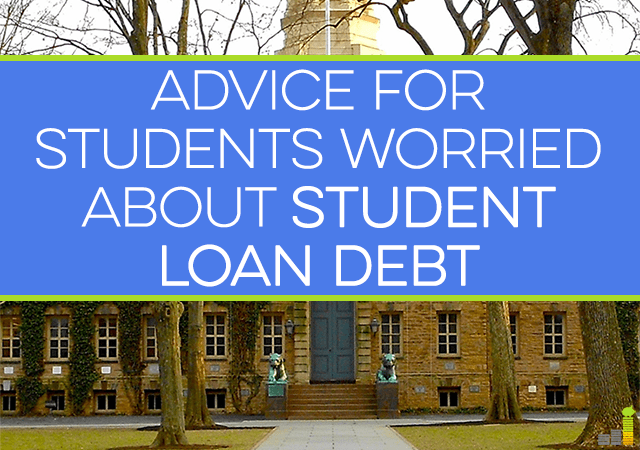 How many of you actually gave serious consideration to how much student loan debt you'd graduate with before you attended college?
I've shared how I tried to make college as inexpensive as possible, but I still wasn't 100 percent aware of just how much debt I'd be facing upon graduation, or how it would impact my life.
These days, that tune has changed for many students, likely due to the amount of publicity student loan debt gets. I'm happy to see a lot of soon-to-be or current students concerned with lessening their student loan debt burden now rather than later. It's a mistake not to be forward-thinking when you're in college because student loans can affect you in ways you probably didn't think about.
If you're like me, you might figure student loan debt is a normal part of attending college and getting a degree. A necessary evil, if you will. But it doesn't have to be that way. If you're a student worried about how much debt you're going to graduate with, here are a few things you can do so you can worry a little less.
Calculate Your Approximate Costs
It's always a good idea to calculate how much debt you might graduate with, whether you're a new student or a returning student. There are a few ways you can do this.
New student advice: Most colleges offer a "tuition fees" section on their website under "financial aid". This should give you the full cost of attending the college. It doesn't account for financial aid, but it's a good starting point.
For example, I applied to Marist and Northeastern University. Both great colleges, both also super expensive (according to my standards, anyway). While I was accepted to both, I couldn't stomach the cost of tuition, especially since I wasn't eligible for much aid.
However, if you're set on a college, don't be afraid to ask the financial aid department questions about the types of aid available. Find out, on average, how much financial aid students receive, how much student loan debt they graduate with, and what work-study programs are available.
For returning students: Keep an eye out for letters from your college. Without fail, I received one at the end of every academic year, stating tuition would be rising the following semester. It's discouraging, but it gives you a number to plan around. You likely already know what scholarships you have and how much aid you're receiving, so just do the math.
When you have the approximate numbers of how much each semester or year will cost you, add it up, and get determined to earn extra money to offset any worry you might be feeling. At the very least, having the number in front of you gives you knowledge, which you can then use to form a plan.
Find Flexible Work
One mistake I made during college was not working enough. I had a job my first two years, but I couldn't find anything with enough flexibility, so I focused on my studies instead.
Let me be frank here – in most fields, your final GPA isn't going to be the deciding factor on whether or not you get a job. If I could go back in time, I would have stopped being such a perfectionist about my grades. Sacrificing a few A's would have been worth having more in my savings account upon graduation.
The first thing you can do is inquire about work-study programs offered on campus. If you don't have any luck there, ask your friends with jobs if there are any openings where they work.
If all else fails, you can always freelance. It's literally the most flexible gig you could possibly hope to have while in college. Most of the time, you can work from your dorm room. If I had known freelance writing existed back when I was in college, I would have been all over it! You may not know how to break into something like freelance writing. That's understandable.
Don't let fear or a lack of knowledge stop you from trying. Visit online writing job boards, send out a message on Facebook or consider taking an online freelance writing course to get the knowledge and plan of attack you need to be a successful freelance writer and meet your income goals from it.
Bottom line: find a good way to make money around your class schedule so you can start making student loan payments as soon as possible. You don't have to wait until you graduate – early payments help combat interest!
Spend Your Money Wisely
Let's say you end up getting a decent job. Awesome! Don't get in your own way and make a financial mistake that can cost you in the long run. Remember, the goal of working is to save up money to get your debt down and give you some peace of mind.
That being said, your college experience is meant to be enjoyed. You shouldn't be missing out on tons of events because every cent you make is committed to your debt.
Get creative and go to school events with free food (my college had plenty). Have parties where everyone is required to bring some sort of food or drink item. Always ask if a student discount is available (especially if you're in a college town). Find places to eat that offer amazing deals. Choose walking over driving when possible.
I'd recommend tracking your spending and creating a budget, even if your expenses aren't numerous. It's extremely easy to get carried away with spending, especially if your friends aren't as frugal as you.
Lastly, look into cheaper alternatives. I know a few people who moved off-campus in their college years because it was cheaper to split rent with roommates. Or people who didn't bother having cars on campus.
Oh, and a small piece of advice – please don't be lured in by the free items credit card companies may be offering. If you're already worried about student loan debt, you don't need to add consumer debt on top of it!
Know You Have Options
At the very least, if you graduate with Federal student loan debt, you have repayment assistance options available to you. Among those are:
Deferment or Forbearance – For a set period of time, you won't be required to make student loan payments. However, interest continues to accrue under forbearance and under deferment if you have unsubsidized loans.
Income-Driven Repayment Plans – There's no shortage of different repayment plans available in case you don't find an amazing job right out of college. This means your repayment term can get extended up to 25 years, giving you a lower, more affordable monthly payment.
Forgiveness Programs – While these aren't available to everyone, there are some volunteer programs you might be interested in signing up for that would allow a portion of your student loans to be forgiven. If you're a teacher or public service employee, you should look into those programs.
Don't Despair
Given you're thinking about student loan debt already and you haven't even graduated, you're in better shape than most. I really wish I had taken student loan debt more seriously when I was in college. Stay aware of the costs and how much you're earning and spending, and focus on improving your financial situation. Don't let student loan debt overwhelm you to the point where you don't enjoy college. That's giving your debt far too much control but don't let fear control you either. Get the knowledge you need to attack your student loan debt while still having a fun and memorable college experience.
Did you worry about how much student loan debt you'd graduate with while you were in college? Or were you blissfully ignorant until the first statement arrived in the mail? What tips would you give students worried about student loan debt?
The following two tabs change content below.
Erin M. is a personal finance freelance writer passionate about helping others take control over their financial situation. She shares her thoughts on money on her blog Journey to Saving.