What Wealthy Means Around the World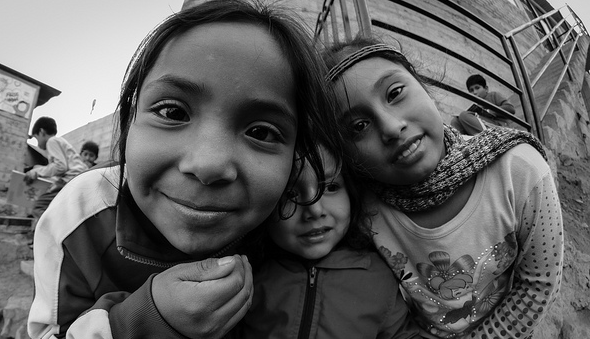 Just recently I was promoting the idea that we should give kids fewer gifts for Christmas. I received several different responses to this idea, mostly from parents who said it would be really hard to cut back on the holidays, especially when it's our American culture to make things really lavish on Christmas Day.
They said they couldn't disappoint their kids, who have gotten used to receiving a pile of gifts under the tree. They warned me that I probably wouldn't be able to skimp on Christmas either once I'm a parent, and that I'd understand when the time comes.
What Wealthy Means in Grenada
When I look at the monstrosity of Christmas in the States, I just can't help thinking of what Christmas was like in Grenada and the poverty that was so pervasive there. In Grenada, you should see how elated the kids were when local volunteers shipped in shoes from the United States. SHOES! That they would wear to school until they got shoes again the next year! I'm not talking about games or name brand clothes or toys. I'm just talking about shoes, people. And here in the States, kids are throwing fits if they don't get the latest game system.
To the kids in Grenada, what wealthy means is having enough money to go to a fast food joint for dinner. If you could afford to go to KFC (one of the only fast food places on the island) then you were considered well off. It was such a status symbol, in fact, that people would carry around their KFC cups and bags for a few days just to show that they had been there. There were also some kids in Grenada who had never been to a movie until a volunteer took them. Some were 14 years old when they saw a movie for the first time in the theater. The theater in Grenada, I should mention, was about $4US per ticket when you went on the discount day.
What Wealthy Means in India
Similarly, when my husband traveled to India for three weeks last summer, he was also deeply affected by the poverty. He rotated through some hospitals there as part of his medical school training, and while the hospitals were clean and nice, they certainly did not have flat screen TVs and all the niceties we are used to in the States.
While in India, he met a family in the hospital. The dad needed a heart stint but couldn't afford to have the stint placed, so the cardiologist gave him meds instead to try to manage the issue.
When my husband talked to the doctor about the stint afterwards, the cardiologist said the stint was about $1,500 US and because the family couldn't afford it, the dad would probably die in the next 6 months.
My husband was crushed, mostly because there was nothing he could do to help the family but also because just the day before, we had spent $1,500 on plane tickets and tour tickets for him to go see the Taj Mahal. He was so upset about it when he called me that night, saying it just didn't feel right to go on this nice tour by himself for 4 days when this family was going to lose their dad before the end of the year.
My husband and I complain about being in student loan debt all the time, but with the opportunities we've enjoyed, the education we've been able to afford, and the places we've seen, we really do understand how lucky we are.
I don't mean to be a downer with this post, but around the holiday season, I do think it's important to think about what the holidays are like around the world and to teach kids that Christmas really is different depending on where you live. It's one of my greatest hopes in the world that my kids are culturally competent and know how lucky they are, even though we might feel like times are tough or we don't have enough money from time to time.
What does being wealthy mean to you where you're from?
Photo Credit: GeezaWeezer
The following two tabs change content below.
Catherine Alford is the go to personal finance expert for parents who want to better their finances and take on a more active financial role in their families.