5 Super Simple Money Moves You Can Make Today To Improve Your Finances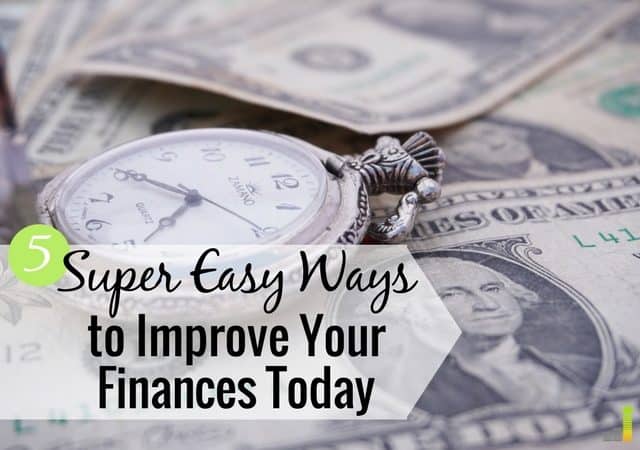 I don't know about you, but life can get busy. You have work, family and other obligations. Hobbies and free time seem to get lost in the shuffle. If you're like me, it's a challenge to stay on top of things you want to improve. This can be especially problematic if you want to improve your finances. You may have heard that there are simple money moves you can make but don't believe you have the time or will understand how to do it.
I used to be there myself and thought it was pointless to start. Then, I learned there are many ways to improve your finances that require little to no work. Before I knew it, I was building the confidence I needed to tackle bigger things.
If you don't know where to begin or how to start, here are five super simple money moves you can make to improve your finances today.
Super Charge Your Savings
Savings accounts have been paying horrible interest rates for years. Why save money when you're getting paid .01%?
Thankfully interest rates are starting to head in the right direction, making it more beneficial to save money. Synchrony Bank, for example, pays 1.85 percent, with no minimum balance requirement.
Saving money can be a challenge when most experts recommend you save at least three to six months worth of expenses for emergencies. Don't let that stop you!
Most people can't handle an emergency of $400 and only get trapped in the cycle of debt when they have to scramble to find the money to cover them.
I don't care if you can only save $5 per month. The point is to start. Give yourself a small, quantifiable goal and use it to motivate you to save.
Cancel Your Unused Subscriptions
Back in my free-spending days, I had subscriptions and memberships all over the place. How many was I using? Very few, if I'm honest with myself.
One of the first things I did when I began to pay off debt was cancel subscriptions I wasn't using to free up cash. However, that required lots of calls and emails asking companies to stop billing me.
Thankfully, Trim takes much of that work off your shoulders. Trim is a free app you can download. They find unused subscriptions and cancel them for you.
They also have a bill negotiator service that can work to lower things like cable bills – which you should just cut already anyway. 🙂
Start Investing!
We talk a lot about investing in the stock market here, for good reason. Investing is one of the best ways to grow your money. However, many are overwhelmed and don't start, or think you need a lot of money to start investing.
If you feel that way, there are tools that will let you start investing today. Ally Invest lets you start investing with no minimum balance requirement and has many free tools that help you construct a portfolio.
Do you have a 401(k) and wonder if it's really doing what you want? 401(k) plans aren't always the easiest to understand, and you may be paying more in fees than you should be.
Blooom is an app that analyzes your 401(k), looks for fee cutting opportunities and can manage your plan if you like. All you have to do is answer a few questions about your goals.
Blooom also offers a free 401(k) account analysis to get you started.
Make Money in Your Free Time
Many love the idea of making extra money in their free time but don't know where to start. If you have a newer car, you can make money driving for Lyft and start with a $250 sign-on bonus.
You can even make extra money by monetizing downtime, such as when you're watching TV. The best way to do this is by taking short surveys.
Here are a few of my favorite survey sites:
You won't get rich quick with surveys, but it can be a great way to build up a little extra spending money or pad your savings account.
Monitor Your Credit
This has become more important since the Equifax hack. In many cases, hackers can access things beyond your credit card information. They can get to your social security number and more, making it important than ever to monitor your credit regularly.
We use Credit Sesame to monitor our credit score as it updates fairly instantly and regularly. We've not chosen to go further, but if you want to monitor all three agencies, you can sign up for a service like LifeLock.
They offer assistance if anyone tries to open an account in your name and even offer insurance to protect you against stolen funds. At the very least, make sure to get your free credit report from all the agencies through annualcreditreport.com
Each of these moves is ones you can make today, and many require little effort. Improving your finances can seem overwhelming, but by taking smaller steps, you can build the confidence needed to propel yourself forward financially.
What are some other simple money moves you can make today? What are you going to do to improve your finances this year? Were you impacted by the Equifax hack?
The following two tabs change content below.
John is the founder of Frugal Rules, a dad, husband and veteran of the financial services industry whose writing has been featured in Forbes, CNBC, Yahoo Finance and more.
Passionate about helping people learn from his mistakes, John shares financial tools and tips to help you enjoy the freedom that comes from living frugally. One of his favorite tools is Personal Capital , which he used to plan for retirement and keep track of his finances in less than 15 minutes each month.
Another one of John's passions is helping people save $80 per month by axing their expensive cable subscriptions and replacing them with more affordable ones, like Hulu with Live TV.
Latest posts by John Schmoll (see all)