5 Easy Ways to Save on Your Next Summer Vacation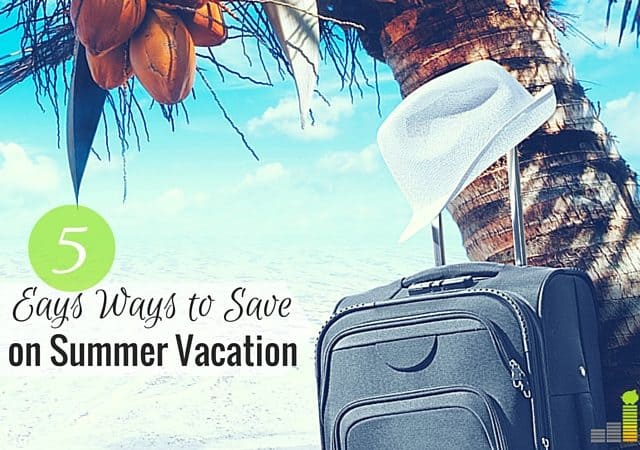 The following is a contribution from Kendal, from Hassle Free Savings.
There's something about the dreary days of February and early March that lights a fire under me to formalize my summer vacation plans. I suppose planning a holiday is a getaway in itself; in fact, I read a depressing study that reported the anticipation is actually more enjoyable than the trip itself. Given what I have on my agenda this year, I really hope that's not the case. 🙂
While exciting, planning summer vacations can generally be an expensive endeavor. Striking a balance between travel costs and time off work is never easy and definitely contributes to the stress of it all. This year, I'm committed to finding ways to save real money on my summer vacation plans, especially since I'll be taking at least two trips without my husband. I can't be the one eating up all our fun funds!
With that in mind, here are steps I've taken, or plan to take, to save on upcoming trips.
1. Use Discount Gift Cards Toward Lodging
Ever since my first bed-and-breakfast experience on the East Coast a few years back, I'm convinced this is the only way to stay anywhere. That's why I have my eye on one in Ojai, Calif., where my husband's cousin is getting married this year. This particular inn accepts gift cards from BedandBreakfast.com, and this is where my savings strategy comes into play.
I've talked about discount gift cards here on Frugal Rules before as a means for saving on coffee. I'm using this same tactic for lodging where I can save 20 to 30 percent off the face value of a gift card. This means I can book a $200 room for $40 to $60 less just by paying with gift cards.
2. Bunk with your In-Laws, or Friends or Strangers
We've all bunked with others to save a buck so this tip isn't exactly groundbreaking. However, it's a good reminder that short weekend getaways to family events really needn't require separate living arrangements.
My parents-in-law were visiting recently and my husband's mom mentioned she'd secured a room for her niece's wedding. I told her I was interested in a bed and breakfast so we sat down to compare rates.
Turns out rates were comparable, but she'd booked a room with two queen beds and a kitchenette. I realized it was dumb to stay in a B&B when I could just split the cost of the reserved room and bunk with them for a couple nights. Done and done — we both saved about $200.
Due to scheduling differences, they're leaving a day earlier than we plan to so I'll likely get a one-night B&B stay after all. If you do end up needing to book a hotel though, make sure to check out sites like Expedia to score a good deal and save some money.
3. Apply Miles Thoughtfully
I booked a yoga retreat in wine country where I'll be treated to daily yoga classes, nature hikes, gourmet vegetarian meals and all the other hippie-dippie delights in which I care to partake. Oh, and a full day of wine tasting at four vineyards in Napa, of course. (Hate me yet?)
This all comes at a cost and since I put off the decision until the last minute, I'm paying for it with inflated airfare rates. I have miles accrued but not enough to cover the cost of a round-trip ticket, so instead I booked two one-way tickets and applied my miles toward one leg.
Doing this saved me $100. A well-timed coupon code from Frontier saved me another $25, so I basically scored the airfare for 35 percent off. Not too shabby.
Ultimately, it's important to remember you have options when you don't have quite enough miles for a round-trip ticket. During the holidays a couple years ago I found a round-trip ticket from Denver to New York priced at nearly $500. When I searched for two one-way fares, I found a similar itinerary for $200 less.
4. Use Rewards Points
If you have rewards points, they can be a great way to help lower the cost of summer vacation. Whether you have cash back rewards you're sitting on, or points/miles to use, you can use them to help save money.
Cash back rewards typically aren't as good as points or miles so I tend to use the latter. This lets me use rewards to help get to my destination, or subsidize the cost of the hotel so I can use my money for other travel related expenses.
Here are some current offers to consider to earn points for your typical spending. Just remember, keep your spending in check.
5. Ride-Share with Strangers on Your Summer Vacation
I love the concept behind services like ZimRide and VRBO, but I've never been brave enough to use them. The idea of sharing a car or bunking with a complete stranger freaks me out. My mom raised me to be a hyper-aware and overly-paranoid girl with innocence to protect, and it's a tough habit to shake. However, I have to drive 83 miles to get from the airport to the retreat center in Calistoga.
Renting a car for four days is nonsensical since I'll only be using it for four hours. So, I asked the retreat coordinator about transportation options and she put me in contact with a fellow retreat goer. Together we'll likely share a ride with two or three other people via shuttle or car. I've never met them and have no idea what their mental stability is, AND YET I have a good feeling about this. I'll save anywhere from $95 to $140 on transportation costs.
Moral of the story here: Sometimes it's good to go outside your comfort zone to save money on the more banal components of planning your summer vacation. Use your gut, though; if the guy looks like Charles Manson I'm beelining-it to nearest rental car counter.
What ways have you saved for your summer vacation? Do you have any fun travel plans this summer?
Kendal Perez is a frugal blogger who helps fellow shopaholics find hassle-free ways to save money. As the Marketing Manager for Kinoli Inc., she has the resources to be an extreme couponer but prefers a less complicated approach to staying in-budget. Kendal has been quoted in such media outlets as People StyleWatch, CNN Money, FOX, ABC, NPR and Kiplinger Personal Finance. For savings tips and more information, visit HassleFreeSavings.com.
Save
The following two tabs change content below.
John is the founder of Frugal Rules, a dad, husband and veteran of the financial services industry whose writing has been featured in Forbes, CNBC, Yahoo Finance and more.
Passionate about helping people learn from his mistakes, John shares financial tools and tips to help you enjoy the freedom that comes from living frugally. One of his favorite tools is Personal Capital , which he used to plan for retirement and keep track of his finances in less than 15 minutes each month.
Another one of John's passions is helping people save $80 per month by axing their expensive cable subscriptions and replacing them with more affordable ones, like Hulu with Live TV.
Latest posts by John Schmoll (see all)