It's A Way of Life, Not an Event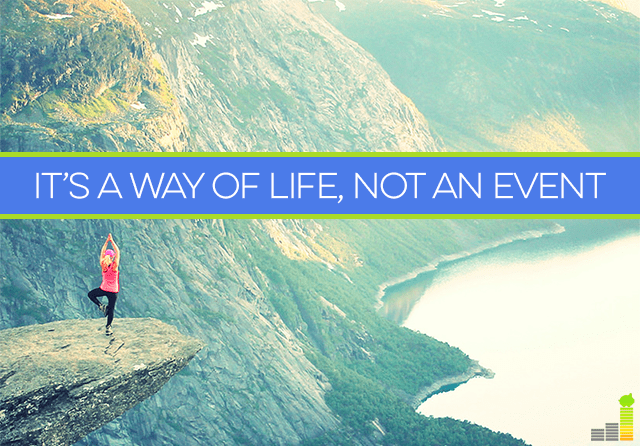 We all have things in life we're shooting for. Regardless, for the most part, of your stage in adult life you're either getting ready to begin working on a goal or in the midst of trying to reach one. I'd also say it's safe to assume that there is some reason behind that goal.
Either that goal is going to improve your way of life in some form or fashion, or it's going to free you to do other things. They don't always have to be financial, though I'd imagine that many of them have some sort of financial component involved, albeit maybe not the driving reason behind said goal.
What do you do once you've reached the goal or are very close to attaining it? How do you still enjoy life without taking your foot off the gas pedal and sliding back into bad habits? This is the battle I'm currently facing.
My Current Goal
I've shared fairly extensively here about my goal to lose weight. It hasn't been a wishy-washy "I want to lose weight" New Years Resolution kind of goal, but one that is quantifiable. I want and am currently working towards losing 100 pounds – I'm currently at 94 down.
That is a staggering number, one that I'm constantly reminded of when I walk up and down the stairs of my house and am thankful that I can now do so without feeling winded. However, as I've been seemingly forever in the rut of killing the final ten pounds, I've been looking more forward to seeing that triple digit loss. It's not that losing 90 some odd pounds is paltry and losing 100 is record breaking, but you get my point, there is something to appreciate about hitting that triple digit number. I want it more than anything I can remember in recent memory. Thanks to Nutrisystem, I was able to lose the 100 pounds and completely change the way I live. If you'd like to lose some weight and need some help doing so, check out the deals at Nutrisystem to get a kickstart.
I've been hit with something the past few months. Even if the struggle to lose the final few pounds has been a battle it does not mean that once I see that magic number on the scale that I can throw caution to the wind and start consuming a diet of Snickers bars and Ho-Hos while chasing it with copious amounts of Mountain Dew.
To do something so ridiculously stupid as that would immediately tarnish the original goal and equally nullify the event, in my opinion. Having true success with the goal, whatever it is, means taking that perspective or mindset that initiated movement and harnessing it into a new way of life. It's something I see as necessary to really make the success I've seen stick so that it just isn't an exercise of vanity but one of true growth.
Balancing the Event With Life
I think there's something, by nature, in us that makes us want to have a huge sigh of relief once we hit a major goal. I saw that when I finished paying off debt as well as when we were finally able to get serious again about saving for retirement. There was just part of me that wanted to exhale and relax. While this isn't to say that it's "bad" to relax and enjoy the moment (as I believe that's very important and healthy) a right perspective is required.
That perspective is one of realizing the mountain you've just climbed and that you don't want to fall down it only to have to climb up the blasted thing again. The kind of perspective that keeps you moving forward is one that sees the next mountaintop and, after proper reflection, makes plans to climb the next mountain.
Do you see the difference? It's taking ownership as opposed to resting on your laurels.
So, regardless of the goal you're currently working on – let that event drive you. In many cases it's a huge event, but remember that it's the change in mindset – the way of life that makes it stick.
What goal are you currently working on or considering? How long is appropriate, in your opinion, to rest on the accomplishment of the goal? What accomplishment helped you change your life forever?
The following two tabs change content below.
John is the founder of Frugal Rules, a dad, husband and veteran of the financial services industry whose writing has been featured in Forbes, CNBC, Yahoo Finance and more.
Passionate about helping people learn from his mistakes, John shares financial tools and tips to help you enjoy the freedom that comes from living frugally. One of his favorite tools is Personal Capital , which he used to plan for retirement and keep track of his finances in less than 15 minutes each month.
Another one of John's passions is helping people save $80 per month by axing their expensive cable subscriptions and replacing them with more affordable ones, like Hulu with Live TV.
Latest posts by John Schmoll (see all)