Fun Upscale Summer Staycation Ideas
Posted on June 5, 2014 by Laurie in
Vacations
If you're spending this summer on a tight budget, an upscale vacation to an exotic locale like Paris may be out of the question, however, an upscale summer staycation is not. I've written here before about how to get the most out of your summer staycation monies, and I've written about cheap summer activities, but today we're going to talk about how to have an upscale summer staycation for a whole lot less than jetting off to Paris or Milan will cost you. Here are some of my favorite ideas for planning a staycation that doesn't feel cheap.
Upscale Summer Staycation Food at Home
Once a week or once a month, depending on your budget, put together a lavish meal for yourself and your spouse/family. Make lobster and steak served with twice mashed potatoes and your favorite Merlot. Search online for authentic Italian recipes such as Gnocchi with Duck Sauce, or French recipes such as Escargots à la Bourguignonne (Snails in Garlic–Herb Butter), preceded by an authentic salad and a true authentic dessert from the country of your choice.
The goal is to step outside your comfort zone, just as you would if you truly were in another country, and make meals that are different from what you have at home. A quick Internet search will bring up hundreds of options for appetizers, main courses and desserts from the cuisine delights of your favorite countries, so start browsing and see what kinds of fun and different meal options you can cook up to give you a taste of life in those countries you've always wanted to visit. Put on some French music and convince one of your kids or adventurous friends to dress up like a mime. Heck, you could even connect locks to a nearby chain link fence and imagine yourself in front of Notre Dame.
Choose Different Entertainment Options
Instead of going to a concert, go to the opera or see a performance at a nearby Orchestra Hall. Spend the summer at wine tastings instead of at your usual favorite chain restaurant. Or, once a month, visit an upscale restaurant in a nearby big city. Visit an art museum or see a live show at an upscale theatre. All sorts of upscale entertainment options – and often at discount summer prices – await those willing to step out of the norm and do something different.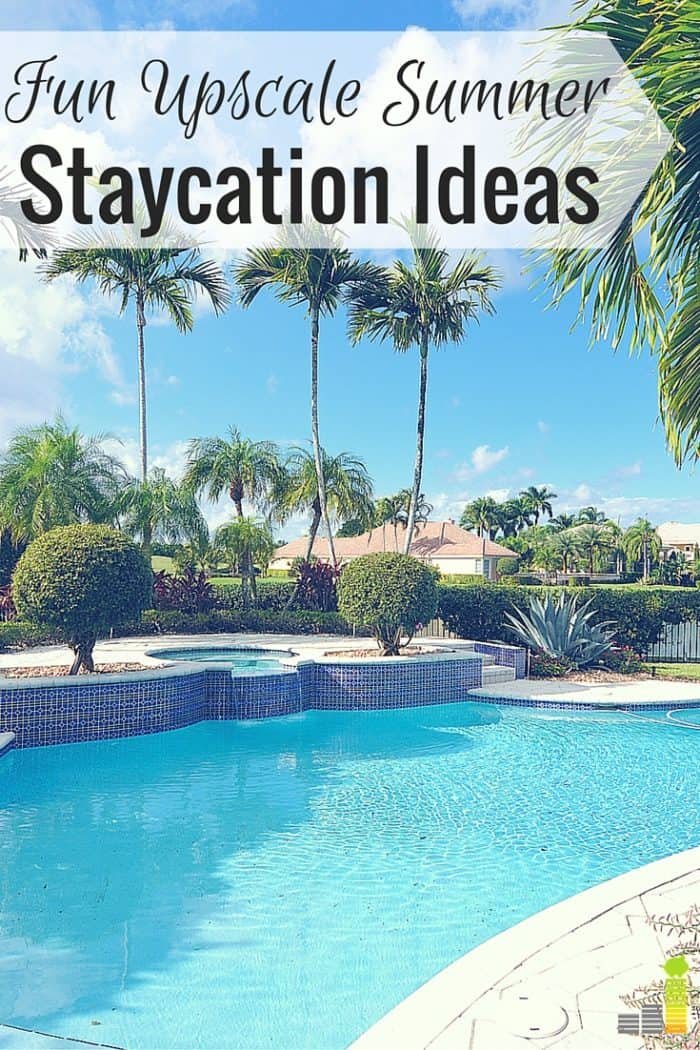 Go on a Vacation Without Really Going Out of Town
If you don't live in a big town, visit a nearby city and stay a night or two at a fine hotel. Enjoy the upscale area attractions and food, and choose to spend some money on "the best of the best," without traveling to another country. Most all big cities offer fine restaurants mimicking the foods of your favorite dream vacation country. Check out your state's tourist website or read a nearby big city's monthly magazine for potential mini-vacation ideas, and don't forget to dress up for the occasion!
Just because it's not in the budget to go to Italy, France or your other favorite vacation destination countries, doesn't mean you can't have a little slice of upscale at home this summer. Take some time today to plan your upscale summer staycation, and work some out-of-the-ordinary fun and fancy into your usual summer vacation plans.
What is your dream vacation destination? If you could visit any country, where would it be and why? Have you ever tried preparing an upscale meal from that country at home?
Save
The following two tabs change content below.
Laurie is a wife, mother to 4, and homesteader who blogs about personal finance, self-sufficiency and life in general over at The Frugal Farmer. Part witty, part introspective and part silly, her goal in blogging is to help others find their way to financial freedom, and to a simpler, more peaceful life.