4 Unexpected Costs of Having a Toddler
Posted on January 13, 2016 by Cat in
Lifestyle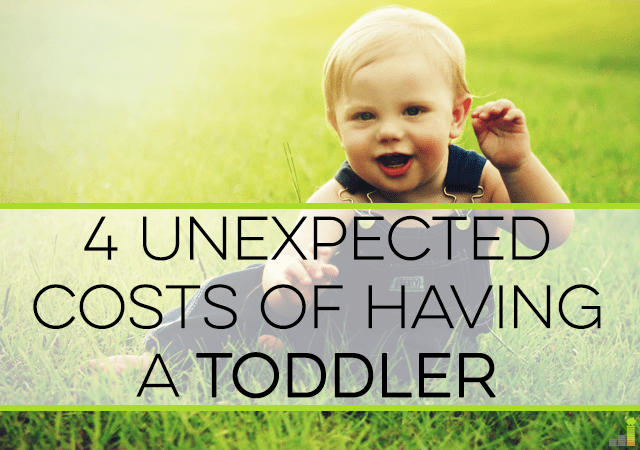 Most parents know that having kids can be pricey. However, as my twins get older and are now toddlers, I'm surprised at how the expenses have changed and at all the unexpected costs I've encountered. No longer am I worried about bottles and burp cloths. Instead, I'm trying to ensure they are developing properly and not destroying my house in the process.
It turns out there is a lot of pressure on parents today to involve their children in organized, structured activities like music, sports, art and drama at younger and younger ages. I'm frankly surprised at how many parents of toddlers in my neighborhood already have them enrolled in multiple activities, all of which cost money. This has led to some expenses I wasn't expecting with toddlers.
Here are some other unexpected expenses I've come across when it comes to my toddlers:
Extracurricular Activities:
I mentioned this a bit above, but I thought the need to save money on extracurricular activities would come when my kids were school age, you know, when I have to decide exactly what extracurricular activities to enroll them in and precisely when to enroll my daughter in ballet class. However, I'm amazed at the number of moms in my community who have enrolled their toddlers in music class, gym class or the ever ambiguous "movement class."
My son has taken to leaping off our couch with reckless abandon so I thought he'd love to go to a gym class with trampolines, but all three kid gyms near me are $100+ per month and of course, I can't just pay for him and not enroll his twin sister as well.
Needless to say, for now his gym is my living room because I simply can't afford the expense. Perhaps as my business grows I can enroll each of them in a class but I didn't think it would ever be on the table for two kids who are just two years old.
Broken Items:
This morning I heard a loud thump behind me while I was taking my dog out. I looked up to the top of the stairs where both my toddlers were looking at me through the baby gate. One of them had grabbed my phone off the counter and flung it down the stairs.
I guess they were angry I was outside in the freezing cold without them. Luckily my phone was wrapped in an extremely durable Otterbox, that I only got after one of the twins destroyed my husbands phone a few months ago.
My daughter has already broken two glasses this year just days after we purchased new cups and plates. If you leave a cup on a side table, she will find it, pretend to drink out of it, and then fling it on the floor when she's done with it. I have a feeling we will all be drinking out of sippy cups before this is all said and done.
That said, you should protect your precious, expensive items with everything you have, get quality cases for everything, and factor in the cost of lost goods because you will have them when it comes to the crazy toddler years.
Utilities:
There is definitely an increase in the amount of laundry we do with these toddlers, and I'm sure as we start potty training them sometime in the next year or so, there will be even more accidents and laundry to deal with.
I feel like I changed their clothes a lot when they were infants but I expected them at this age to keep the same outfit on the whole day. That's not really the case in our house as they are always getting into something.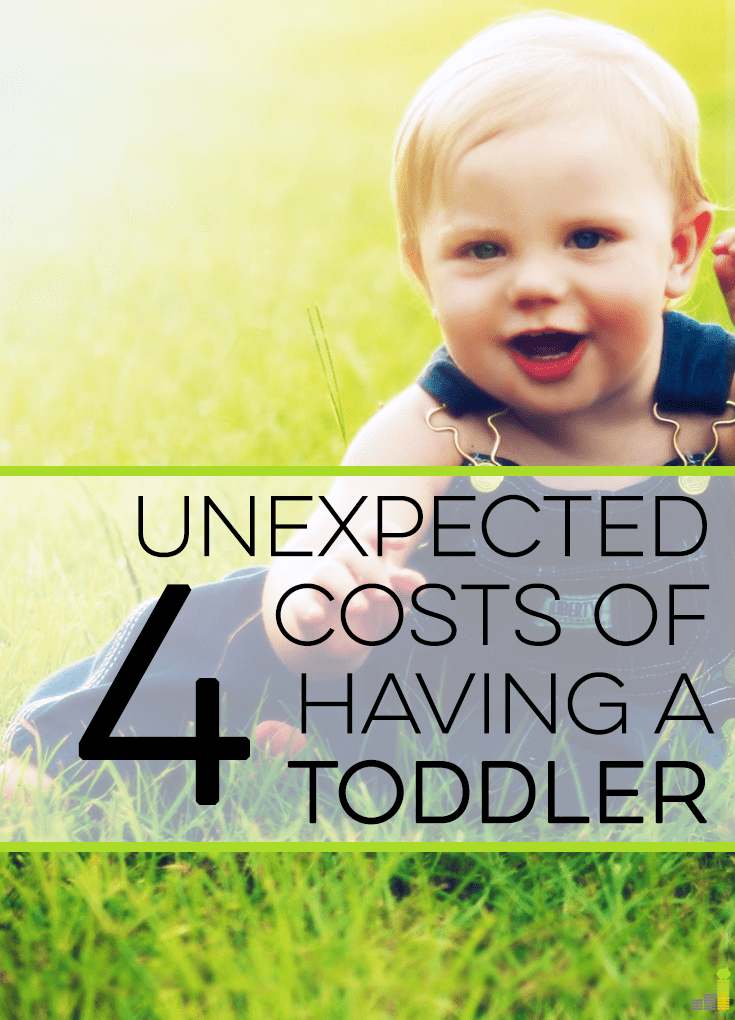 Bigger or Different Gear:
I picked out my double stroller, because it was supposed to last until the twins are 4 or 5 years old. The kids sit one in front of the other in the double stroller (as opposed to side by side) and the kid who gets put in the back is getting very squished.
Now, I'm exploring the idea of a side by side double stroller. You'll also need to buy bigger carseats when they outgrow their infant carseats, and if you've been getting by with a smaller car, you might even entertain the idea of buying a larger vehicle to accommodate the bigger kid (or kids).
Ultimately, there are many expenses when it comes to raising children, and you can often cut down on those expenses by buying used and trying not to keep up with the Joneses. However, just be prepared that there might be an unexpected expense or two that you weren't ready for as your kids get older. Now I know to be prepared to expect to spend a little more (or differently) when they have to go to pre-school with school supplies, snacks and bookbags and then again and again as they get older.
How do you save money when it comes to your kids? What unexpected costs have you encountered as your children get older? What's one area you're willing to spend on more for your children?
The following two tabs change content below.
Catherine Alford is the go to personal finance expert for parents who want to better their finances and take on a more active financial role in their families.